Yes Dear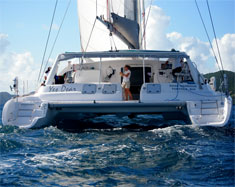 Port:
Tortola, BVI
Scuba:
Fully equipped
Crew:
Skipper & Host / Chef
Max pax:
10
Length:
58 ft
Designer:
Voyage 580
Cruz Area:
British Virgin Islands, Leewards, Grenadines / Windwards
Yes Dear, a 58ft Voyage 580 crewed charter catamaran, is available to cruise in the British Virgin Islands from Tortola, the Leeward Islands from St. Martin and the Grenadines from St. Vincent.
Launched in 2007, Yes Dear has five double staterooms with full air conditioning and offers accommodations for up to ten guests plus 3 crew members.
Four large guest staterooms with queen size beds and en-suite heads with a separate stall shower and a fifth slightly smaller stateroom with double bed and en-suite head/shower combination.
The salon features a Bose sound system, a Flat Screen TV, CD, DVD and I-Pod docking station. There are also stereo speakers in the cockpit and on the mast. Each stateroom is equipped with its own flat screen TV/DVD player.
Recreational equipment include a 16ft tender with a 90hp engine for waterskiing, tubing, wakeboarding, snorkeling and fishing trips and floating mattresses.
Full scuba diving equipment, including a dive compressor for SCUBA is available onboard for certified divers.
Standard bar and gourmet cuisine are included in your vacation package, your professional crew of 3 will be your captain, local guide, chef, dive master / water sport instructor.
Yes Dear is the perfect yacht for anyone who wants to explore more of the Caribbean in style and luxury, visit islands truly off the beaten path, sample locally grown fruits, feast on the freshest lobsters or seared tuna, step back in time and feel the rhythm of daily life in the Caribbean.
Slow down, center yourself, relax and absorb the spectacular beauty of volcanic islands that rise so high they seem to brush the clouds and then dive so deep that you can actually feel the warmth from the core of the earth.
Explore some of the most unique dive sites in the world. Watch the sun go down anchored in your own private cove and start each day with a refreshing swim off the yacht. Go ashore and discover the many diverse people and culture that makes the Lesser Antilles so special.
Hike through tropical rain forests, stand in a volcano's crater, explore ancient cane plantations, wander through colorful Caribbean marketplaces, visit local artisans, and find your favorite secluded beach.
You will be transformed after spending your days on Yes Dear making this your most memorable vacation ever.
Your crew looks forward to welcoming you aboard Yes Dear in the Caribbean cruising setting of your choice! Contact us now for more information on rates and availability.
About the crew aboard Yacht Yes Dear
Ian & Jody / Richard & Adele

Yes Dear has two crew teams on a 6 month rotation.
Ian & Jody:
Ian is an MCA 200 ton Offshore Yacht Master. He also holds Marine Safety (STCW '95), Marine Advance First Aid and Advanced Open Water PADI dive certificates. He is currently working towards his PADI dive master qualification. Ian has been sailing and cruising for 16 years and enjoys all water sports. Growing up on the water in Ontario, Canada, he summered and sailed amongst Georgian Bay's 30,000 islands where he developed his strong sense for navigation and pilotage.
After obtaining an Earth Science degree from Canada's sailing capital, Halifax Nova Scotia, Ian returned to the Great Lakes to work as a Service Technician and to further explore Canada's best cruising grounds. After 5 years of work he took his savings and fixed up his beloved sailboat and set sail on an 18 month single-handed voyage from Canada's cold to the balminess and camaraderie of the cruising community along the U.S. Eastern Seaboard and then east to the Bahamas where he immediately fell for the turquoise water, diving, game and spear fishing.
Jody has studied advanced cuisine at the George Brown Culinary Institute in Toronto, Canada. She holds marine certificates in Safety (STCW '95) and Advanced First Aid.
Back in Canada she worked as a Human Resources Professional in the Automotive sector, a career that provided her with an opportunity to develop extremely strong customer service skills and the ability to perform in a very stressful and demanding environment. During these six years Jody's culinary skills were honed as she used cooking as her means of unwinding each night.
In 2005 Ian and Jody purchased another boat with a larger galley which they lived on as they worked their land-bound lives. Always sailing, cooking and entertaining and dreaming of a career that married both their passions. Their personalities already a successful union - Jody's boundless energy and spirit and Ian's adaptability, patience and practicality - a career as a crew only made sense.
In addition, a dive master is available to come out to the catamaran in a 22ft dive power yacht and assist certified divers with scuba diving.
Now, aboard Yes Dear, in the sun and warmth and consistent trade winds of the Beautiful British Virgin Islands let Ian and Jody share their passions with you!
Guest Comments:
Jody and Ian were fabulous! They worked non stop from the time they got up until the time they went to bed. Despite the fact they were working non stop, they were friendly, relaxed and ready to meet all of our needs.
The food was outstanding, and the boat was immaculate and well ventilated throughout the trip. Ian was great with the kids and always up for our diving and water sports requests. He was also flexible and helpful in planning our itinerary.
Mike & Kelly S.
Ian & Jody were awesome. They provided all that we asked for and some things that we didn't know to ask for. Ian was always willing to take us wherever we wanted to go and Jody's cooking was unbelievable. No need for restaurants!
Amy S.
Richard & Adele Smit:
Richard grew up on the South African coast. He is a certified lifeguard, rescue diver and loves to surf. He is also a qualified animal scientist and nature lover. He began his career as a technical advisor for a global organic feed company before focusing on his true passion: the Ocean.
He has always been comfortable at the helm of both power and sail boats and has vast experience ranging from keelboats to yachts. He holds a RYA Yachtmaster Offshore Certification and has logged in excess of 10,000 miles over the years aboard luxury yachts. His travels include sailing from South Africa to the Hebrides, which are also known as the Western Isles off Scotland. He currently enjoys sailing the warm waters of the Caribbean.
Adele was also raised along the South African coast and has always loved the sea. She is a master diver and enjoys sharing her skills body boarding and wake boarding. Adele holds diplomas in Public Relations, Events Management and Conferencing.
Her passion for cooking began at a very young age and has blossomed into a career. She has honed her culinary skills by attending a cooking school specifically designed for the maritime industry. Preparing magnificent gourmet meals in a galley is truly an art and Adele's passion for creating exciting menus, combining fresh ingredients, and food presentation skills will delight everyone onboard.
Richard and Adele are an easygoing couple who are an experienced charter crew who love to meet new people. You will enjoy every moment onboard with them, be it anchoring in a quiet cove, snorkeling fantastic reefs or exploring the BVI nightlife ashore, the choice is yours. Let them show you the best of the Caribbean British Virgin Islands.
Guest feedback:
Richard and Adele are fantastic and special people and although the BVI's are beautiful they pale in comparison to the experience we had spending time with Richard and Adele.
The food was over the top. Adele never wavered in her efforts (we took photos of all of our meals if that tells you anything).
Richard is the ultimate gentleman and Adele could not have been more beautiful and caring for our family and friends. There was not one single moment over the entire week that made it seem like they were working, as if it were a chore or a job, their care for us and desire for us to have a great week was so genuine and natural. A true talent so very few people possess.
Kenny J.
Passengers
Guests (Cruising):

10

Guests (Sleeping):

10

Accommodation
Double Berths:

5

Single Berths:

0

Showers:

5

Bathrooms:

5 - Electric

Vessel Specs
Vessel type:
Sailing Catamaran
Designer:
Voyage 580
YOC:
2007
Length:
58 ft
Beam:
31 ft
Draft:
5.6 ft
Speed (kn):
15
Interested in chartering Catamaran Yes Dear ?
Contact Caribbean Catamaran for full details, including rates and availability:

| | |
| --- | --- |
| Start date: | |
| Nights (4 min): | |
| Passangers: | |