Solstice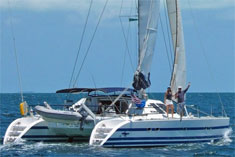 Port:
Nassau or Paradise Island
Scuba:
Fully equipped
Crew:
Skipper & Host / Chef
Max pax:
6
Length:
47 ft
Designer:
Lagoon 4700
Cruz Area:
The Exumas, Bahamas
This Lagoon 47 is a great all-inclusive yacht for up to 6 passengers. Based in the Bahamas, the Exumas is the region's hidden treasure; a mostly uninhabited, 120-mile long archipelago of 365 cays that stretch in a narrow crescent southeast from Nassau all the way to the Tropic of Cancer.
In the crystal clear water ranging from pale aqua to deep sapphire, the bottom never seems out of reach.
Please note that rates do not include optional bar and 4% Bahamas Tax.
About the crew aboard Yacht Solstice
Cliff & Liza

Cliff's love for the ocean began at a young age; A certified SCUBA diver at 12 and Captain by 20, the call of the sea came early.
While studying marine science at the Texas Maritime Academy, he was eventually led to the Caribbean, where he found his passion: discovering the islands and all the beauty found within. Now, after over 20 years of exploring, photographing, diving and sailing throughout the tropics, Cliff has plenty to offer his guests.
A USCG licensed sailing captain, NAUI SCUBA Instructor, and ASA sailing instructor, Cliff will be on hand to help as much or as little as you like.
As 1st mate (Admiral), nature guide, and chef, Liza will be on hand to guide you through the natural wonders ashore and underwater, as well as towards the delicious delicacies from her galley.
Hailing from NYC and a career in Broadway musicals, Liza is thrilled to be currently performing on the high seas aboard Solstice!
A discerning food critic / writer in Manhattan, and accomplished chef, Liza's passion for food is evident in everything she cooks for you.
Some additional specialties include navigating through the treacherous currents of local island shopping, capturing the perfect photo, and beach bar-b-que's featuring burgers and s'mores.
Customer feedback:
We have nothing but wonderful things to say about our cruise aboard Solstice in the Bahamas. Cliff and Liza were absolutely wonderful! They were both accommodating and professional, friendly and enjoyable to be around. We feel like we have made friends for life with them.
Cliff was a very competent and skilled captain; we were always comfortable and enthralled by his choice of locations and activities.
Liza was an excellent cook and hostess. The meals were fabulous with endless variety and choices. Each meal was a study in taste, appearance and gastrointestinal delight!
The Solstice was a pleasure to be aboard. Our staterooms were very comfortable and Liza and cliff kept them clean and neat every day. The entire boat was comfortable and very fun to be aboard. They provided an ample supply of towels and toys and there was always something interesting to do and see. Time was also allowed for just laying around and soaking up the sun and sea.
It was the best vacation we have ever been on and we would not hesitate to recommend Cliff and Liza to everyone we know. The only part of the cruise that was sad was when it ended. We are forever indebted to them for providing a cruise that went way beyond the call of duty.
Debi & Randy A.
We all had an amazing time on Solstice. Cliff and Liza did an incredible job and everyone had a blast. We will be sure to recommend them to other friends in the future.
Craig S.
In short, the trip was wonderful and much of it was due to Cliff and Liza. They were just a joy to sail with. We had done a similar trip some years ago and we thought that crew was great, but Cliff and Liza were just that much better. I'd recommend them to anyone. They are truly interesting and professional people.
As far as the boat itself is concerned, it was perfect. Everything worked well and it was clean, comfortable and very nicely appointed. We are already considering another trip next year.
G.H.
Passengers
Guests (Cruising):

6

Guests (Sleeping):

6

Accommodation
Double Berths:

3

Single Berths:

0

Showers:

3

Bathrooms:

3 - Electric

Vessel Specs
Vessel type:
Sailing Catamaran
Designer:
Lagoon 4700
YOC:
1992
Length:
47 ft
Beam:
24 ft
Draft:
3 ft
Speed (kn):
Interested in chartering Catamaran Solstice ?
Contact Caribbean Catamaran for full details, including rates and availability:

| | |
| --- | --- |
| Start date: | |
| Nights (4 min): | |
| Passangers: | |