Safari Gunboat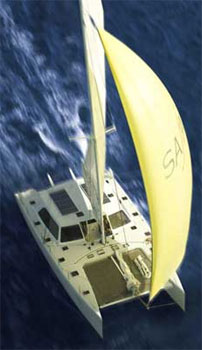 Port:
Virgin Islands
Scuba:
Rendezvous diving
Crew:
Skipper & Host / Chef
Max pax:
7
Length:
62 ft
Designer:
Gunboat 62
Cruz Area:
Virgin Islands, Leewards, Windwards, Bahamas
Safari is the future of performance luxury cruising. If you have dreamed of sailing the steady trades or playing with zephyrs, while enjoying the full amenities of custom living, Safari is the fulfillment of that dream.
Morrelli and Melvin, the designers of Playstation, designed her sweet unique lines. Her high strength composite hull, carbon spars, aramid rigging and North computer designed sails, allow Safari to stretch her legs in any conditions. She is so quick that in 20 knots of true wind, she can sail 22 knots of boat speed.
What makes her unique is the combination of outstanding sailing ability and luxurious accommodations. With her 62 feet of length and nearly 30 feet of beam, Safari is the size of a doubles tennis court. Yet she is as agile as a Laser. Safari rides high, points high, self tacks in the narrowest of channels, and can anchor in as little as twenty inches of water. She turns heads in every harbor.
About the crew aboard Yacht Safari Gunboat
Melissa Van Assen & Andy Key
Andy and I both began sailing at an early age. Our love for sailing during childhood continued on into adulthood. Hence when we met, we were able to combine our interest in sailing and each other by deciding to embark upon a circumnavigation together.
It was eight years ago when we set off around the world on our fifty one foot sailboat. After three years of touring the great seas of the world, we decided to pursue sailing professionally.
We then joined a 115 ft. Cutter sailing yacht as Captain and Chef and continued cruising the Caribbean, the Mediterranean, and the United States of America.
When we were contracted to Safari, little persuasion was necessary. The thought of darting from island to island so quickly and smoothly whilst happily preparing something fabulous in my sociable 360 degree view galley is completely thrilling.
Andy is equally excited about the ease of sailing Safari from the forward cockpit where all lines are centrally located.
The essence of Safari is to have FUN. And whatever FUN is to you, Andy and I are here as your hosts to help you live your dream holiday.
Passengers
Guests (Cruising):

7

Guests (Sleeping):

7

Accommodation
Double Berths:

3

Single Berths:

1

Showers:

2

Bathrooms:

2

Vessel Specs
Vessel type:
Sailing Catamaran
Designer:
Gunboat 62
YOC:
2002 - Refit 2003
Length:
62 ft
Beam:
26 ft
Draft:
2 ft
Speed (kn):
18