Port:
Tortola, BVI
Scuba:
Fully equipped
Crew:
Skipper & Host / Chef
Max pax:
8
Length:
55 ft
Designer:
Alex Simonis
Cruz Area:
British Virgin Islands
Indulge in the luxury of being pampered. Whether you relax on the sun-drenched trampolines, lounge in the shaded cockpit or have a fun game on the beach with cocktail in hand, your cruise aboard Breanker will be the place to spend the best week of your life.

The guest cabins emphasize the importance of space, light and a good breeze. All four guest suites are designed with similar amenities - lights, fans, hanging lockers and a small settee.

The salon's six overhead hatches collect the trade winds while you steal a few moments from the perpetual sunshine. From coffee in the morning to the last sip of cognac under the stars, everything is close at hand.

There is lots of room on deck for toys, lots of room to relax, and all the time you are surrounded by the wondrous sights of the Caribbean.

Breanker is one of three sisterships which have become known throughout the Caribbean as a first choice in private charter yachts.
About the crew aboard Yacht Breanker
Your Crew:
Kristian & Marianne
Description:

Marianne and Kristian are both Danish citizens, and both born in 1954. Two truly talented and extraordinary individuals, Marianne and Kristian are not only highly experienced world sailors, but have designed and built two fine yachts together in the past 25 years. Since 2005, Marianne and Kristian have been busy refitting and upgrading Breanker.

They sailed away from the Danish coast in 1983. They sailed the Baltic and North Seas, the English Channel and the Atlantic to the Azores, thence to the Mediterranean Sea and North Africa. Eventually their path lead to the Canary and Cape Verde Islands, and the Caribbean. After spending much time cruising the eastern seaboard of the U.S., the warm southern waters of the Bahamas, the Caribbean Sea and the Pacific Ocean, Marianne and Kristian knew that the tropics was for them.

Finally settling in the Virgin Islands, the couple have now chartered for more than a decade. Marianne holds an International Yacht Master 3rd Degree license, and Kristian holds an International Yacht Master 1st degree license.

Marianne also has a university degree in education, and is a master of the art of canvas work and upholstery, having owned her own canvas and sail loft for a number of years. Her father was a chef, and Marianne was brought up close at hand and instilled with a love of cooking and a keen interest in fine cuisine. Their extensive travels have only served to broaden Marianne?s culinary horizons and gourmet options, creating mouth-watering delights for the many guests she has welcomed aboard for the past many years.

Kristian is by all rights a master shipwright, having operated his own yacht repair and wood working shop for years, though his education led him to fine arts, especially in art weaving. Kristian also has a passion for water sports, especially diving, and he is happy to share the fascinating marine life of the Caribbean with guests.

Marianne and Kristian look forward to making your cruise aboard Breanker the most relaxing and enjoyable vacation ever.
Passengers
Guests (Cruising):

8

Guests (Sleeping):

8

Accommodation
Double Berths:

4

Single Berths:

0

Showers:

4

Bathrooms:

4 - Electric

Vessel Specs
Vessel type:
Sailing Catamaran
Designer:
Alex Simonis
YOC:
1991 - Refit 2005
Length:
55 ft
Beam:
28 ft
Draft:
4 ft
Speed (kn):
Interested in chartering Catamaran Breanker ?
Contact Caribbean Catamaran for full details, including rates and availability:

| | |
| --- | --- |
| Start date: | |
| Nights (4 min): | |
| Passangers: | |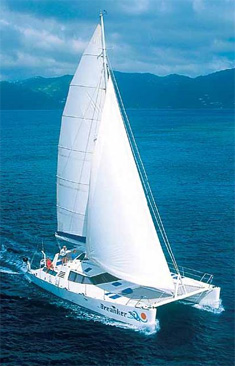 Pictures - click to enlarge
Yacht Breanker Layout:
Charter Rates (US$)
Weekly:
$14,500 *
*Price indicated is based on 2 to 8 passengers in low season (where applicable). Please inquire for various party sizes and seasons. Disclaimer: While we make every effort to ensure that the information for Breanker is current, we cannot guarantee that the details listed are 100% up to date. Please contact us and we will happily verify any details for you.