Adeia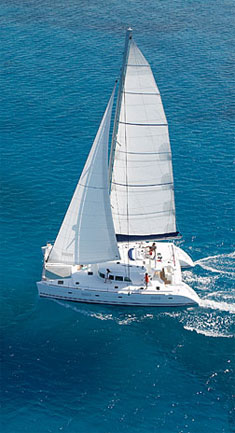 Port:
Tortola
Scuba:
Fully equipped
Crew:
Skipper & Host / Chef
Max pax:
6
Length:
51 ft
Designer:
Lagoon 500
Cruz Area:
British Virgin Islands
The luxurious, 2006 launched, 51ft Adeia is a high-performance Lagoon catamaran designed for charter in the tropics.
Adeia features three elegant guest cabins finished with rich honey-colored wood tones. Each stateroom has a Queen sized semi walk-around bed, its own private electric flush bathroom and individual air conditioning controls.
Adeia's cockpit is shaded with face to face seating and a dining table that can be easily lifted and stowed into the bimini allowing for ample space for post dinner dancing or simply stretching your legs. The cockpit has a bar area with a refrigerator, icemaker and sink top.
The yacht has a fly-bridge helm station above the bimini with comfortable seating for six as well as additional seating forward just aft of the trampolines.
Adiea's salon has dining seating for 10; or the area can be used for a relaxing evening around the modular table watching a DVD or playing cards.
The Lagoon 500 was designed by Marc Van Peteghem and Vincent Lauriot Prevost who have won a record number of awards for multiple-hulled boats (in 2004, boats they designed won the four first places in the famous English Transatlantic race), and benefits from the latest developments in naval architecture.
Come and be spoilt aboard the luxurious catamaran Adeia, sailing the beautiful turquoise Caribbean waters!
About the crew aboard Yacht Adeia
Leon & Michelle

Adeia's welcoming crew is husband and wife team Leon and Michelle.
Leon hails from Cape Town South Africa and was born with salt water in his blood. After growing up with a father who was the youngest captain in the South African Navy and living in various coastal cities, Leon began a 15 year career in the navy. The navy opened the door for a career in sailing. Before he knew it he was competing in local sailing events, including multiple Double Cape races and in 1996 he completed the transatlantic Cape Town to Rio De Janerio.
In 1999 after retiring from the Navy, he completed his Royal Yacht Master Association Yacht Master qualification and came to the British Virgin Islands. In addition to his passion for sailing, Leon also enjoys diving as a PADI certified Dive Master.
Michelle also grew up around the water, first in Northern Wisconsin and then the Atlantic Ocean of South Carolina. Michelle's love for adventure and challenge led her to the Caribbean in 2004. After a 10 year career as a Registered Nurse and then a Certified Nurse Midwife; with both a Bachelor's and Master's degree, Michelle turned her interest for sailing and culinary arts into a whole new career.
Michelle has blossomed into an experienced chef combining Caribbean cuisine with a Southern flare. As a chef/hostess she is both friendly and attentive to guests' needs and wants.
Leon and Michelle have been chartering for nearly 3 years and have completed over 100 charters together. In addition to chartering in the British Virgin Islands they have also chartered in other Caribbean islands including St. Martin, St. Bart's, and Anguilla as well as the Bahamas. Leon and Michelle are an enthusiastic and dynamic professional crew who combine their knowledge, experience, and an infectious passion for adventure into an experience of a lifetime for Adeia's guests.
Guest Comments:
Leon and Michelle were wonderful hosts! Very friendly and accommodating! This was our forth trip to the BVI and enjoyed it very much.
Adeia was our favorite boat out of all four that we've chartered! Very comfortable, berths were big and spacious, very clean and in pristine condition.
The food was wonderful and healthy - a nice change from many trips. Seafood was very good and not something we typically get to enjoy in the Midwest.
Leon did a great job with the sailing. In fact, this was the most that we've actually sailed out of all of our charters. We got to revisit all of the "hot spot" but they really had some nice, quite, secluded locations. Nice touch!
Thad V.
Passengers
Guests (Cruising):

6

Guests (Sleeping):

6

Accommodation
Double Berths:

3

Single Berths:

0

Showers:

3

Bathrooms:

3 - Electric

Vessel Specs
Vessel type:
Sailing Catamaran
Designer:
Lagoon 500
YOC:
2006
Length:
51 ft
Beam:
28 ft
Draft:
4.6 ft
Speed (kn):
12
Interested in chartering Catamaran Adeia ?
Contact Caribbean Catamaran for full details, including rates and availability:

| | |
| --- | --- |
| Start date: | |
| Nights (4 min): | |
| Passangers: | |