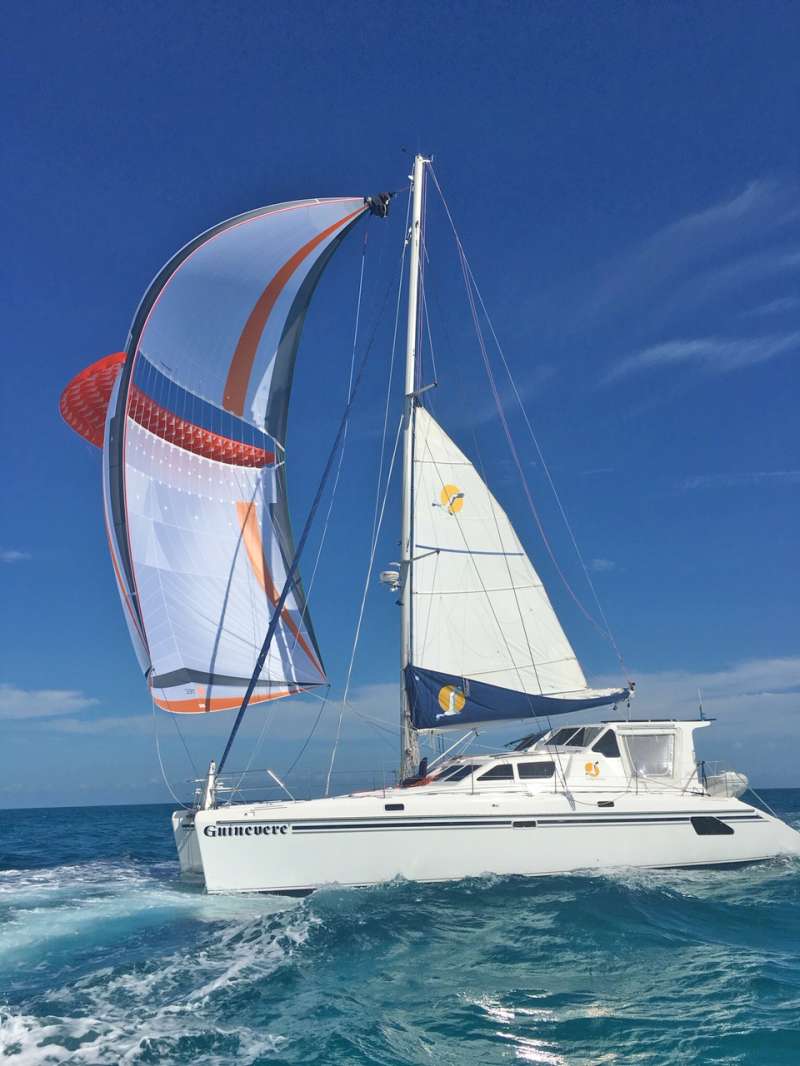 Weekly charter rates
$13,000 to $17,500 for up to 6 Passengers

Yacht Guinevere Specifications:
Builder : St. Francis
Length: 50 Ft
Year launched: 2015
Passenger #: 6
Guest cabins: 3
Queen cabins: 2
Double cabins: 1
Crew #: 3

Yacht Guinevere Overview:
Charter GUINEVERE through the stunning islands of the Bahamas. You'll reach some of the most beautiful, white sand beaches found anywhere in the world. The multi-colored marine life is a thrill to snorkelers and divers. Sailing over the crystal clear, turquoise water is simply spectacular. GUINEVERE is a luxurious, big cruising cat with lots of storage, very private cabins, and spacious common areas. This 2015 St. Francis 50, South African-built catamaran, is also speedy and remarkably stable. Most guests have no trouble walking from stern to bow, without even using the handrails, to enjoy a pleasant ride in the pulpit seat.There are two levels on the boat. The upper level features a huge, double trampoline, great for riding over the waves under the tropical sun. The main deck features a large, covered salon. The rear deck has a double staircase with swim ladder for easy access. There lounge pads on deck for sunning and relaxation. If you prefer the shade, the cockpit is covered and can be enclosed. The lower deck is comprised of the two hulls that house spacious cabins with en suite bathrooms.The fully-equipped galley allows your chef to create menus to suit your preferences. There is also a grill on the back deck for delicious barbecues and grilled fresh catch. The salon comfortably seats six for lounging, dining or watching a movie on the TV/DVD player. There is a stereo system throughout the boat, so guests can listen to the radio, pop in a CD or plug in an iPod / iPhone / iPad and stream music.Three roomy guest cabins are en suite with electric heads, showers, and private locking doors. All cabins have queen sized beds, the master has a tub, and one queen guest cabin is equipped with an additional twin bed. Beds are made up of luxurious 730-thread count linens, lovely soft goods, and plush bath towels. GUINEVERE and her professional crew of three wish to offer family charters, groups of friends charters and retreat style charters. Guests can choose an itinerary designed for relaxation and rejuvenation with an emphasis on yoga and meditation, or opt for an itinerary of fun charter activities; exploring, beachcombing and snorkeling. Rates are the same. Renald holds a Yacht Masters 200-ton limited captain license and has sailed thousands of miles, both single-handed and as crew. He has studied yoga for over 18 years. Michelle is a certified yoga and breath work instructor. Terri is a highly experienced, charter yacht chef. Come sailing on Guinevere in the Bahamas and take home wonderful memories.
Accommodations:
6 guests in 3 ensuite cabins, crew in 4th ensuite cabin.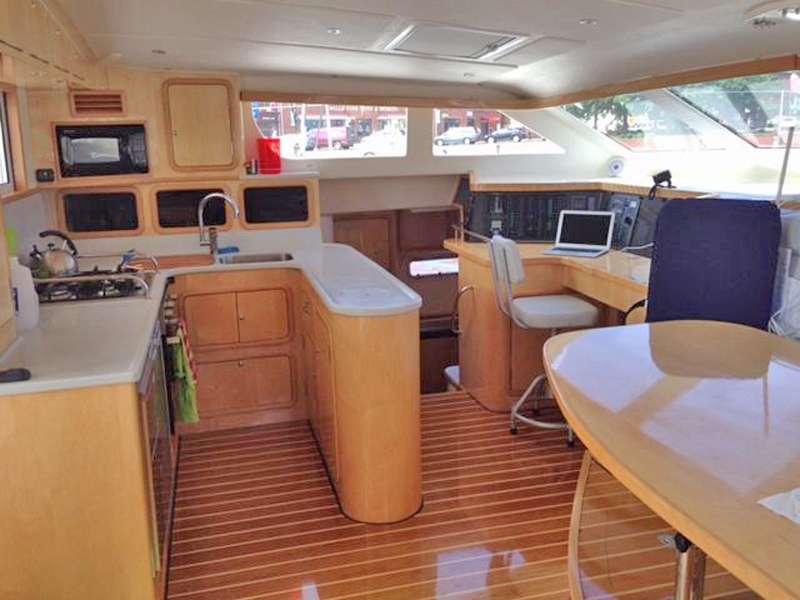 Main Salon and Galley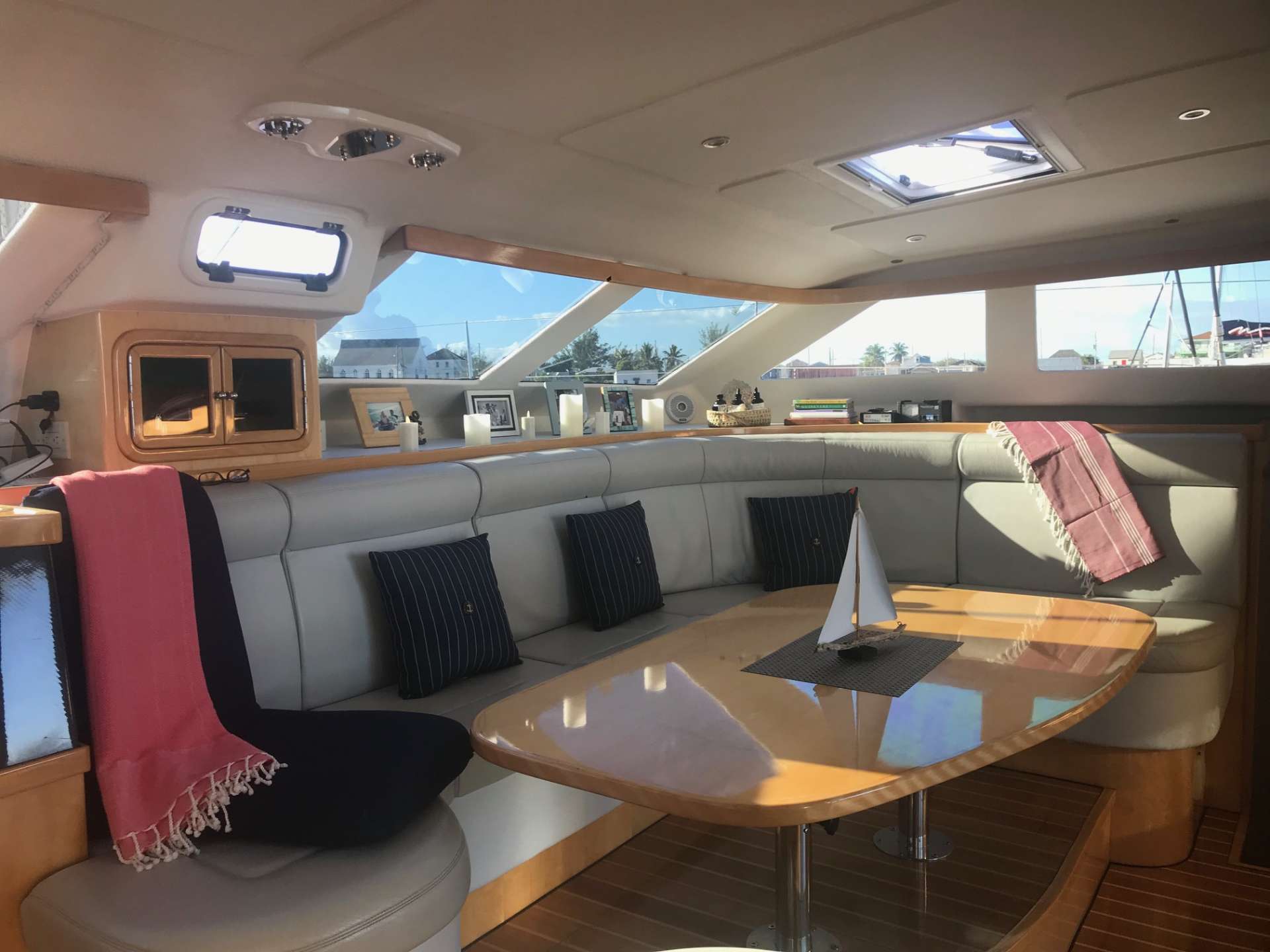 Spacious Salon and Interior Dining area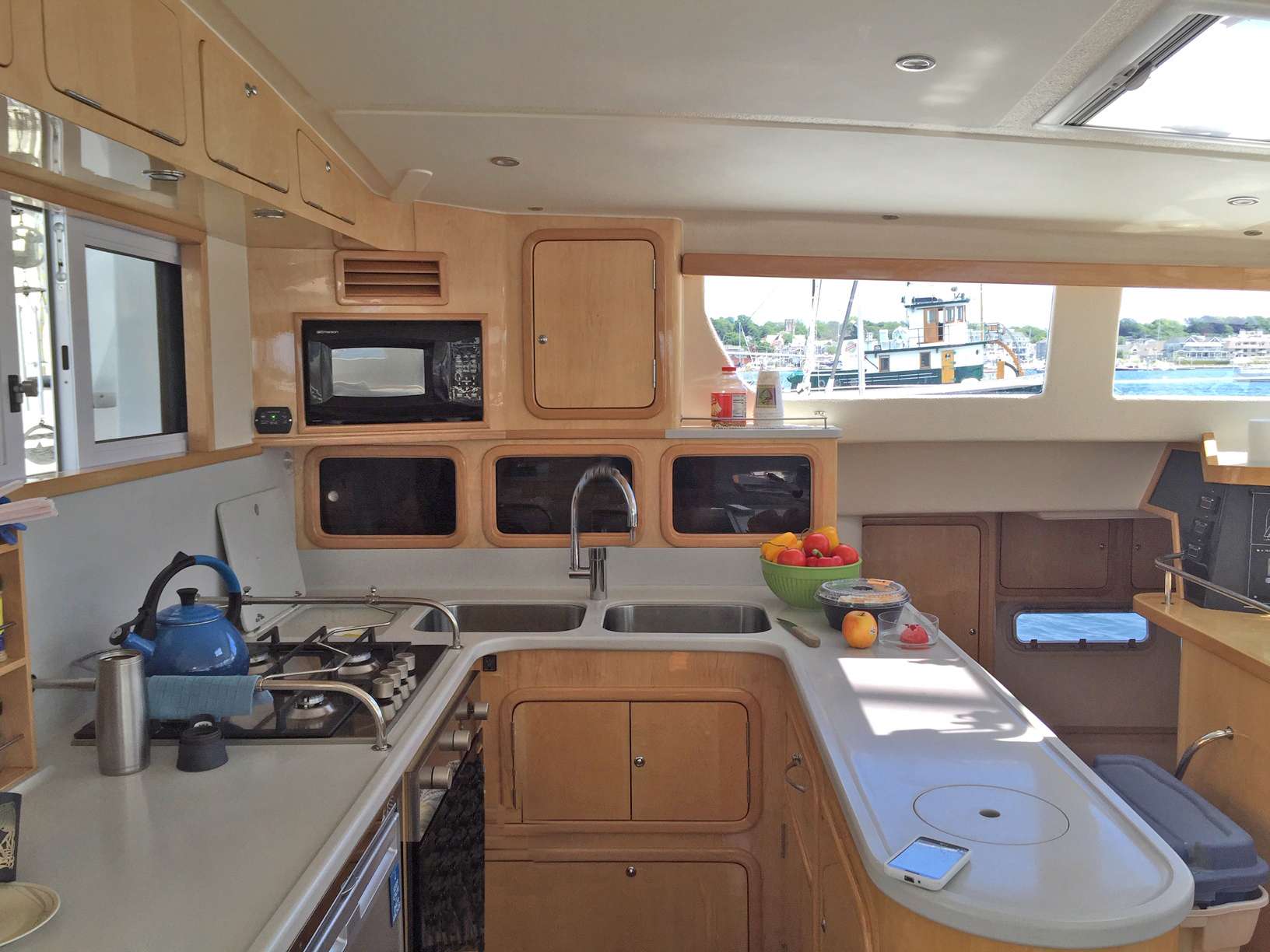 Fully Equipped Galley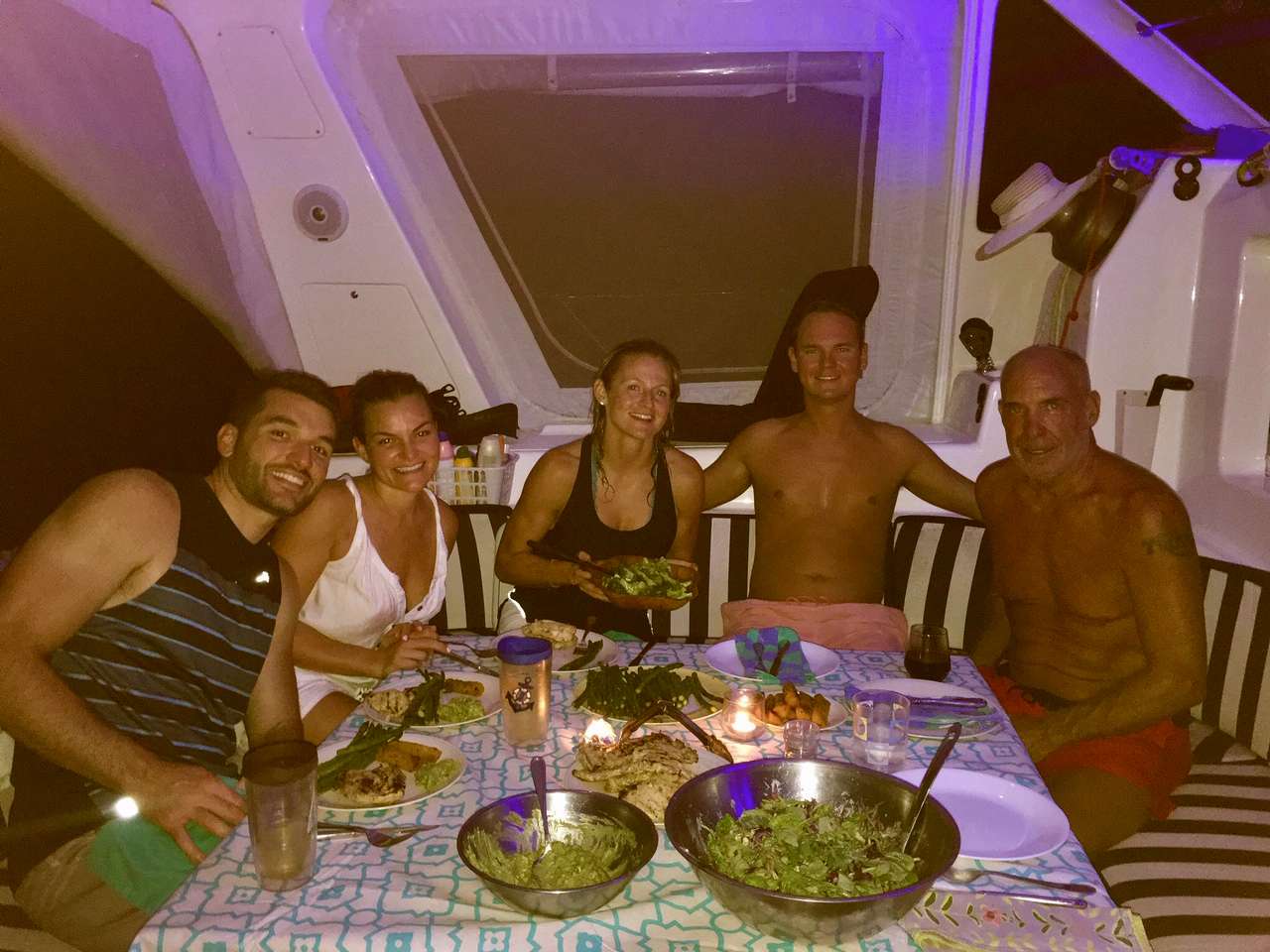 Spacious Seating for Everyone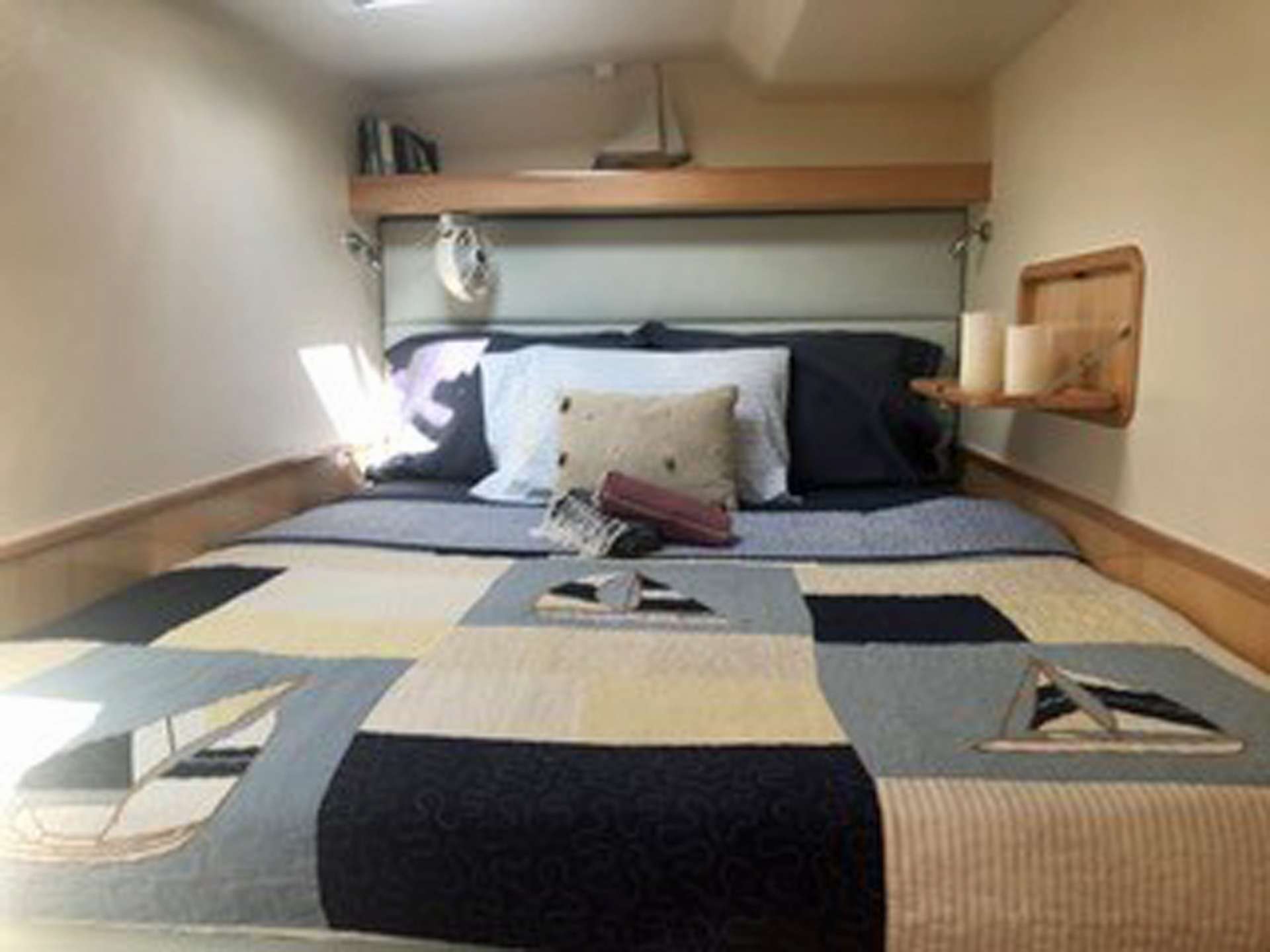 Lots of natural light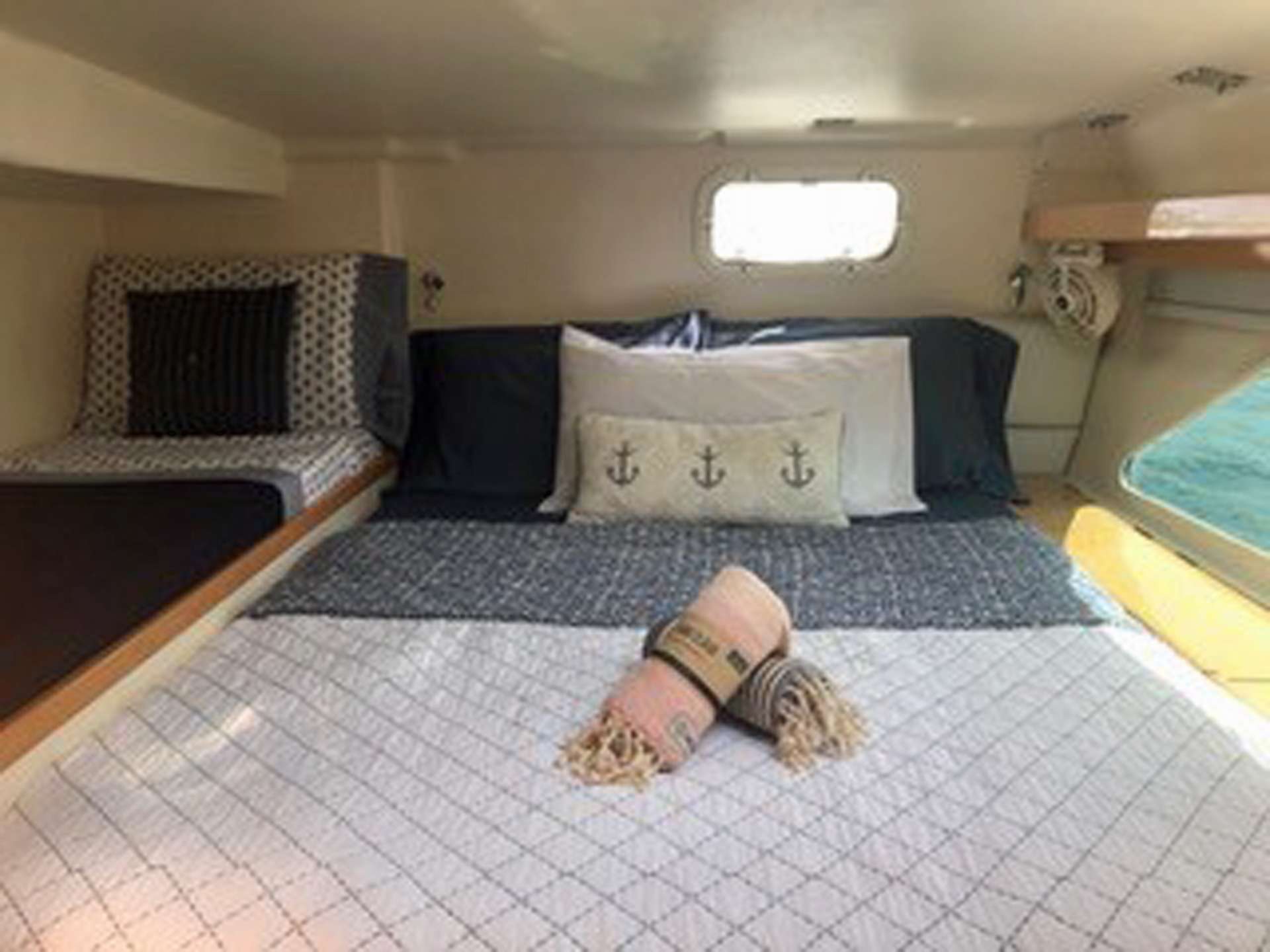 Port Stern Cabin with lovely view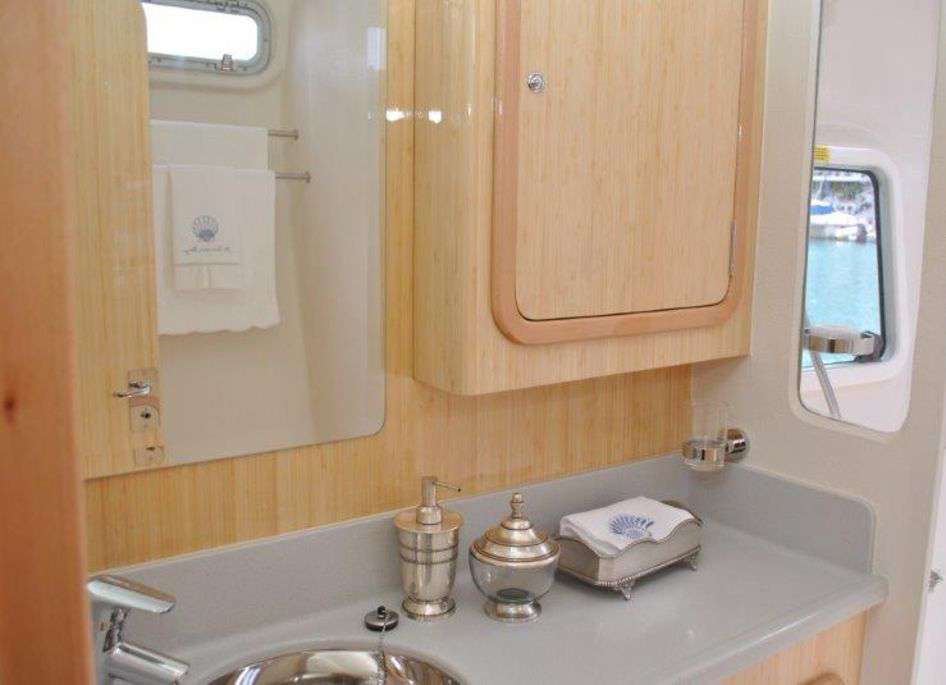 Guest Bathroom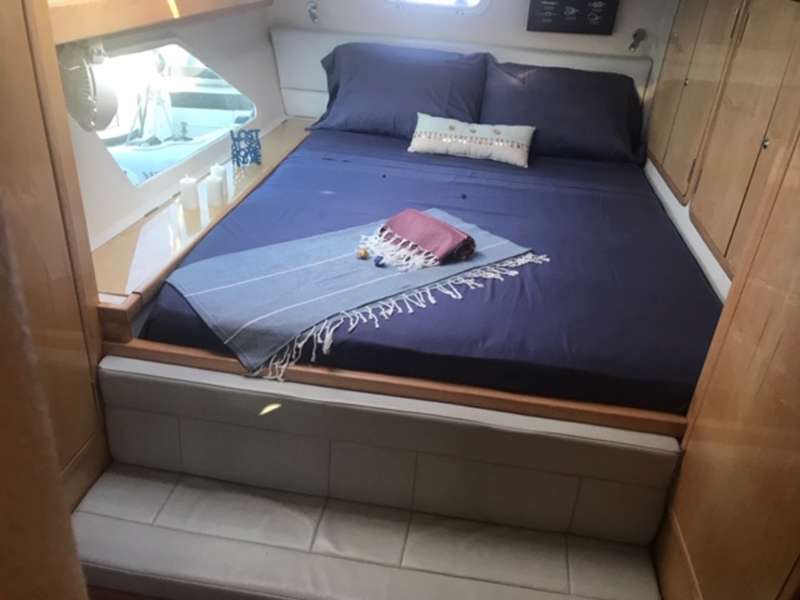 Starboard Aft Cabin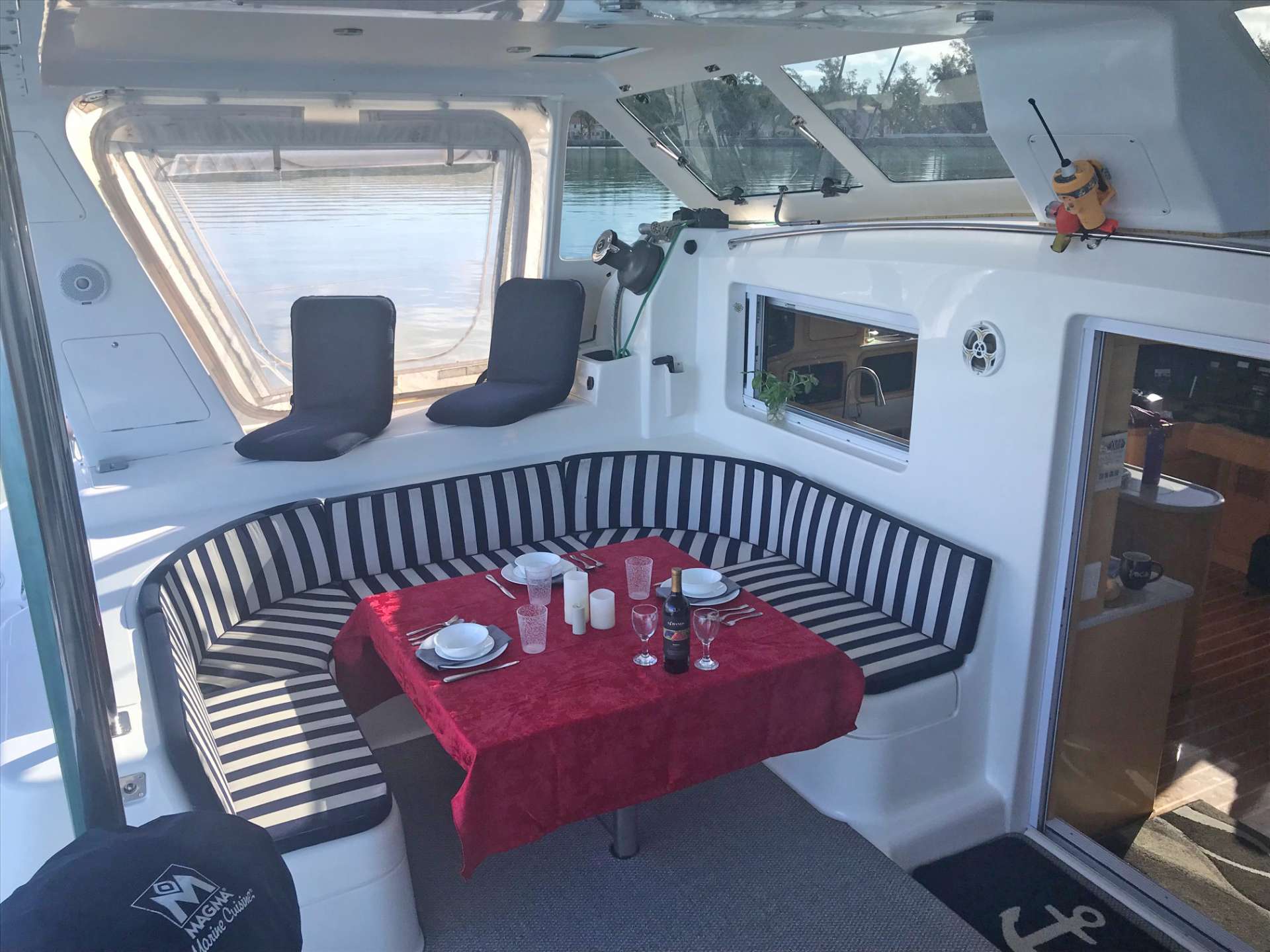 Spacious cockpit. Dining up to 6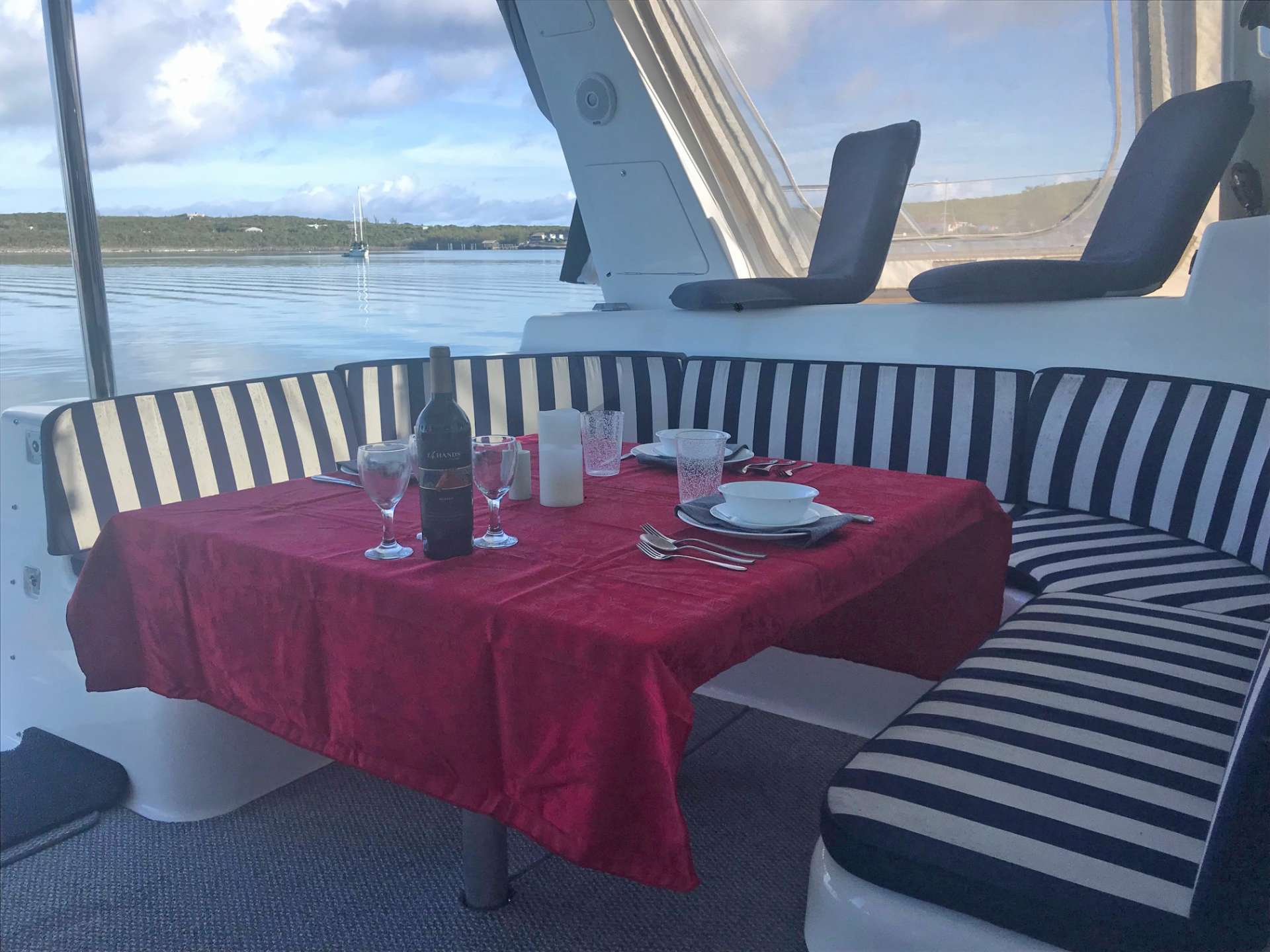 View from Cockpit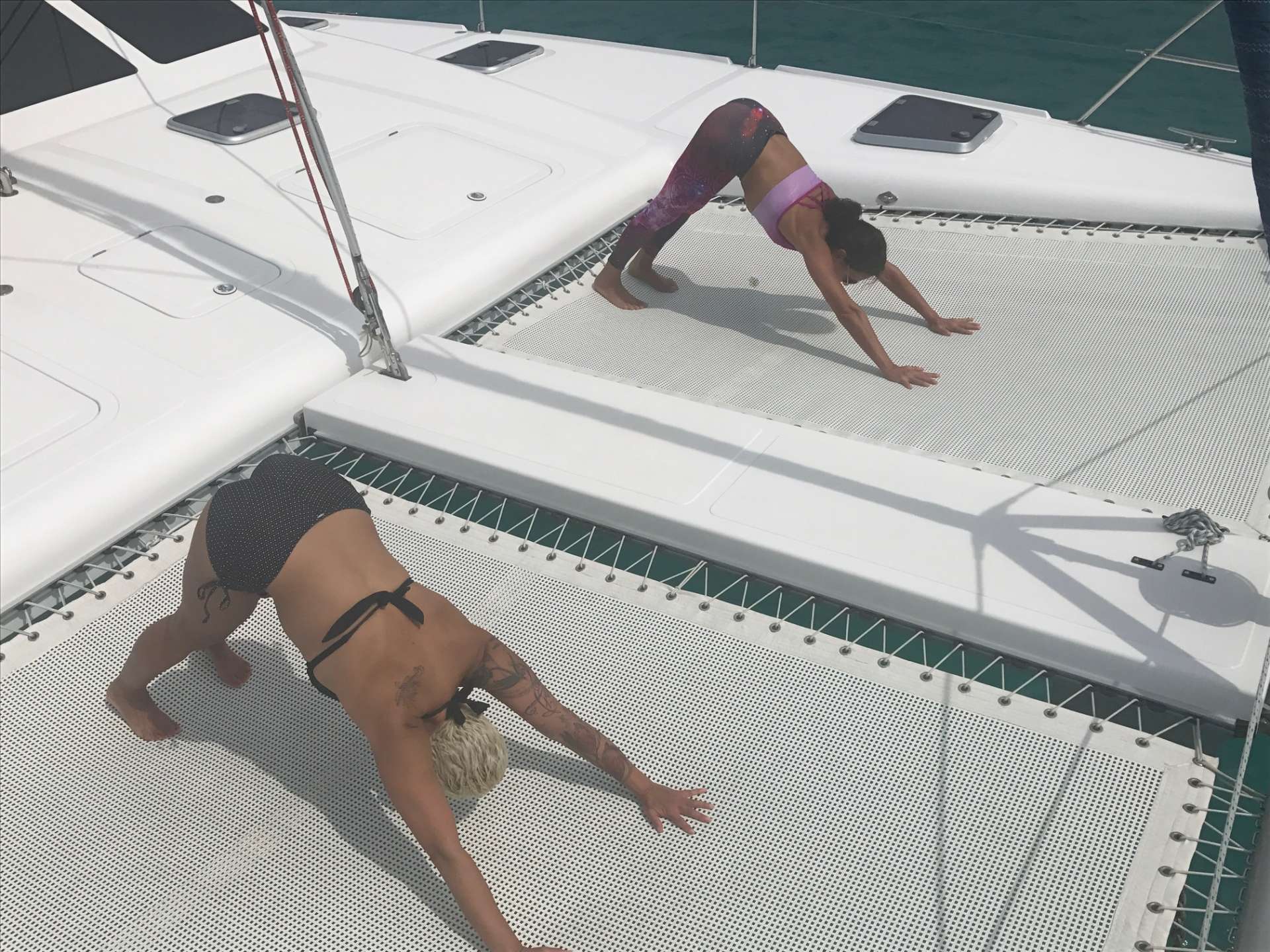 Morning exercise on the trampolines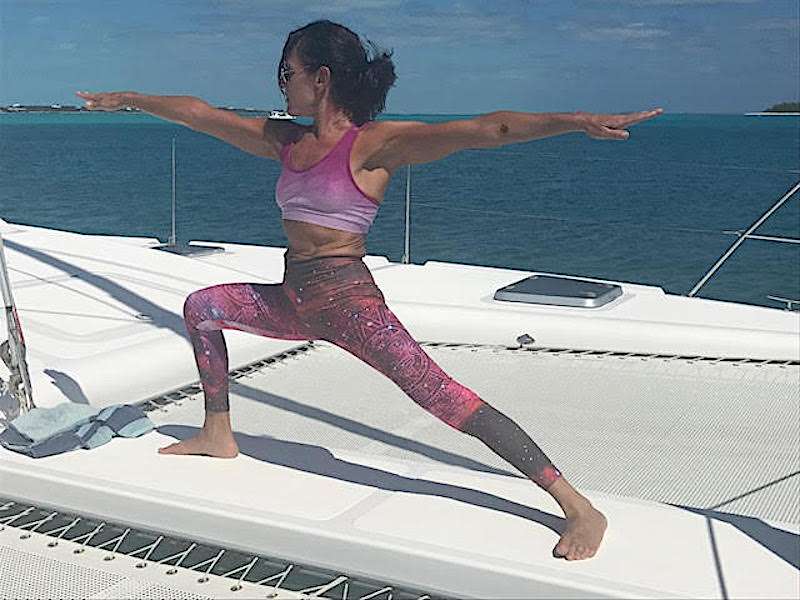 Relax and rejuvenate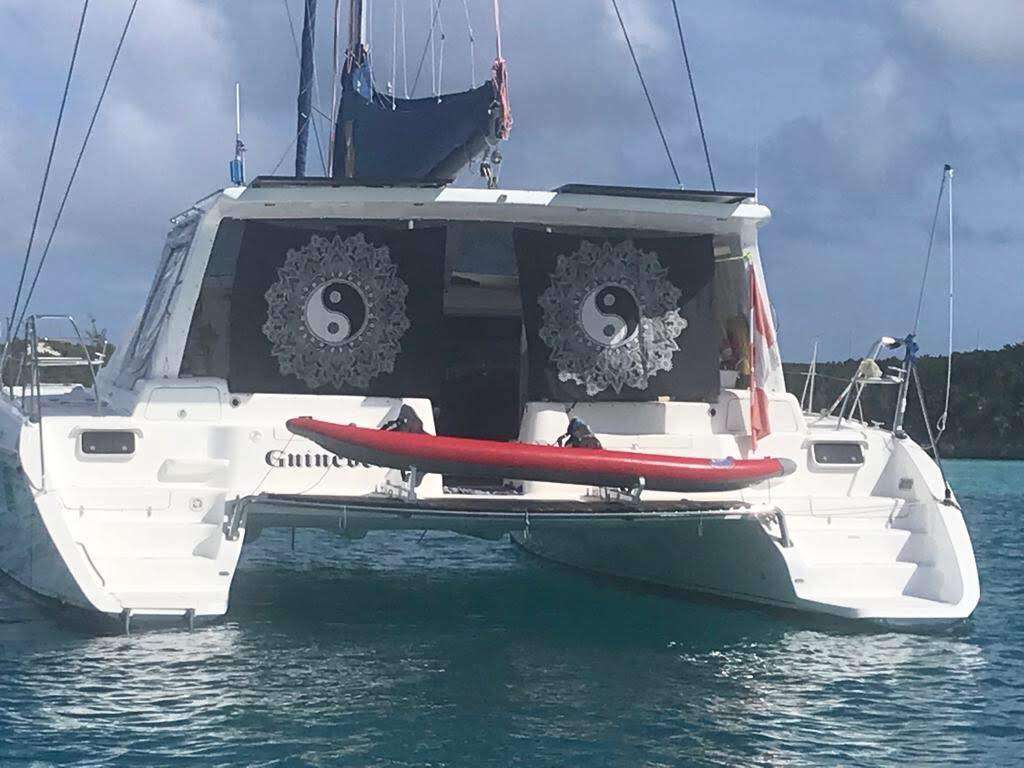 Paddle boarding fun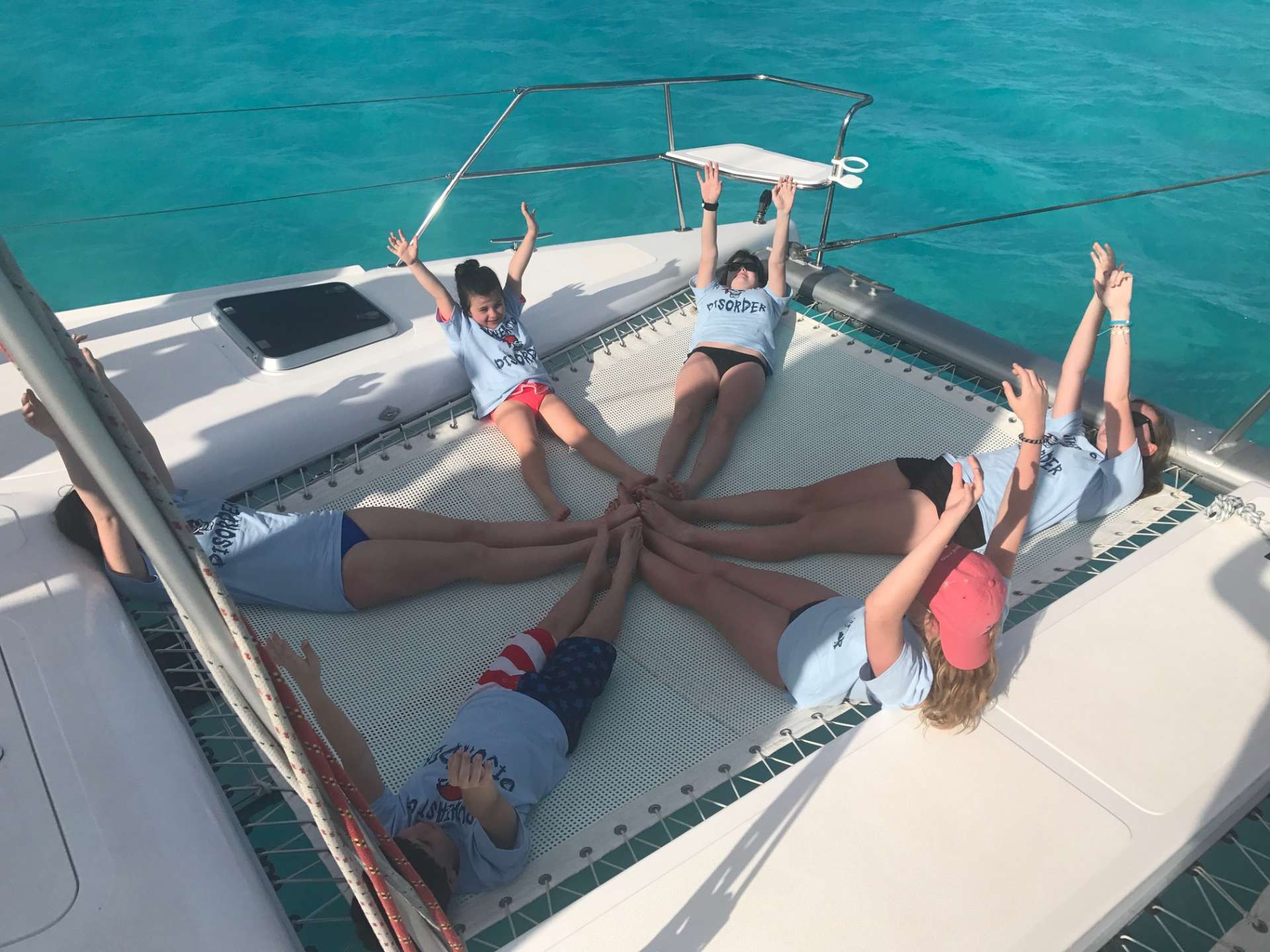 Stretching out on Guinevere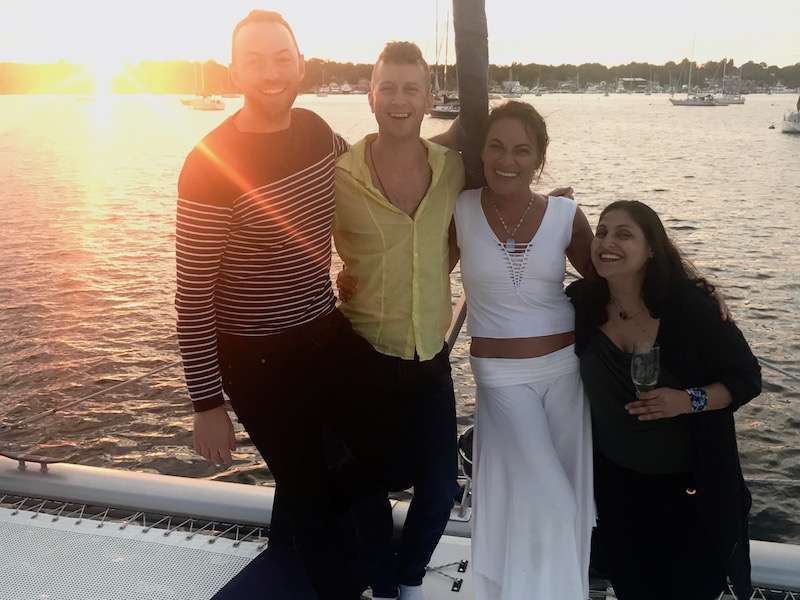 Happy times on Guinevere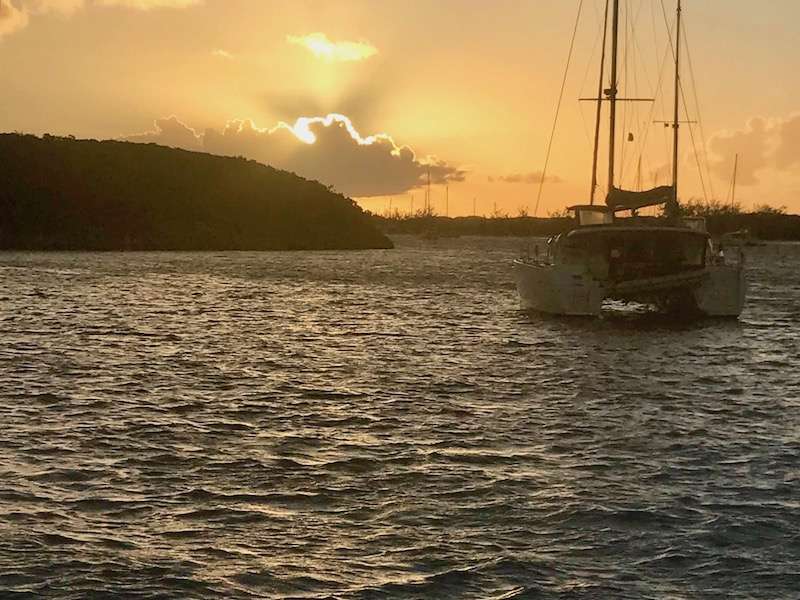 Sunset harmony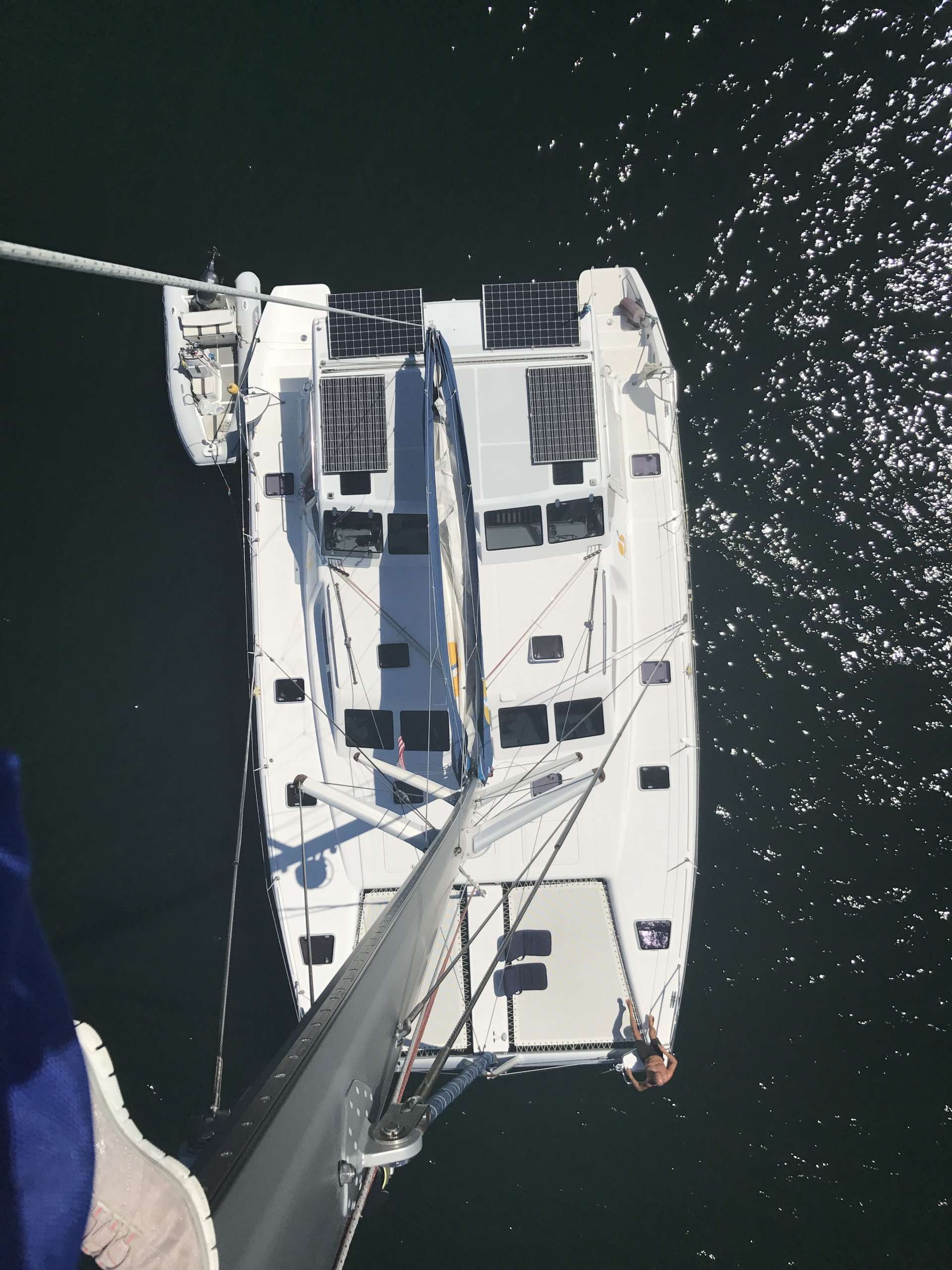 Aerial view of Guinevere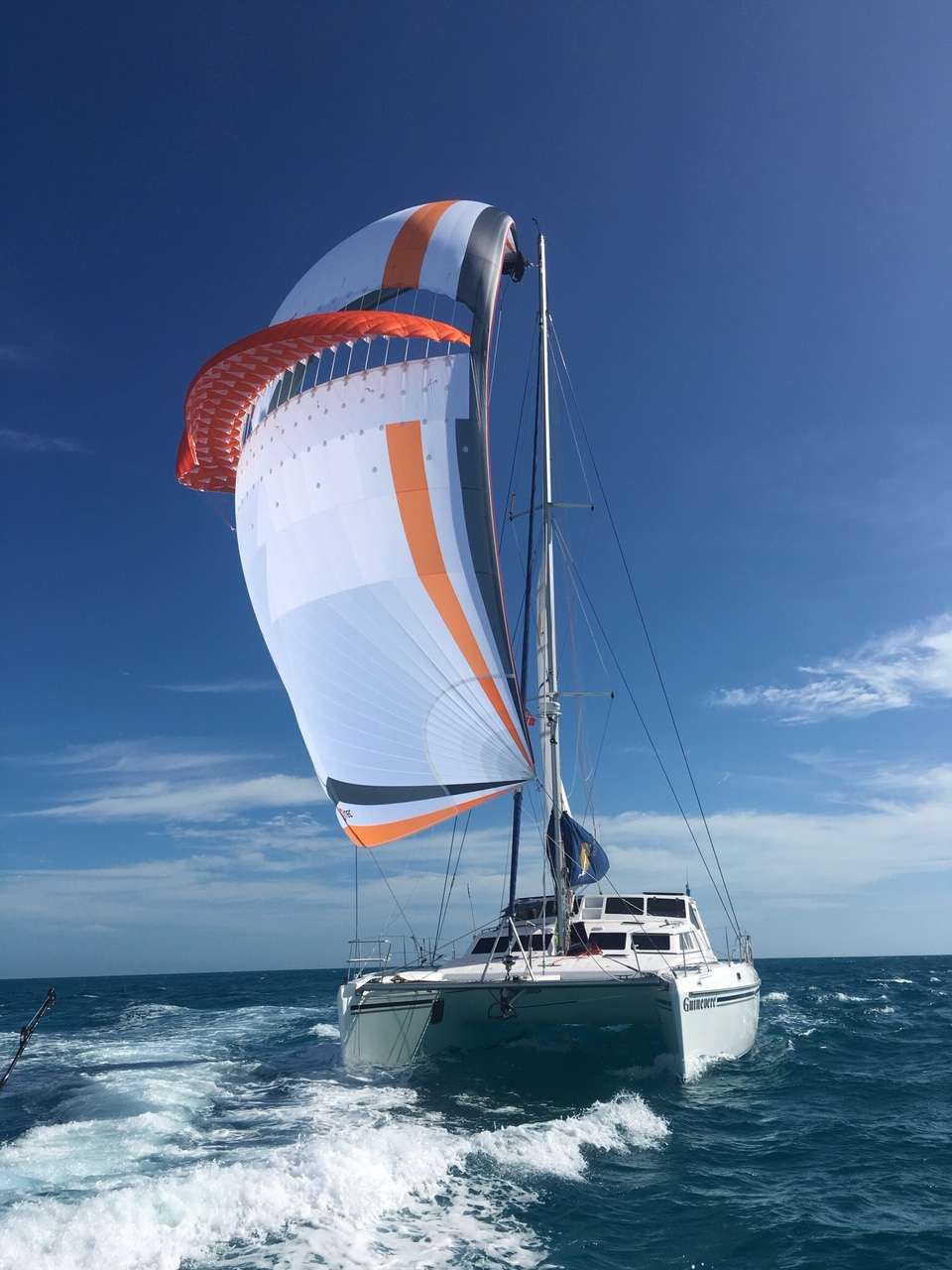 Thrilling Sailing on Guinevere!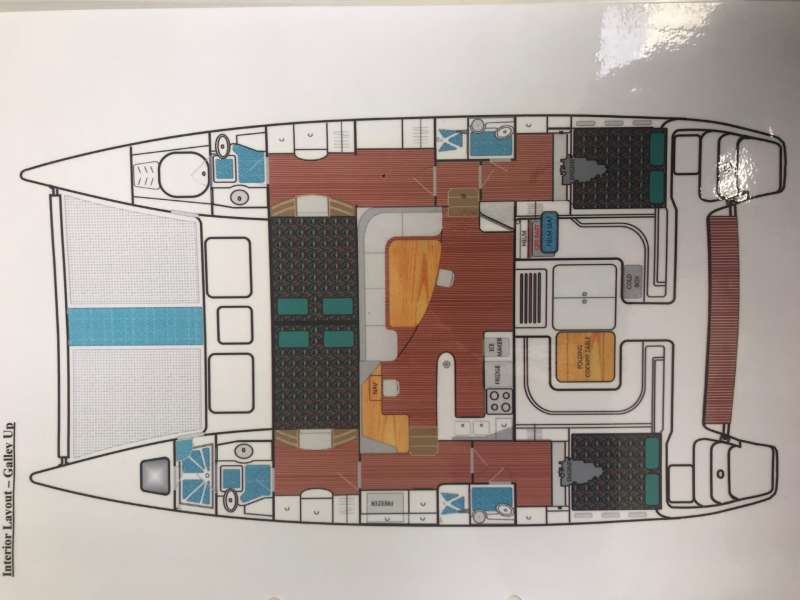 Guinevere Layout
Crew details: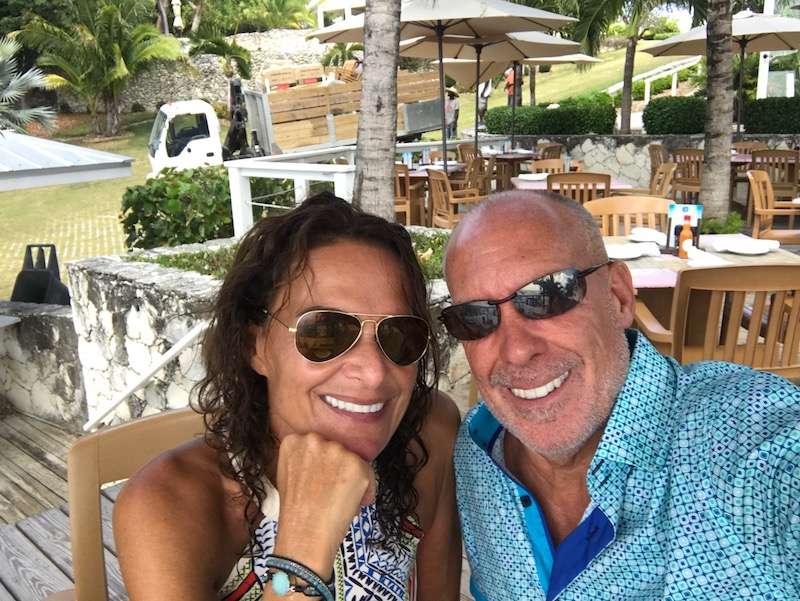 Guinevere Crew
Captain Renald Guindon
Ren is from picturesque Sault Ste Marie, Ontario. The Canadian city is on the St. Marys River with access to the Great Lakes. Ren started boating even before he started school. He and his family spent as much time as possible out on the water. He says, "We were a family of four boys. My Father always had us on a boat. I built my first sailboat, actually converted a rowboat into a sailboat, when I was in the 5th Grade. I have always loved sailing and being on the water. I want others to have as great an experience sailing as I do."
Sailing may have been Ren's first passion, but he has pursued other interests with equal vigor. Watersports of course, kayaking, paddle boarding, parasailing, diving, and free diving. He is quite musical; sang in the choir, played drums in a band, and plays the ukulele. He has studied yoga for 18 years and is dedicated to the practice. Friends describe him as funny, outgoing and calm. It is the perfect balance for a charter captain. He is a wonderful host who can remain composed in any situation.
Ren's favorite destination on earth is the Bahamas. These islands rise out of the most beautiful waters and offer the best beaches in the world. He makes every effort not to miss a single detail that will lead to the best possible experience for his guests. As the Captain and host aboard GUINEVERE, Ren eagerly shares his life on board, his yoga practice, his ukulele repertoire and his favorite island spots to create an unforgettable charter vacation.
Mate/Hostess Michelle Amiel
Michelle grew up in the suburbs of Montreal, Canada, with an older brother and younger sister. She was always very active outdoors; camping, fishing, skiing, and horseback riding. She was also a lifeguard at a young age and was awarded Queen of her hometown. She was a volunteer working with children and seniors and took young children annually to a French Immersion Riding Camp to learn French.
Michelle spent as much time as possible away from urban life, in the wilderness and on the beaches. Eventually, she moved to Vancouver Canada to live in the mountains and to be closer to the ocean. She says, "In Vancouver I sailed monohulls. I prefer the energy of the water and the simple peaceful life it offers to be on a sailboat." She has a degree in dental hygiene and worked in this industry for thirty years. She is also a yoga instructor and holds a Yoga Teachers Certificate, and coaches breathing, wellness, leadership, and a healthy lifestyle.
Michelle enjoys a high-level of personal involvement with her guests. Friends describe her as personable, patient and kind, which is why so many of her guests become lifelong friends. She is an excellent guide and instructor for yoga, snorkeling, free diving, breathing, meditation, aromatherapy, and preparing healthy smoothies and foods. Her motto: Why wait, do it now! The Bahamas beckon.
Chef Terri Moore
Terri grew up in the Great Lake State of Ohio. Throughout her childhood she attended dance school and spent weekends boating with her family. As a young adult, Terri decided to move to New Orleans. In this tourist-oriented town she landed a job in the hospitality industry and discovered she truly enjoyed working with people. Her adventurous spirit led her to explore the villages and towns of Europe and she developed a passion for adventure travel.
When she returned to the U.S. she discovered that working in the yachting industry allowed her to combine her favorite pastimes, cooking and travel. Her menu results from an inspired fusion of creativity, curiosity and colorful cultures. She incorporates recipes and ingredients from her experiences in world cuisine. While she loves learning and experimenting with new ingredients, she is also an expert in simple, healthy, comfort foods. Creating a menu for special or restricted diets is not a problem, and she's great with kids on board. Her passion is creating and serving a menu that is so delicious most guests ask for seconds and many ask for recipes. That's what she calls cuisine worth sharing!
For a charter experience that is as beautiful as it is unforgettable, charter sailing catamaran GUINEVERE.
Water Toys
2-Man Kayak (Yes)
Floating Mats (Yes)
Snorkel Gear (Yes)

Yacht Amenities
Salon Stereo (Yes)
Salon TV (Yes)
Deck Shower (Yes)
BBQ (Yes)
Hair Dryer (Yes)
Board Games (Yes)
Sun Awning (Yes)
Ice Maker (Yes)