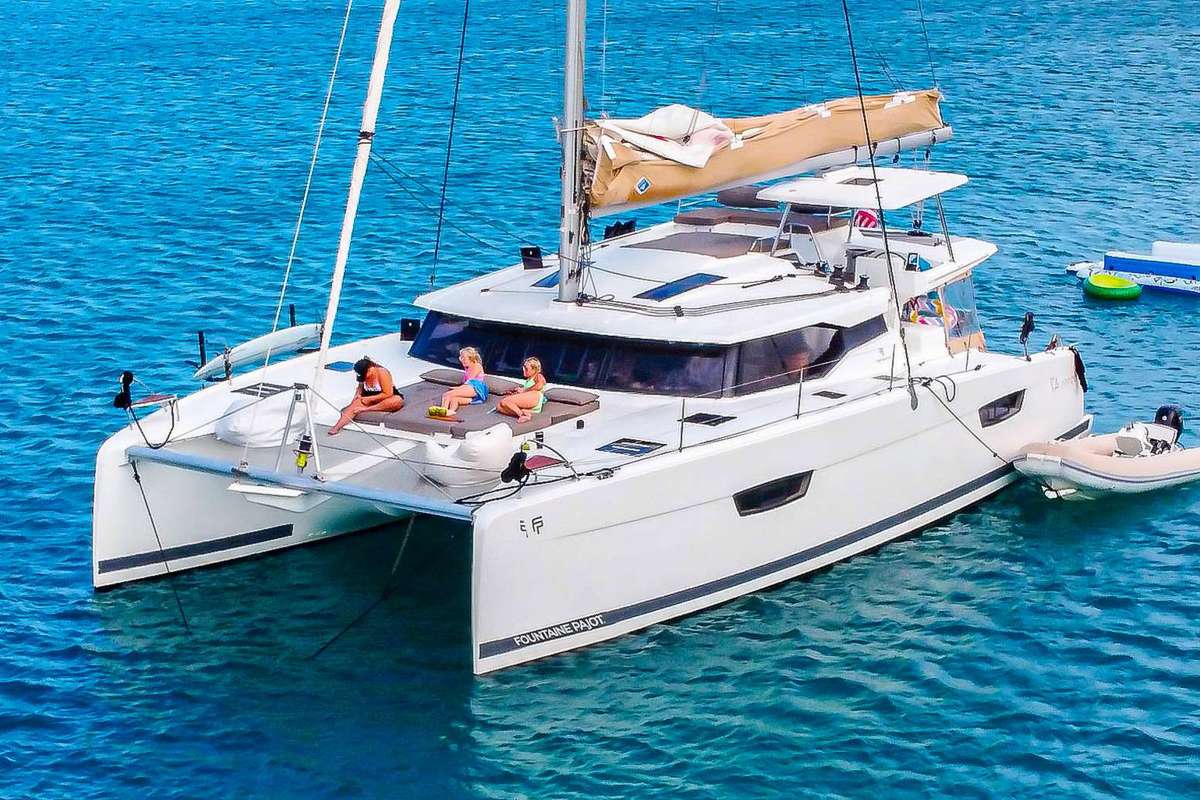 Weekly charter rates
$17,000 to $20,000 for up to 8 Passengers

Yacht Black Tortuga Specifications:
Builder : FOUNTAINE PAJOT
Length: 47 Ft
Year launched: 2018
Passenger #: 8
Guest cabins: 4
Queen cabins: 3
Twin cabins: 1
Crew #: 2

Yacht Black Tortuga Overview:
This beautiful, award-winning luxury yacht comes equipped with 4 bedrooms and 4 full baths. 3 Queen cabins and one bedroom contains 2 single bunks. Check out this description from SAIL magazine, where it just won Best Boat of 2018:The Fountaine Pajot Saona 47 catamaran is a space machine in the truest sense of the word. Like all sailboats, it can carry you through the water and across space and time using nothing but the power of the wind—thereby making it supremely quiet and smooth. Unlike most other sailboats, though, it manages to do this while providing a vast amount of living space as well—not to mention the fact it does so in a package that remains supremely pleasing to the eye.Approaching the Saona 47 from a distance, this emphasis on space is immediately apparent in the top deck, which measures nearly 100ft and is well equipped with sun lounges, not to mention a great view. Down a few steps is a large helm station with seating for two, and then down a few steps more you'll find an immense afterdeck that flows into a wide cabin, a space that can entertain a dozen without any sense of crowding. Down again and you enter the boat's private cabins, which are wider than those of many monohulls. In typical Fountaine Pajot fashion, everything is bright, open and contemporary, with neutral colors and clean-lined joinery that gives the boat the air of a fine urban apartment. The hulls are also fine below the waterline, but then flare rapidly to chines, which minimizes wetted surface for performance while maximizing interior space. Similarly, the long waterline translates into good average speed, while a high sail-area-to-displacement ratio means there's plenty of power to drive the boat through the water. In other words, like the other models from this builder, the Fountaine Pajot Saona 47 is not only comfortable, but knows how to make tracks.
Accommodations:
3 queen cabins with ensuite bathrooms and 1 twin bunks cabin with ensuite bathroom. The crew will vacate their queen cabin for the twin cabin if 4 queen cabins are requested for charter.
Crew details:
Black Tortuga Crew
MEET THE CREW - 2019/20 SEASON
Captain - Brian Christiansen
Chef - Elena Gandillon
Share in the unique experiences of the Virgin Islands that Elena and Brian craft for you sailing aboard the spacious, wind-powered vessel, Black Tortuga.
With close to a decade of experience taking people "into the wild", Brian shares his sense of adventure with guests. Raised in Utah and frequently found at sea, Brian is confronted with questions as to how he became an ocean-going captain. Most people forget there is a small ocean, the Great Salt Lake, in his desert home. His father taught him a love for all activities in and around water. Reading sea-faring novels from the golden-age of discovery inspired him to lust for the horizon and he eventually made his way aboard expedition ships plying all the planet's waters. Alongside working for National Geographic Expeditions, he operated specialty charters through the Lesser Antilles on his own sailing vessel. As a USCG 100ton rated captain, his attention to detail and professionalism are integral to safe operation of the vessel. As a fellow human with passions in outdoor pursuits, he is a perfect companion for fun activities if you want to try your hand at at anything from surfing and kiteboarding to freediving and kayaking. Holding a degree in film-making, working as a videographer and being a reward winning photographer; he can create, upon prior request, a media package of the events that make your trip remarkable.
Elena's spirit awakens in the open. After traveling to over thirty countries, her instinct draws her to beautiful and isolated places. Her love for nature led her from jagged mountain peaks of Switzerland into the deep blue of the Indo-Pacific. She became a PADI certified scuba instructor in Komodo so she can share her love of undersea life with others. Join her for some scuba diving or become certified while onboard and see what the hype is all about! Growing up in an international household, her culinary influences are mainly French and Swiss with added spice from her travels, specializing in creating heart-warming dishes from the simplest of ingredients. She aspires to cater her dishes toward individual diets and has perfected eco-friendly, plant-based menu selections. Placing great importance on the dining experience, speaking three languages, and versed in the art of conversation makes spending time with her a joy, no matter where you are from.
Elena and Brian met in Raja Ampat diving and sailing and are fully committed to spending every moment in each other's company with their first love, the water. Blending luxurious yacht life and connecting with nature in easy grace, they ignite voyagers' passion for Caribbean beauty. Sailing in consistent winds on the azure waters of the Virgin Islands while visiting white sandy beaches with quaint hideaways is a perfect way to charter.
Come join them aboard Black Tortuga for the wind-powered charter of a lifetime. You will go home with more than memories - you will have inspiring stories of rewarding experiences.
With Elena and Brian, you are guaranteed an unforgettable week. As a team, they are perfectly matched to make your tropical getaway magical.
_____________________________________________
"Take home memories of your charter. Your captain, Brian, is an award winning photographer ready to capture all of the moments you want to remember forever. He is especially proficient at imaging underwater. Also being a videographer, those fast moving moments won't be lost. All images taken during your voyage can be made available to you digitally with no copyright so you can do whatever you want with them, print the images huge for your living room or just post on social media. Whatever you decide to do with your imagery, you will never forget the Virgin Islands."
Topside Digital Package (All images, photo or video, created during the charter above water): $750
Undersea Digital Package (All images, photo or video, created during the charter below water): $950
Complete Digital Package (everything): $1250
Individual Digital Topside Images: $75
Individual Digital Undersea Images: $95
"Please arrange beforehand if you are interested in any of these packages. Your final decision can wait until you see what your package looks like."
Water Toys
Floating Mats (Yes)
Snorkel Gear (Yes)
Tube (Yes)
Other equipment includes:
Noodles Snorkel Gear Floating Mat 2 SUP's Tube Wakeboard Hookah Dive Equipment Fishing Rods Beach Games Board Games

Scuba details
Captain's Scuba License: Instructor
Dive costs: Diving Costs:
$50 per person per dive
$75 per person per night dive
Up to 2 dives per day
Open Water Certification, client must have completed course work prior to charter. Confined water dives - $150 per person. Open water dives - $299 per person
Discover Scuba - $125 per person, minimum age 10
Refresher course -$125




Diving is offered onboard.
Guests to rent their own equipment. Crew will help facilitate the rental and will make sure it is onboard in time for the charter.

Coki Dive Center:
Contact: Peter
Cell #: (340) 998-4196



Yacht Amenities
Salon Stereo (Yes)
Salon TV (Yes)
Deck Shower (Yes)
BBQ (Yes)
Hair Dryer (Yes)
Board Games (Yes)
Ice Maker (Yes)