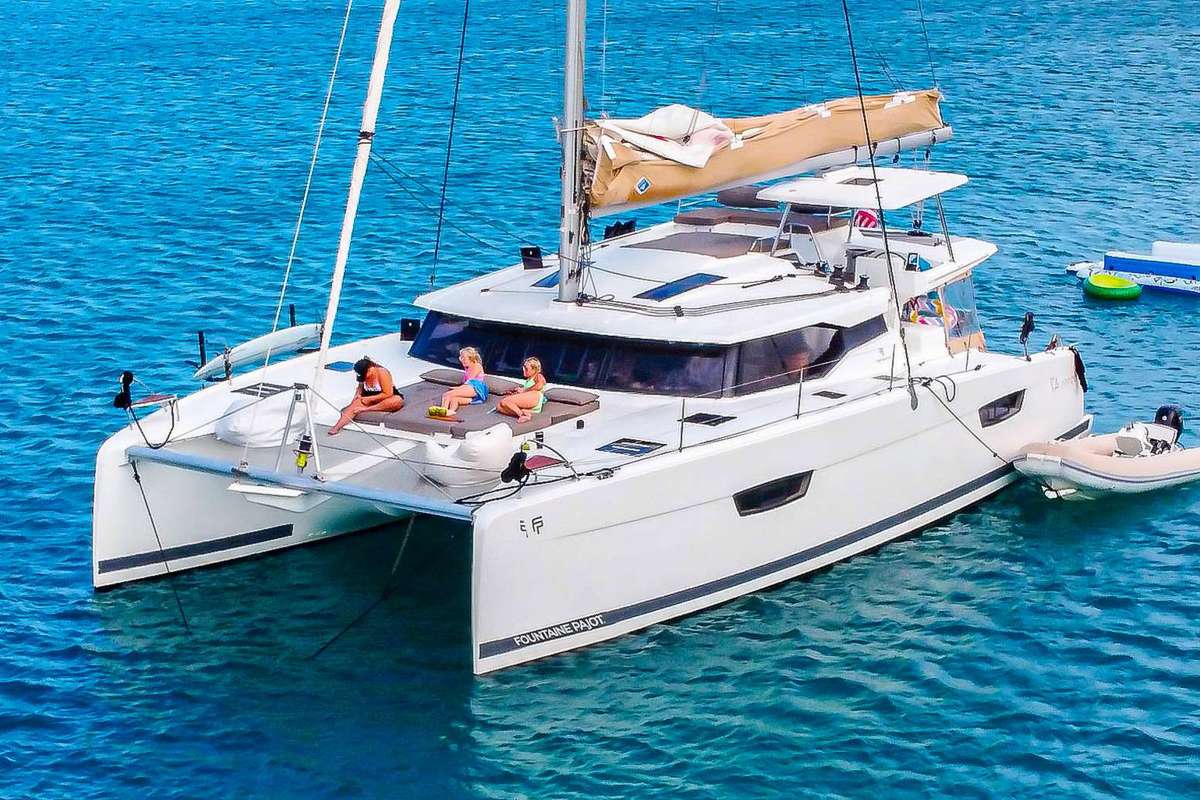 Weekly charter rates
$18,000 to $21,000 for up to 8 Passengers

Yacht Black Tortuga Specifications:
Builder : Fountaine Pa
Length: 47 Ft
Year launched: 2018
Passenger #: 8
Guest cabins: 4
Crew #: 2

Yacht Black Tortuga Overview:
This beautiful, award-winning luxury yacht comes equipped with 5 bedrooms and 5 full baths. One bedroom contains 2 single bunks and is typically reserved for the crews use. With the sofa converted to a queen-sized bed, the entire craft will comfortably sleep 10 + Crew.Check out this description from SAIL magazine, where it just won Best Boat of 2018:The Fountaine Pajot Saona 47 catamaran is a space machine in the truest sense of the word. Like all sailboats, it can carry you through the water and across space and time using nothing but the power of the wind—thereby making it supremely quiet and smooth. Unlike most other sailboats, though, it manages to do this while providing a vast amount of living space as well—not to mention the fact it does so in a package that remains supremely pleasing to the eye.Approaching the Saona 47 from a distance, this emphasis on space is immediately apparent in the top deck, which measures nearly 100ft and is well equipped with sun lounges, not to mention a great view. Down a few steps is a large helm station with seating for two, and then down a few steps more you'll find an immense afterdeck that flows into a wide cabin, a space that can entertain a dozen without any sense of crowding. Down again and you enter the boat's private cabins, which are wider than those of many monohulls. In typical Fountaine Pajot fashion, everything is bright, open and contemporary, with neutral colors and clean-lined joinery that gives the boat the air of a fine urban apartment. The hulls are also fine below the waterline, but then flare rapidly to chines, which minimizes wetted surface for performance while maximizing interior space. Similarly, the long waterline translates into good average speed, while a high sail-area-to-displacement ratio means there's plenty of power to drive the boat through the water. In other words, like the other models from this builder, the Fountaine Pajot Saona 47 is not only comfortable, but knows how to make tracks.
Crew details:
Black Tortuga Crew
Meet Tommy and Janey, a hard working, fun and outgoing team of sailing enthusiasts who will show you an amazing and adventurous week on board the beautiful Black Tortuga. Tommy's sailing skills and vast knowledge of the Islands and its hidden gems, paired with Janey's love and passion for cooking, will guarantee an unforgettable week amongst the beautiful Caribbean Islands.
Tommy developed a passion for sailing at a young age, growing up sailing on the Chesapeake Bay, he quickly advanced from racing small dinghies to acquiring a keelboat of his own at age 15. Taking to the sea after high school for a year of cruising around the Caribbean he then returned to Virginia to complete his university studies. Adventure has always been in his blood. During University his passion for sailing was peaked more than ever and he took every break possible to get back on the ocean completing multiple offshore deliveries.
During his final year of University he became a professional captain, receiving his USCG 100 ton masters license and then sailed down to the Virgin Islands from Virginia, aboard his own sailboat. Working the winter season these past two seasons in the Virgin Islands, Tommy knows all of the ins and outs of the USVI and BVI and is excited to create a charter experience geared towards the wants and needs of his guests. The Virgin Islands are abundant with beautiful beaches, floating bars, brilliant hikes, and incredible snorkel spots that Tommy and Janey cannot wait to take you to.
Janey grew up in sunny Cape Town, South Africa, in a large family environment, which hosted family gatherings almost every weekend. Janey's passion for food began at a very young age, where she spent many evenings watching and helping her mom cook dinner for the family. Her attention to detail and flare for experimenting with new flavors and flavor combinations, drove her to be the creative chef she is today. After completing a diploma in fashion design, Janey decided to explore new options abroad, and went on to work as a chef/hostess on private charter boats in Croatia in the Mediterranean. It was at this time that Janey realized her absolute love for sailing, paired with professional cooking and entertaining, and therefore went on to pursue her career in the Caribbean.
Tommy and Janey's relaxed and easy way of organizing activities, and ensuring the week is run smoothly will leave you feeling refreshed and satisfied at the end of the charter. They compliment each other in a way that is comforting and welcoming. They make for a truly amazing crew that will guarantee an unforgettable experience.
Water Toys
Snorkel Gear (Yes)
Tube (Yes)

Scuba details
Discover Scuba course: $150
Dive costs: These are approximate rates for Rendezvous Diving:
Discover Scuba $150 per person
Open Water Certification $295 per person (all book work and pool work done beforehand)
2 Tank Dives $145 per person
Rendezvous diving can be arranged

Yacht Amenities
Salon Stereo (Yes)
Deck Shower (Yes)
BBQ (Yes)
Hair Dryer (Yes)
Board Games (Yes)
Ice Maker (Yes)