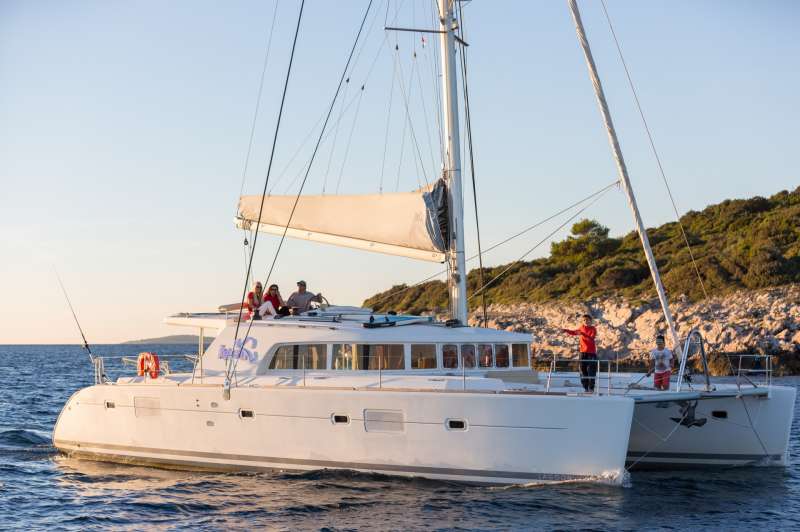 Weekly charter rates
€6,600 to €13,150 for up to 8 Passengers

Yacht Bossa Nova Specifications:
Builder : Lagoon
Length: 15.55 m
Year launched: 2010
Passenger #: 8
Guest cabins: 4
King cabins: 1
Queen cabins: 1
Double cabins: 2
Crew #: 2

Accommodations:
8 in cabin + 2 berths in salon + 2 skipper cabins
CAPTAIN PERSONAL DETAILS
Name and Last name Nikša Radiši
DOB: 09.04.1974.
Address: Poeška 8, 21 000 Split. Croatia
Civil state: Married, 2 children
Qualifications: Mechanical engineering
Yacht Master A till 100 BT
Languages spoken: English, Italian, Croatian
Maritime experience: - Member of organizing committees for regatta
Sušac
- Member of the executive Board of the YC Vis
- 2017- present Resident skipper aboard Lagoon
500 Bossa Nova
- 2006-2017 worked professionally as a skipper
for several charter companies
- 2004-2006 Manager of procurement Euroyachts
shipyard
- 1998 -2004 Technical maintenance of yachts in
Bavadria charter company
- From age 7 member of YC Mornar-Split
Interests and hobbies: - Construction dinghy class catamaran deltey
(5,25M)
- outdoor activities like sailing, swimming, fishing
etc.
Other skills: - Reliable, organized, high capability to operate
in new and unpredictable circumstances, high
communicational skills
- Able to conscientiously and responsibly
perform given tasks
- Excellent leadership abilities and enjoy working
as part of a team.
- Excellent connections with restaurants,
marinas, good knowledge of Dalmatian coast
HOSTESS PERSONAL DETAILS:
GORDANA PLOSNIC, Chef - Stewardess
Well organized, detail orientated and trained to deliver an amazing experience for our
guests on board, representing local area, food and spirits
Key Skills & Competencies
Extended knowledge and experience in food preparation and delivery
Delivering outstanding customer service
Exceptional eye for detail
Well organized
Adaptable and easy going
Experience
Australia- Hospitality Experience
ESS – COMPASS GROUP, Chevron - Barrow Island - Western Australia ( 2010-2016)
- Catering
- Bar and Retail
Croatia - Yacht Experience
Dream Yacht Croatia Charter d.o.o. – Dubrovnik (2017)
- Chef - StewardessSailing Boat, Private Owner – Businessman: Andre Falchenberg, Oslo – Norway (2008-
2009)
- Chef - Stewardess
MY Bella Navetta, Private Owner - Joseph Brennan, Dublin – Ireland (2008)
- Chef - Stewardess
SailCroatia LTD, Marina Kastela (2009)
- Sailing Yacht - Stewardess
Mande Charter d.o.o. Marina Kremik – Rogoznica( 2009)
- Sailing Yacht - Stewardess
Croatia – Tourist Guide Experience
Scandinavian World d.o.o, Dubrovnik – Tourist Guide – Croatia, B&H, Turkey,
Norway (2007 – 2009)
Katarina Line Cruises, Opatija – Tourist Guide – Croatia, B&H, (2006-2010)
Education & Training
__________________________________________________________________
Australia:
- Certificate IV in Hospitality
- Certificate IV in Work, Health and Safety
- Senior First Aid Certificate
Croatia:
- University of Economics – Tourist Guide
- London International College of Homeopathy
Languages
Fluent in Croatian and English
Water Toys
2-Man Kayak (1)

Yacht Amenities
Salon Stereo (Yes)
Salon TV (Yes)
Deck Shower (Yes)
Ice Maker (Yes)