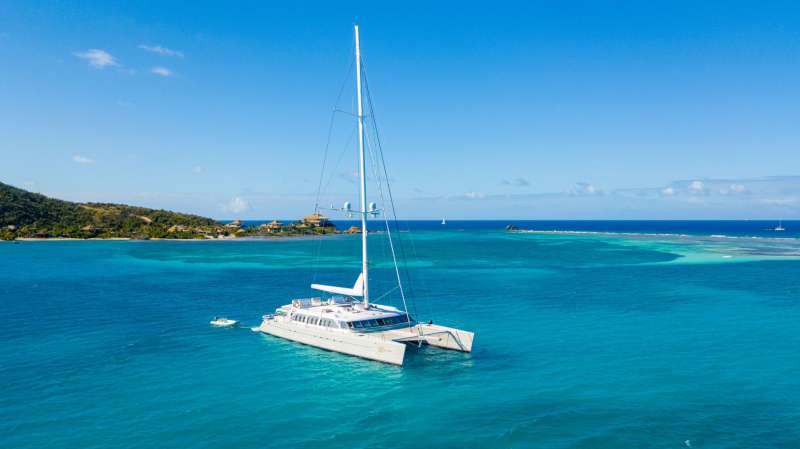 Weekly charter rates
$70,000 to $80,000 for up to 10 Passengers

Yacht Bella Vita Specifications:
Builder : C.M.N. Cherbourg, Fr
Length: 105 Ft
Year launched: 2001
Passenger #: 10
Guest cabins: 4
King cabins: 4
Double cabins: 1
Twin cabins: 2
Crew #: 5

Yacht Bella Vita Overview:
BELLA VITA, formerly NECKER BELLE, was designed to maximize fun, with a spacious trampoline, a diving board and a unique crow's nest that lifts guests to the top of her mast. Whether you're an adrenaline seeker who's into sailing, scuba diving, paddle boarding or game fishing, or you're just looking for some serious sun tanning space, BELLA VITA is the charter yacht for you.Great sailing performance, combined with beach club styling and a carefully conceived layout, create a versatile living arrangement for eight to 10 guests. BELLA VITA's interior is large and contemporary, with bamboo wood flooring and accent lighting in all the right places. She offers guest accommodations via four chic staterooms, with a master suite, a double cabin and two double/twin convertible cabins. A double sofa bed can also be made up in the main salon to provide a further two berths if required.
Accommodations:
#1 Master Cabin (stbd aft) is a king size bed with own bathroom, two sinks, one shower, and commode.
#2 Port aft, and #3 port forward cabins are mirrored cabins with a king bed that can split into two single beds, each with own bathroom.
#4 Staboard forward has a king bed, own bathroom
#5 Main saloon couch turns into double bed with privacy curtain and uses guest's day head as bathroom.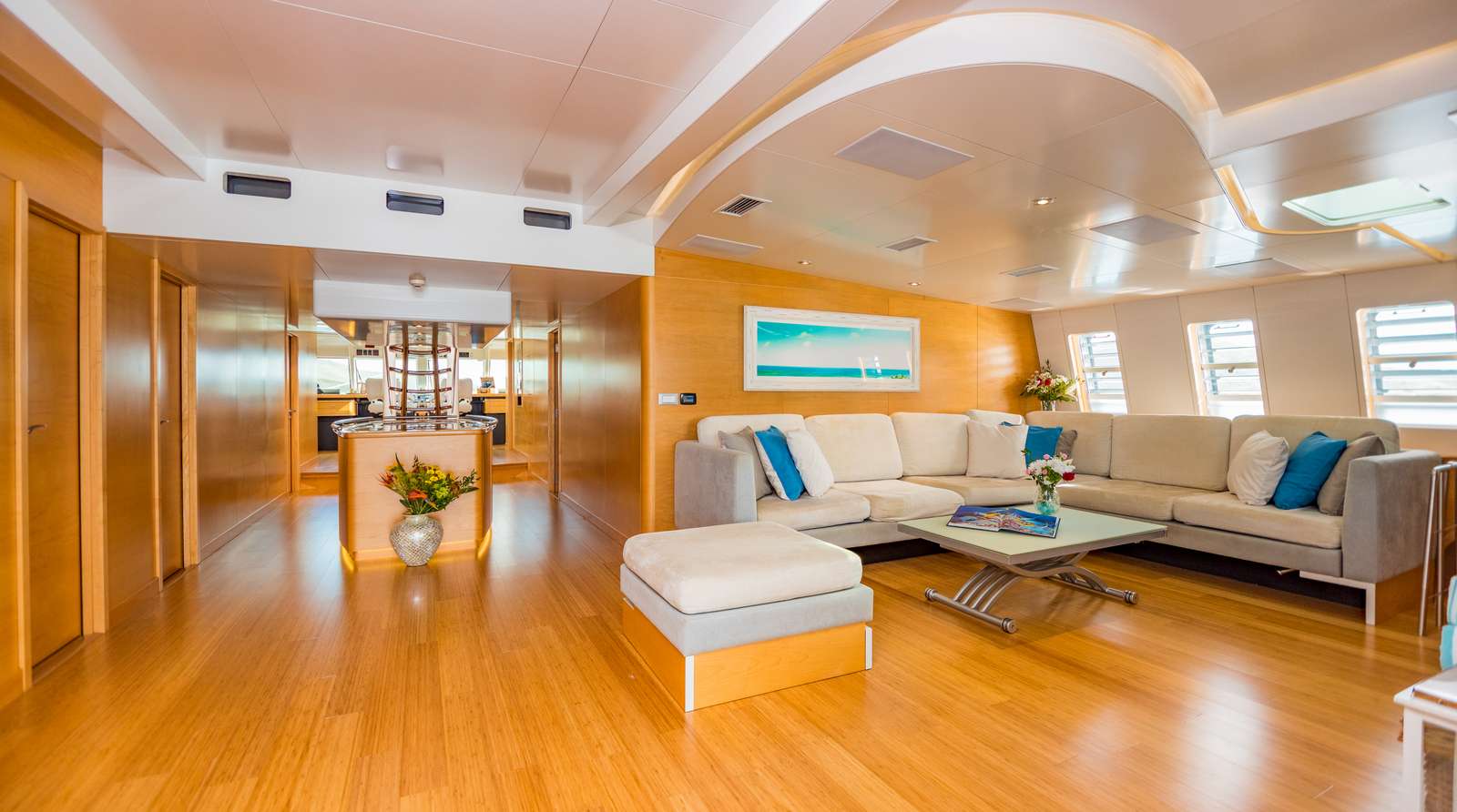 Salon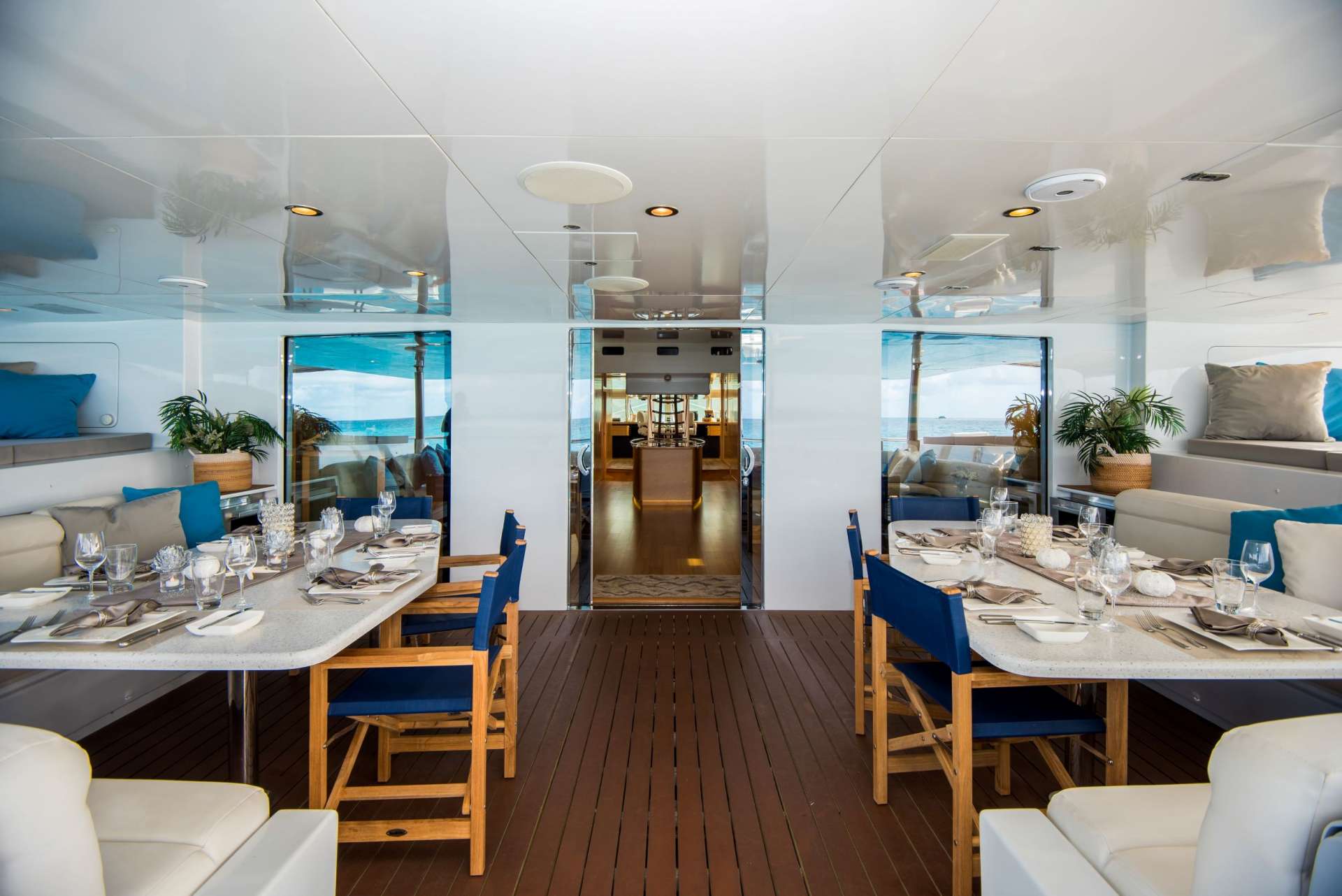 Outdoor Dining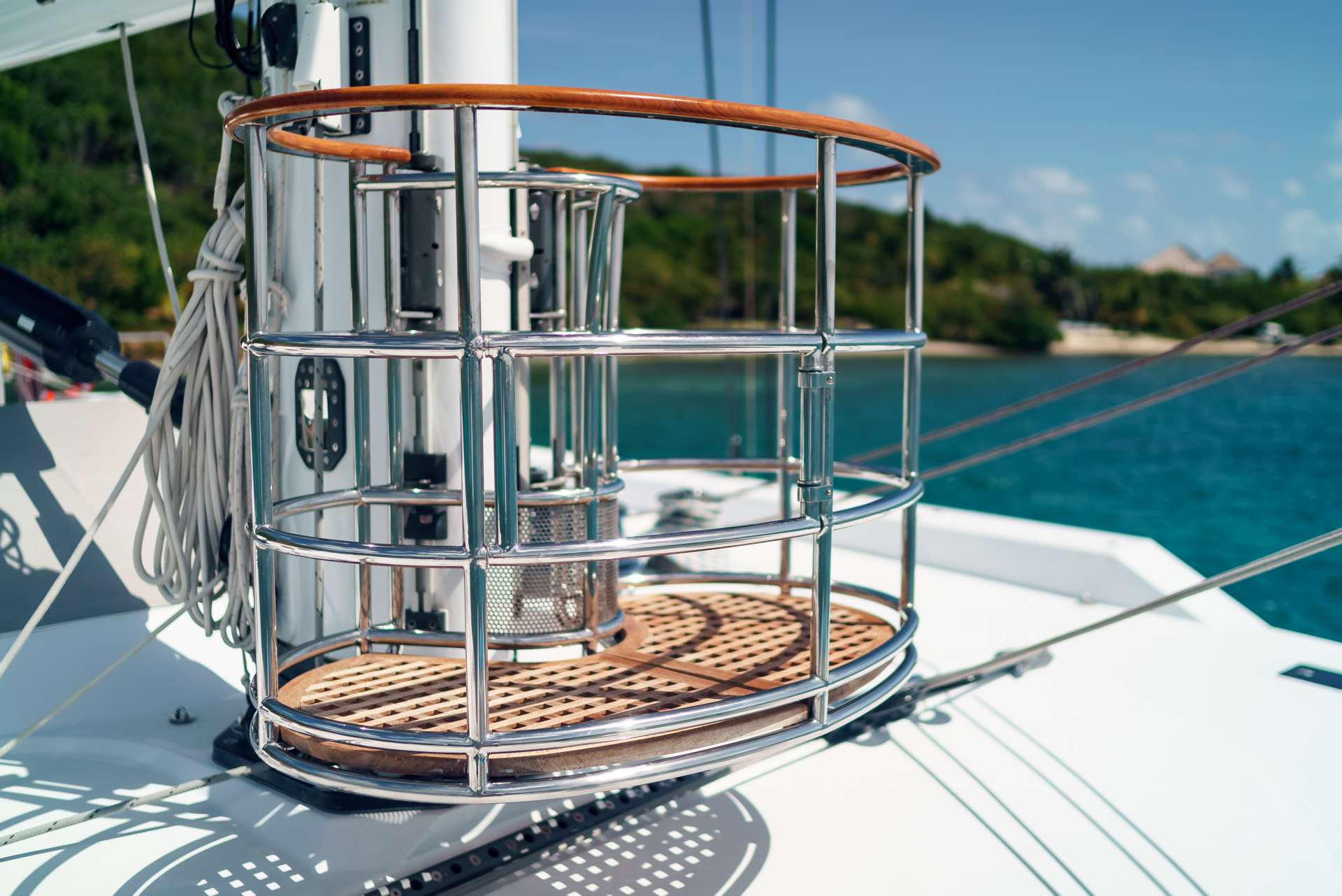 Crows Nest Elevator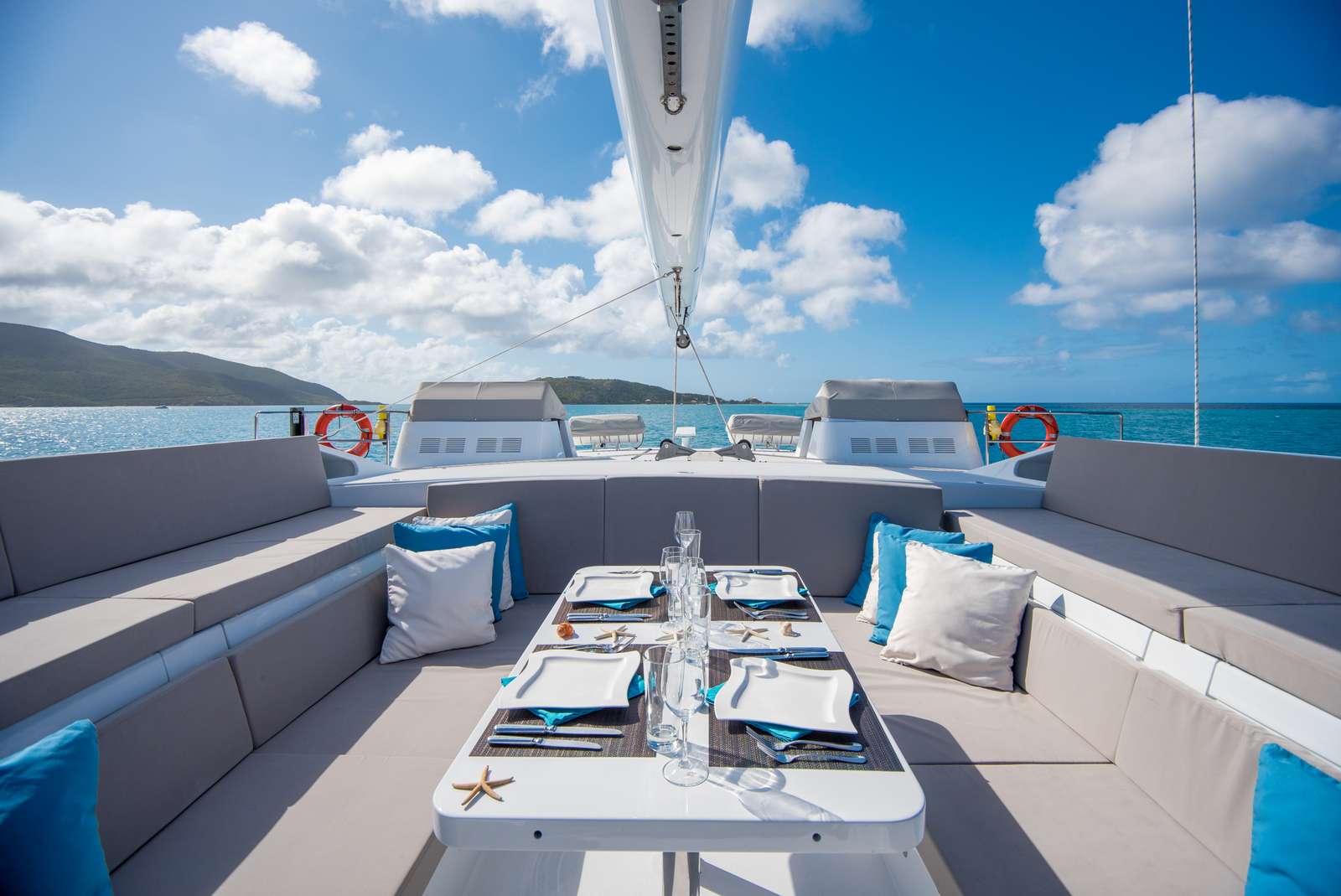 Aft Deck
Master Stateroom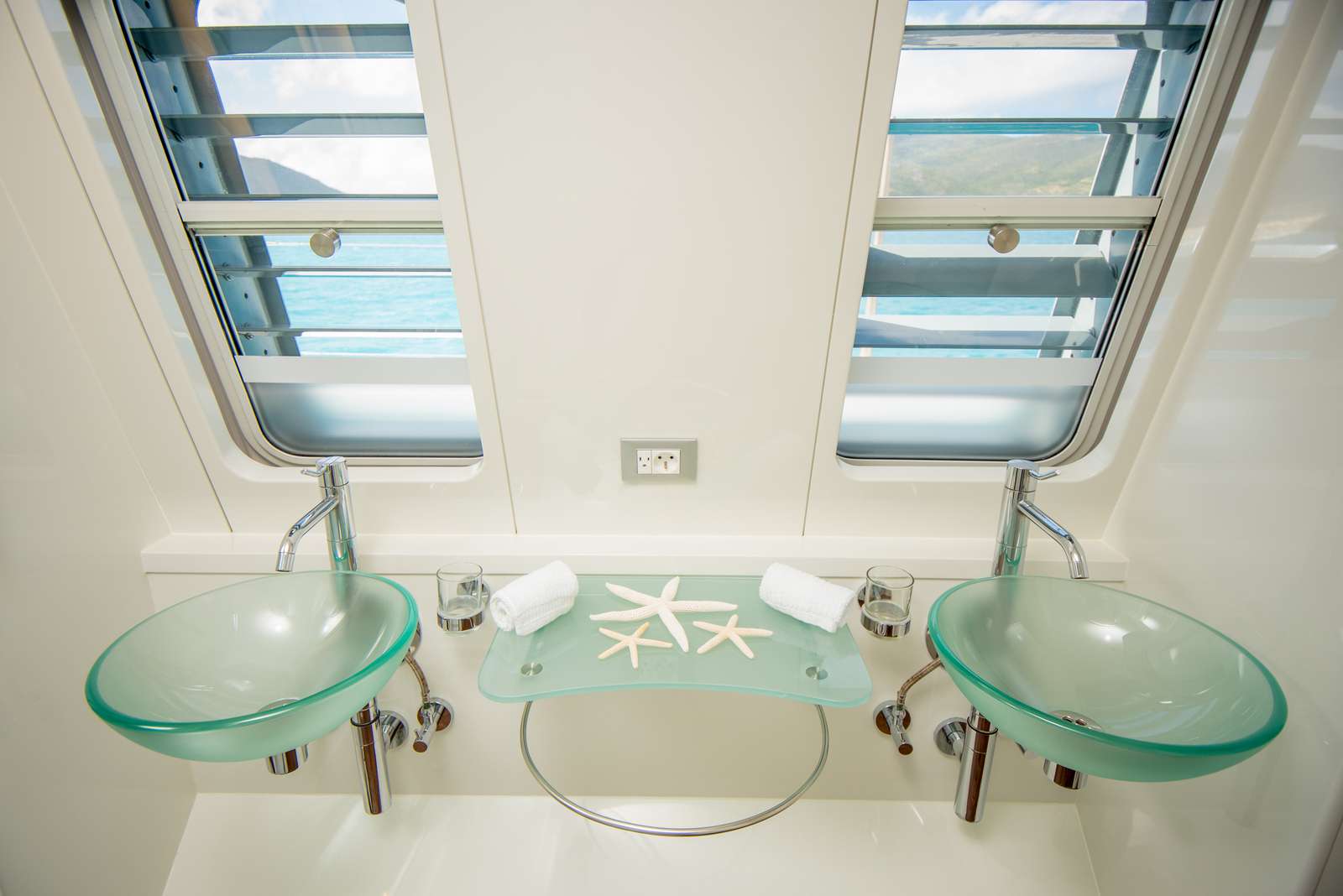 Master Bath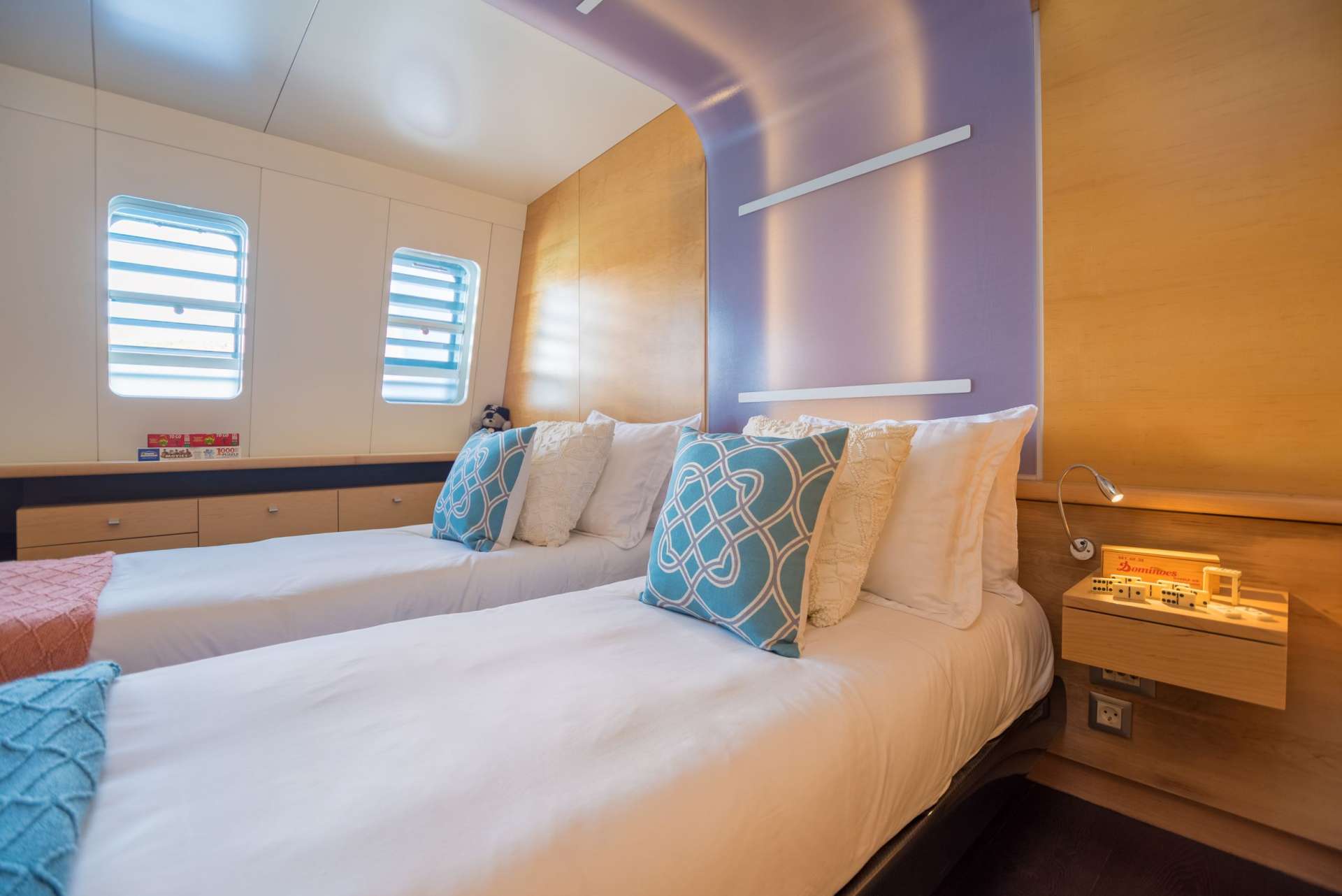 Convertible King to Twin Stateroom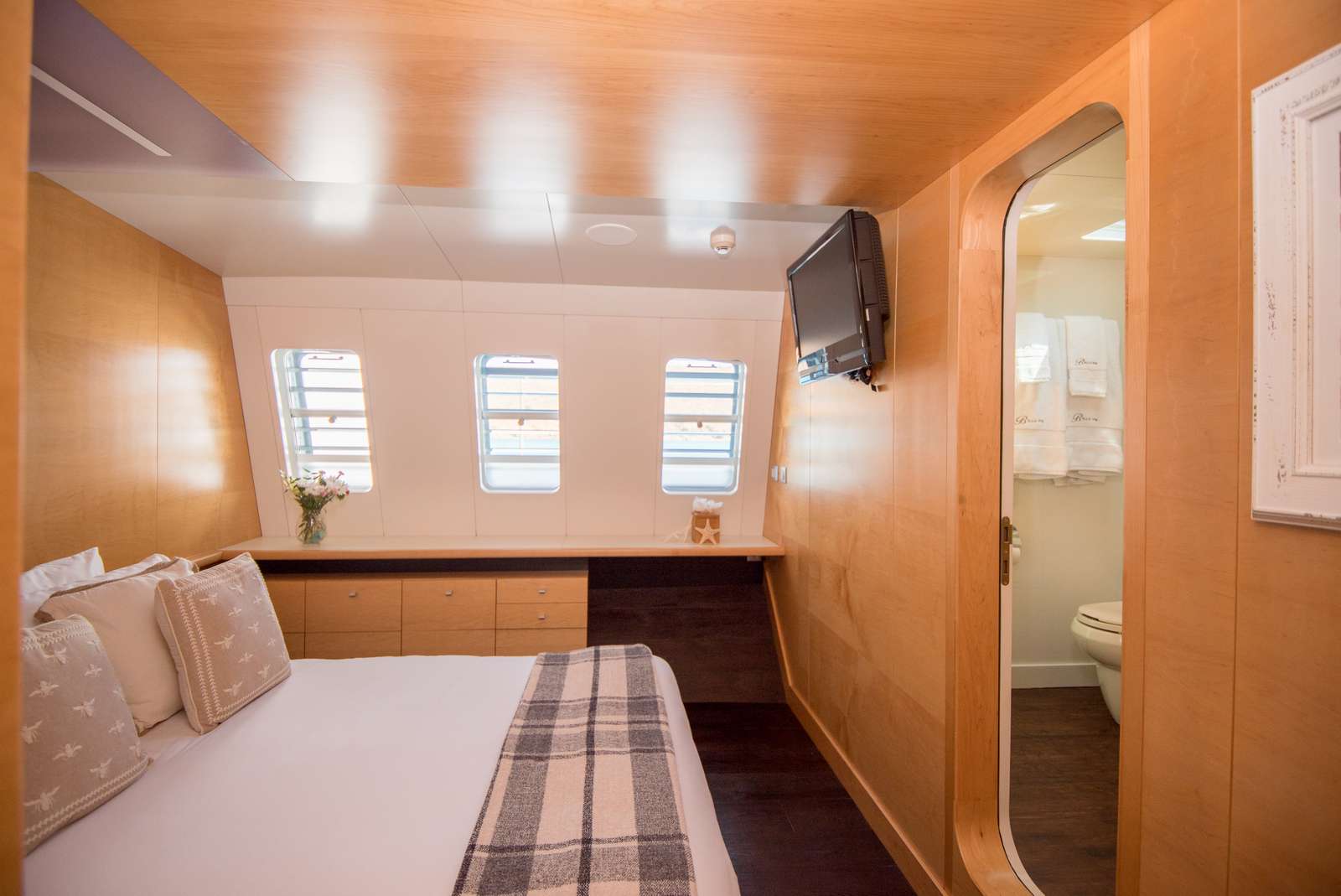 Convertible King to Twin Stateroom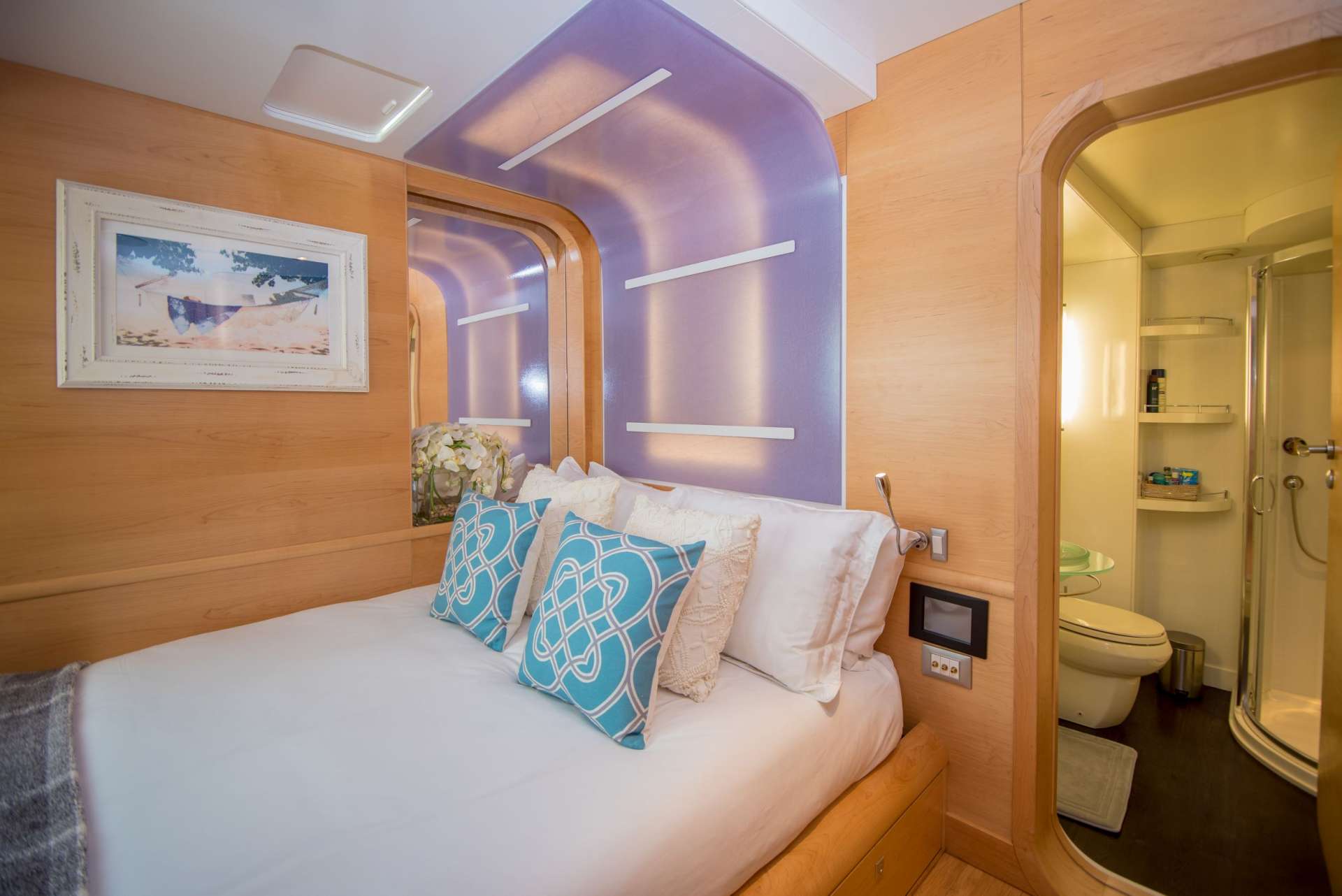 Guest Bath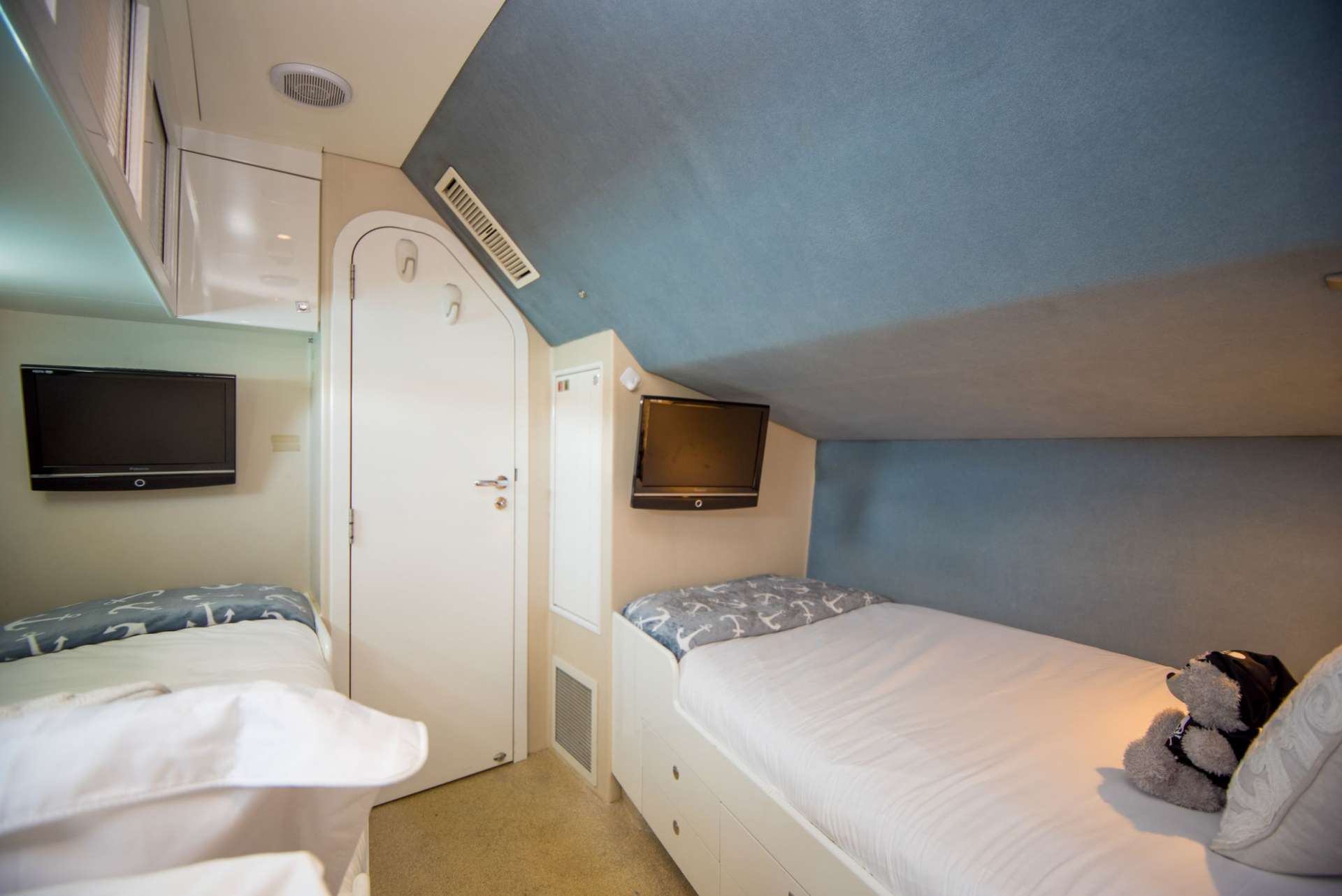 Salon Convertible Fifth Stateroom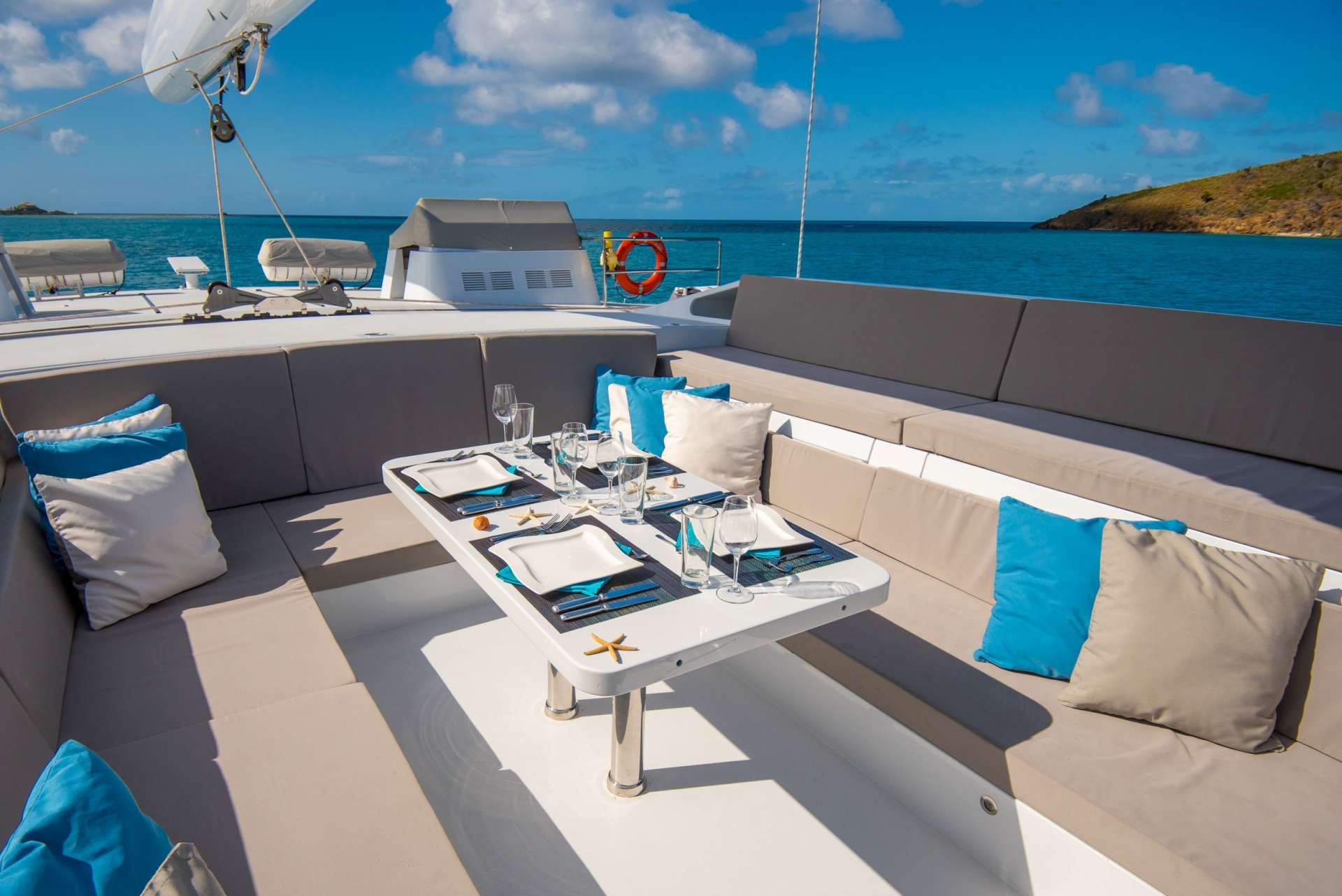 View from Crows Nest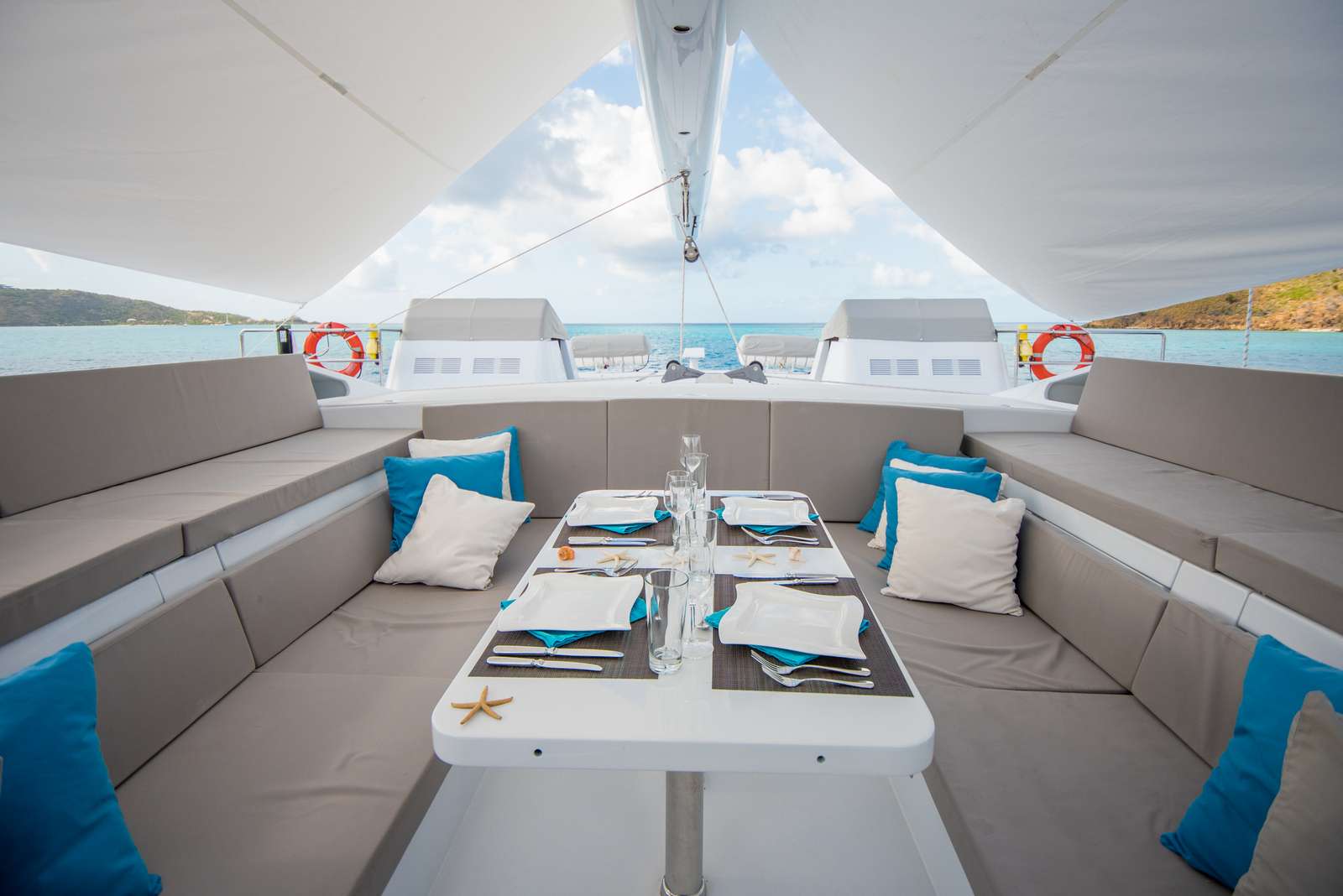 Trampoline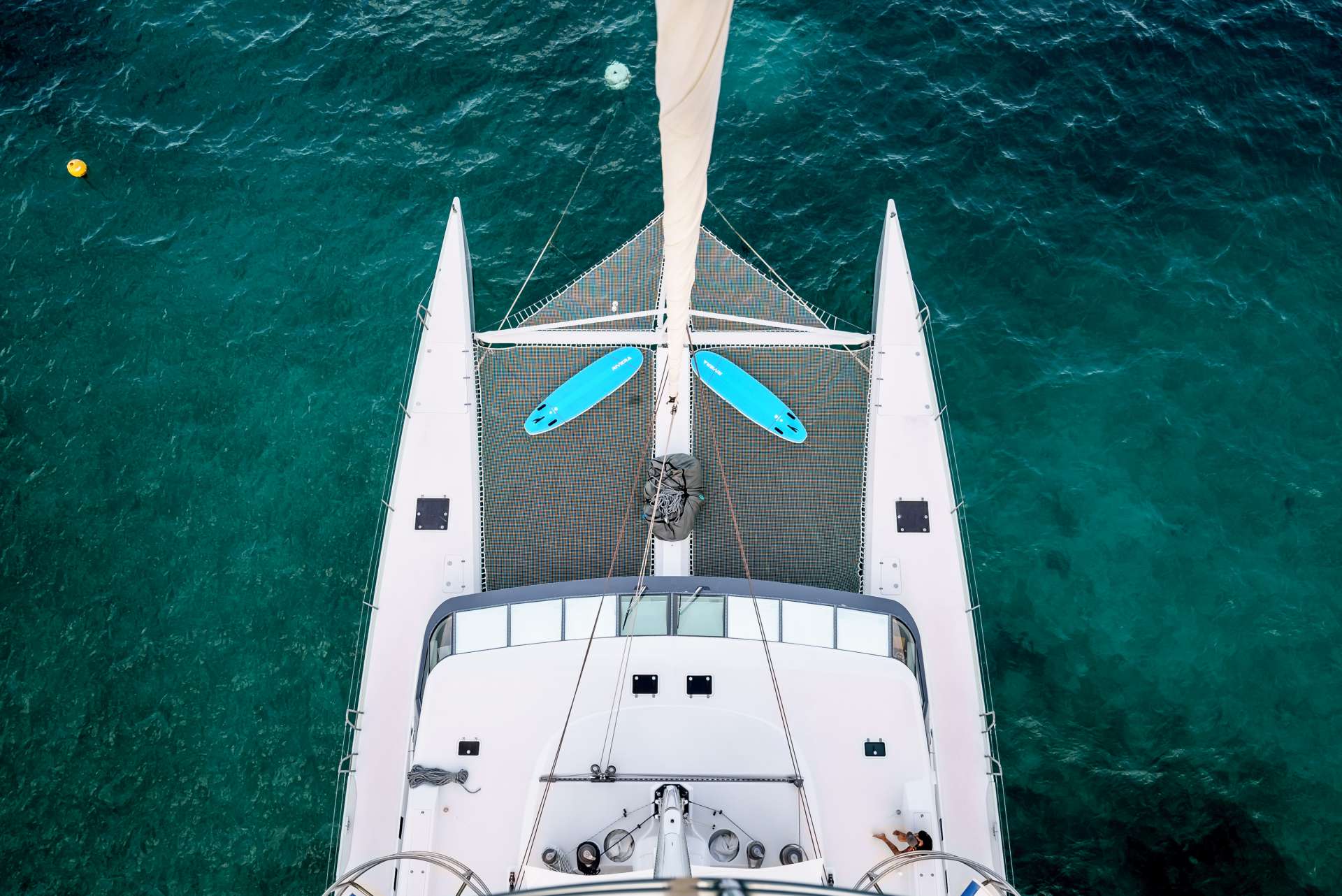 BOW
At Night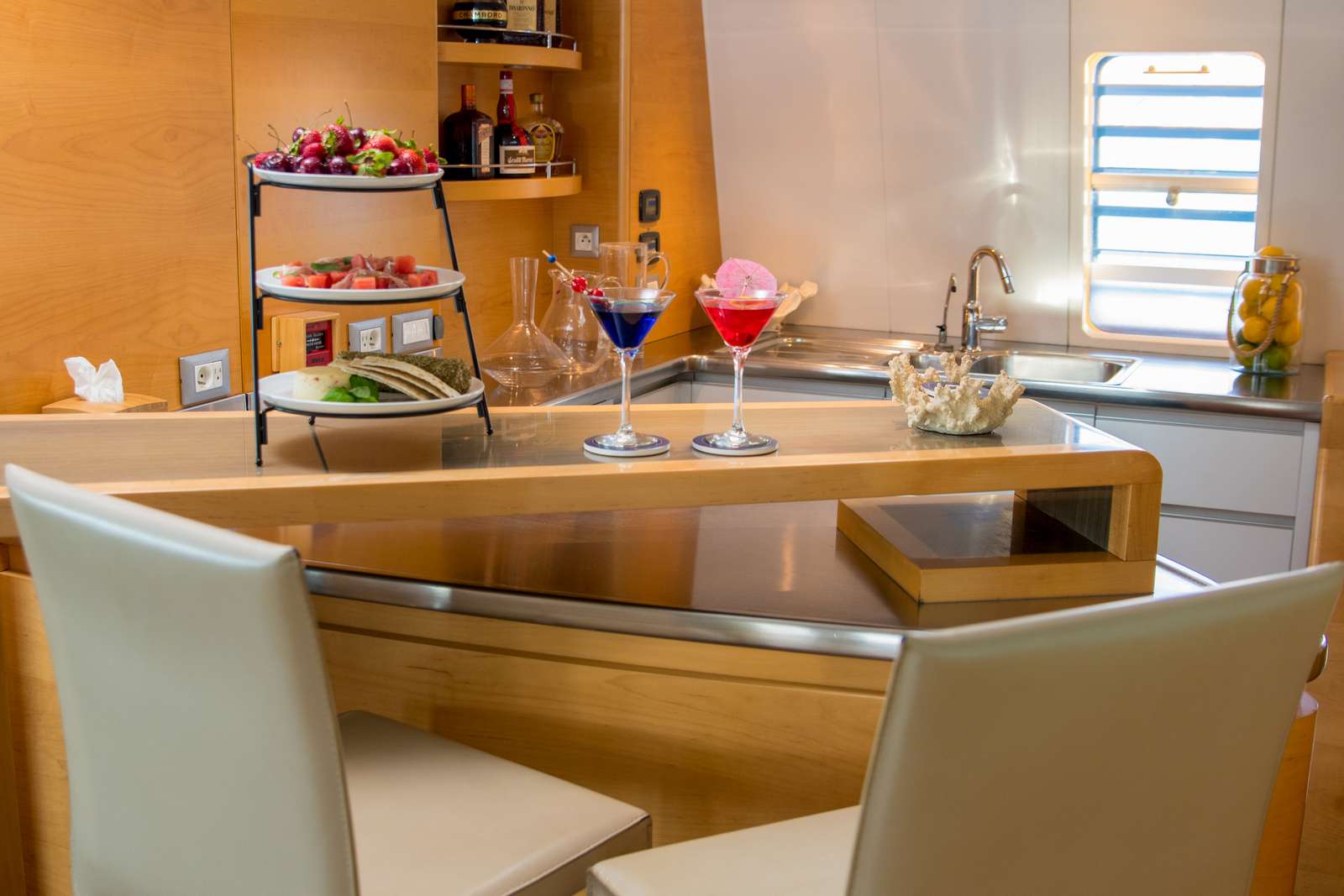 Upper Deck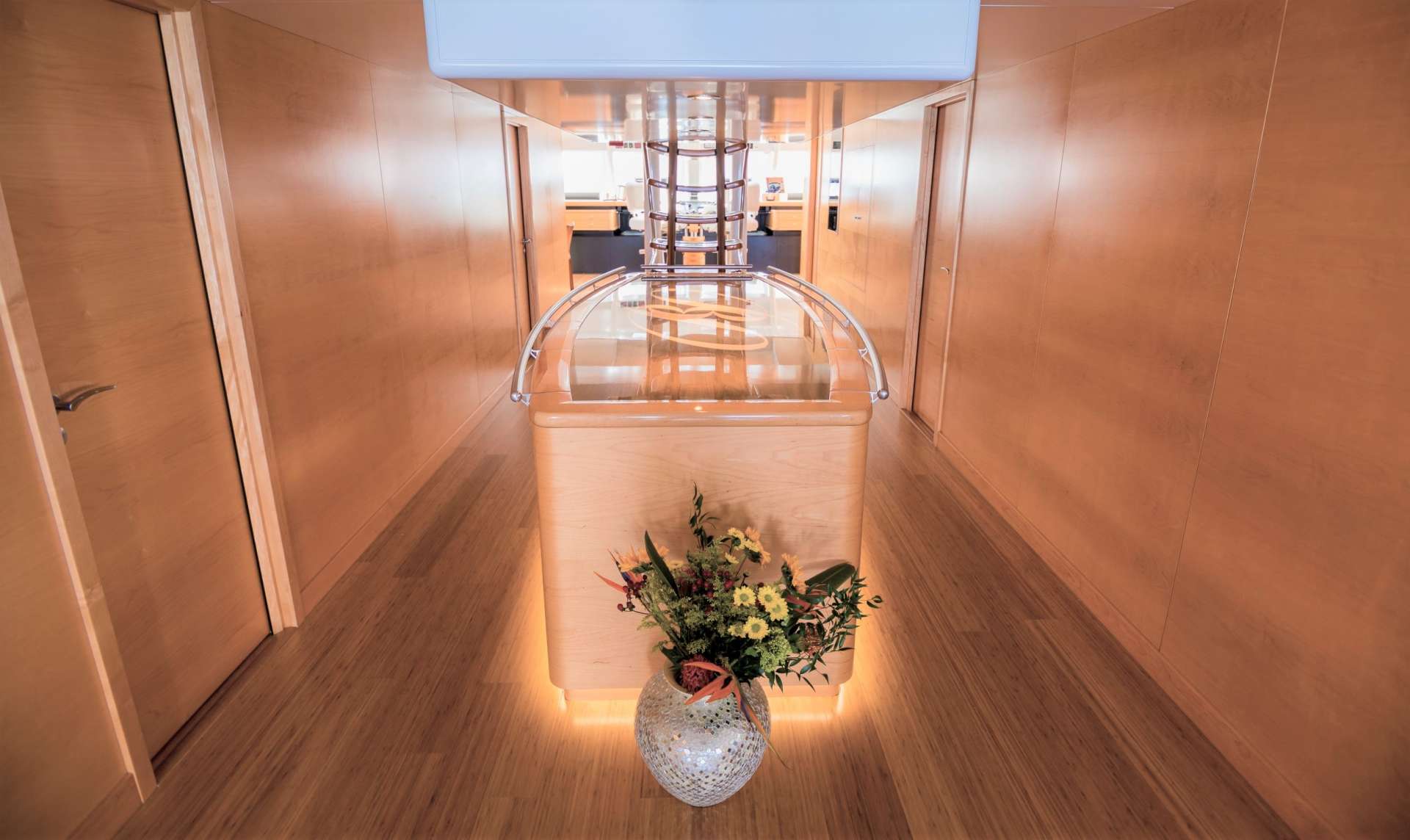 Aft Deck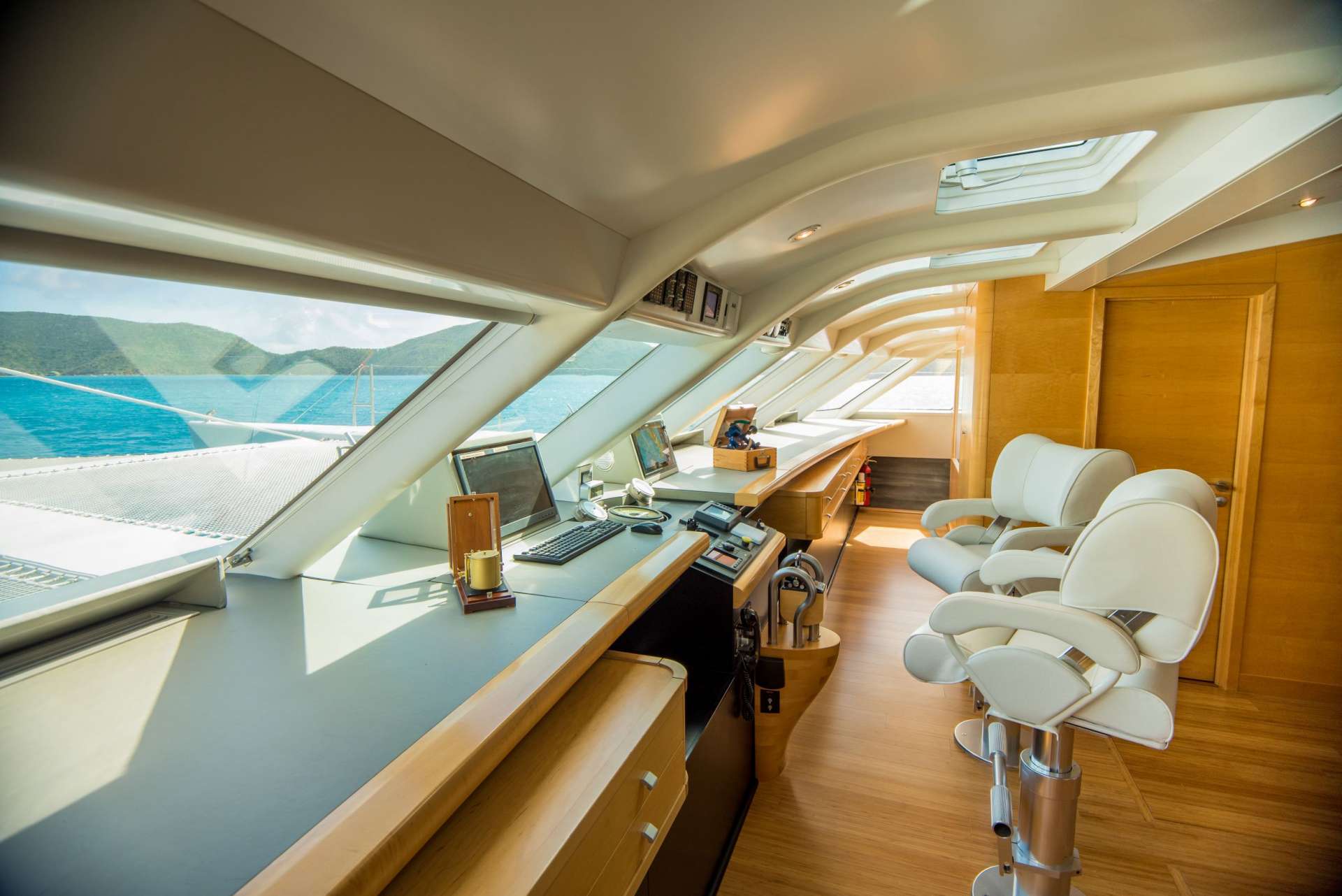 Under Sail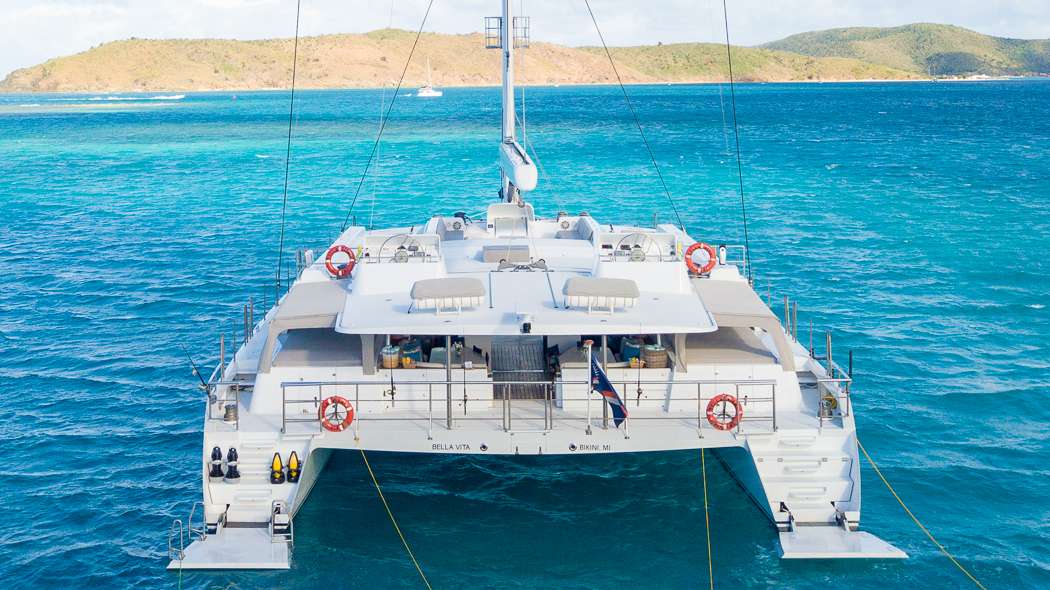 Aft View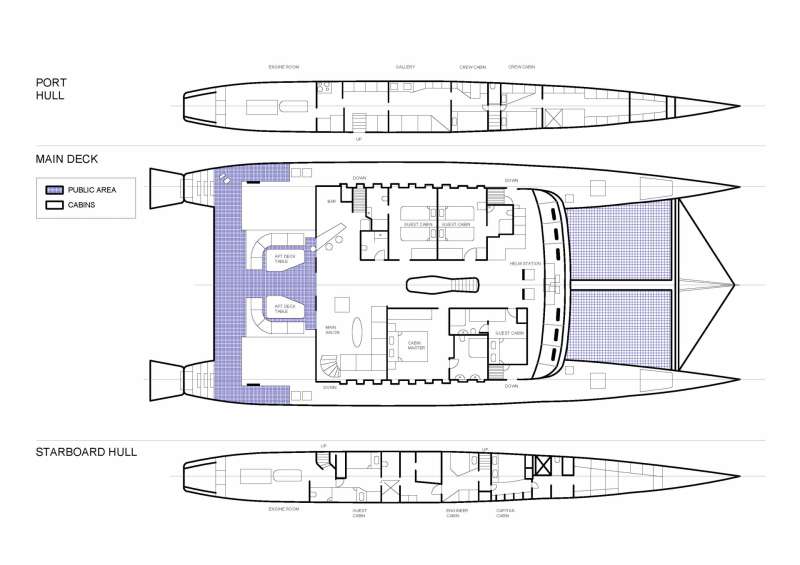 Bella Vita Layout
CAPTAIN OSWALDO CRUZ – Mexico
Oswaldo fell in love with the Ocean during his time in the Mexican Navy. After completing his service, he spent ten years developing a specialist dive center in which he took Mexico's elite on dive tours around the world. For several years he worked on many different shores including Canada, Egypt, and the Mediterranean. Oswaldo completed his RYA yacht-master training in the challenging waters around the UK, and in 2009 after moving to the BVI's he met Chef Briar. They have been working side-by-side ever since. Oswaldo's rich knowledge of the islands and witty sense of humor will ensure you have an unforgettable experience onboard BELLA VITA.
CHEF BRIAR SMITH – New Zealand
Like many adventurous Kiwi's, Briar left New Zealand to travel the world in her early 20's. This led her to discover a passion for food & cooking. She trained as a travel agent and worked in the UK for several years, a computer programmer in the USA for 2 years and as an avid volunteer worker in Israel and the Galapagos. Throughout this time Briar developed her culinary skills which she has since complimented with a number of training courses in the UK as well as advanced courses at 'Gastronomicom' in the South of France which is a world-renowned Michelin starred International training academy. This training, her love for food of all cultures and experience in the galley has her effortlessly delivering a variety of cuisines with amazingly full flavors. All dishes are presented with flair and elegance. Briar's enthusiasm for food and people will win you over and her attention to detail will ensure that your vacation aboard BELLA VITA is perfect.
STEWARDESS LARIO MOSTERT - South Africa
After working in the events industry for several years while completing an Event Management/ Hospitality Diploma program, it was an easy transition to leave my home, South Africa into yachting. With a specialty skill set in private events/weddings and a unique desire to learn from my peers, I have worked in the yachting industry for 3 years and enjoy every minute of it. I have a love for diving, detailing and can whip you up a very delicious cocktail ;). I love serving and meeting different people. I really enjoy the outdoors; love hiking and I have a passion for the water. I certainly will contribute and make every guest feel extra special and welcome on board. I will always have a smile on my face and hope every guest enjoys there stay.
FIRST MATE/ENGINEER EBEN VERSTER - South Africa
Eben (27) is a Mechanical Engineer who grew up in the South African countryside. He has always loved being in the ocean, swimming for hours on end as a kid. He learned to sail in the stormy waters of Cape Town, and holds a day skipper's ticket. When he's not sailing, he enjoys diving, surfing and flying. He is also currently learning French, and would love to live in the South of France one day.
Eben is highly creative and loves listening to, and making music. Accompanying himself or others on the piano. Another way in which he expresses his creativity is through poetry, publishing his first book in 2018. Before working in yachting, he had a very successful career in the technology industry as a strategist. His mind is wired to understand how things work, and to see the big picture. Therefore, he loves taking things apart and playing with computers. If you combine all of these traits together, you get a passionate individual who enjoys technology, great design, and especially people.
DECKHAND JP VLOK - South Africa
JP (21) grew up in the Northern Province of South Africa, learning a lot about hunting and nature as a child. Later moving to the Western Cape where he learned to love the ocean and everything that comes with. JP is an avid diver, loves making food and fishing. His biggest goal in life: being infectiously happy. After finishing school, he went on to travel through most of Southern Africa. Hiking, mountain biking and diving some of Africa's most beautiful locations. Having worked on a wine farm for a couple of months as well as in security and as a bar tender, JP goes out of his way to make sure everyone is having the time of their lives whilst staying safe doing it.
Water Toys
WakeBoard (Yes)
1-Man Kayak (Yes)
Adult Water Skis (Yes)
Kids Water Skis (Yes)
Floating Mats (Yes)
Snorkel Gear (Yes)
Tube (Yes)
Underwater Camera (Yes)
Other equipment includes:
17' Zodidac Tender Mast elevator Diving Board Underwater video Go-Pro Fore deck Trampoline Paddle boards Kayaks Snorkel gear Noodles Wake board Tube Fishing gear Knee board Water skis Underwater light Missing a toy? Just ask and we will make sure its on board for your charter.

Yacht Amenities
Salon Stereo (Yes)
Salon TV (Yes)
Deck Shower (Yes)
BBQ (Yes)
Hair Dryer (Yes)
Board Games (Yes)
Hammock (Yes)
Ice Maker (Yes)