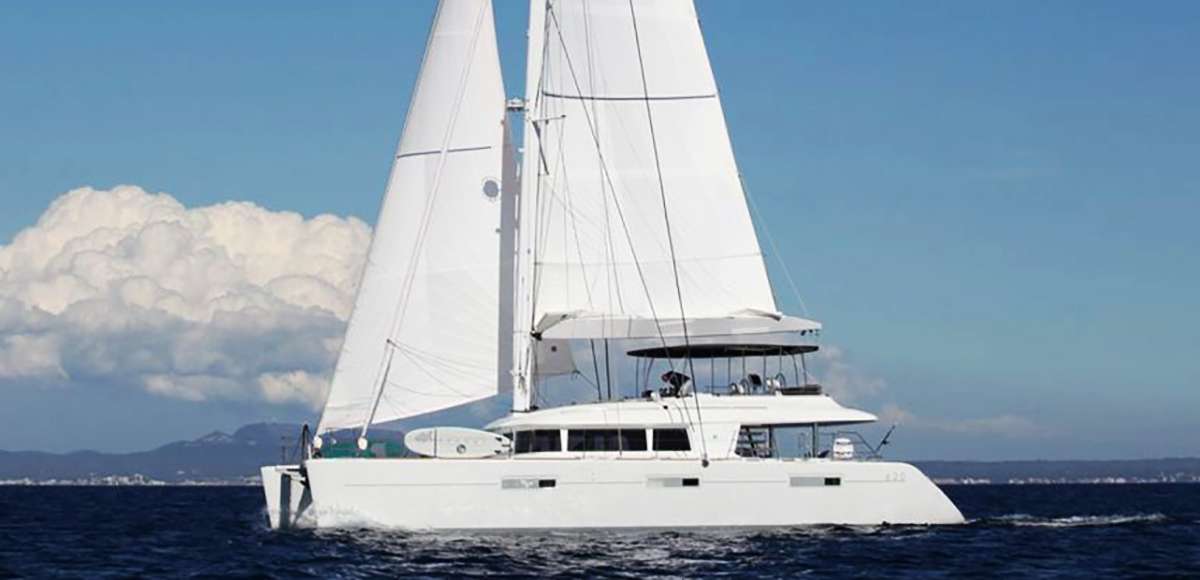 Weekly charter rates
$28,000 to $30,000 for up to 6 Passengers

Yacht Lady M Specifications:
Builder : Lagoon
Length: 62 Ft
Year launched: 2015
Passenger #: 6
Guest cabins: 3
Queen cabins: 3
Crew #: 2

Yacht Lady M Overview:
Lady M is a Lagoon 620 which first set sail in 2016. With its large interior and exterior space, you will travel in unparalleled comfort and elegance.Designed with 2 double/queen cabins, Lady M has a bathroom with a separate shower in each cabin. Private access from the cockpit, private lounge, large shower: the king master suite is a masterpiece where you will enjoy relaxing. Opening onto the cockpit, the wardroom offers a luxury living room port side and a double dining table on the starboard side, all in a large, clear space surrounded by big vertical windows, which create a great spot for meals and relaxing. On the outside, you can choose between sitting in the act cockpit with a view over its two large skirts, on the spacious, flybridge which can be completely shut, where you can enjoy a 360 degree view, or behind, on the large trampolines, whilst sunbathing.
Accommodations:
Discover Lady M, a Lagoon 620 catamaran, renowned for its unusual living space that it offers both inside and outside:
- a large wardroom with a relaxation area, dining area and home cinema,
- a flybridge which can be completely closed which offers an extra living area,
- a master cabin with a private living room, and direct access onto the cockpit,
- bathrooms with a separate shower in each cabin, which is particularly spacious in the master cabin,
- large windows which let in an incomparable amount of light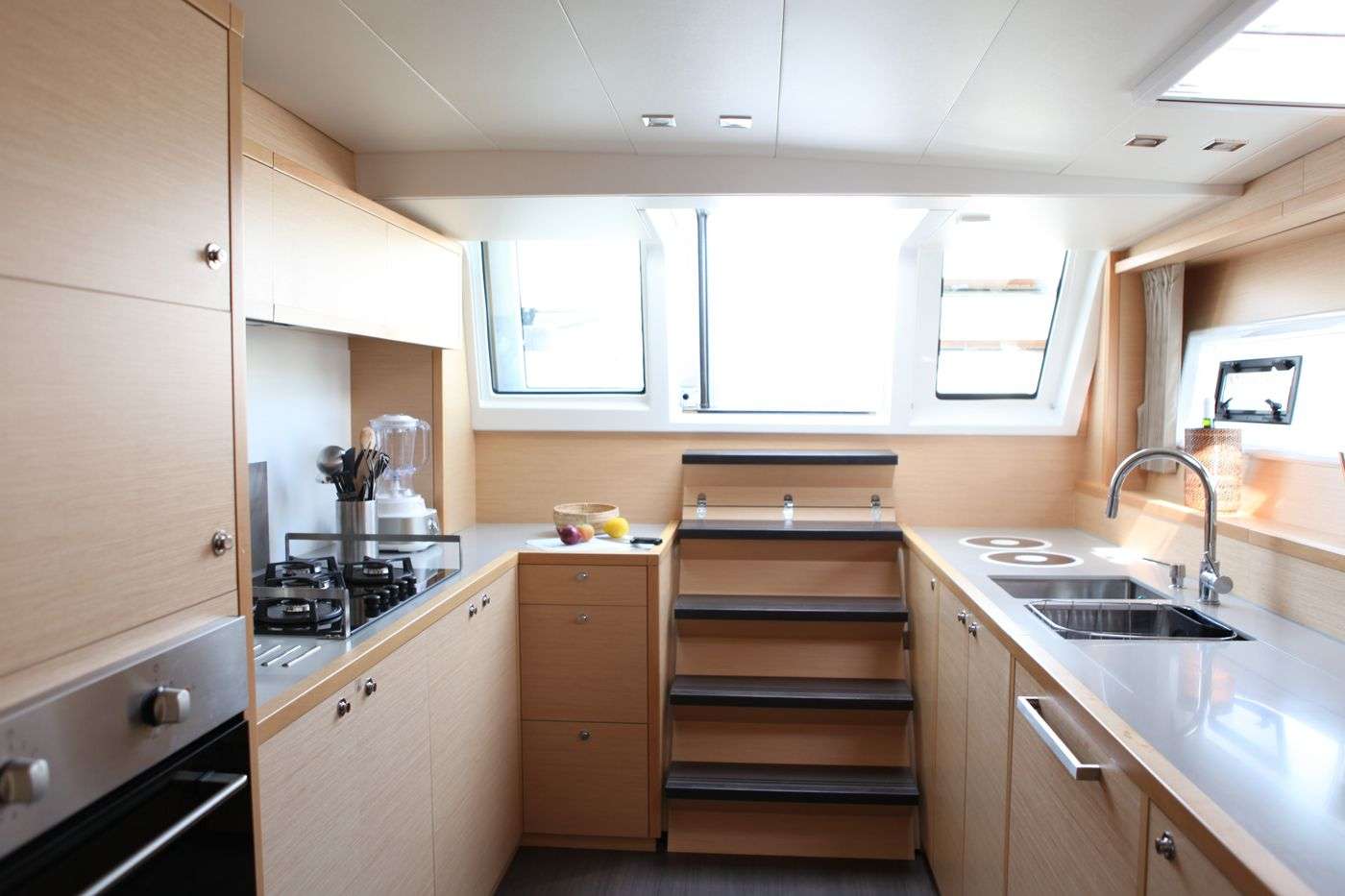 Spacious galley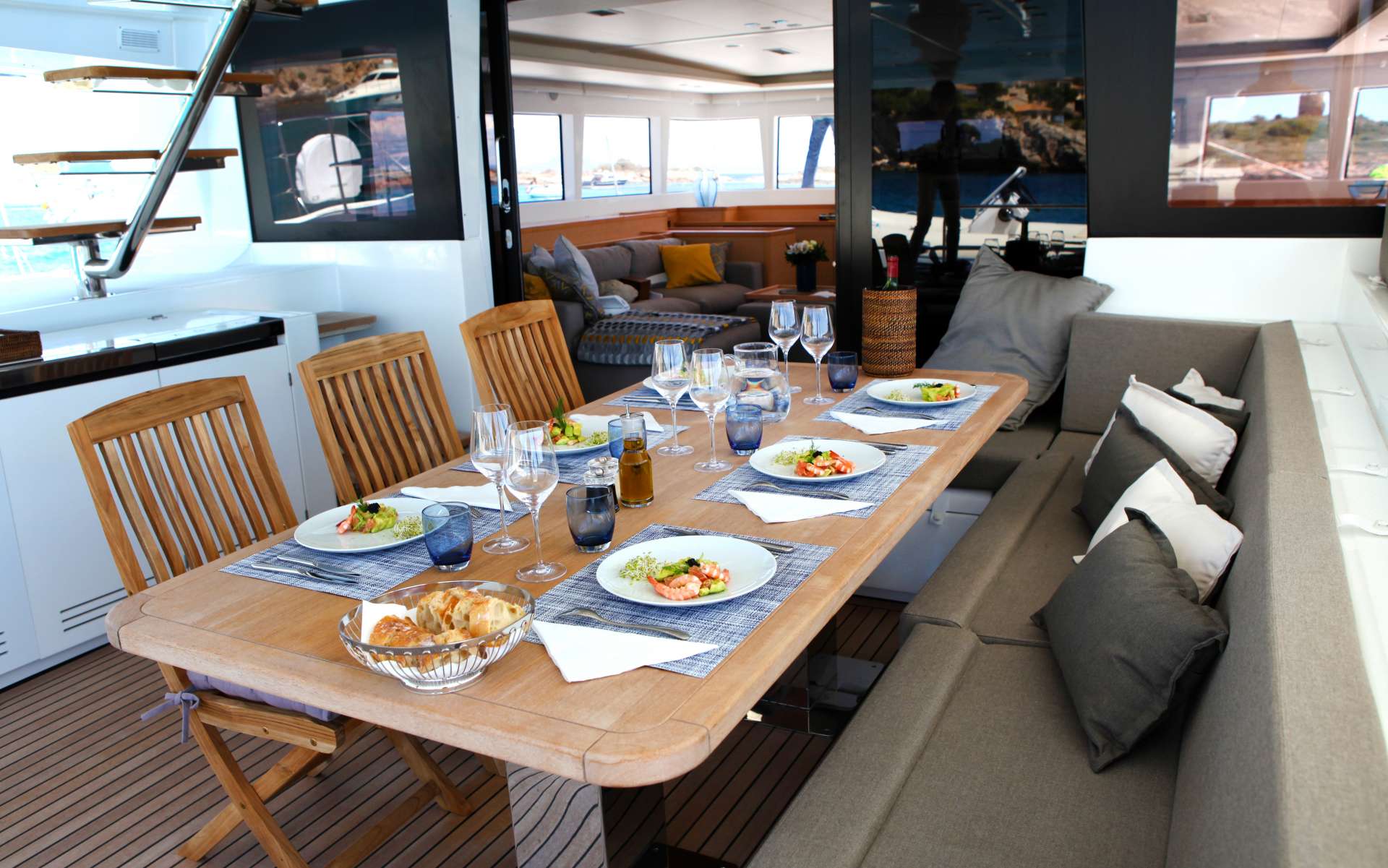 Cockpit Dining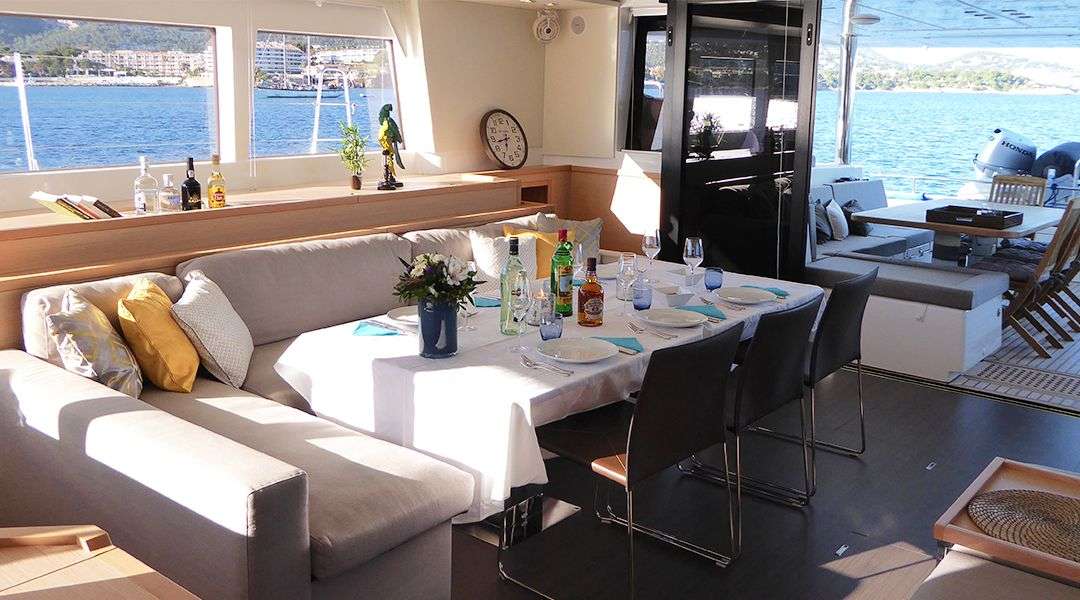 Interior Dining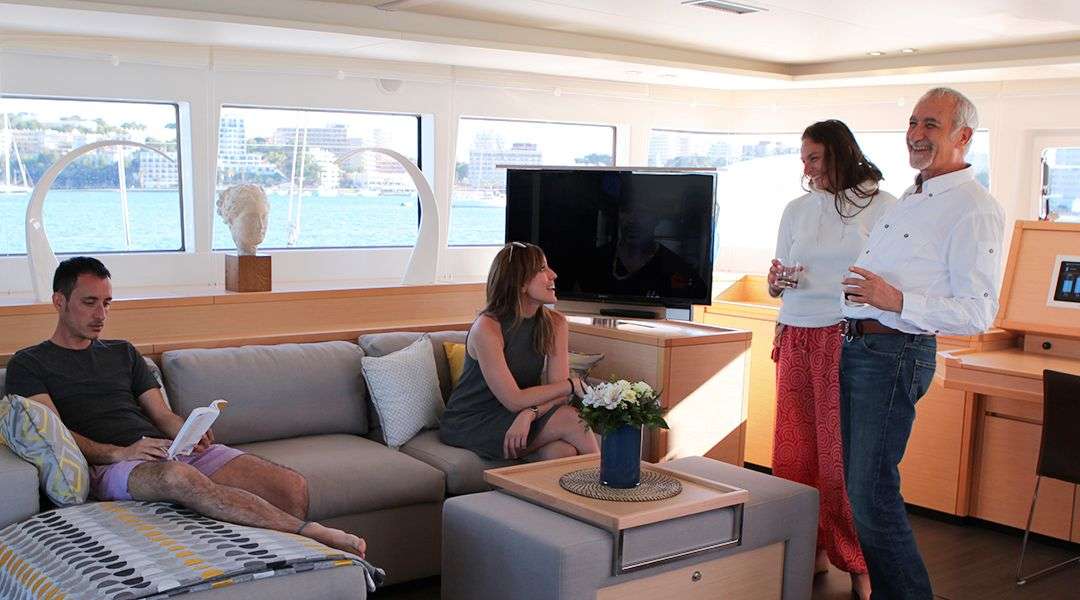 Spacious Salon and Lounge Areas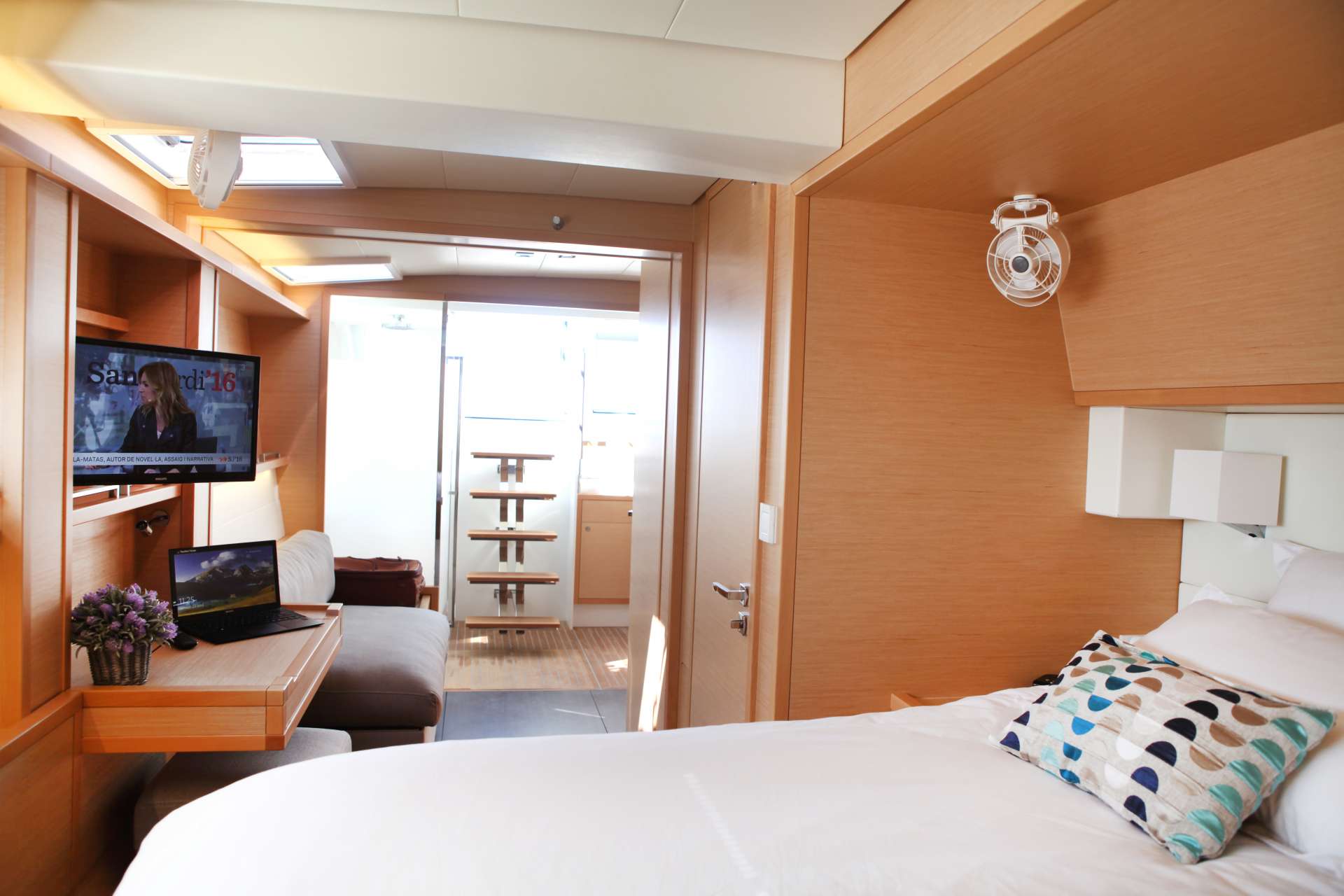 Master Suite
Master Bathroom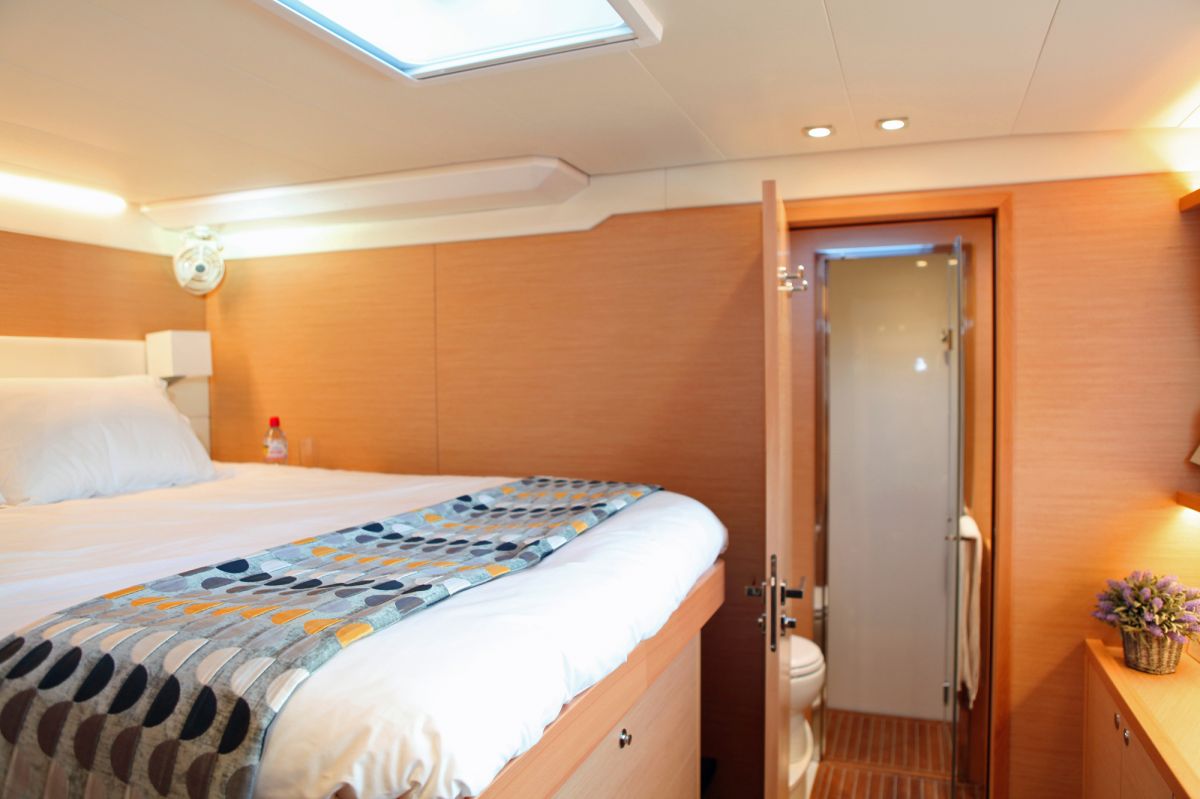 Guest Cabin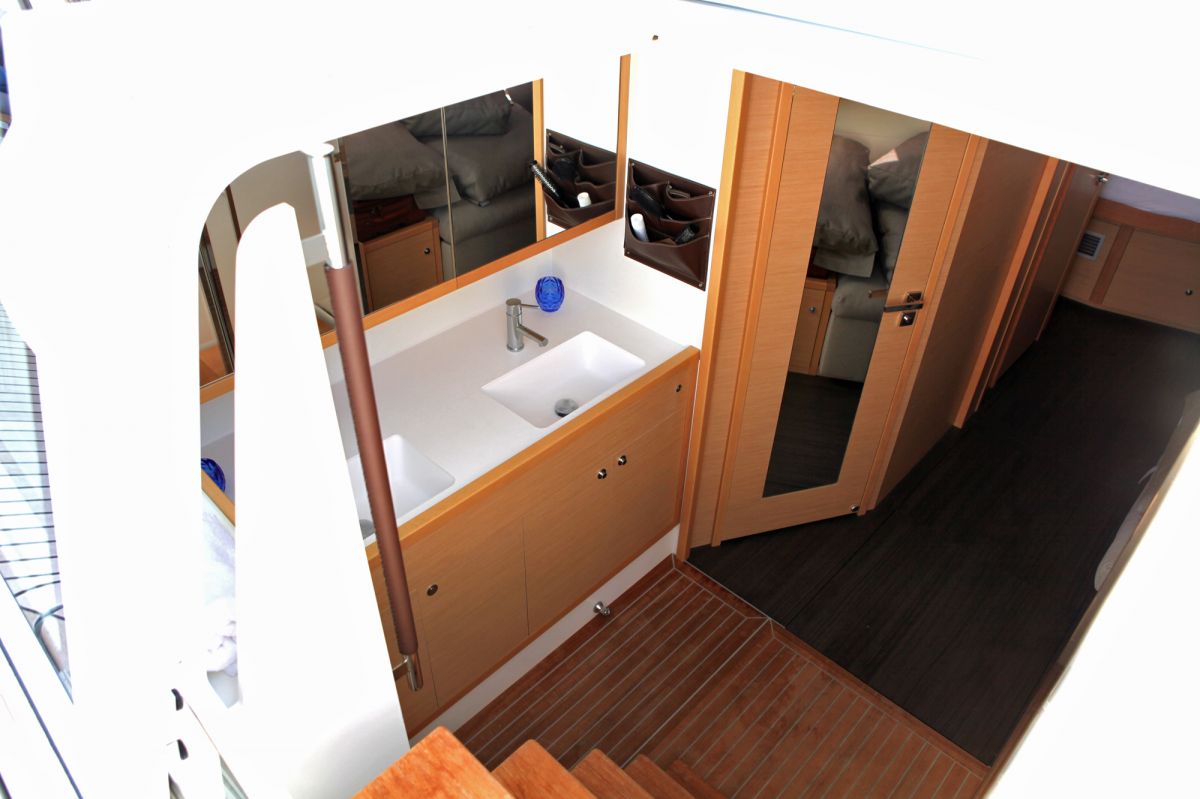 Guest Bath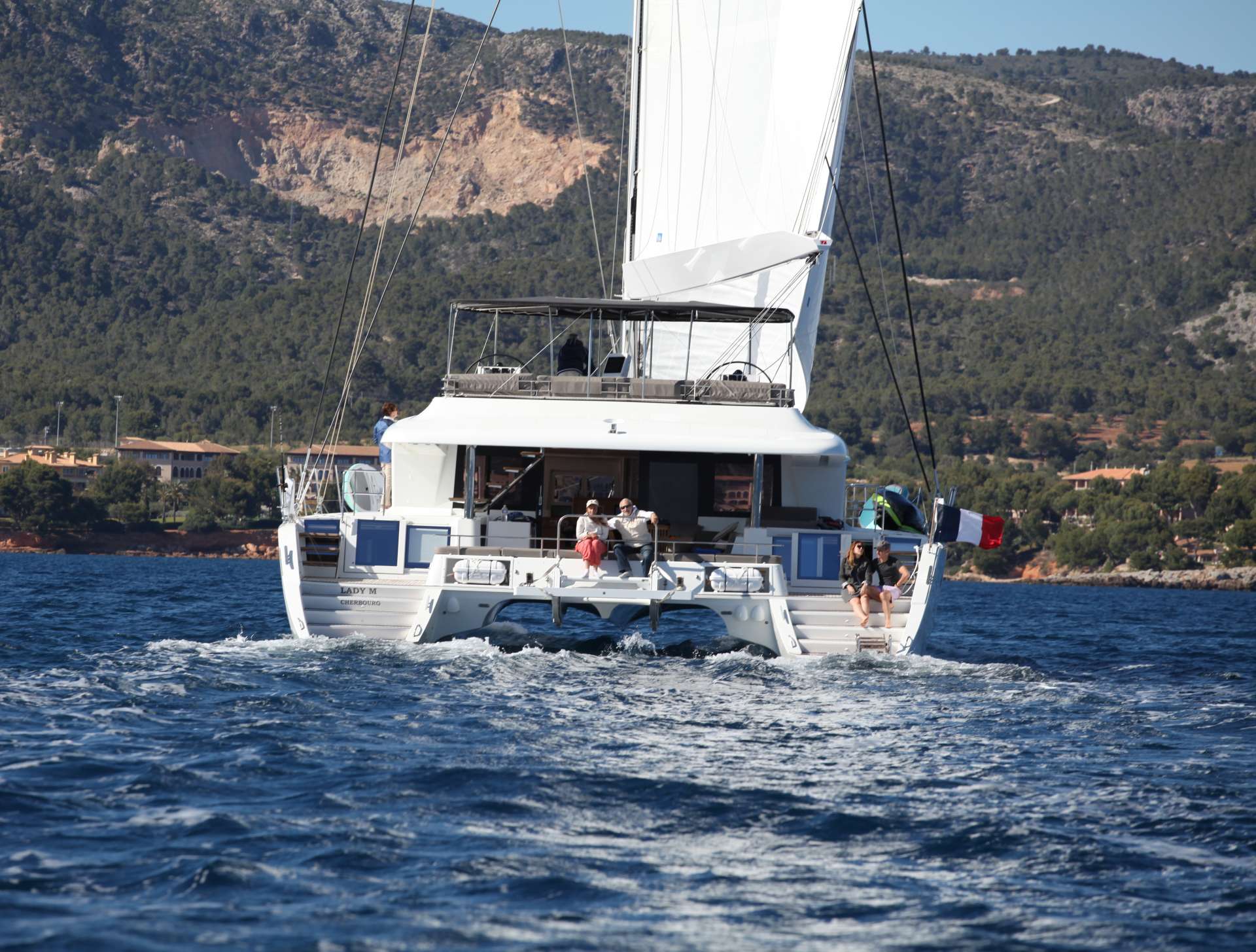 Lady M at Sail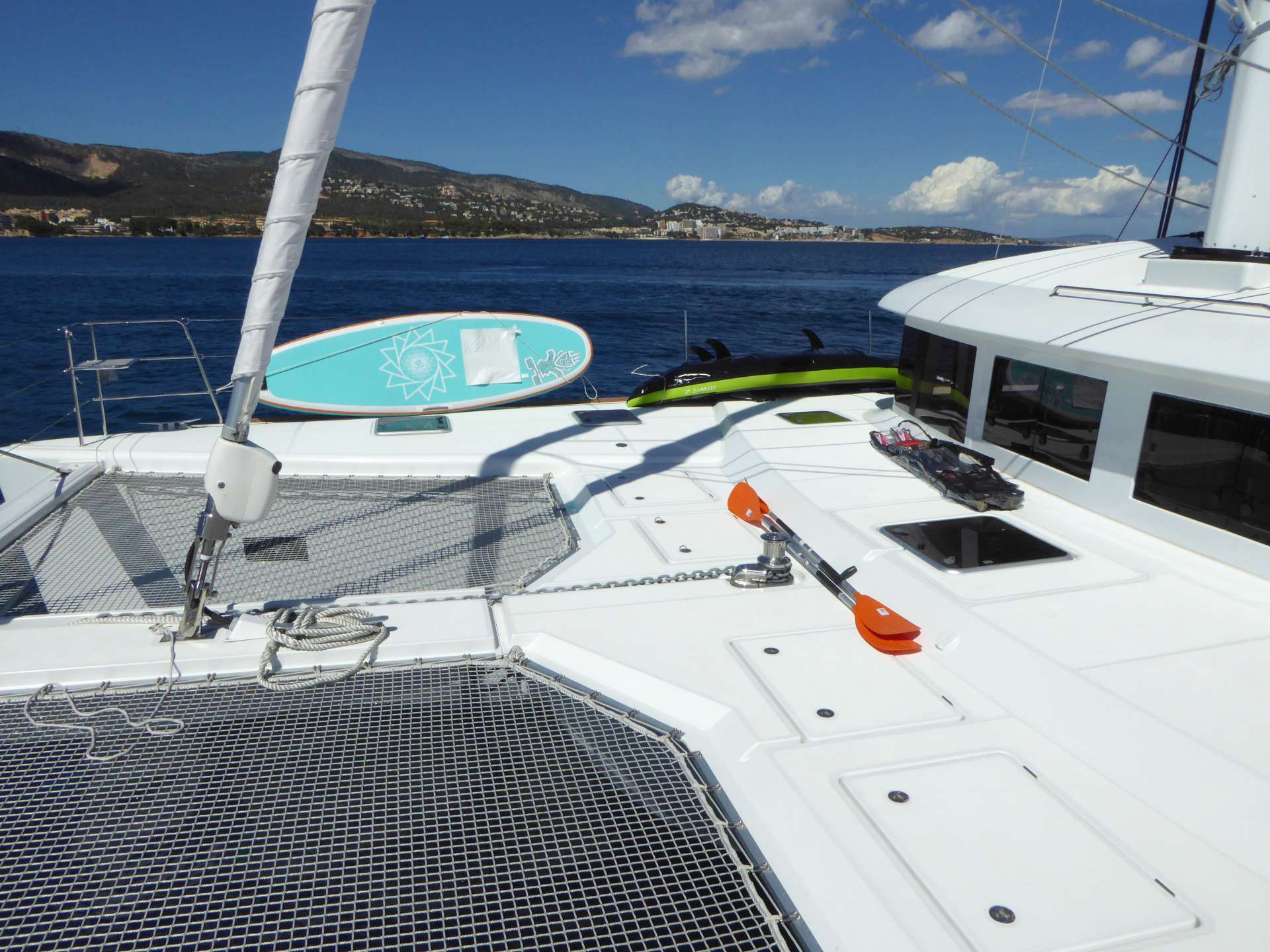 Enjoy the views!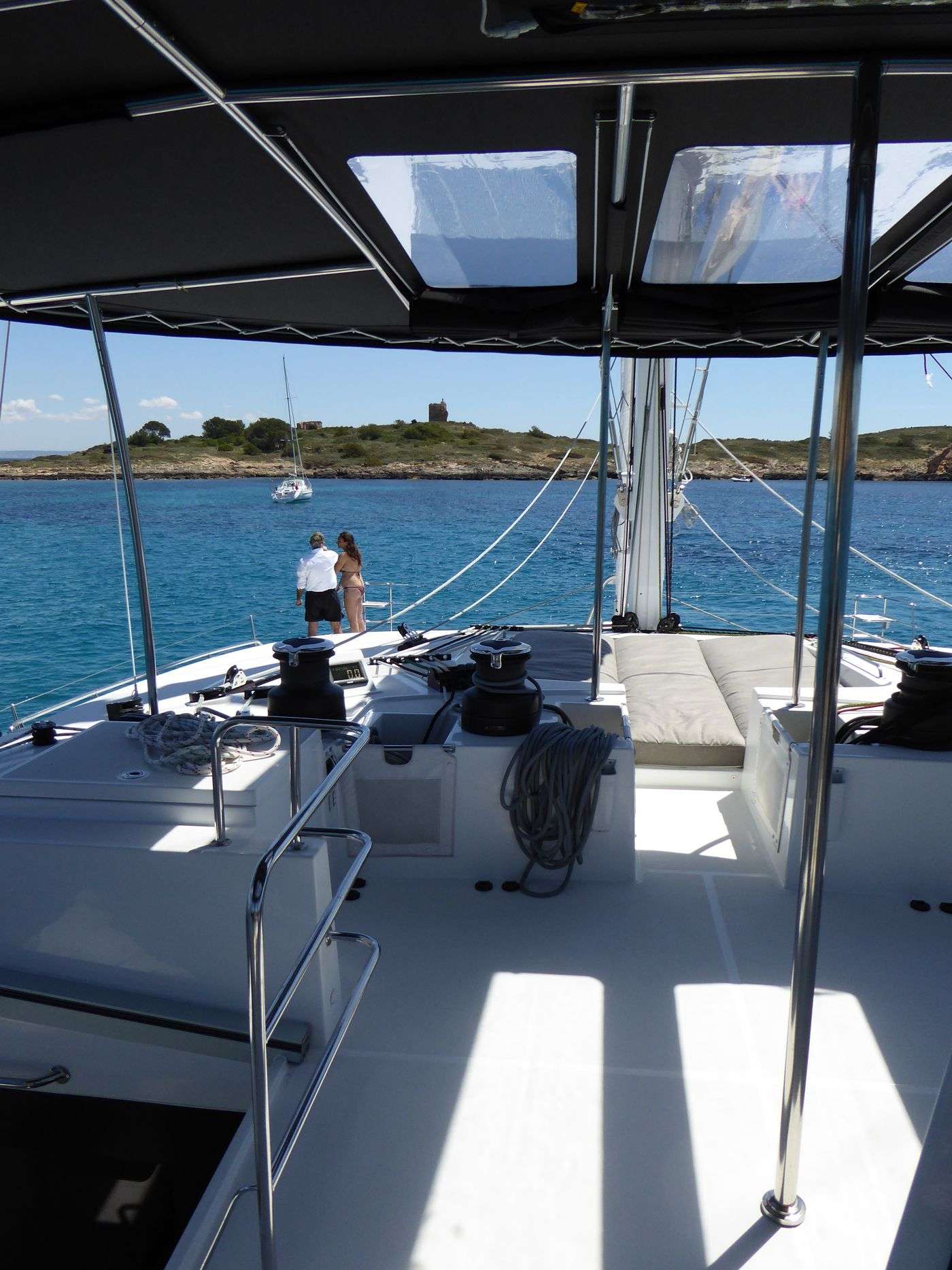 Plenty of Deck Space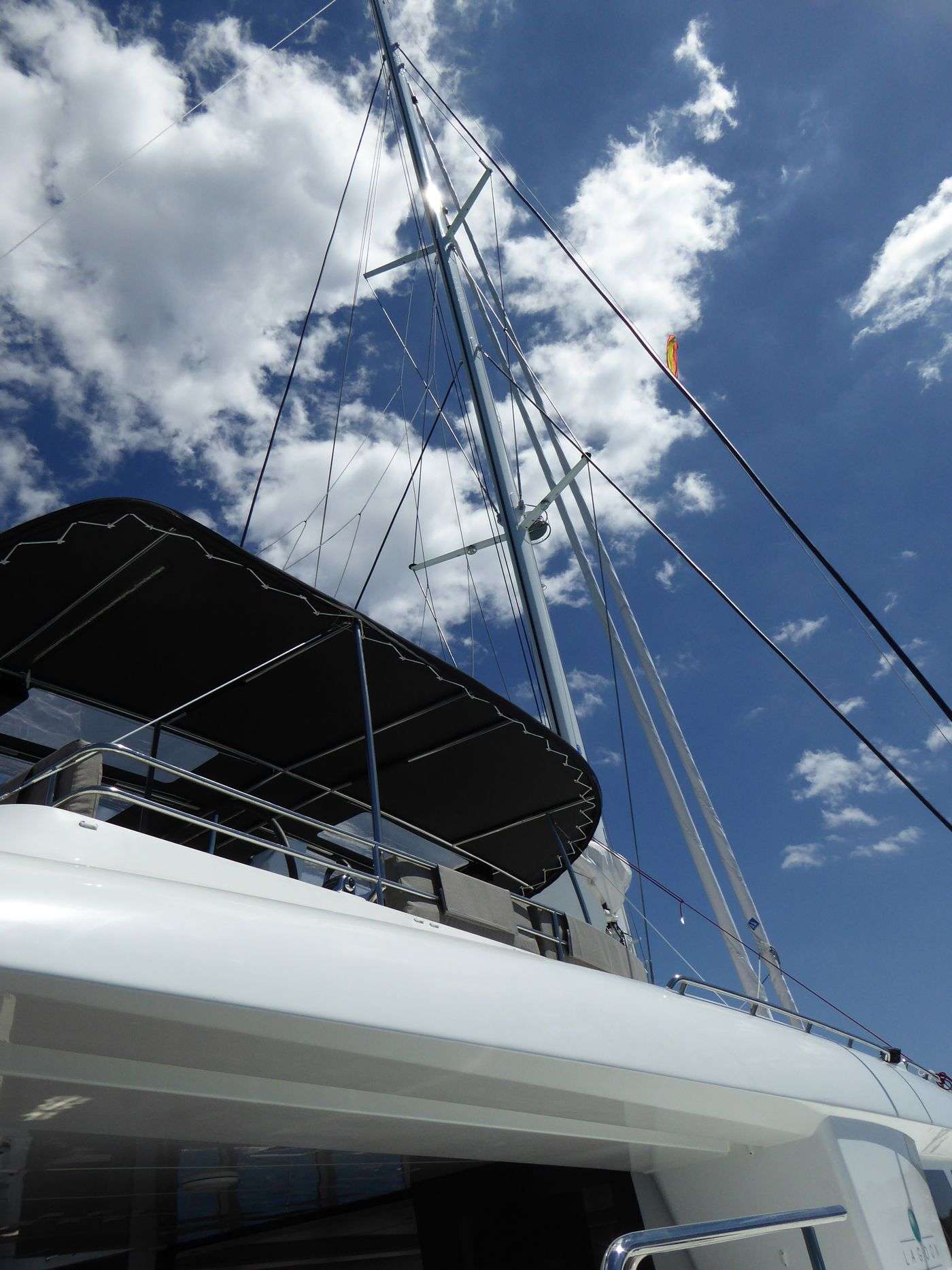 Flybridge bimini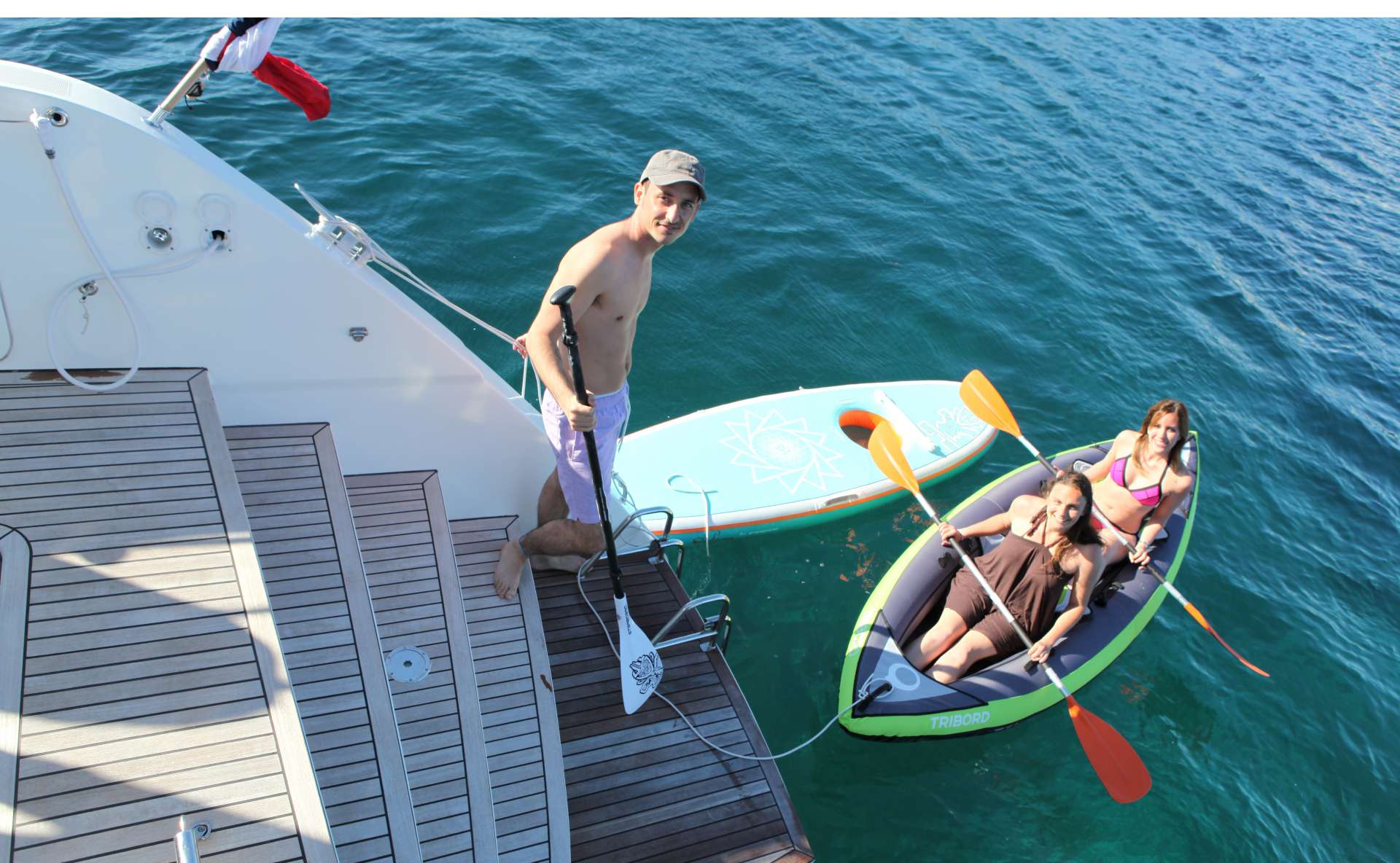 Kayaks for 2!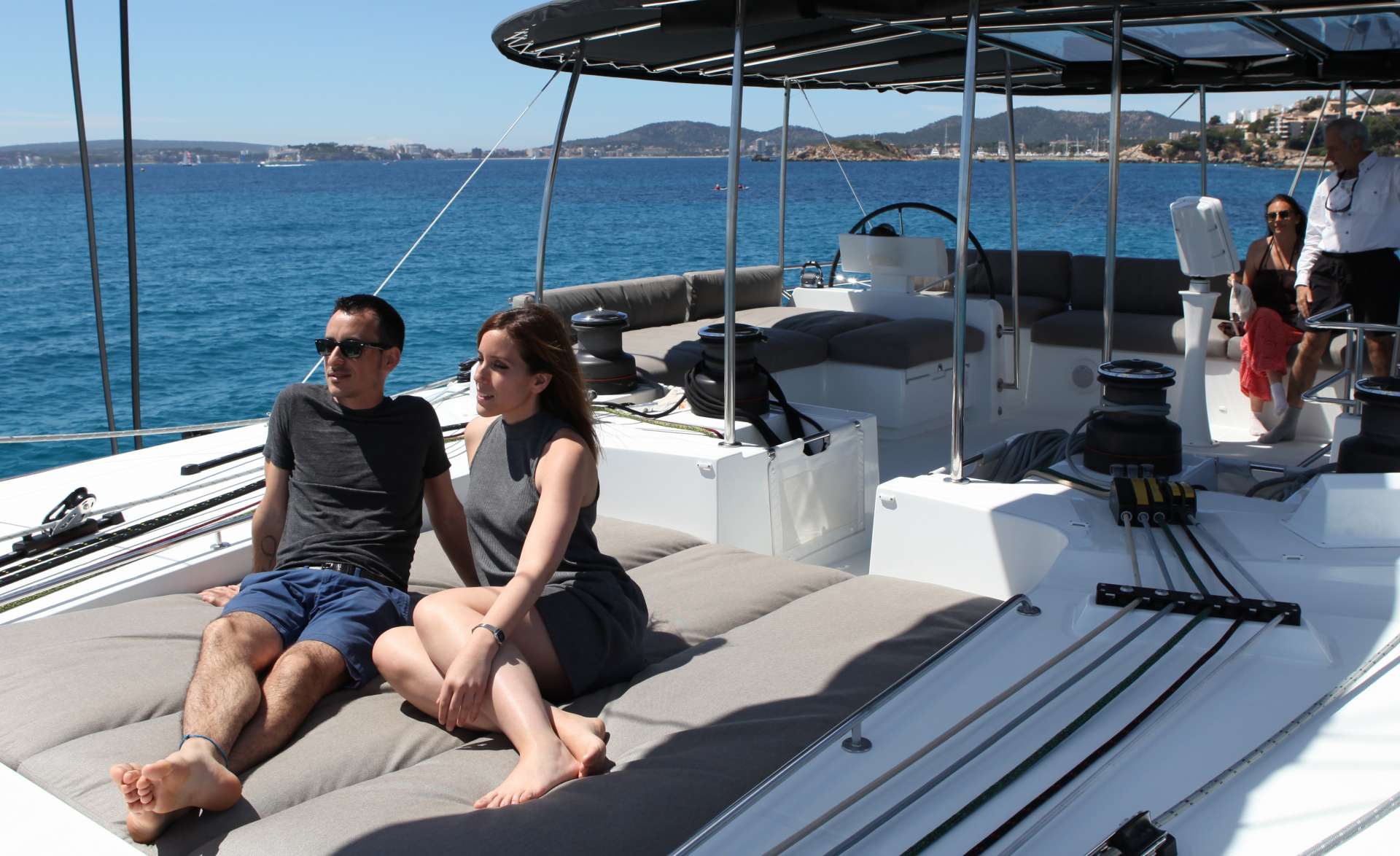 Relax & Enjoy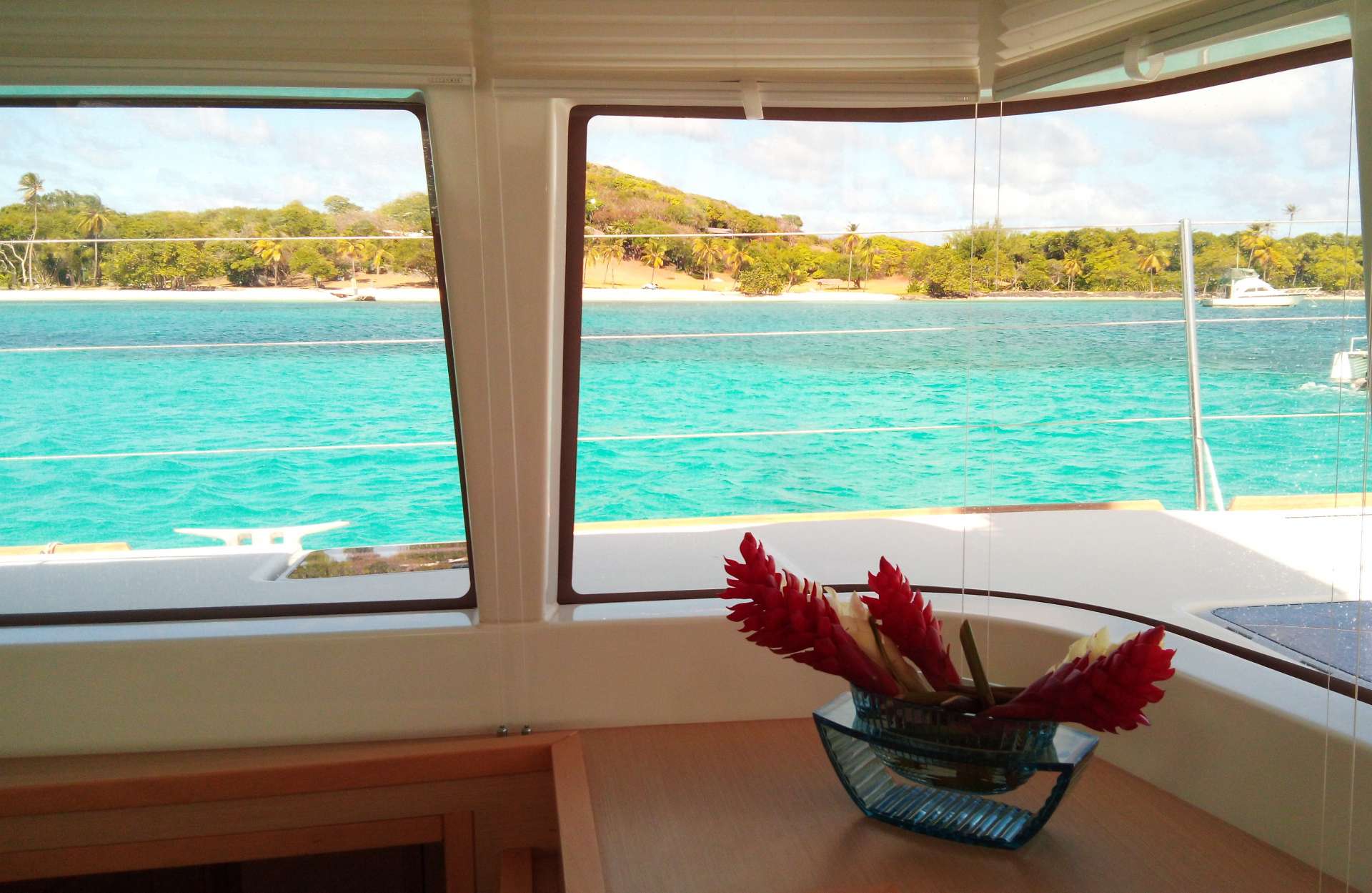 Lady M in St. Barth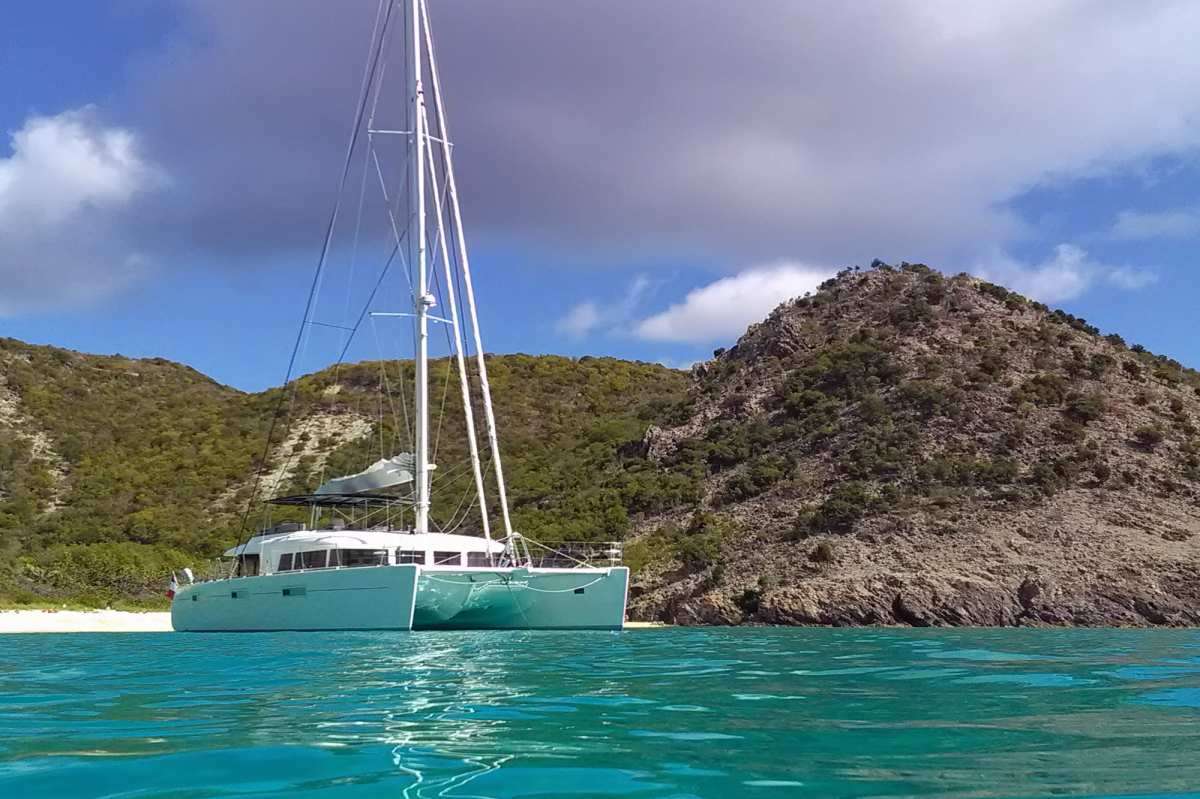 Beautiful Lady M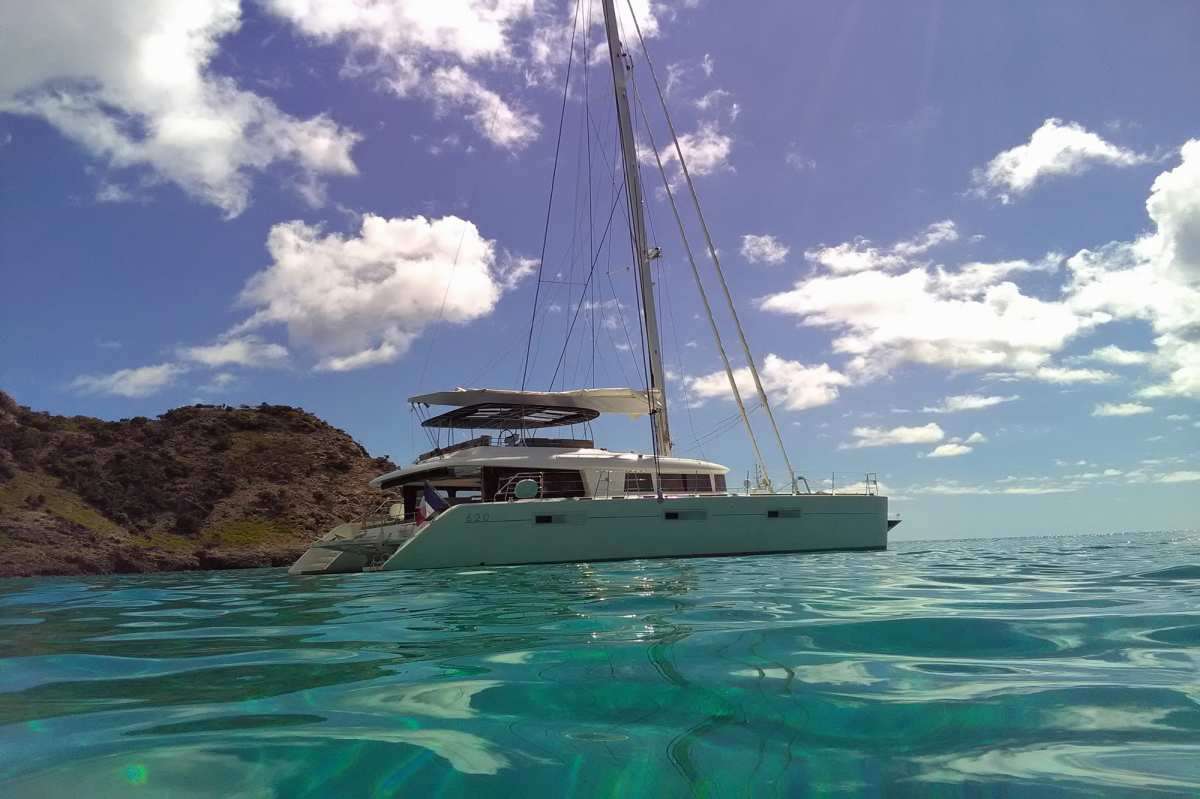 Heading out from St. Barth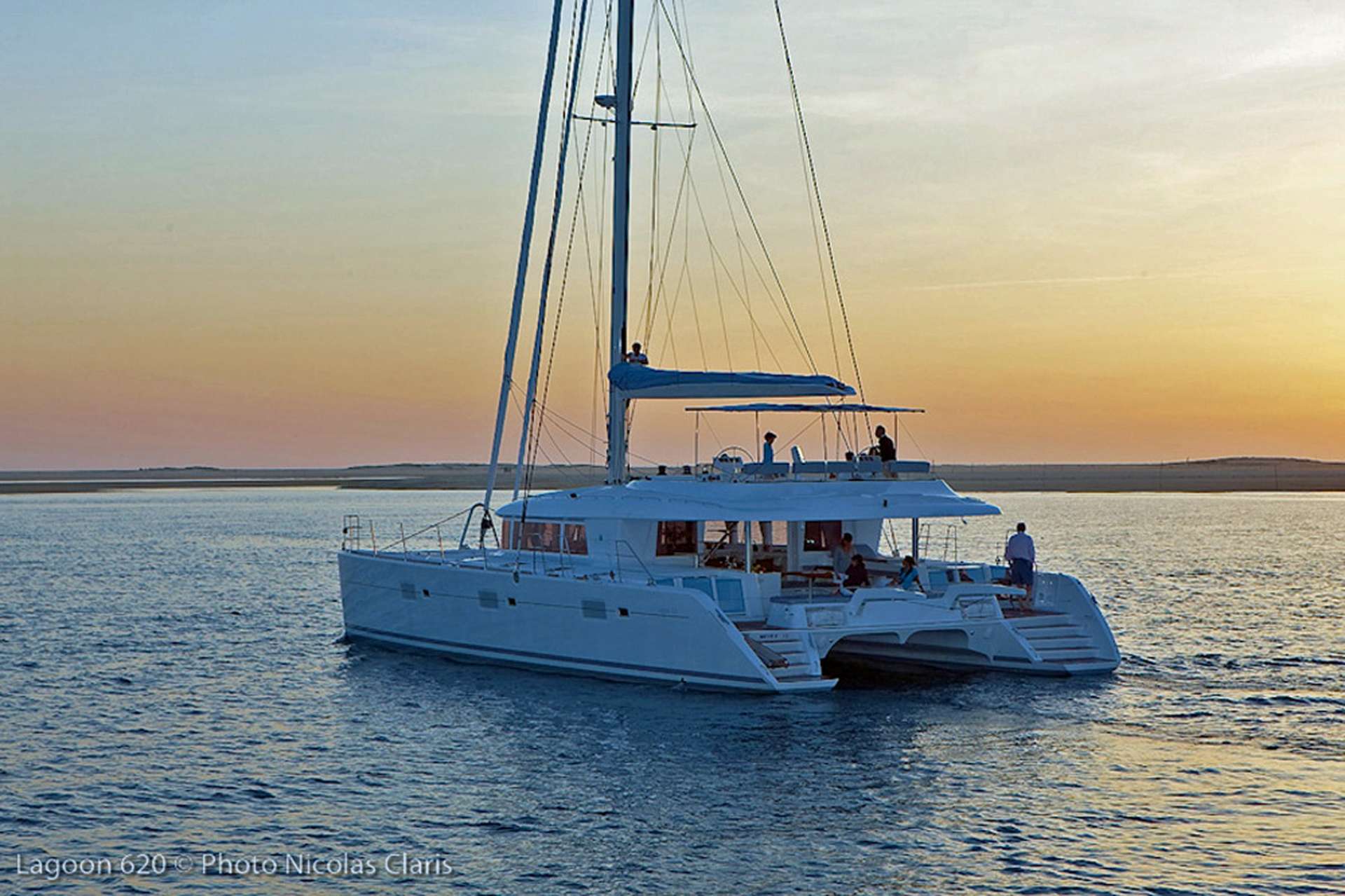 Enjoy Beautiful Sunsets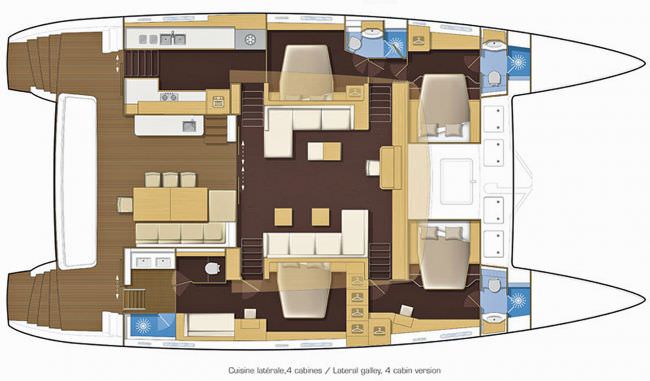 Lady M Layout
Crew details:
Lady M Crew
Depending on the location, Lady M will be captained by either Gilles or by Laurent, both very experienced captains. Capt. Gilles is the Captain for the Caribbean and Capt. Laurent for the Bahamas.
CAPTAIN GILLES RABAUD:
Gilles is a Frenchman by birth. He and his brother grew up in Montpellier on the Mediterranean Sea. However, his introduction to sailing occurred on the other side of the pond, in the Chesapeake Bay, when he was just six years old. From this very early age he loved to sail. By the age of 12 he was enthusiastically racing sailboats and continued to perform as a winning competitor in both in shore and off shore regattas. By the age of 23 he was a licensed captain.
Gilles did a lot of cruises in the Mediterranean Sea prior to making landfall in the Caribbean at the end of the Lorient St Bart race in 2000. After many transatlantic crossings, he made the decision to stay. Growing up bilingual and being in a milieu of different cultures was second nature to Gilles. He has friends from all over the world and grew particularly fond of the Caribbean Islands in part because of its multi-cultural population. However, the first and foremost attraction is Caribbean sailing. For Gilles, these islands are the best places in the world to cruise around on a sailing yacht because of the delightful winds, the stunning beauty, and the great atmosphere.
Gilles is very happy to talk about the way he sails and to share the methods he uses with interested guests. Whether you are a novice sailor or have years of experience trimming the sails, Gilles welcomes your participation. Together you can pour over the charts, discuss and plan the best cruise itinerary and hoist the sails to head out toward your preferred destination for the day. Or, if you prefer, simply relax and do nothing. Gilles will expertly guide you on a fantastic voyage.
CAPTAIN LAURENT PRAT:
Having always been passionate about the sea, Laurent firstly devoted himself to surfing sport activities. After traveling on his first sailboat, he undertook maritime education and was awarded with his Captain 200 sailing and Captain 500 UMS certificates. Over the last 15 years, Laurent has covered 150,000 nautical miles on the Atlantic, Pacific, The Channel, Indian Ocean and the Red Sea, with 15 sea crossings and as many seasons on the Mediterranean on chartered or private boats. As an expert of the Mediterranean, Laurent combines comfort, security, listening and advising throughout your trip on board.
CHEF CHRISTELLE VANNIER:
Christelle grew up in the beautiful, snow-capped mountains of France. Naturally athletic, after completing her education she enjoyed an exciting and varied career as a sports instructor at exclusive alpine resorts before moving to warmer climes in the south of France. She most enjoys most working with people and positions in prestigious hotels and restaurants augmented her experience in the hospitality industry.
In 2000, Christelle began working on yachts in the Mediterranean and Caribbean as stewardess and then as a chef. Her resume includes positions on several large, busy charter yachts, both sail and power, offering a high level of service. She is delighted to be able to share with guests her two great passions; fine food and sailing. It is her top priority to create a memorable holiday experience using both her international culinary skills and hospitality expertise.
Water Toys
WakeBoard (Yes)
2-Man Kayak (Yes)
Adult Water Skis (Yes)
Tube (Yes)
Other equipment includes:
Stand Up Paddle Board, Ski Tube. No fishing in BVI.

Yacht Amenities
Salon Stereo (Yes)
Salon TV (Yes)
Deck Shower (Yes)
Hair Dryer (Yes)
Board Games (Yes)
Sun Awning (Yes)
Ice Maker (Yes)