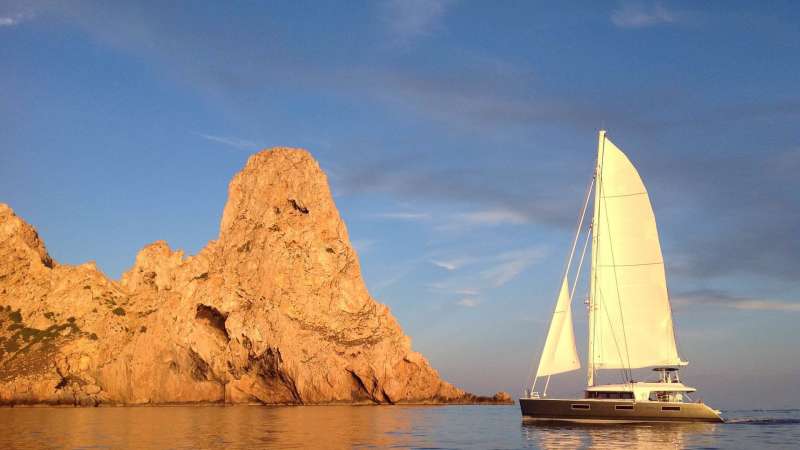 Weekly charter rates
€22,000 to €29,000 for up to 8 Passengers

Yacht Kaskazi Four Specifications:
Builder : Lagoon
Length: 18.9 m
Year launched: 2016
Passenger #: 8
Guest cabins: 4
Crew #: 4

Yacht Kaskazi Four Overview:
Kaskazi Four is a well-known Lagoon 620, pretty new, launched in May 2016.Nevertheless, compared to twin yachts, she is very innovative: metal grey painted hull, interiors with five double guest cabins, each one with ensuite toilet and shower, galley downstairs which allows to have a huge wide saloon upstair.Two cabins in the starboard hull can be also converted into a unique suite.Air conditioning, watermaker, generator, solar panels and aeolic gens, every kind of water Toys. Nothings missing on Kaskazi, including a professional wine cellar.But, mainly, Kaskazi is run by the Captain Francesco Rinauro and his crew who know by heart and better than anybody else the summer preferred sailing area where they have always been living and operating: the south west coast of Italy, Sicily, Aeolian islands, Ponza archipelago, capri, Ischia, Procida.Diving, fishing, archeological paths, the impressive beauty of active volcanoes, the Italian history and culture and one of the most beautiful sea worldwide.
Accommodations:
Number ofguests cabins: 4
Bed configuration: 4 queen
Number of guests: 8
Francesco started to be Captain at 14 years old when his father gave him the permission to sail the family boat around the golf of Napoli and Salerno with his friends.
At 20, he started his own Windsurfing and Sailing School in Stromboli, Aeolian Islands; at 23, he bought his first catamaran Manutara, which was one of the first catamaran in the charter business around Sicily.
In 1986, he crossed Manutara with his wife to the Caribbean, the first of 12 Atlantic crosses, and 12 winter charter seasons in the West Indies.
In the 2003 began the precious partnership with the current ship owner of the Kaskazi, the 65' catamaran located in Kenya. This cooperation is continuing with success, and today the two brothers are glad to manage the Kaskazi four with a great experience behind them.
They sailed a chartered Kaskazi during the winter season in the Indian Ocean on the east coast of Africa up to now.
Over the years, Francesco never missed a summer sailing season in the Aeolian Islands that he loves and knows as few other people and where he has his home and heart.
Volcanology, Geology, Archeology, Speleology Biology, Diving, snorkeling, Water sky, Kayak Windsurf, good restaurants and happy nightlife: with Francesco, you will never get bored! His several charter experiences guarantee a high professionalism.
Some of his clients call Francesco "the poet of the sea" for his natural attitude or talent to enjoy and let enjoy the life on the water and the art to be at the right moment at the right place with his boat and guests.
He loves fresh and healthy Mediterranean food and wines, and he is a very appreciated cook too.
Very friendly and patient, Francesco loves the children and to share with them his knowledge of sailing, of the sea and sea life and of course the use of all watersport tools.
MCA OOW3000 ton unlimited. (2013)
RYA Yachtmaster Ocean with commercial endorsement (1996)
Patente italiana sail and power unlimited (1984)
Padi open water
Renato, just one year younger than Francesco, shared most of the older brother's adventures.
Once married he bought his own sailboat and sailed all around Mediterranean Sea for many summers.
For the last 10 years, he has worked as freelance Civil Engineer and as skipper for charter sailing boats in Italy and Greece.
He has a natural talent to feel the wind and the weather, his daughter Barbara, thanks to the father teaching during many regattas and cruises, has been World's champion of sailing in the class 420 in 2014.
Francesco and Renato are now happy to sail together again and be the crew team on the new Lagoon 620 KASKAZI FOUR.
Their characters and attitudes matches very well. The love for the sea, the fun to be on the water and the feeling of safety in navigation get amplified when they are together.
Nadyia Vartsaba,chef and hostess
2nd January, 1966
Before starting to experience her genius for cooking, Nadyia graduated in natural engineering and moved from her country of origin, Ukraine, to Italy.
In the country of food par excellence, she discovered a new way of cooking. Nadyia loves experimenting, thinking about new ideas and furthermore, she believes in the importance of choosing only the best ingredients offered by the territory. Quality is everything for Nadyia. She is able to enhance the best flavors of the Mediterranean Cuisine. Every element of this country is a precious ingredient for extraordinary, but at the same time, simple dishes.
Pasta, mixed salads spiced with natural and biological ingredients, light legumes juices, ve getables, soups, flan, fish, meat, desserts, water ices and especially sorbets, strawberries, raspberries, lemons, peaches, apricots, figs, watermelons and melons and so on.
Beside her cooking skills, Nadyia is a very sociable person, she is able to work in a team by adding her support and ideas. During her past work experiences, Nadyia acted as hostess onboard of a Catamaran Lagoon 45, Lagoon 440, sailing yachts in the Aeolian Islands. She speaks very good English, Russian, Polish and has basic knowledge of German and French. She is on board of Kaskazi Four since her launch…. Be ready to be captivated by her delicious cooking skills.