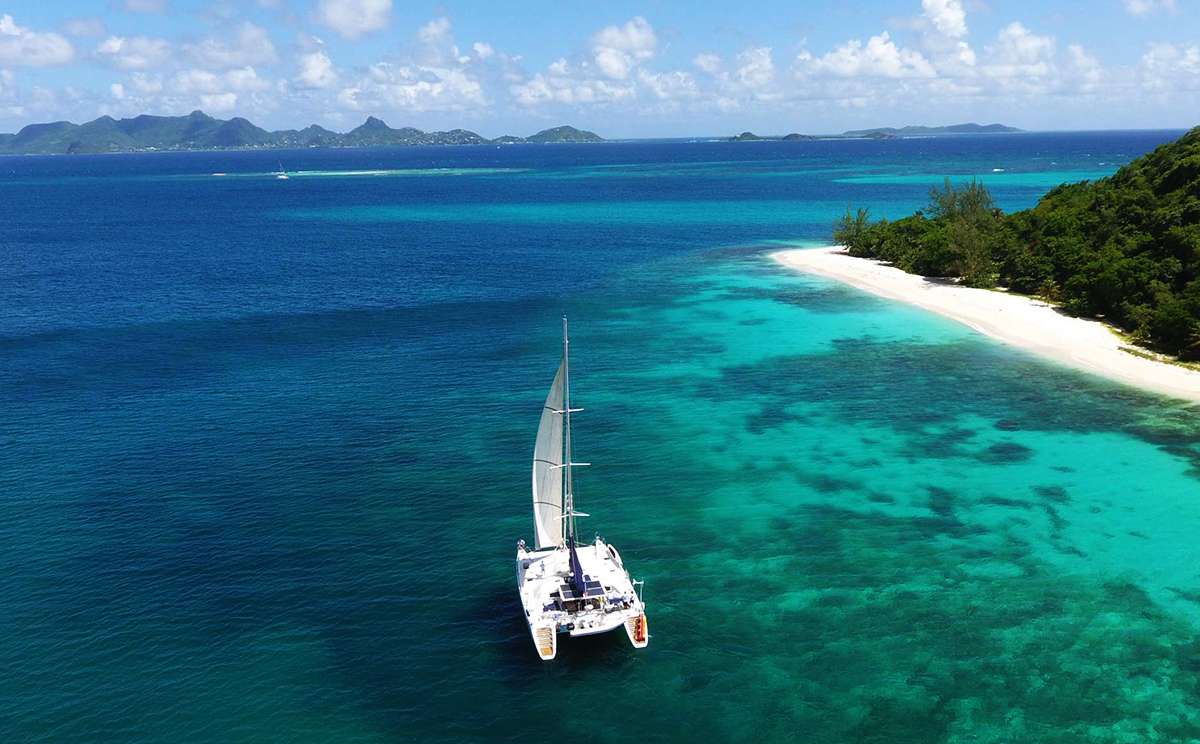 Weekly charter rates
$18,265 to $31,325 for up to 10 Passengers

Yacht Sagittarius Specifications:
Builder : Privilege
Length: 65.5 Ft
Year launched: 1995
Passenger #: 10
Guest cabins: 5
King cabins: 1
Queen cabins: 4
Crew #: 3

Yacht Sagittarius Overview:
SAGITTARIUS is the perfect choice for a fabulous Caribbean sailing holiday. This luxury Privilege 65 catamaran was built by Jeantot/Lombard Marine, the prestigious French shipyard, in 1995 and went through a complete refit in 2012, making her an even more appealing choice today. Her wide beam of 33 ft. makes this yacht extremely spacious, accommodating 10 guests in great style.The interior d'cor is contemporary with light wood flooring and wall panels, cream colored and luxury furnishings. The open salon offers multiple seating areas and features a wet bar, 3D TV entertainment center, formal dining, and wide sliding glass doors leading to the aft deck. The large windows create an airy light ambience by day and at night the upgraded lighting with blue accents create a feeling of refined luxury for socializing. She is fully air-conditioned throughout.Very comfortable and stylish guest accommodations are in four large queen cabins plus an extra large master king cabin. All cabins feature a flat screen TV & DVD, settee/writing desk, fans, and AC controls. Each has its own private en-suite bath with dry shower stalls.The aft deck offers plenty of shade and plenty of seating for relaxing and outdoor dining table. Two large transoms each have wide steps providing easy access to step into or out of the water. The massive foredeck is the place for sun-lovers, with 2 double sized safety trampolines for enjoying the action when underway. SAGITTARIUS offers the best in a stable sailing experience, with state-of-the-art sails, the latest in navigation technology, and 2 Yanmar 140hp engines. Average speeds are 9 knots, with exhilarating top speeds of 12 knots under sail.The crew of SAGITTARIUS are at the ready to ensure your holiday is the trip of a lifetime.
Accommodations:
4 spacious Queen cabins and one very large King cabin, each with en-suite bathrooms with dry shower stalls, settee/writing desk, fans and AC controls. Master has stereo/CD player/ipod dock.
Bed Sizes/Length and width
King: 2.1 M X 2 M
Queens: 164 X 200
The two crew cabins in the bow have two bunk beds each with electric vacuum toilet, shower, a/c - to accommodate four crew, in two cabins totally independent and separate from the guest area.
Safety equipment on board up to 16 pax.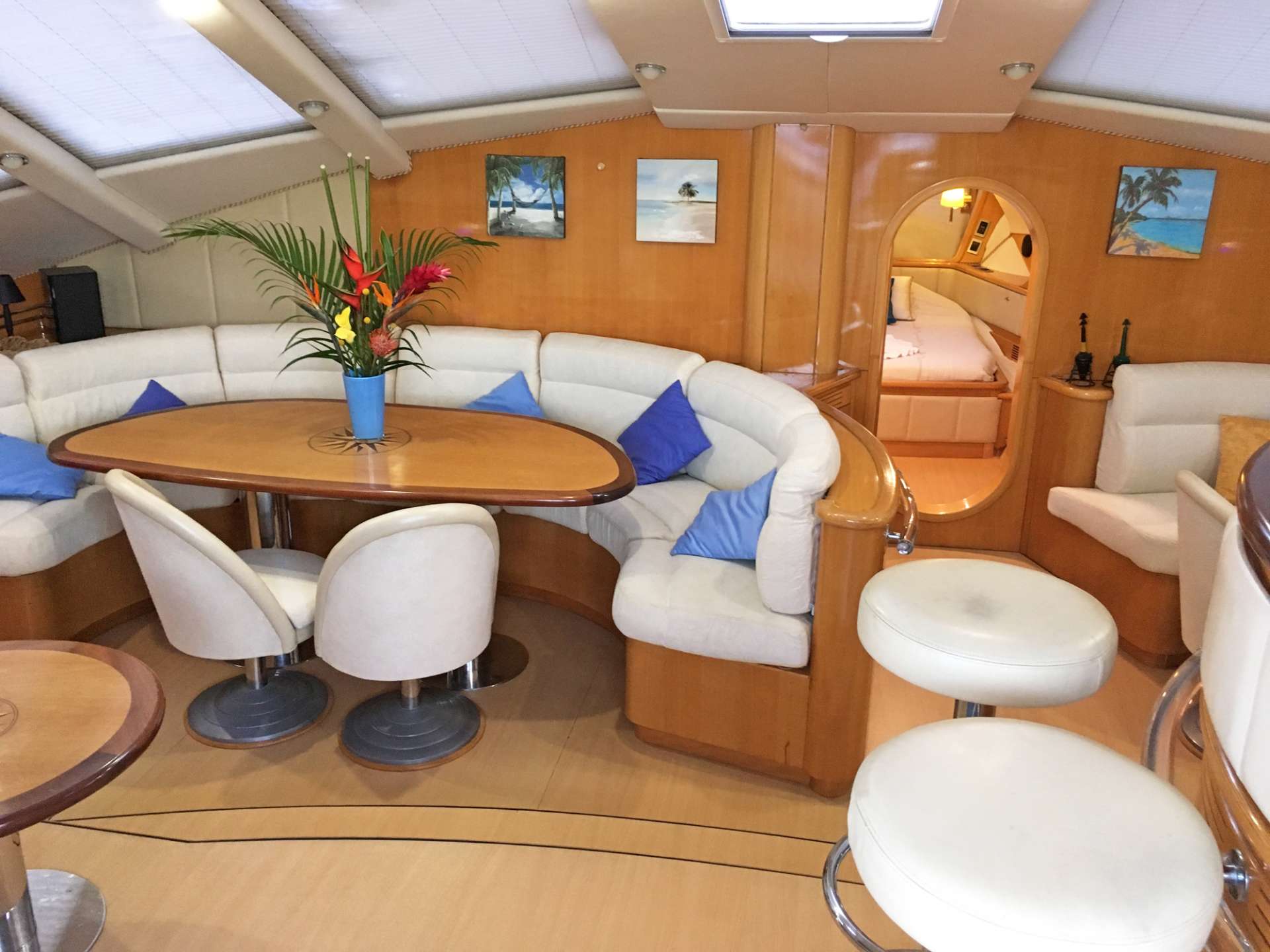 Main Salon
Formal Dining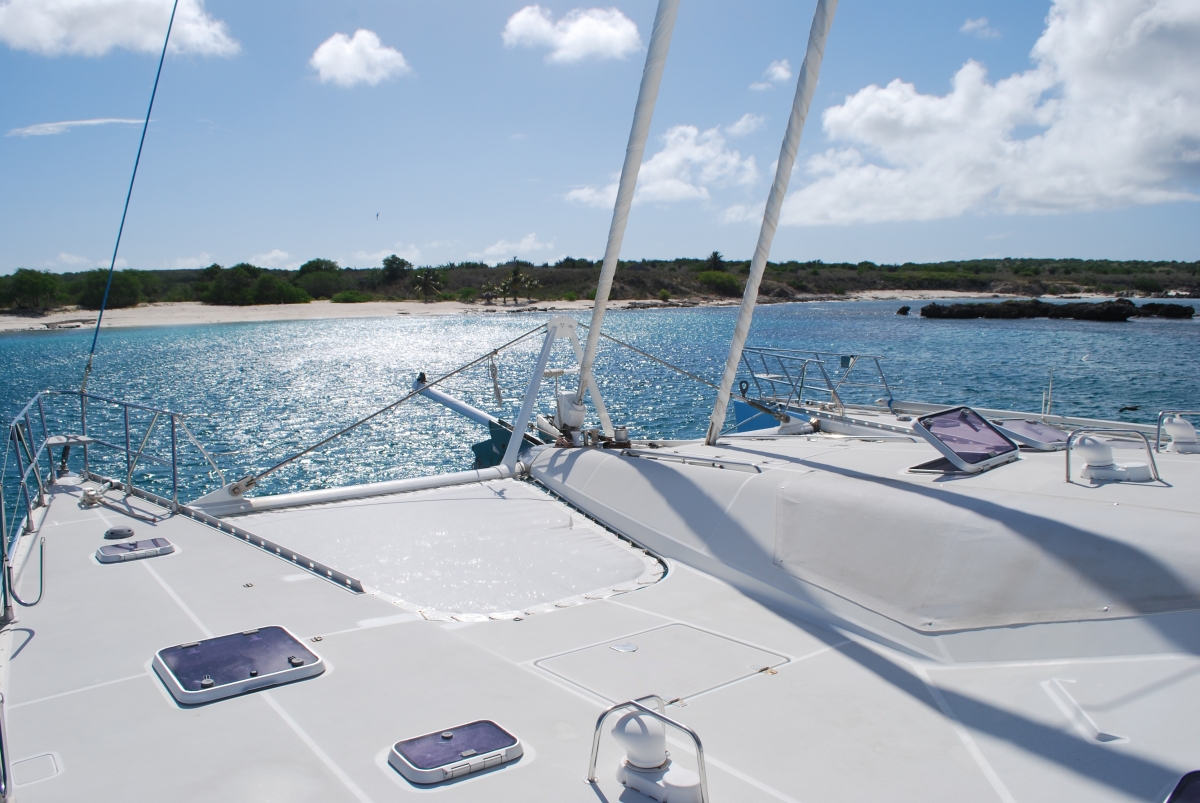 Foredeck Trampolines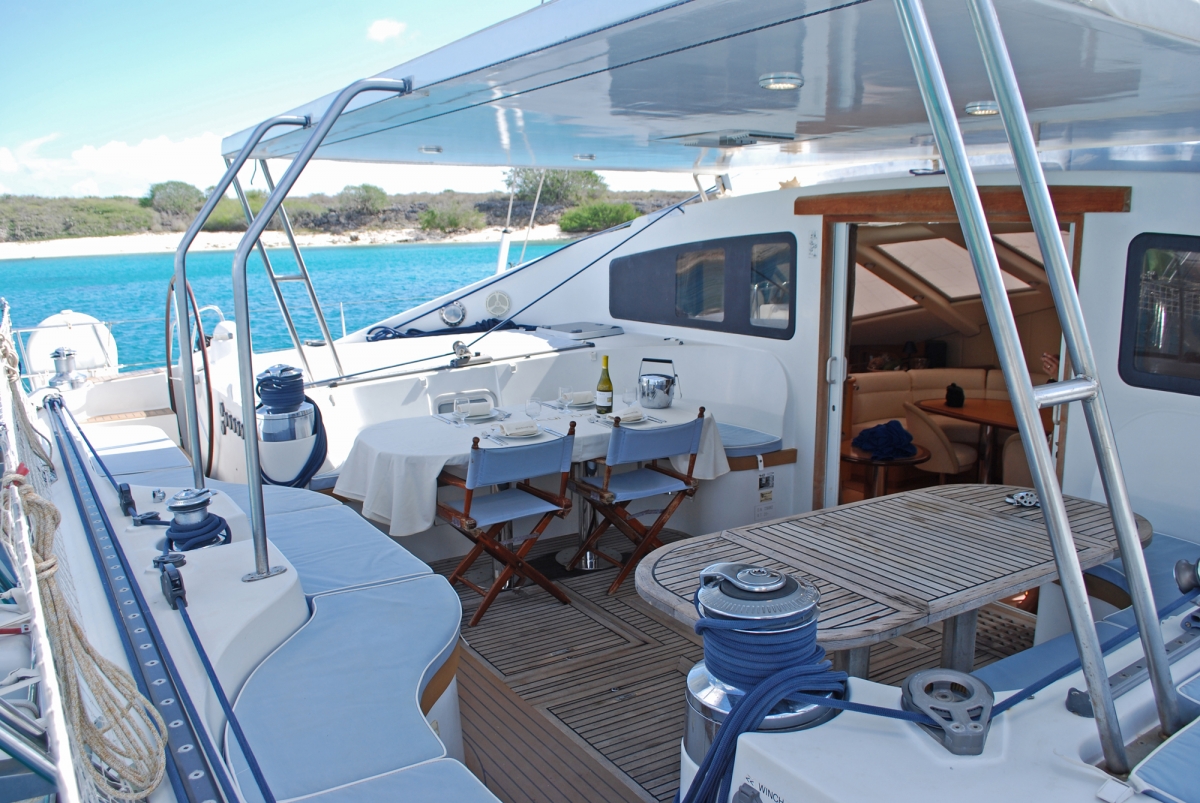 Aft Deck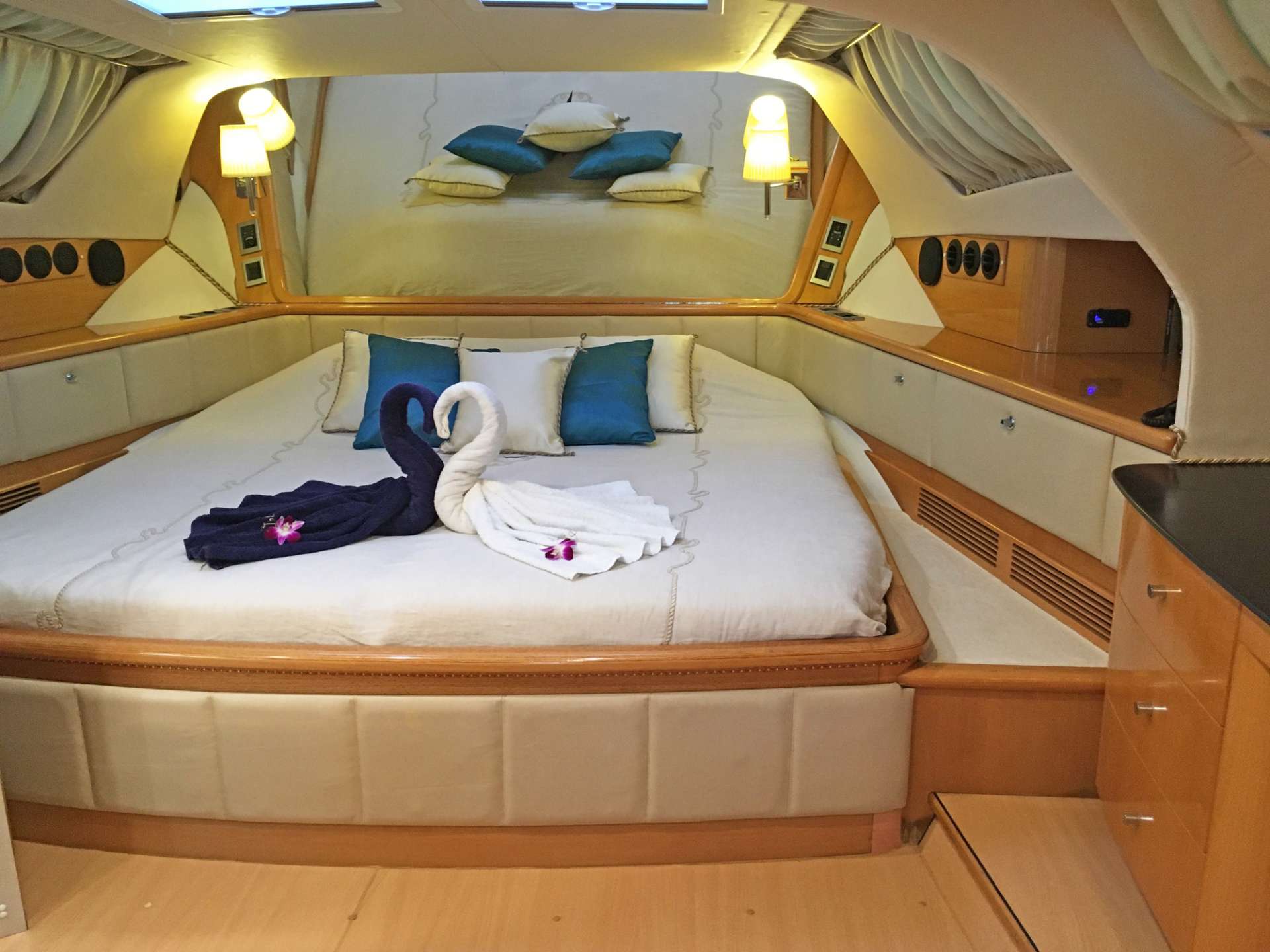 Master Stateroom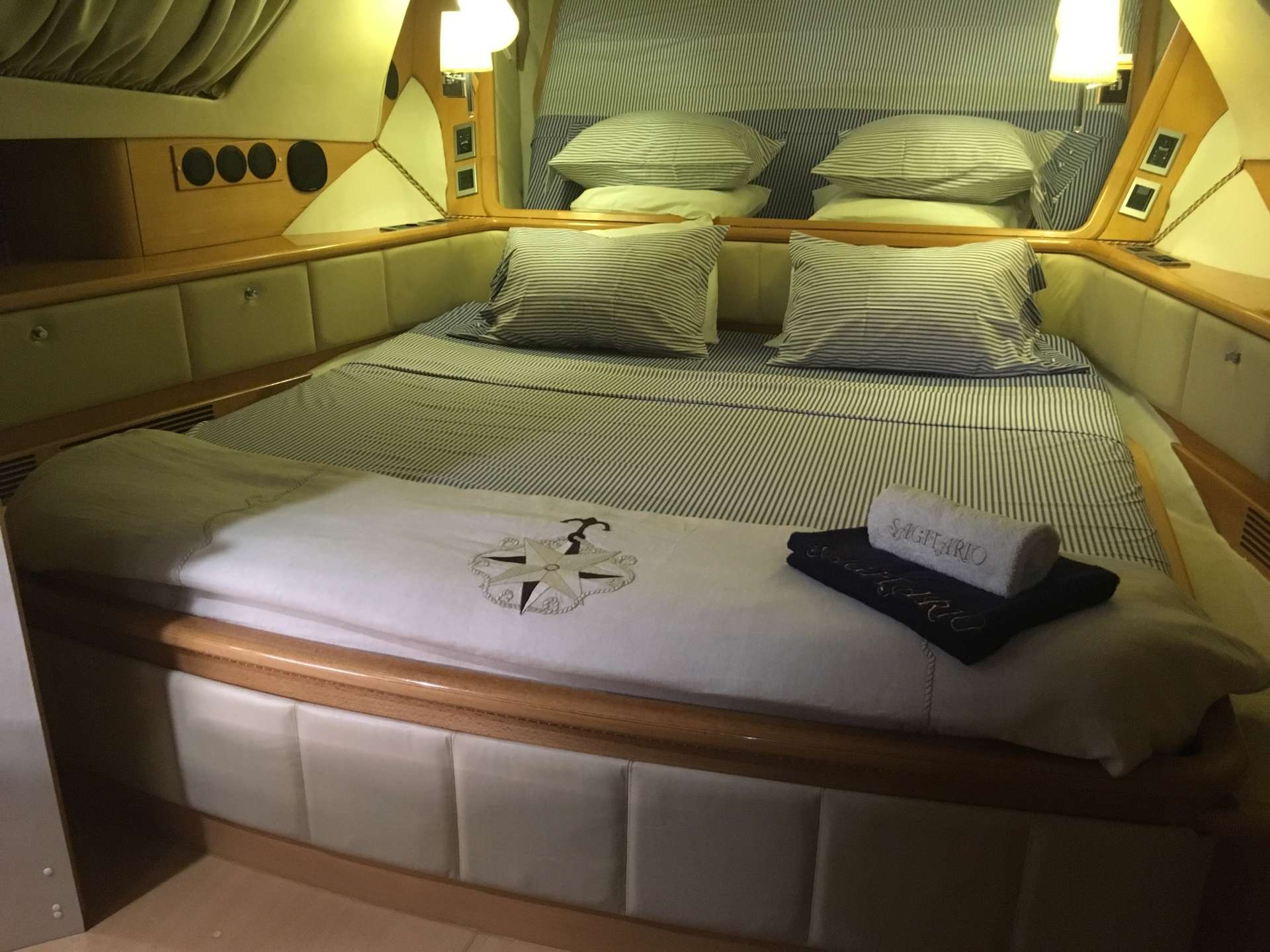 Master Stateroom turned down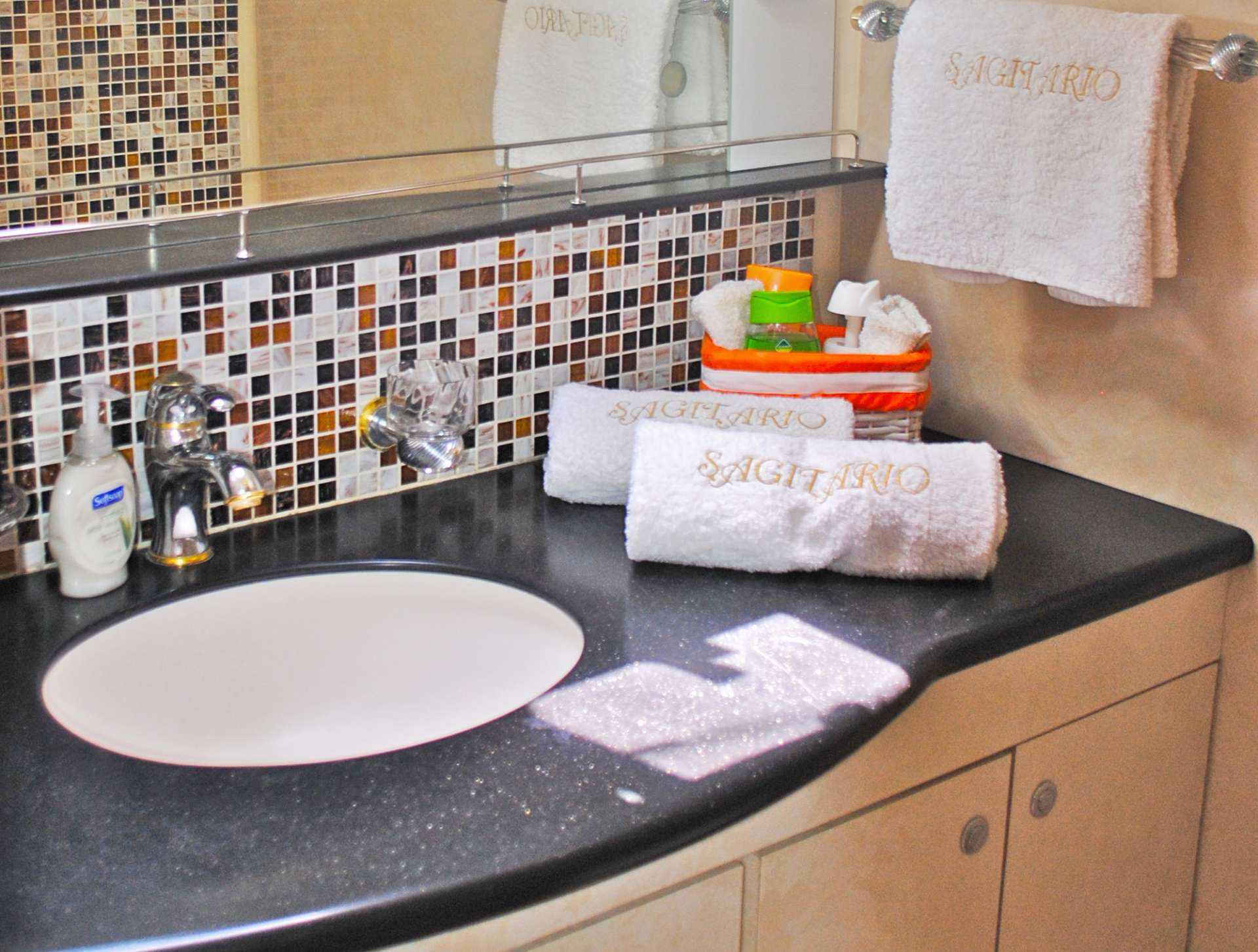 Master Bath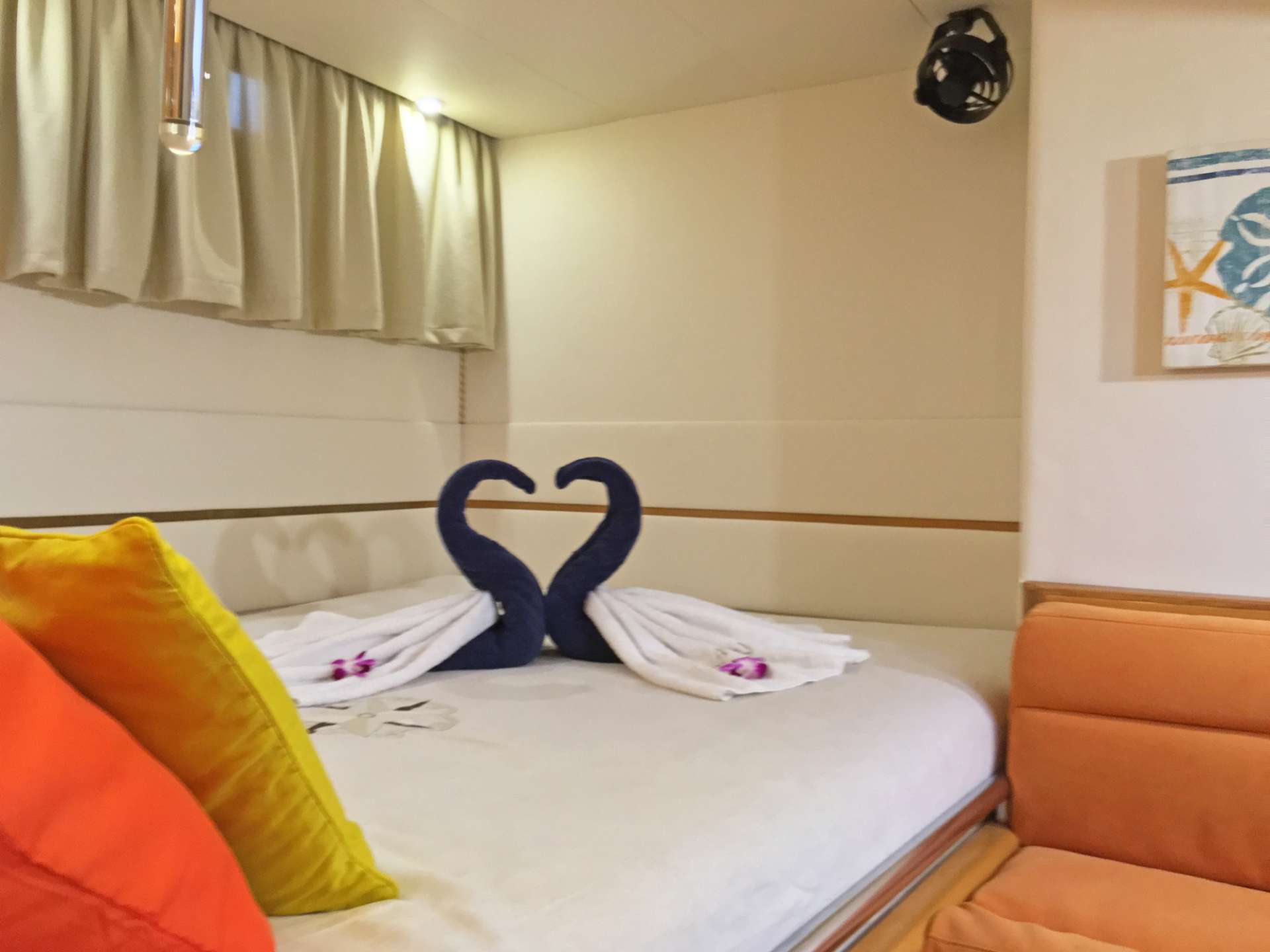 Aft Guest Cabin with Settee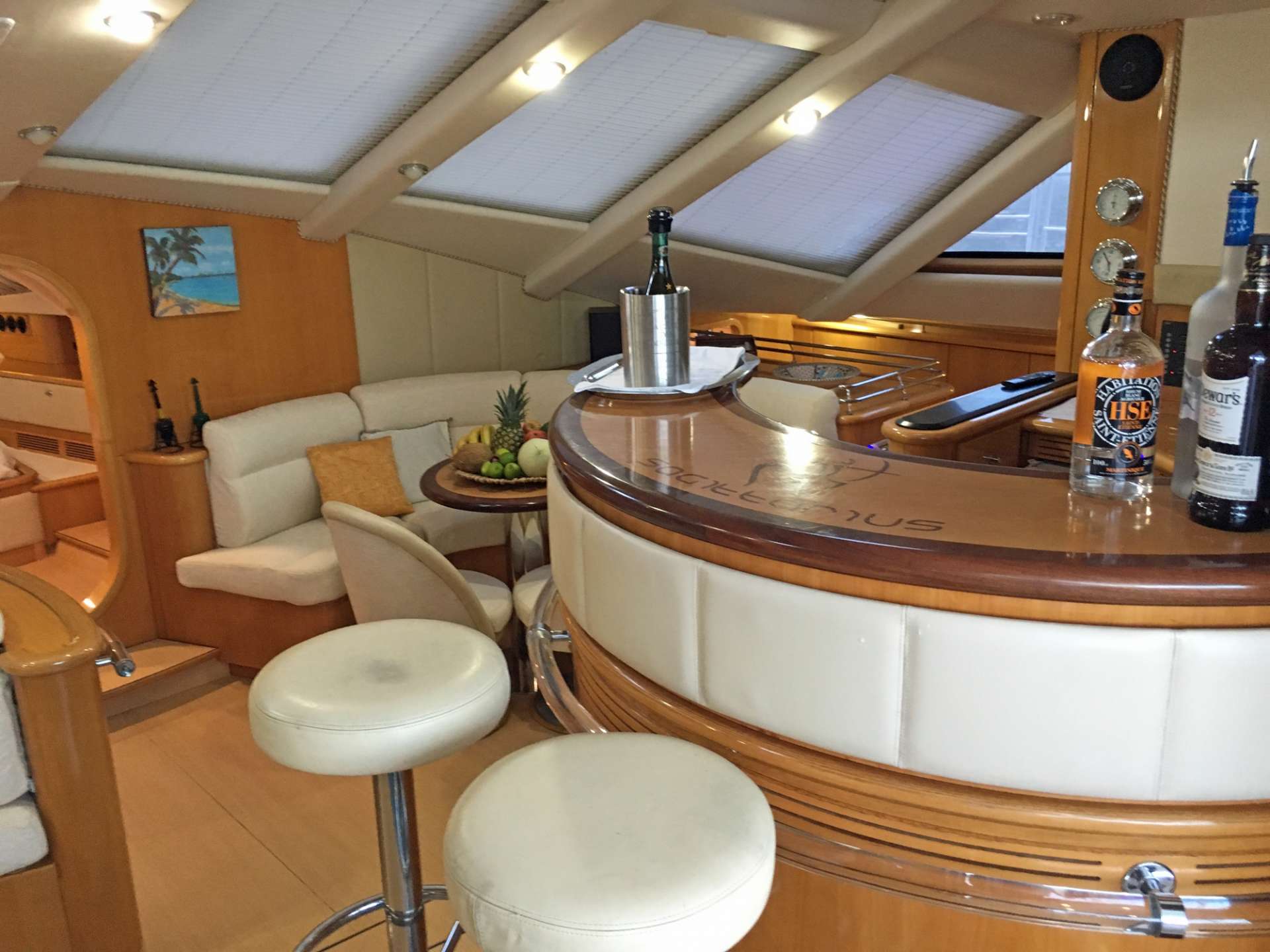 Popular Bar Area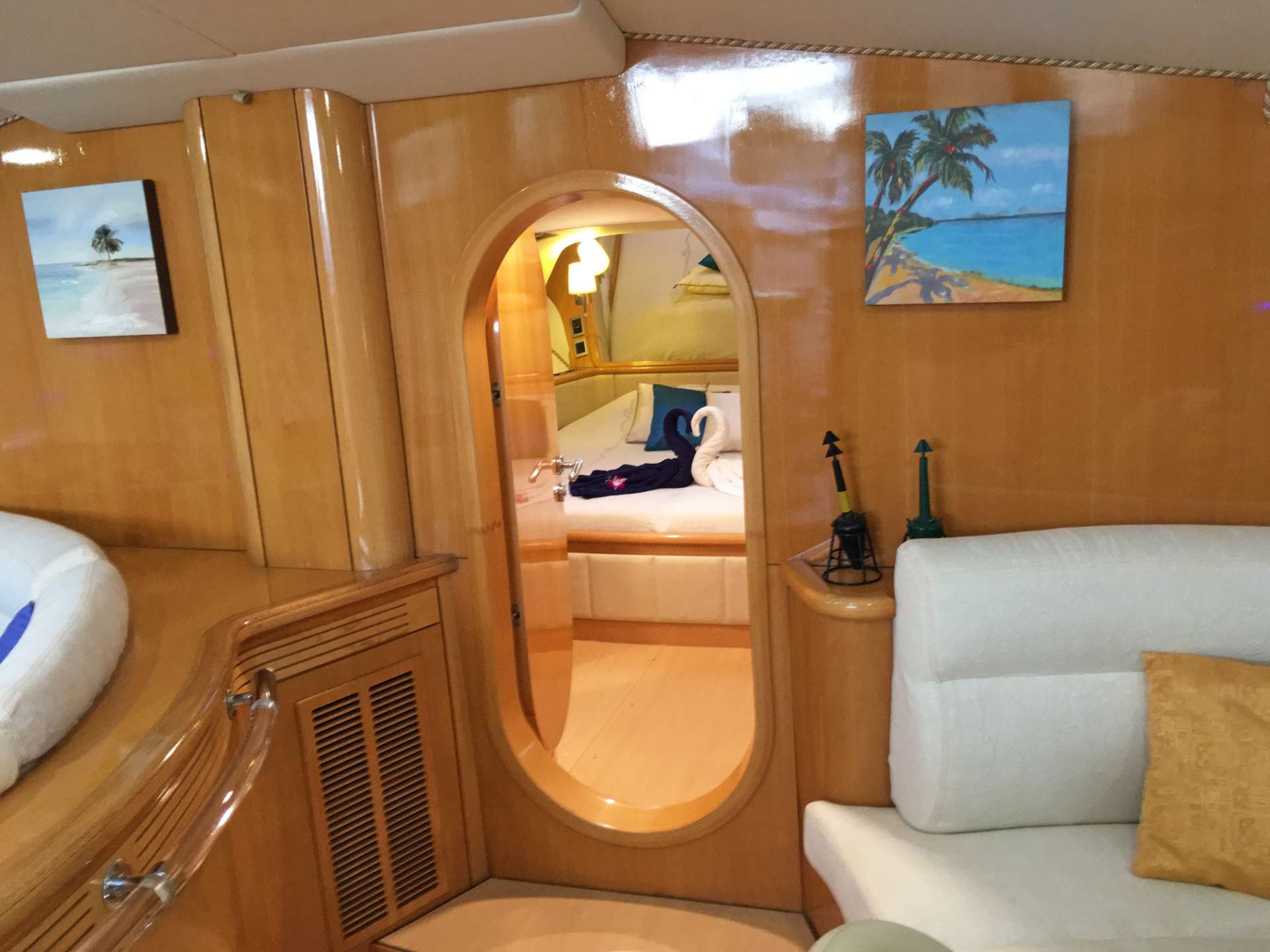 Entrance to Master from Salon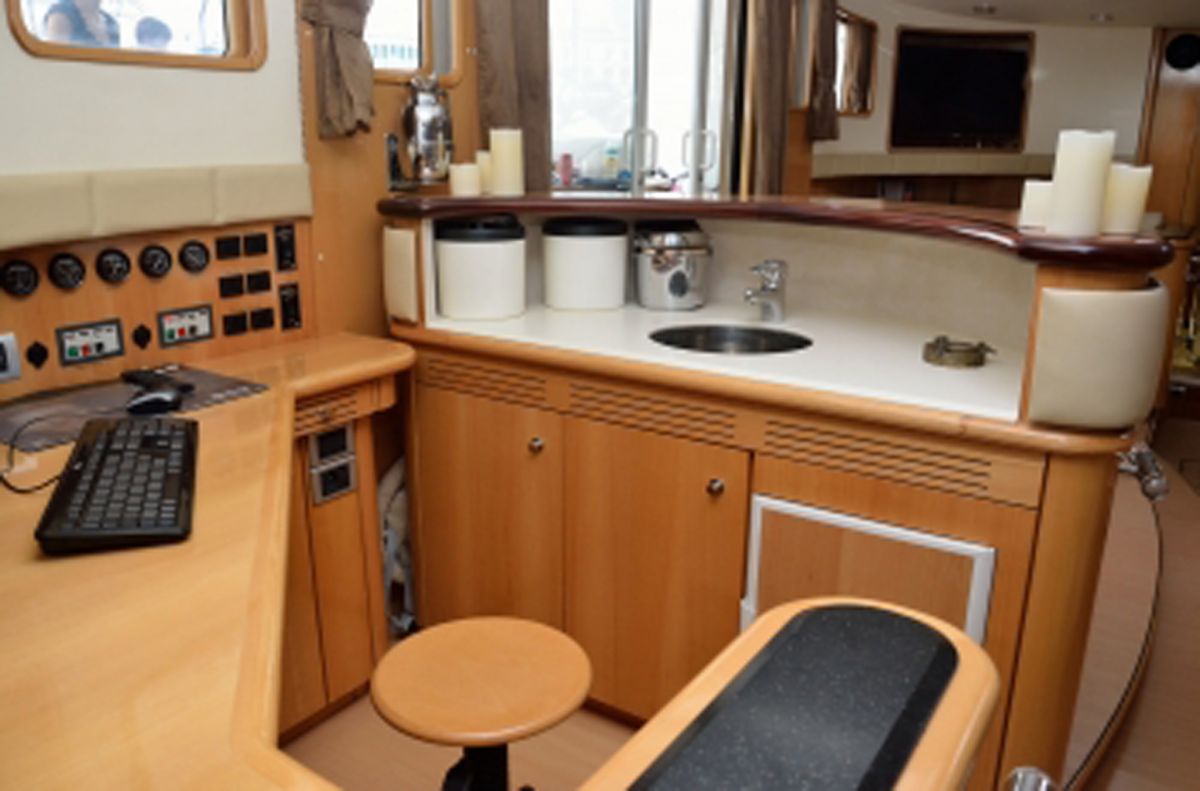 Nav Station / Back of Wet Bar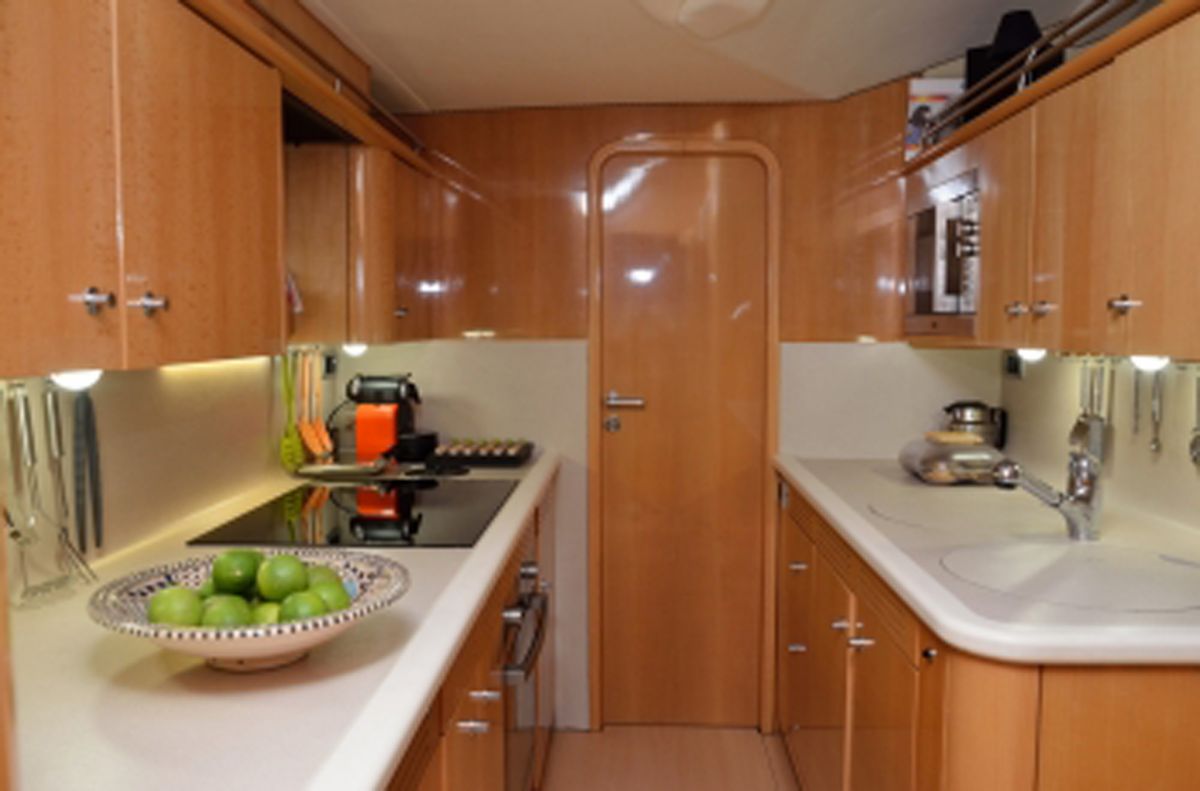 Galley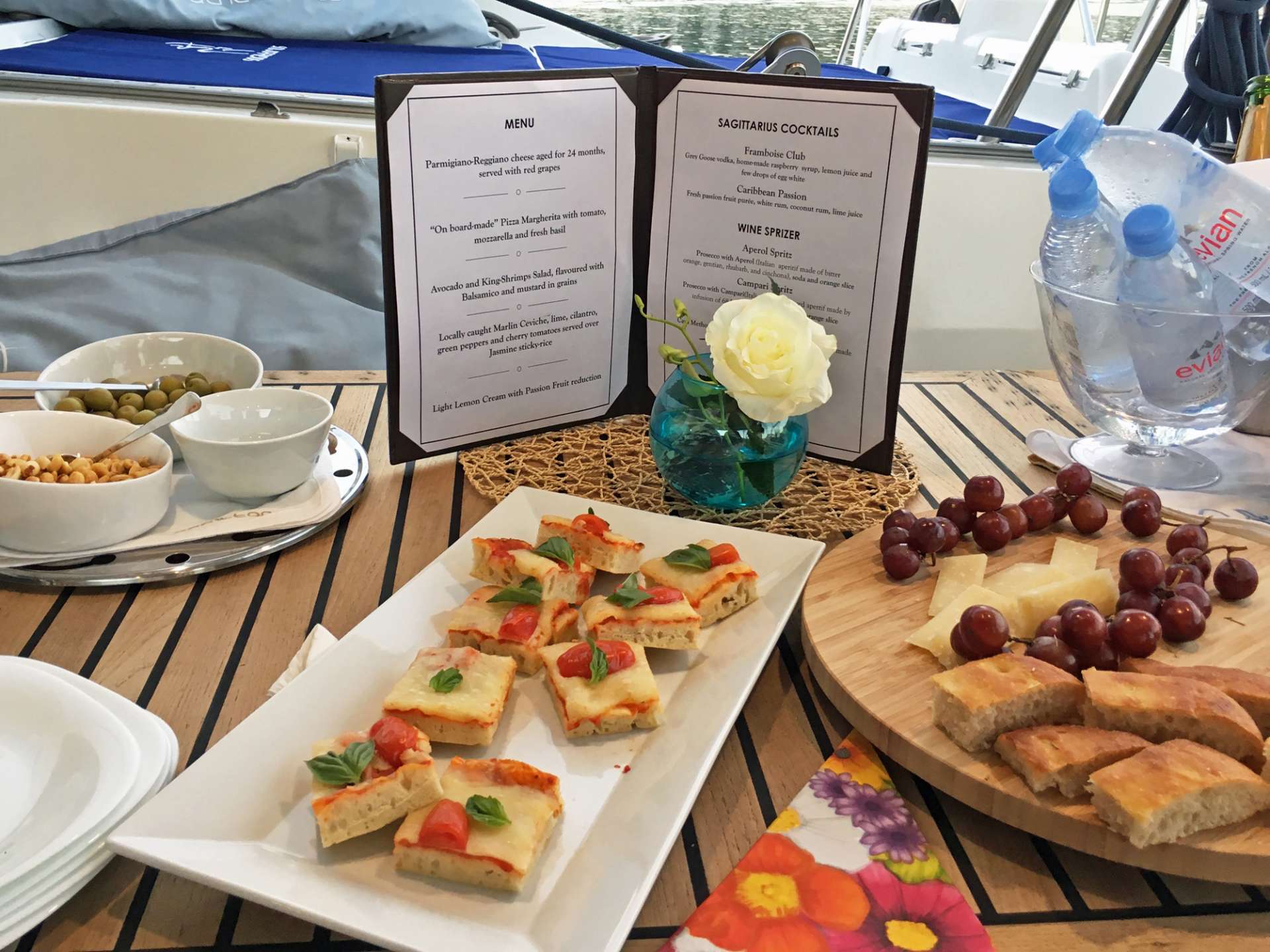 Menu Sampling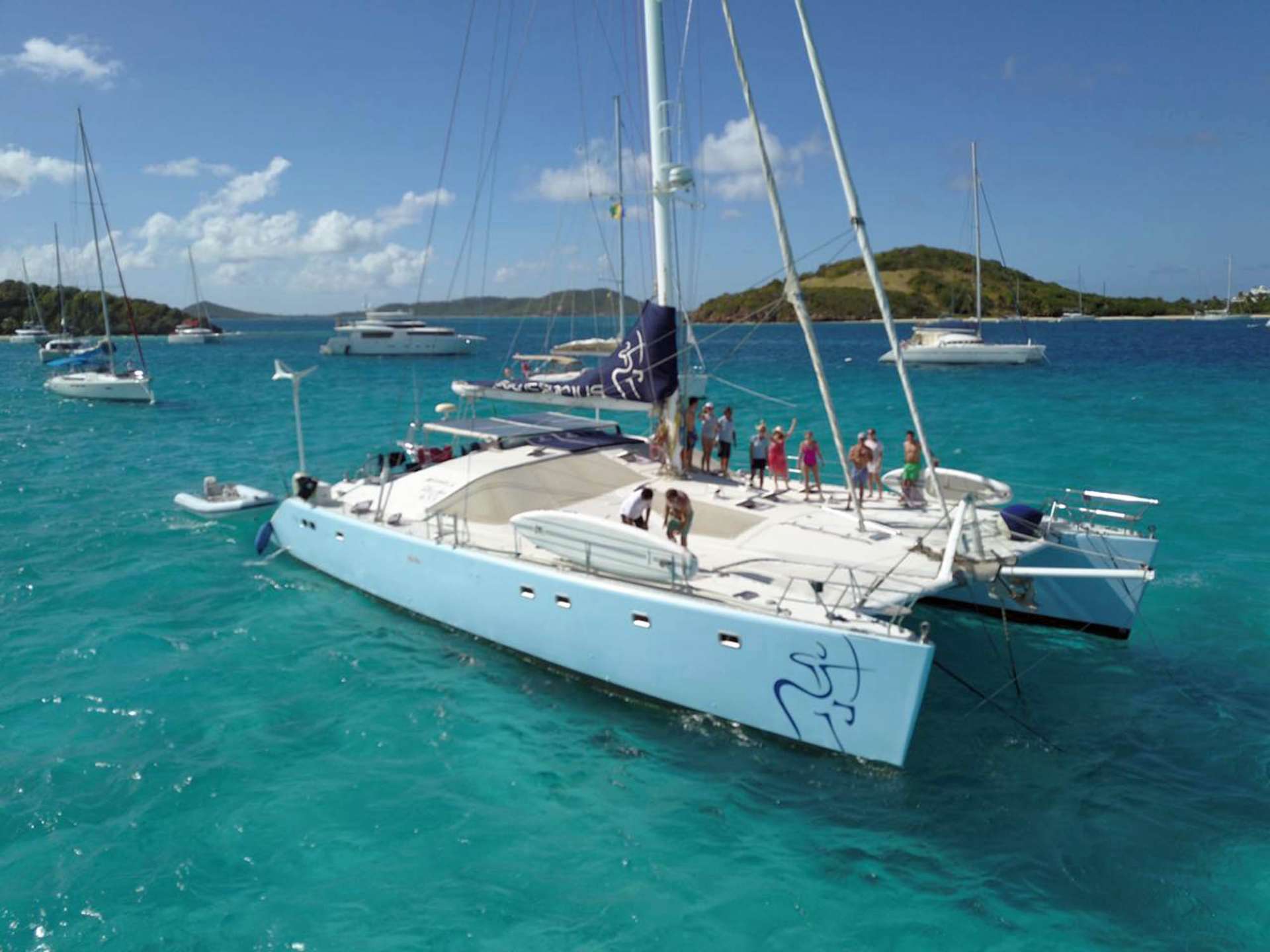 Beautiful Sheets & Towels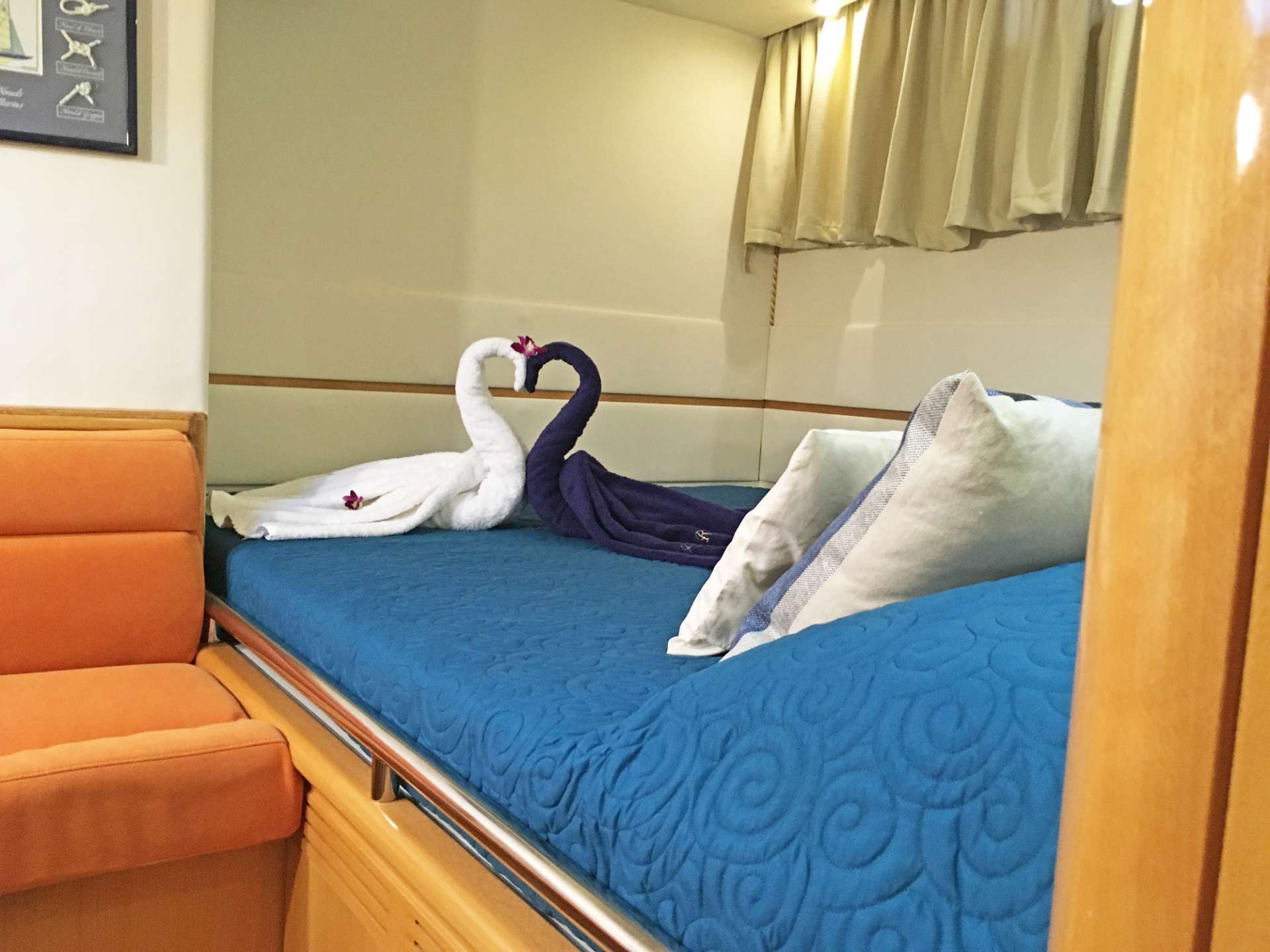 Guest Cabin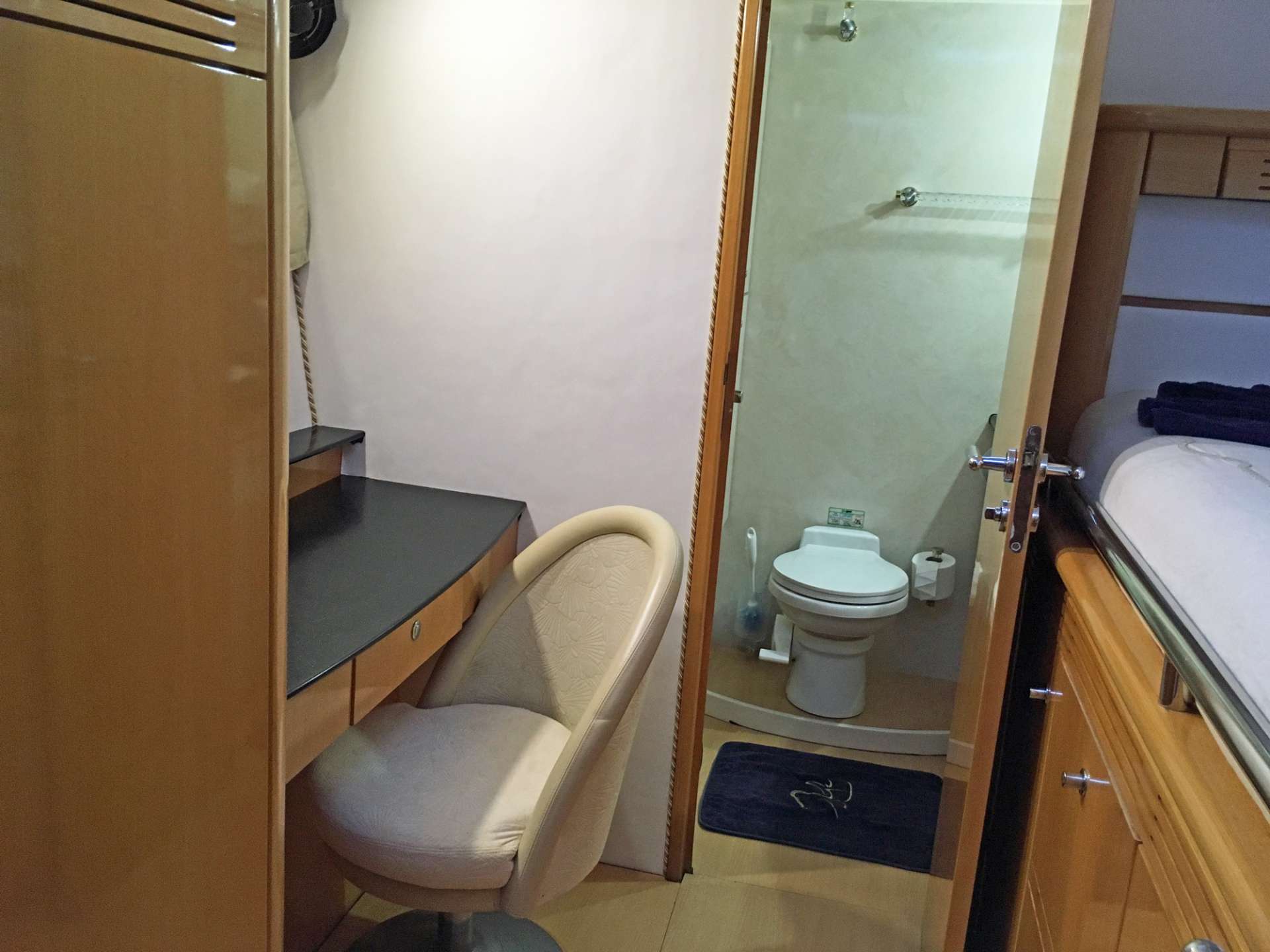 Guest Bath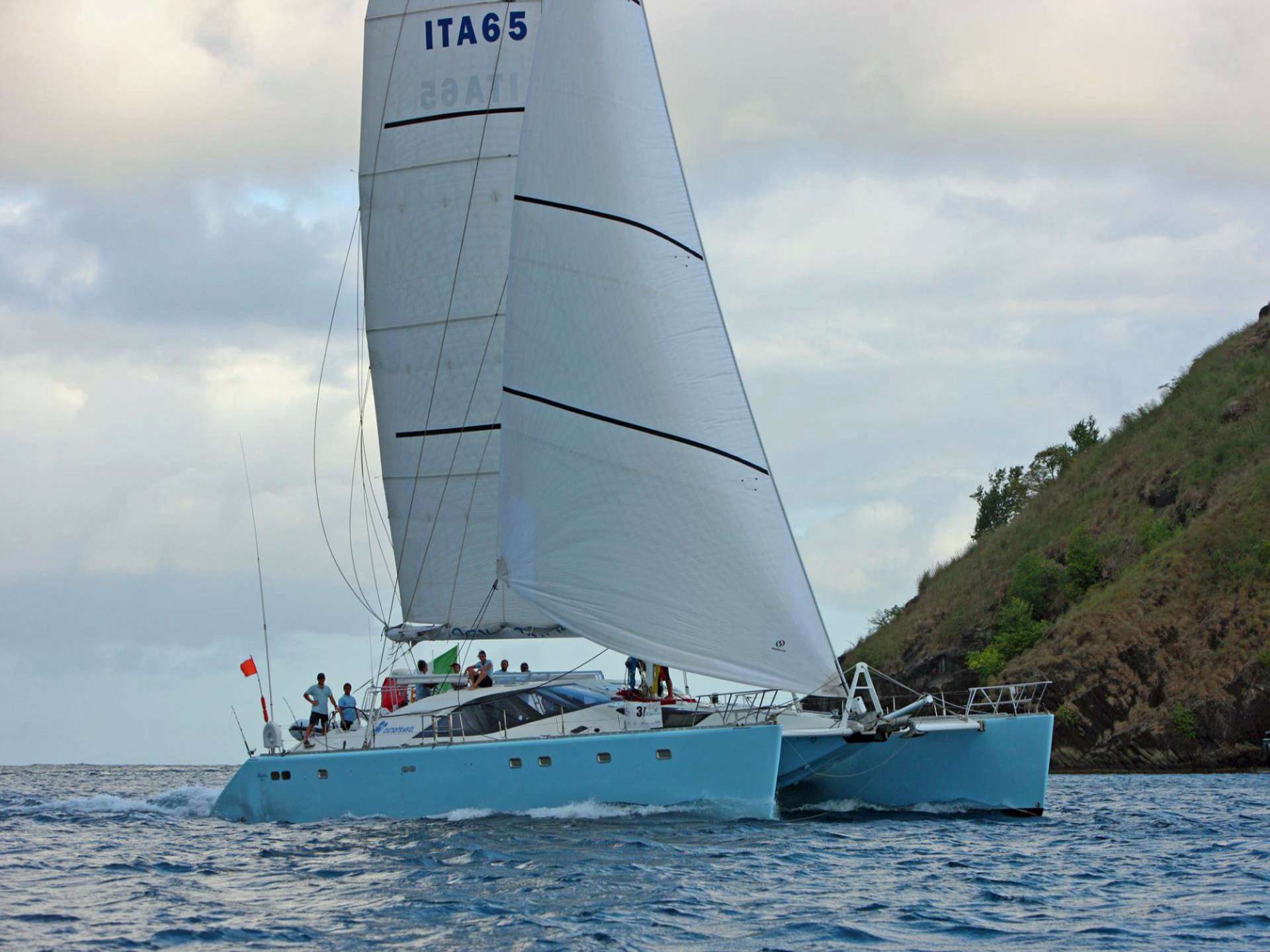 Under Full Sail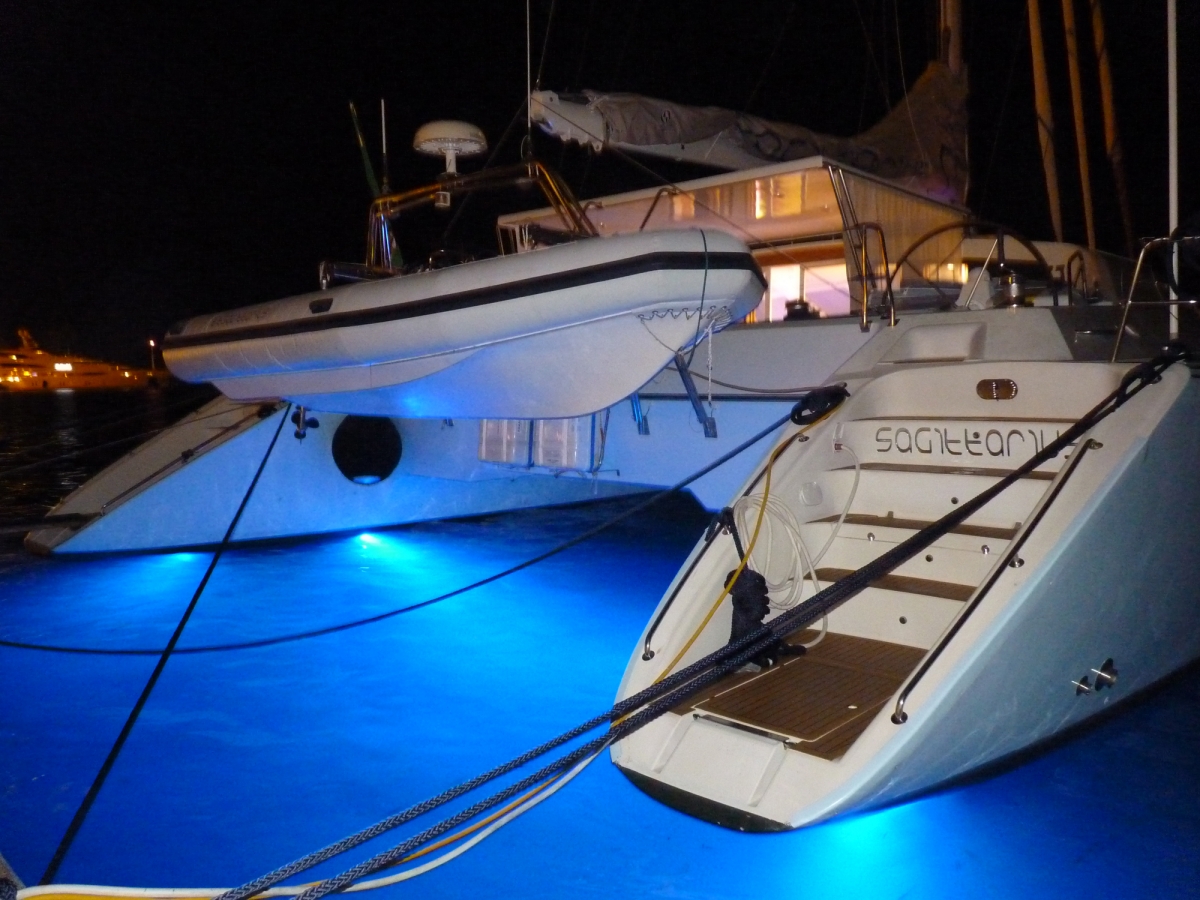 Aft View with Night Lights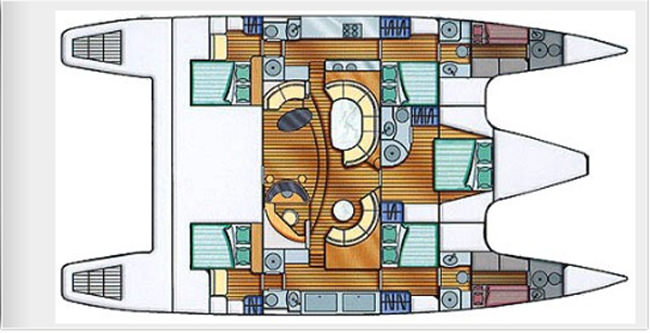 Sagittarius Layout
Crew details: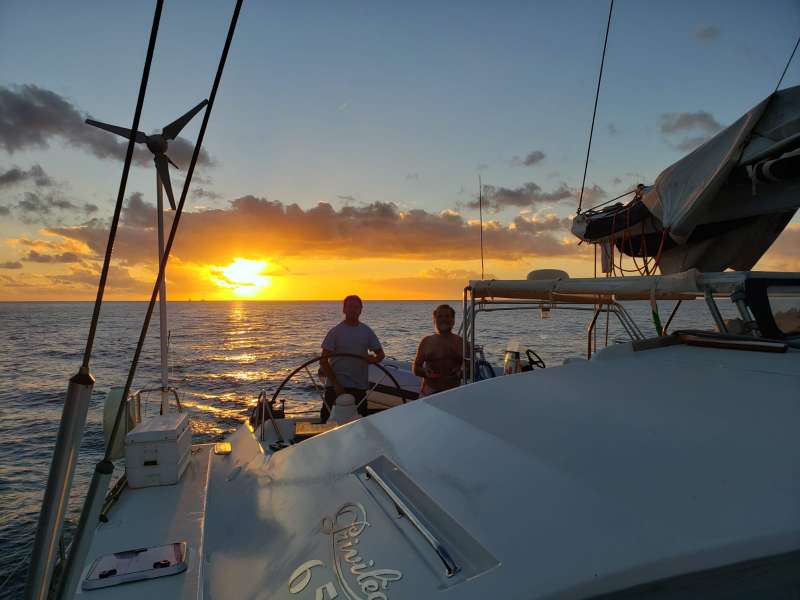 Sagittarius Crew
Winter Season Crew:
Captain Cristian
Chef Riccardo
Mate / Stew Ilona
Summer Season 3 Crew:
Captain Cristian
Mate/ Stew Ilona
Freelance chef
CAPTAIN CRISTIAN SEQUENZIA
Cristian Sequenzia, friends call him Cri (pronounced Cree), is the descendant of a proud and storied ancestry. He grew up in ancient Ortigia, a UNESCO World Heritage Site. This historic island is at the heart of the naturally fortified harbor of Siracusa, Sicily, Italy. It is the birthplace and homeland of many famous seafarers. Cri, with his knowledge and passion for seamanship, is a credit to these forefathers.
Cri was sailing with his father as far back as he can remember. He had his sea legs before he could run, and was swimming, diving and fishing as a small boy. After college, he went to work for a company that manufactured special parts for yacht construction. He specialized in carbon fiber composites, learning about yachts from the earliest stages of the build process.
In 2012, Cri brought his expertise to Sagittarius' extensive refit. "When I had the offer to start working on Sagittarius I didn't think twice. I quit my job to spend a year and a half on board, eight months of refitting and 10 months sailing around Europe and the Caribbean. I love sharing my passion for the sea with our guests; diving, snorkeling, swimming off secret beaches, exploring remote coves, pointing out turtles and birds' nests. I also love having fun water skiing, wakeboarding, and every kind of fishing." With his many talents and joie de vivre, guests on board Sagittarius are certain to love sharing in all the fun too!
MATE / STEW ILONA FRICOVA
Ilona grew up in an idyllic setting, in a storybook Czech village surrounded by woods. The family's daily routine included caring for lots of animals and tending the garden. They shared a deep love and respect for nature, animals and people. Ilona's parents had built a canoe, and the family enjoyed most holidays on rivers and lakes. Together they spent time canoeing, camping and fishing. Ilona got her first fishing license when she was just 10 years old, and she has been fishing ever since. Today, she happily shares fishing tips and fish prep and cooking tips with interested charter guests.
Ilona is very energetic. She excels at all types of sports, including tennis and swimming. She modestly mentions that she "collected a few trophies in snow skiing competitions in the Czech mountains". She is also an avid diver with many certifications including Rescue and Deep Diver, and has achieved Yachtmaster Coastal Certification. She is a very patient instructor with guests of all ages interested in learning to snorkel, or manage the yacht toys. Family charters are her favorite, organizing activities for everyone to spend quality time together.
Four years ago, Ilona began sailing in the Canary Islands and the Balearics. She recognized immediately that yachting is an amazing facet of the hospitality industry. It ignited her passion. She said, "I kept thinking about people who are very busy, a rushed lifestyle with a stressful daily routine. Almost everyone has experienced this. It can be very difficult to slow down, escape from busy work routines. Everyone needs to relax. My goal is to help by providing guests the time and space to relax, to switch off and re-energize. That is the most important part of a good vacation. I take care to do my best for my guests to have fun and create unforgettable memories. And what a pleasure it is to consider this as a job!"
CHEF RICCARDO LENER (Winter Season - November to April)
Riccardo has a profound passion for cooking. He has been working in restaurants since he was 16 years old. He is a master at pleasing a variety of tastes but his real forte is his native Italian cuisine, including regional and national gourmet specialties. In addition, he is happy to provide special diets, kosher, gluten-free etc.
Riccardo is also a professional sommelier. Oenophiles will especially appreciate perfectly paired wines with each delicacy that he creates. Riccardo is adept at seasonal menu planning according to guest preferences. He provisions the freshest ingredients from local markets. His goal is always to please the palate of charter guests, from sophisticated haute cuisine to home-style cooking.
Riccardo is equally enthusiastic in the creative, exotic preparation of seafood or steak as a gourmet burger with fries, or traditional Continental recipes. Kids love pizza and pancake faces. Everyone delights in waking up to the aromas of freshly baked breads and cakes.
Here's a brief video of Chef Riccardo at work in the galley preparing a lunchtime dish
https://www.youtube.com/watch?v=WAGVOTV7R-w
In addition to his native Italian, Riccardo speaks English, Portuguese and basic German.
Previous guests comments:
-Riccardo's food was unbelievable, every meal was such a great experience.
-Riccardo was quick to meet our dietary and culinary needs. Excellent food.
-Chef Riccardo provided delicious and inventive culinary treats at each meal. Bravo Chef! We loved it all.
Water Toys
Adult Water Skis (Yes)
Kids Water Skis (Yes)
Snorkel Gear (Yes)
Other equipment includes:
From December, we have full water ski equipment both for adults and juniors. 2 Stand Up Paddle Boards (one 14 feet x 8" for couples or heavier weight, and one fast 11 feet x 6" for high performances). Three sun bathing areas (two queen size and three single size in the roof, total 7 pax). Two inflatables (3 seat banana and 3 seat sofa) and an inflatable high performance knee board. Boogie Board. Dinghy has Honda 4 stroke engine with roll bar for wake-board and tow-ring. No fishing in BVI Waters; Fishing in US Waters only. Sagittarius has 5 big game fishing rods and 2 standard rods all with lures and equipment

Scuba details
Dive Tanks: 8
Captain's Scuba License: Master
Dive Tanks: 8
Dive Regs: 4
Divers: 4
Number of dives per week: 2 per day
Dive costs: $45 per person per dive
Diving in Tobago Cays, Grenadines is only available through a local Dive Company.

Cristian and Ilona are both Dive Masters

Yacht Amenities
Salon Stereo (Yes)
Salon TV (Yes)
Deck Shower (Yes)
BBQ (Yes)
Hair Dryer (Yes)
Sun Awning (Yes)
Hammock (Yes)
Ice Maker (Yes)