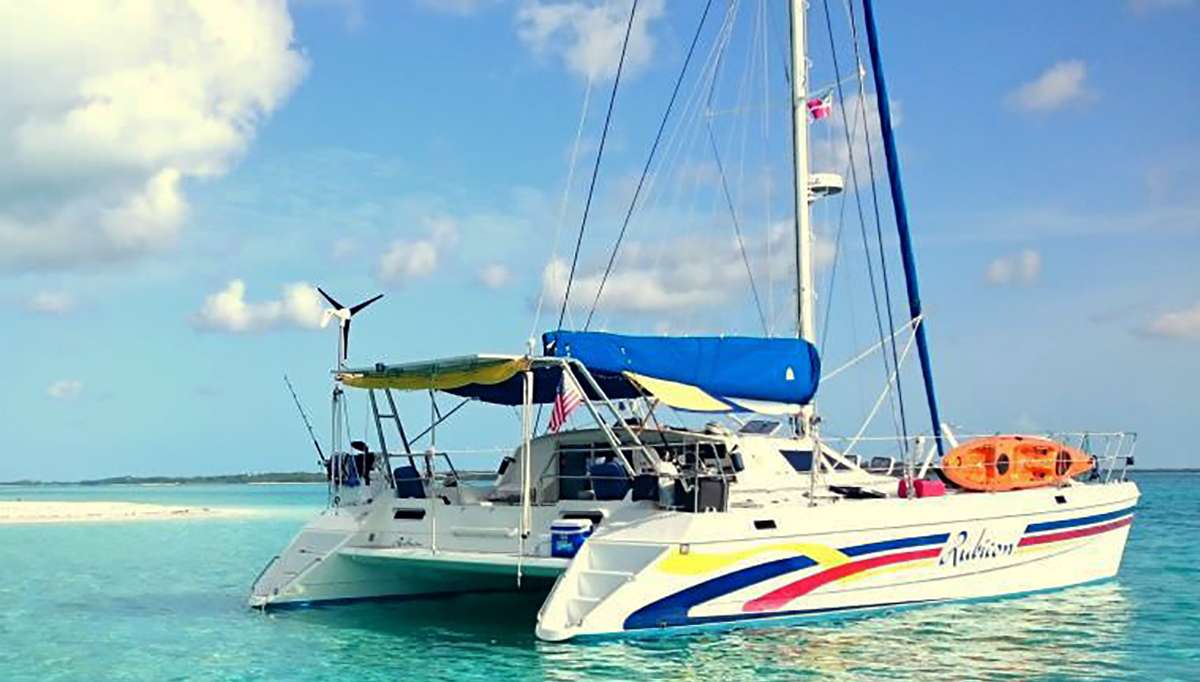 Weekly charter rates
$10,250 to $14,250 for up to 5 Passengers

Yacht Rubicon Specifications:
Builder : St. Francis
Length: 44 Ft
Year launched: 1997
Passenger #: 5
Guest cabins: 3
Queen cabins: 2
Double cabins: 1
Crew #: 2

Yacht Rubicon Overview:
Come explore the vacation paradise of the Bahamas Exumas and Out Islands! The luxury sailing yacht Rubicon offers the perfect way to enjoy your Bahamas vacation. This spacious 44' catamaran offers the best of everything that makes a yacht charter vacation great: beautiful, comfortable accommodations, an expert and enjoyable crew, fabulous food, and so many fun things to see and experience. Rubicon's interior decor is casual elegance with shiny wood paneling. Photographs shot from the owner's family world cruise enhance the staterooms, creating a wanderlust feeling to sail to remote regions of the globe.There are many enjoyable places on board to enjoy! The main salon, cockpit, and forward trampolines are the main gathering areas for meals and activities. The trampoline area is the optimum spot to hang out while underway, enjoying the salt breeze and luscious scenery of the islands. Cat Rubicon carries a crew of professional captain and chef. It is the perfect yacht for a group or family vacation. Among her many possible activities are kiteboarding and surfing. You may also participate in eco adventures including feeding swimming pigs, snorkeling, kayaking, hiking nature trails, sailing and enjoying remote beaches. For more information on Rubicon: www.bahamascatcharters.comHere's a fun video of a group of Kiters that chartered Rubicon recently in the Exumas - enjoy! https://www.youtube.com/watch?v=hvcjkW6BRDg
Accommodations:
She accommodates up to 5 guests in three private cabins described below. Each stateroom is equipped with ensuite bathroom, electric fans in each cabin, and A/C in two forward cabins.
CABIN 1: Port side forward, featuring a queen-sized berth, large opening hatch overhead, 2 large closets, 2 bedside shelves. (Cabins 1 & 2 are equivalent in the layout.) A private bathroom and shower/small tub adjoin.
CABIN 2: Starboard side forward, featuring a queen-sized berth, large opening hatch overhead, 2 large closets and 2 beside shelves. (Cabins 1 & 2 are equivalent in the layout.) A private bathroom and shower/small tub adjoin.
CABIN 3: starboard side aft, a double size berth, large opening hatch overhead, dresser, and vanity. Adjoining, is a private bathroom.
If you have ever wanted to sleep under the stars, Rubicon's trampolines also offer spacious star-spangled sleeping quarters.
Dimensions of queen beds: 73"x57"
Headroom in Cabins: 73"
Headroom in Salon: 75.5"
RUBICON has a new Honda 2000 watt generator that runs the A/C all night at anchor! However, it really only sufficiently cools the two fwd cabins OR the salon, so we can only offer A/C for two cabins. RUBICON also has a 2kw inverter and a 15 gph watermaker
The main salon seats 10 guests and crew. The cockpit table seats 8 guests and crew.
Rubicon also has trampoline awnings for the foredeck.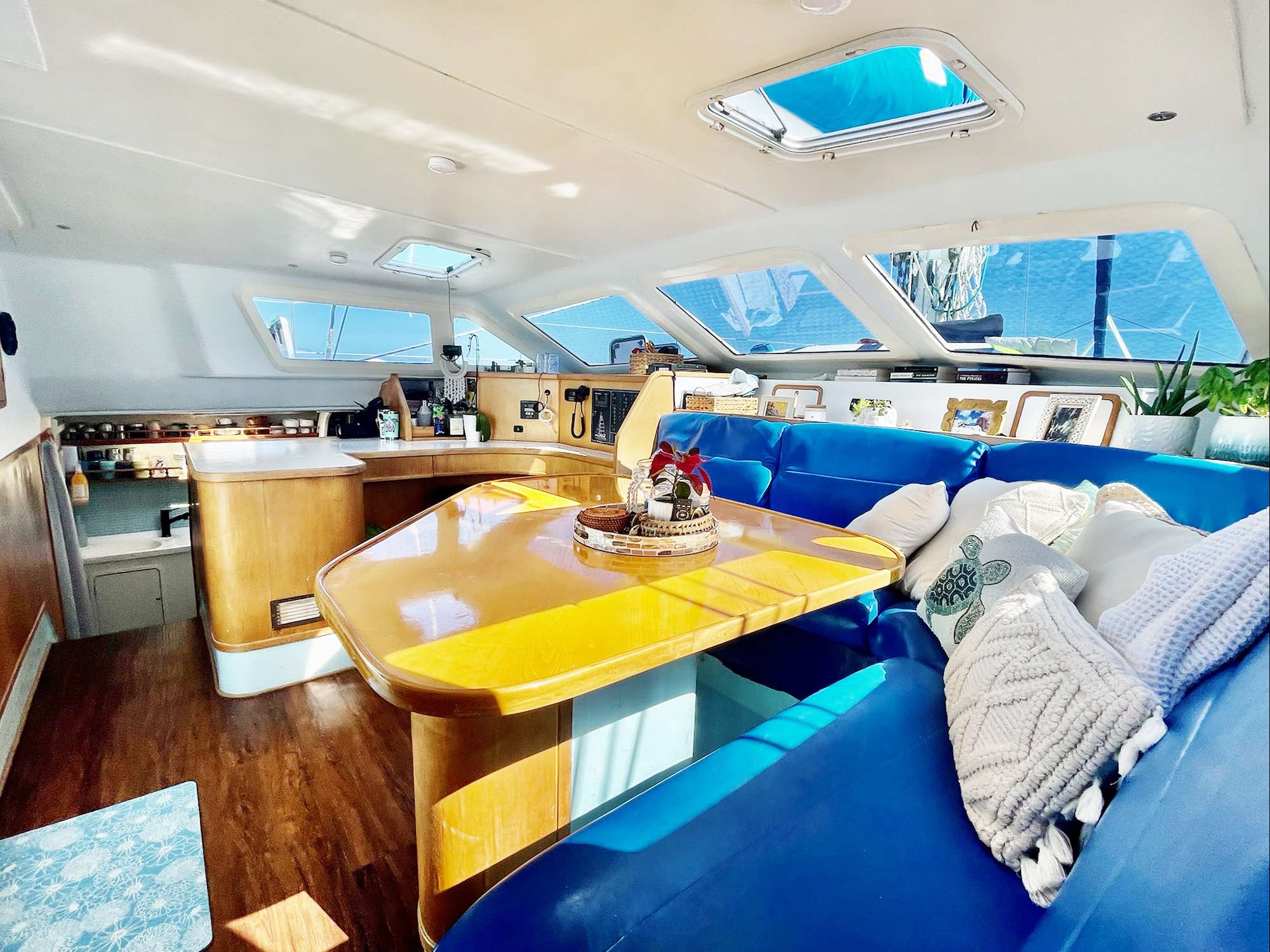 Main Salon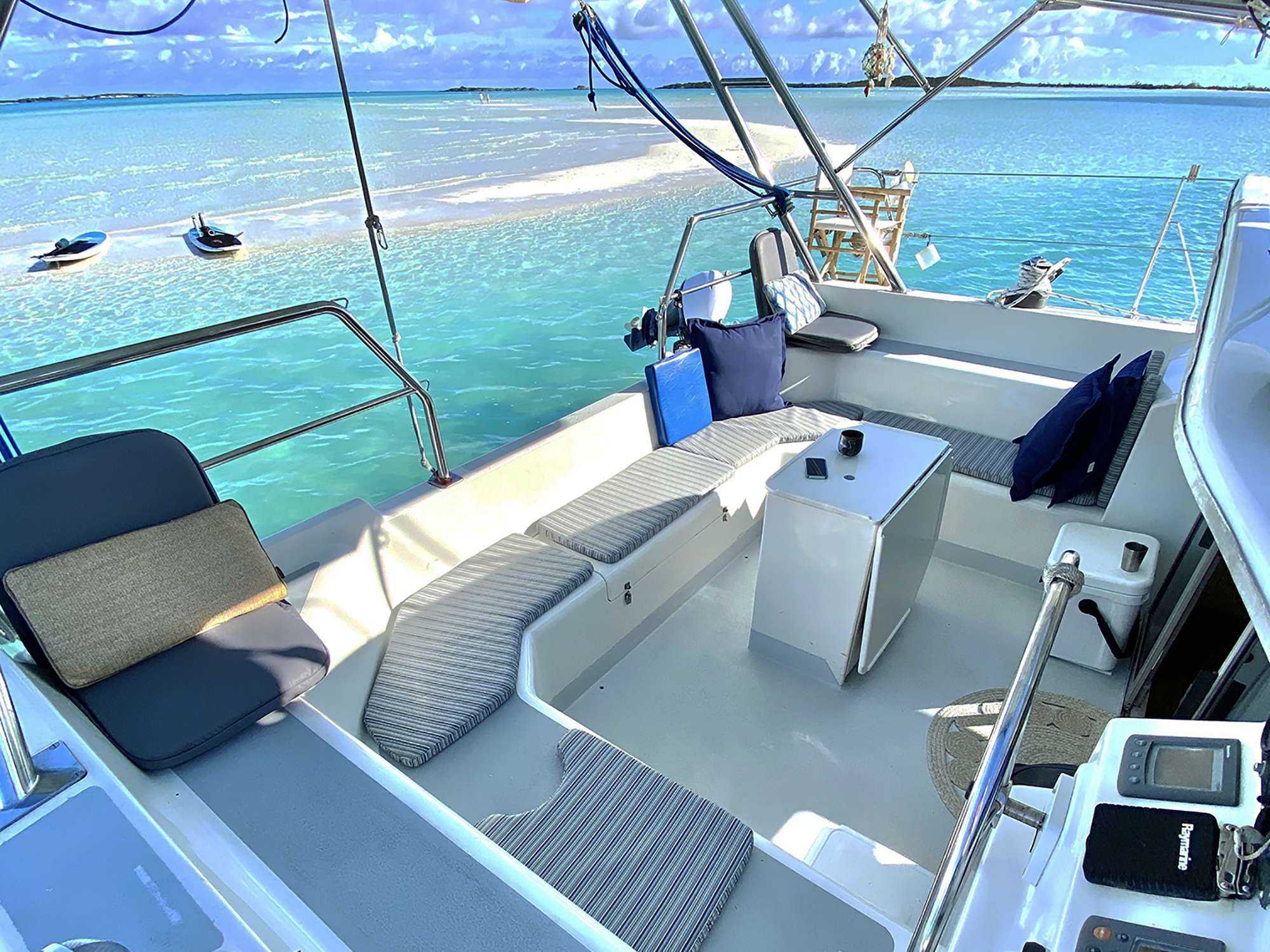 Cockpit Dining Area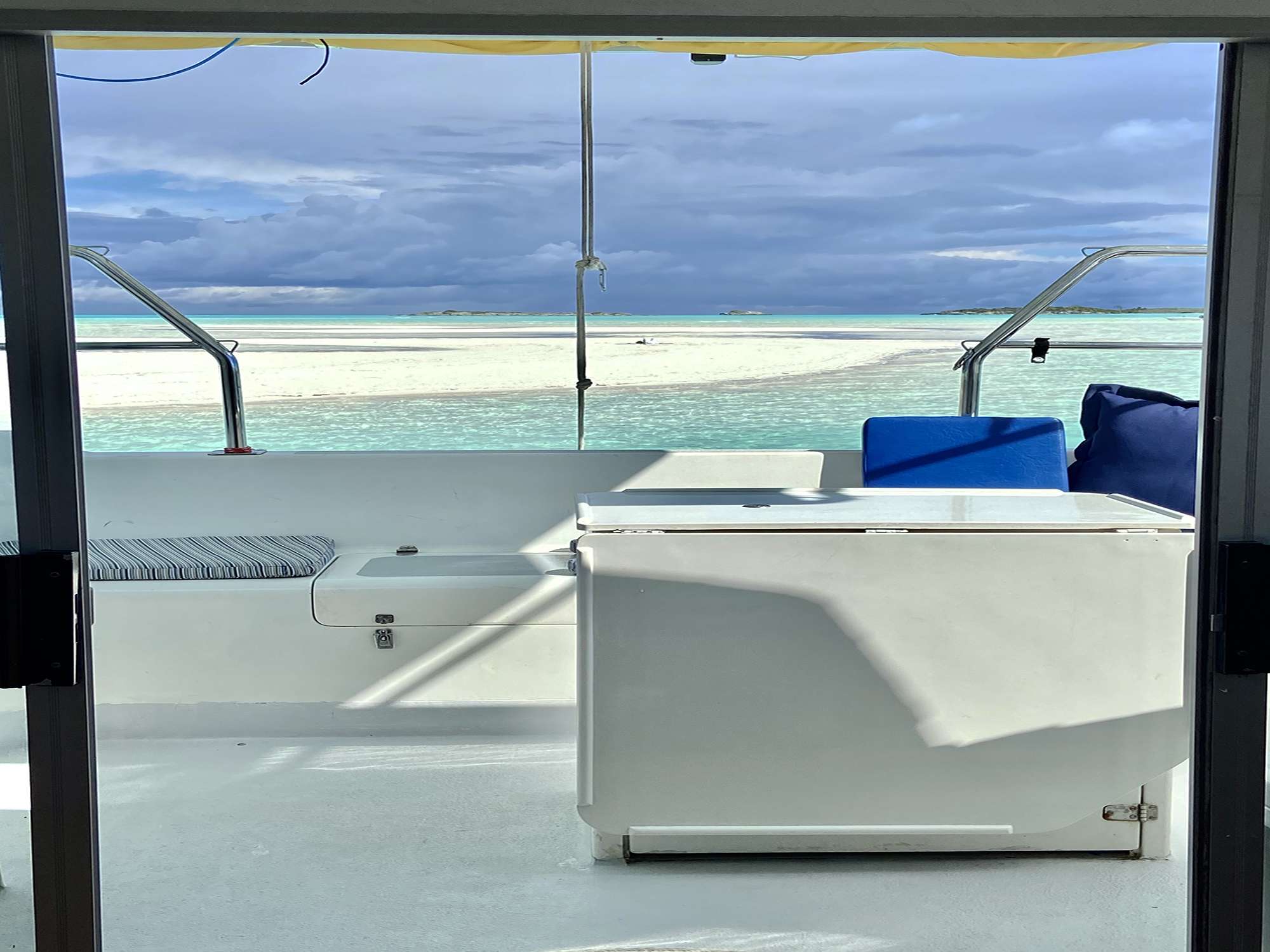 Rubicon in the Bahamas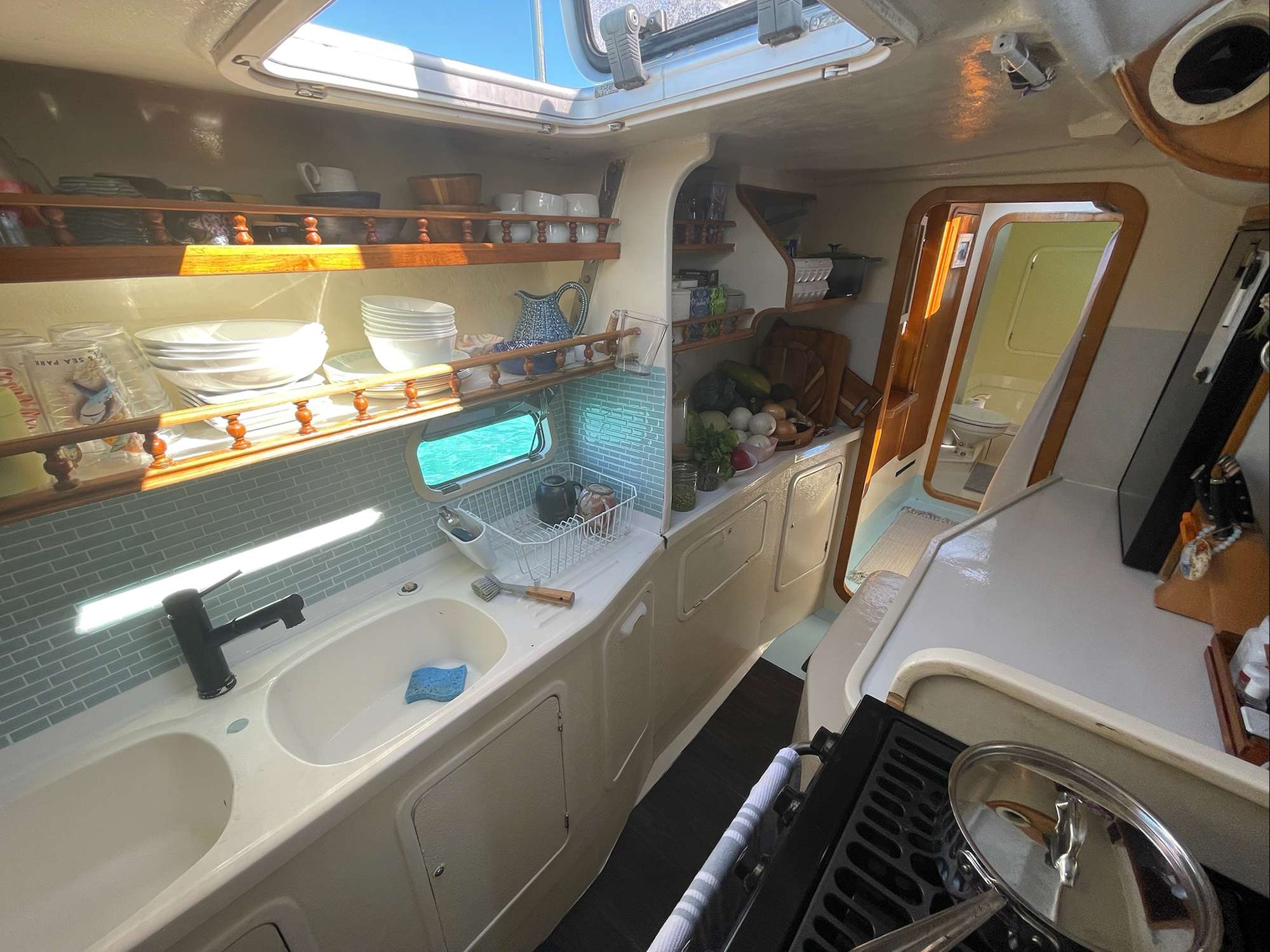 Galley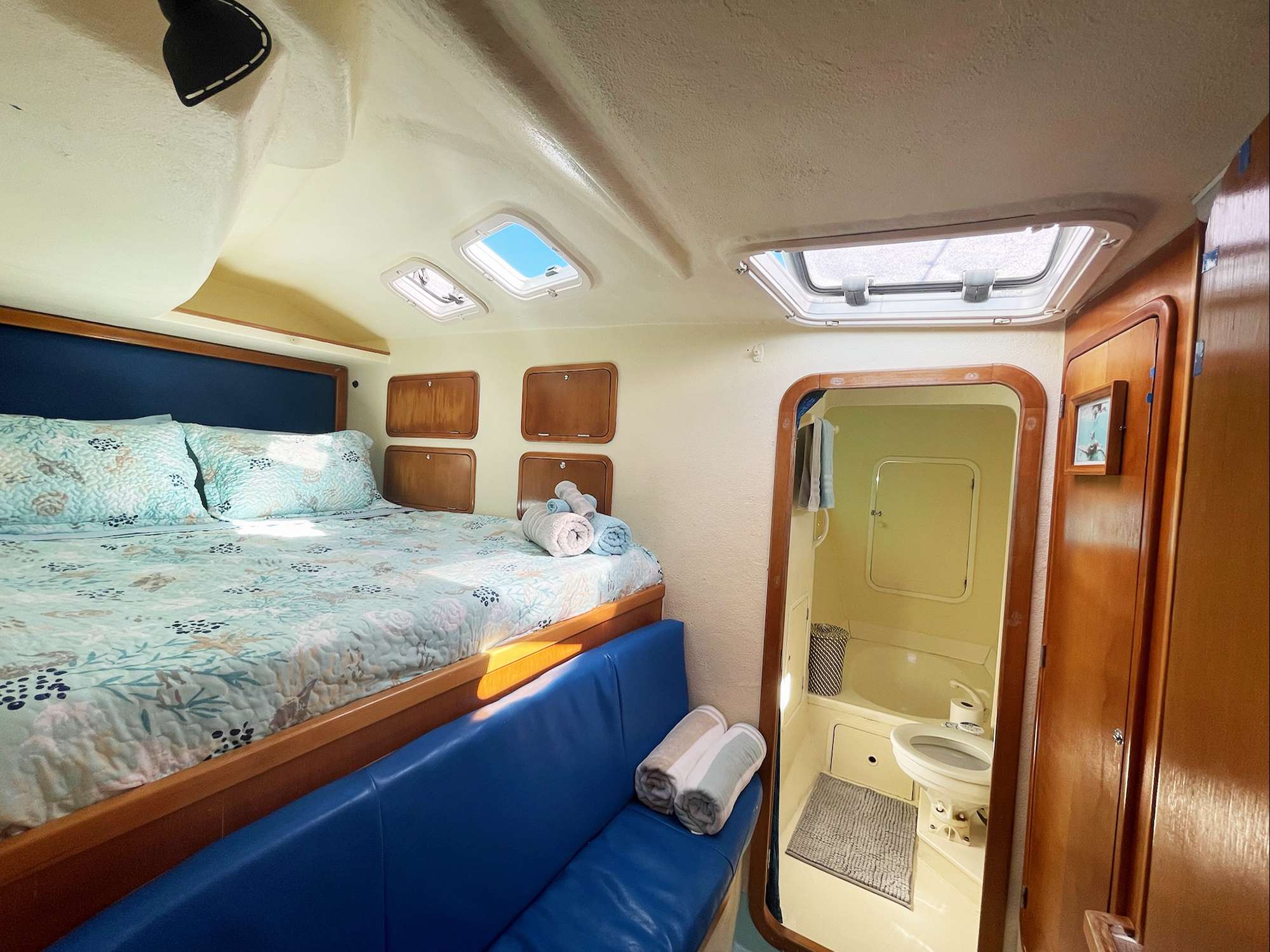 Starboard Queen Stateroom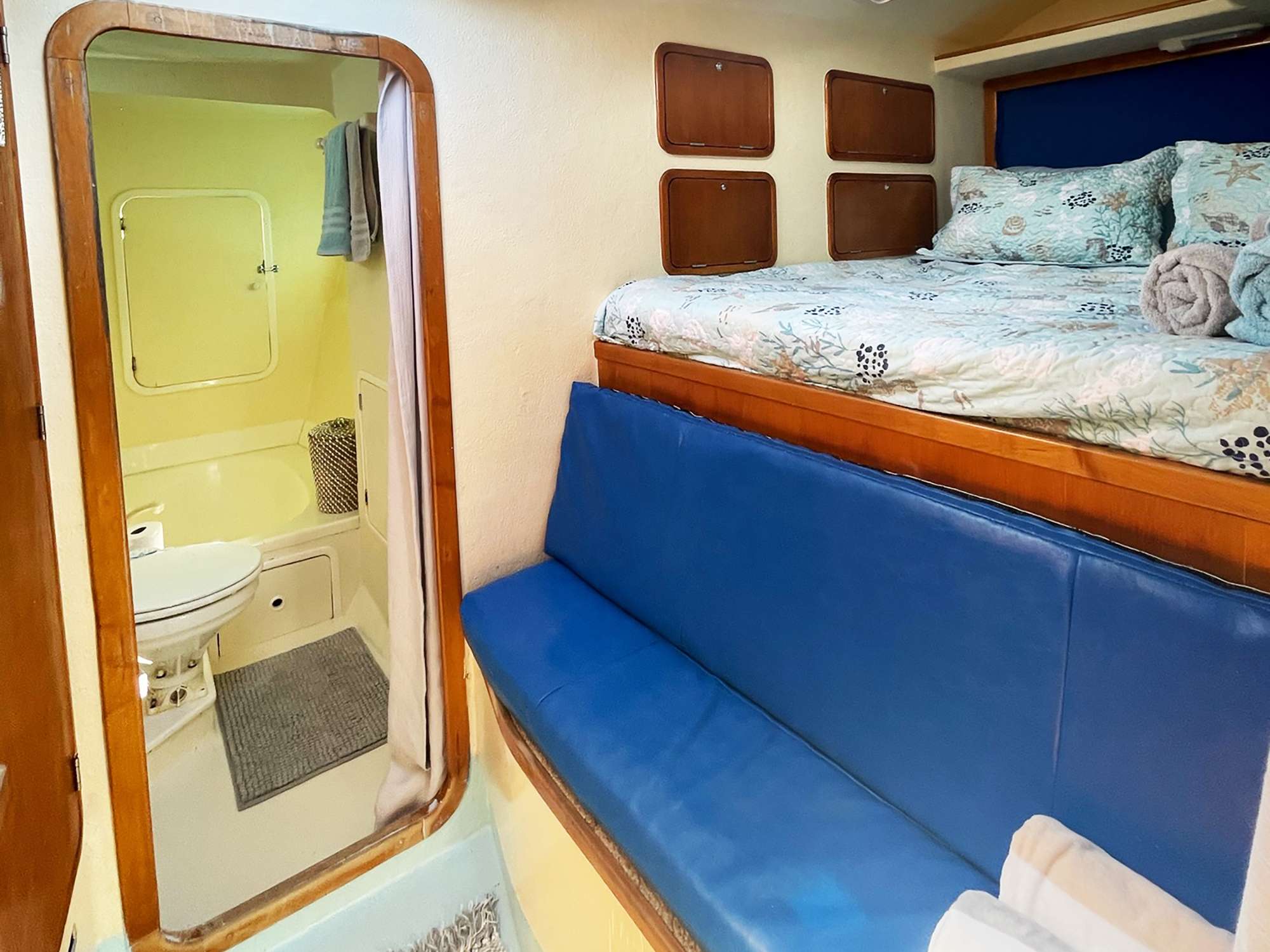 Aft small double cabin + bathroom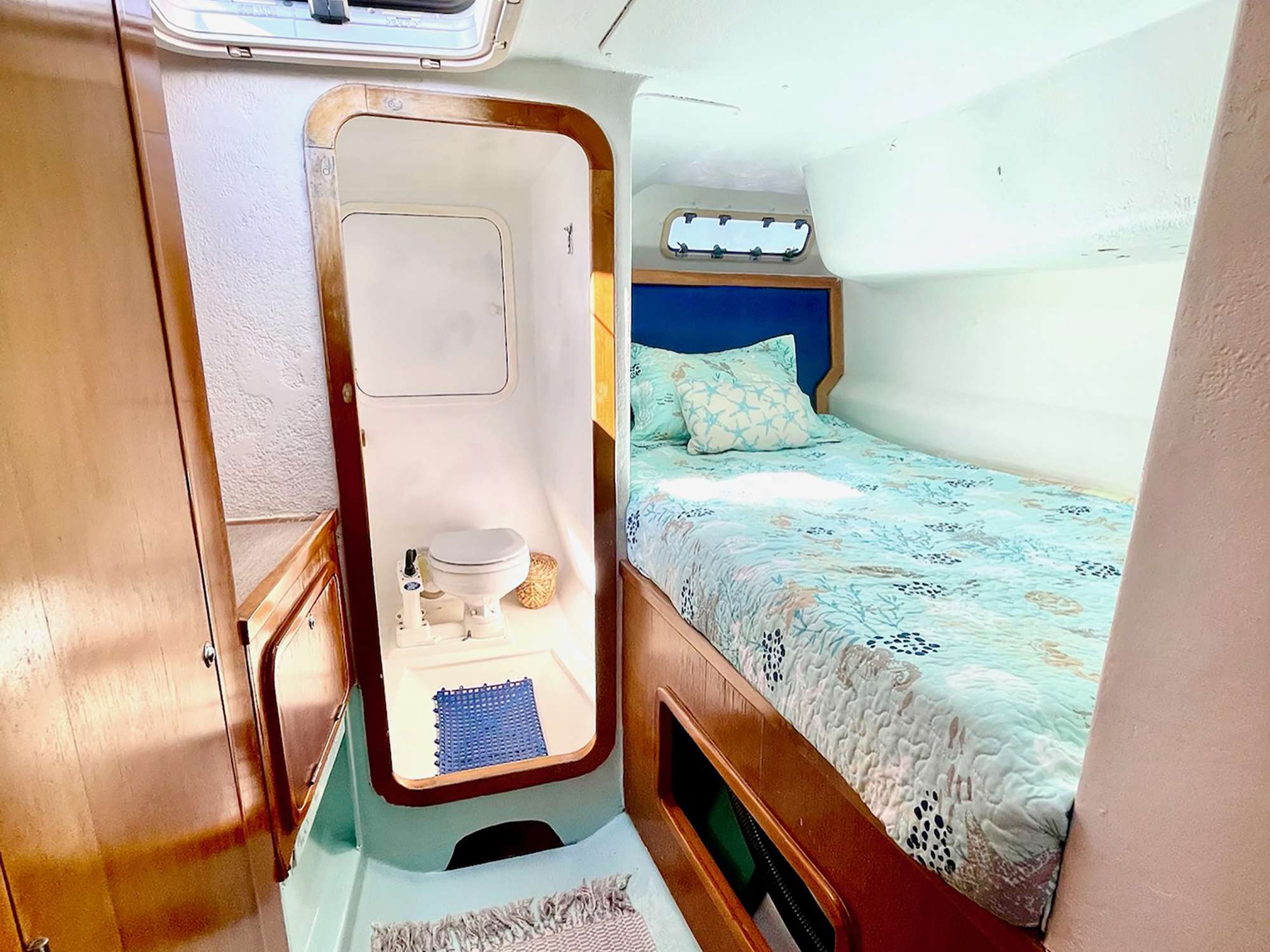 Bathroom + tub/shower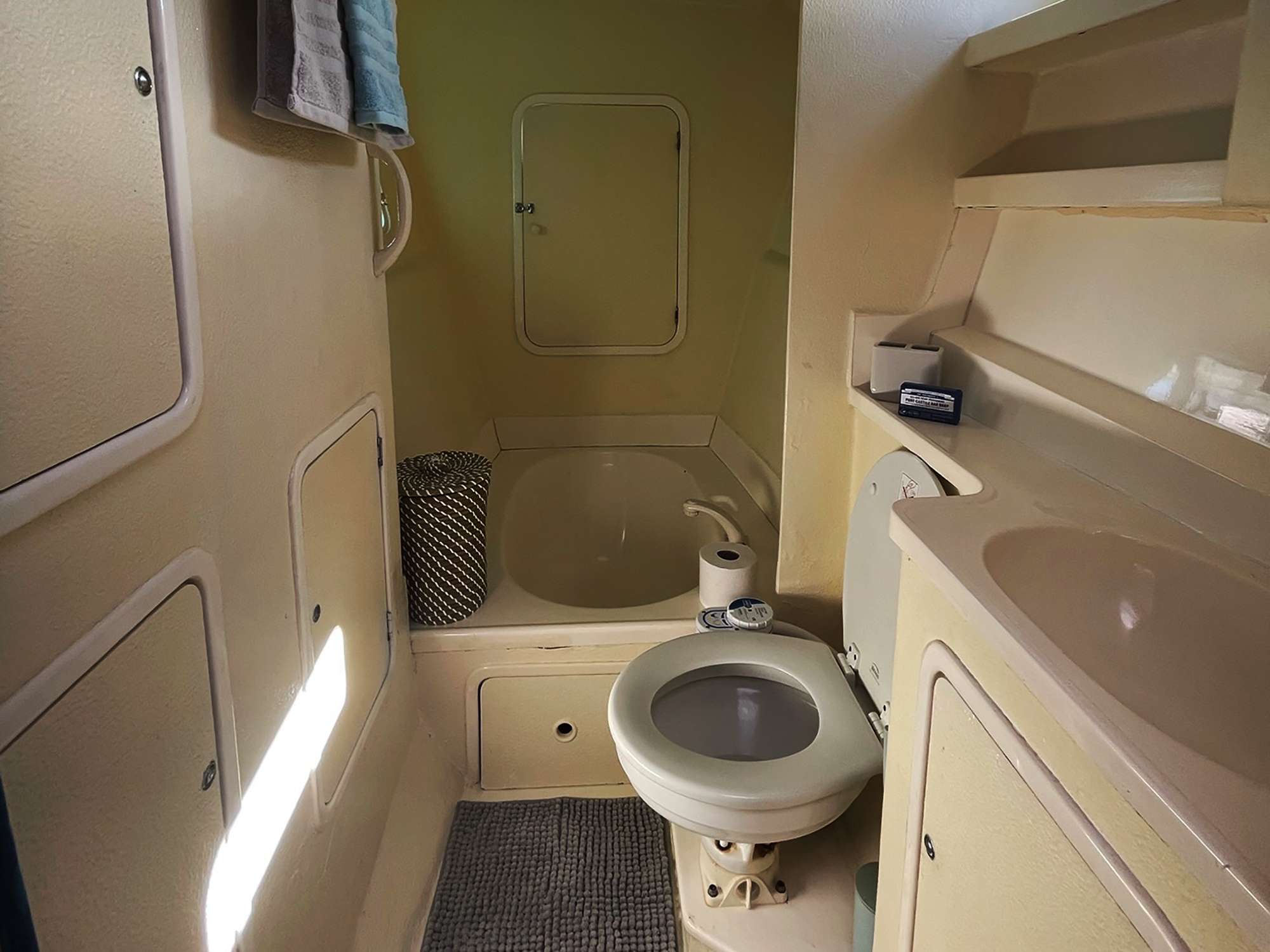 Bathroom + tub/shower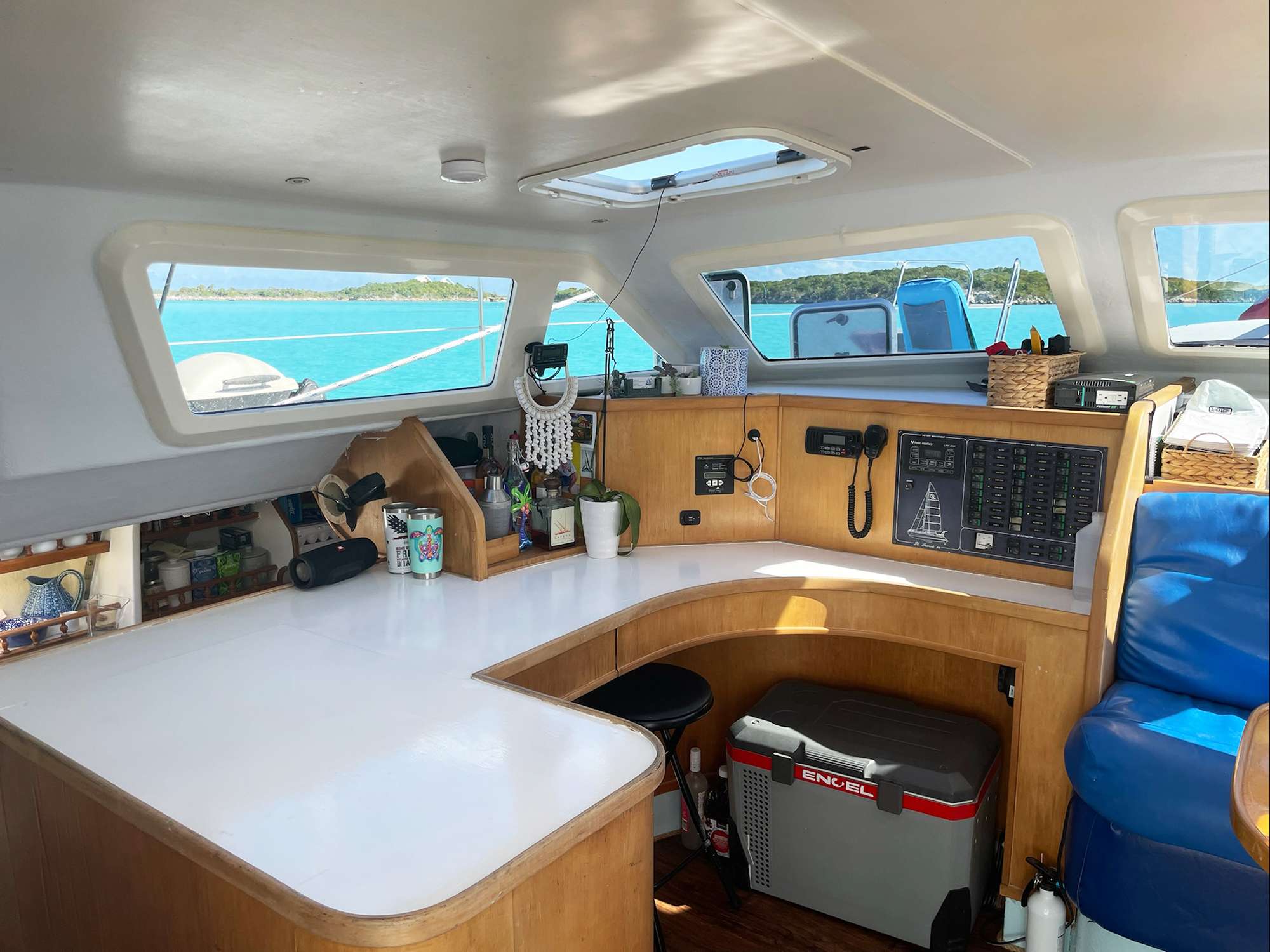 Rubicon sailing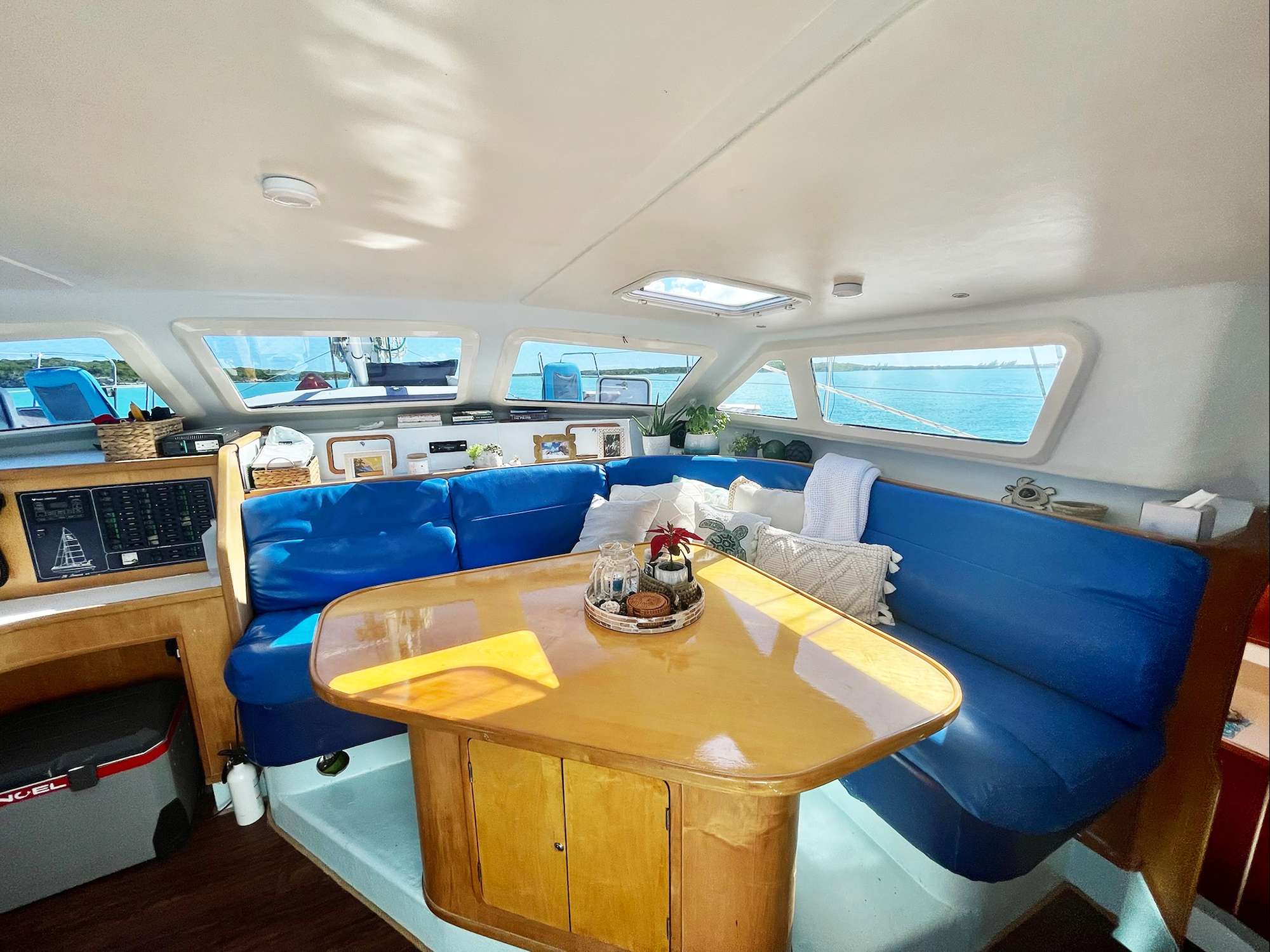 Rubicon and Captain
Rubicon at Anchor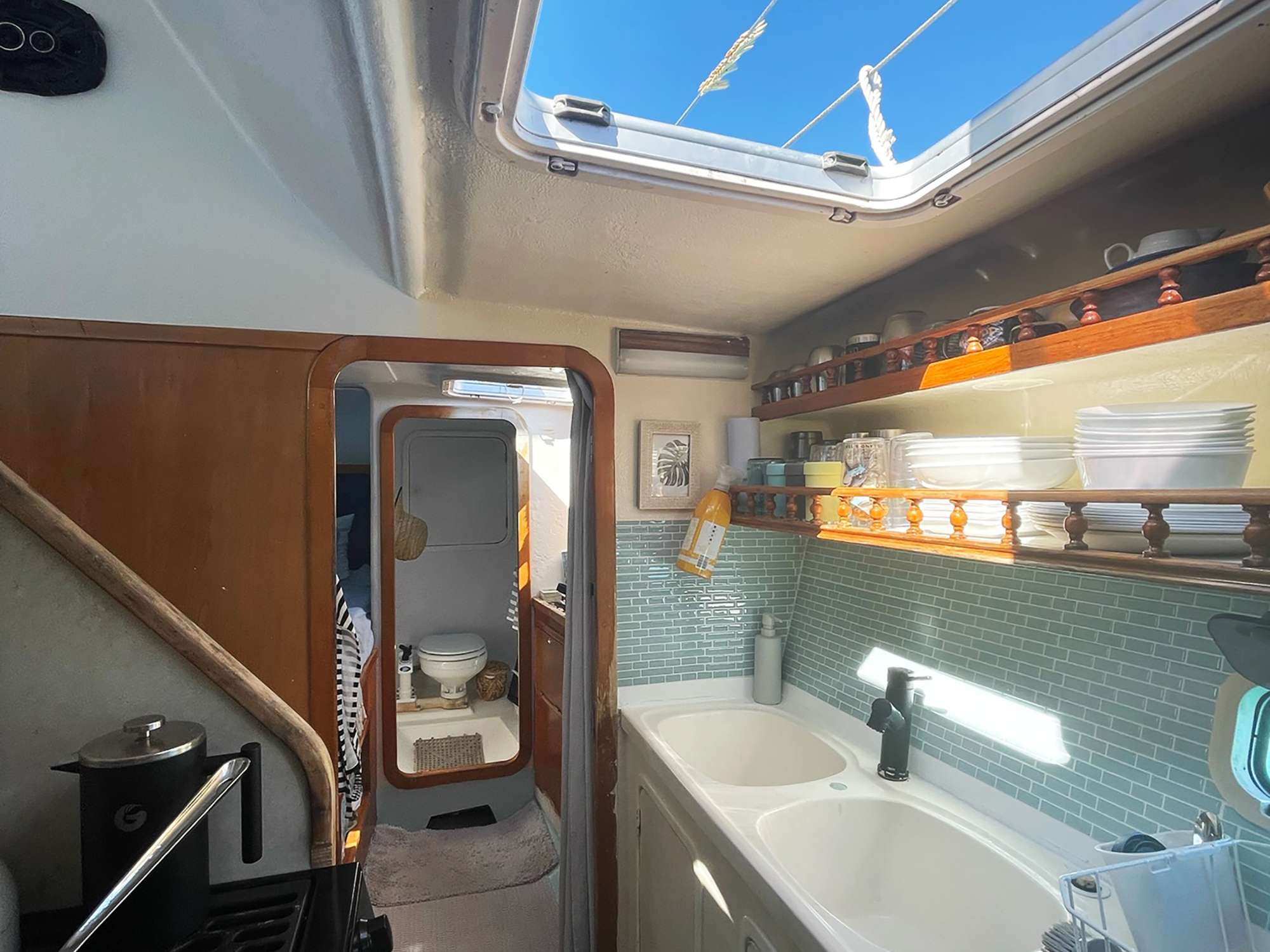 Beautiful View off Rubicon
Reeling In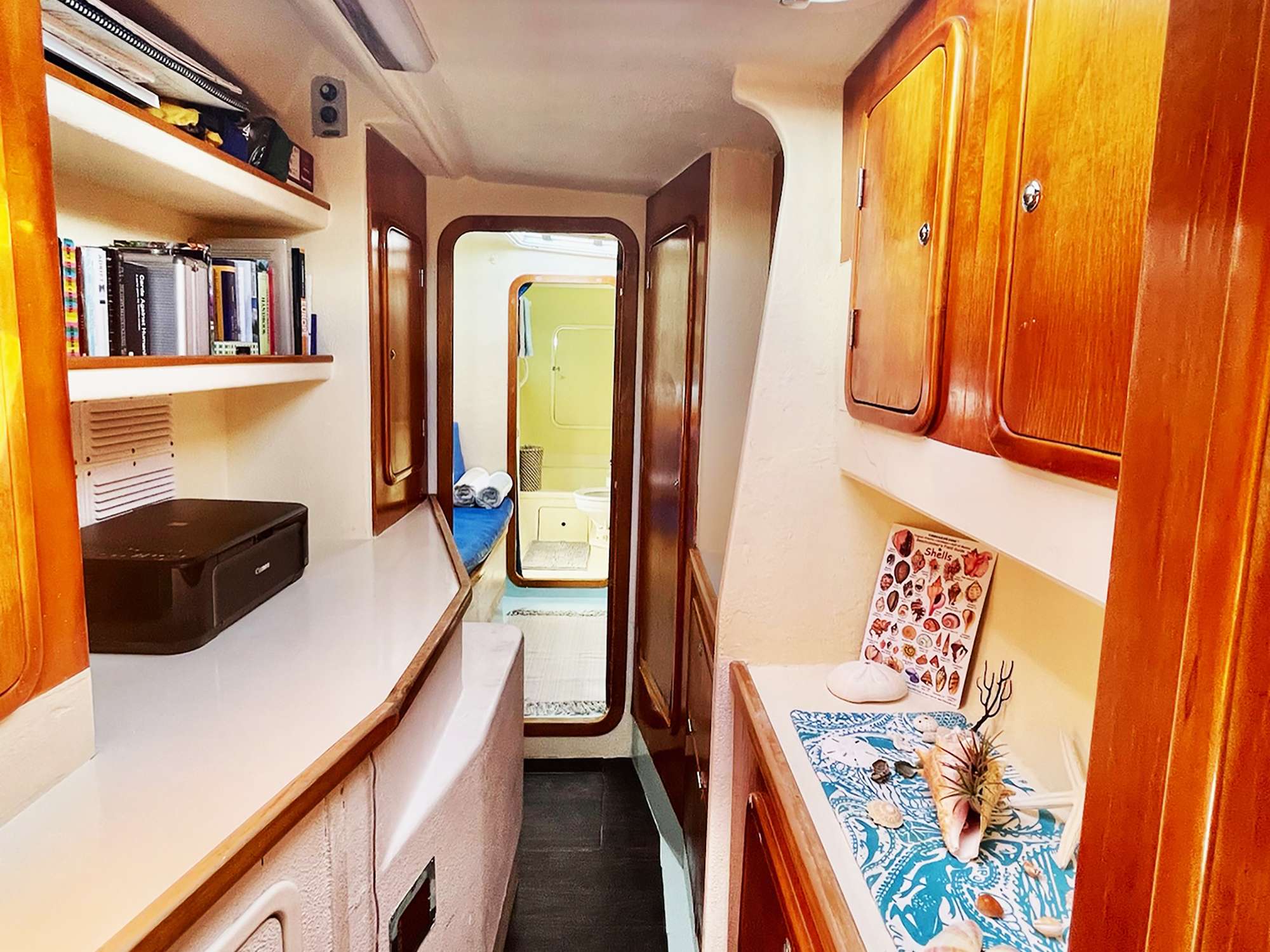 A good catch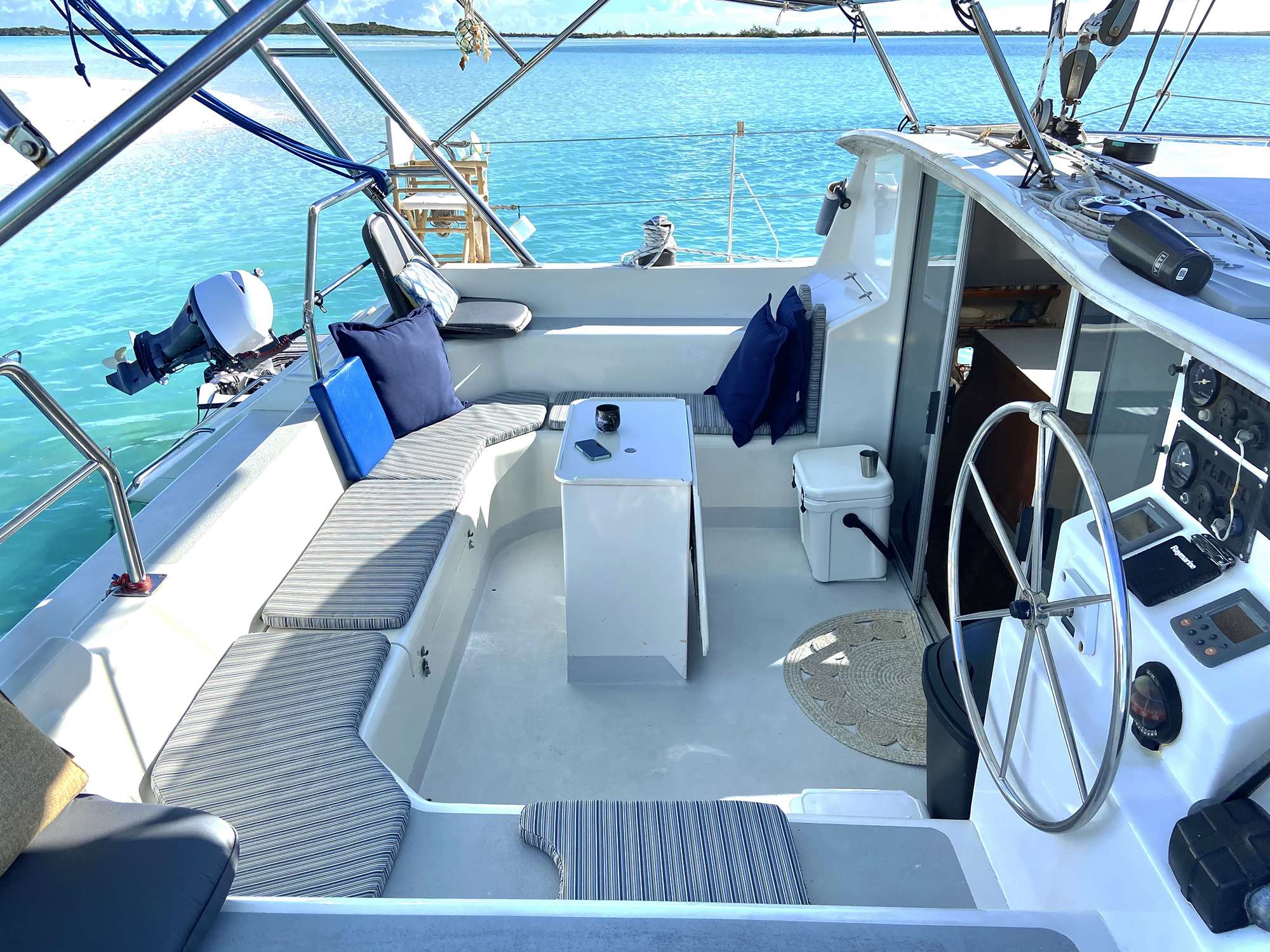 Exhilarating Sailing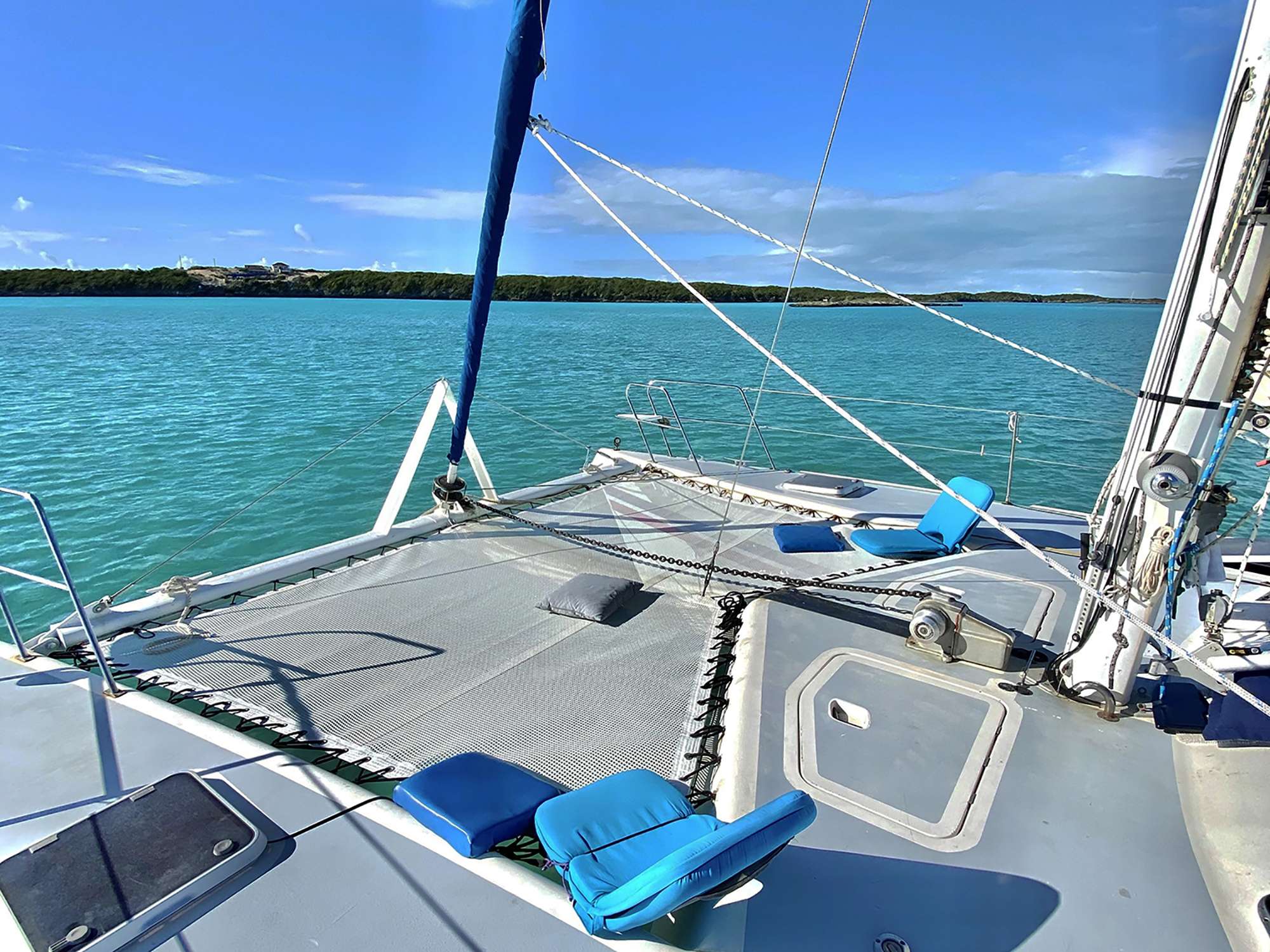 Get the spinnaker going!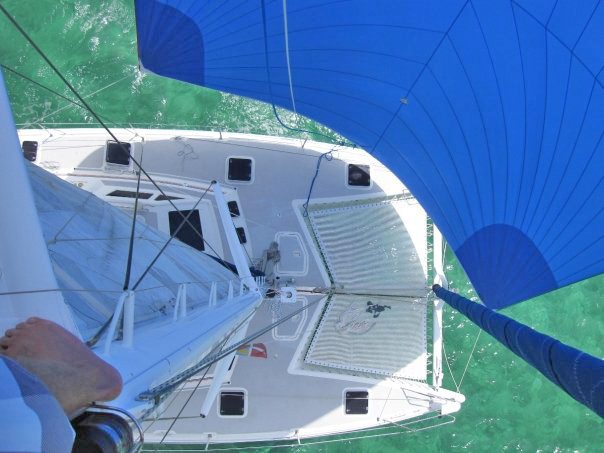 Aerial shot under full sail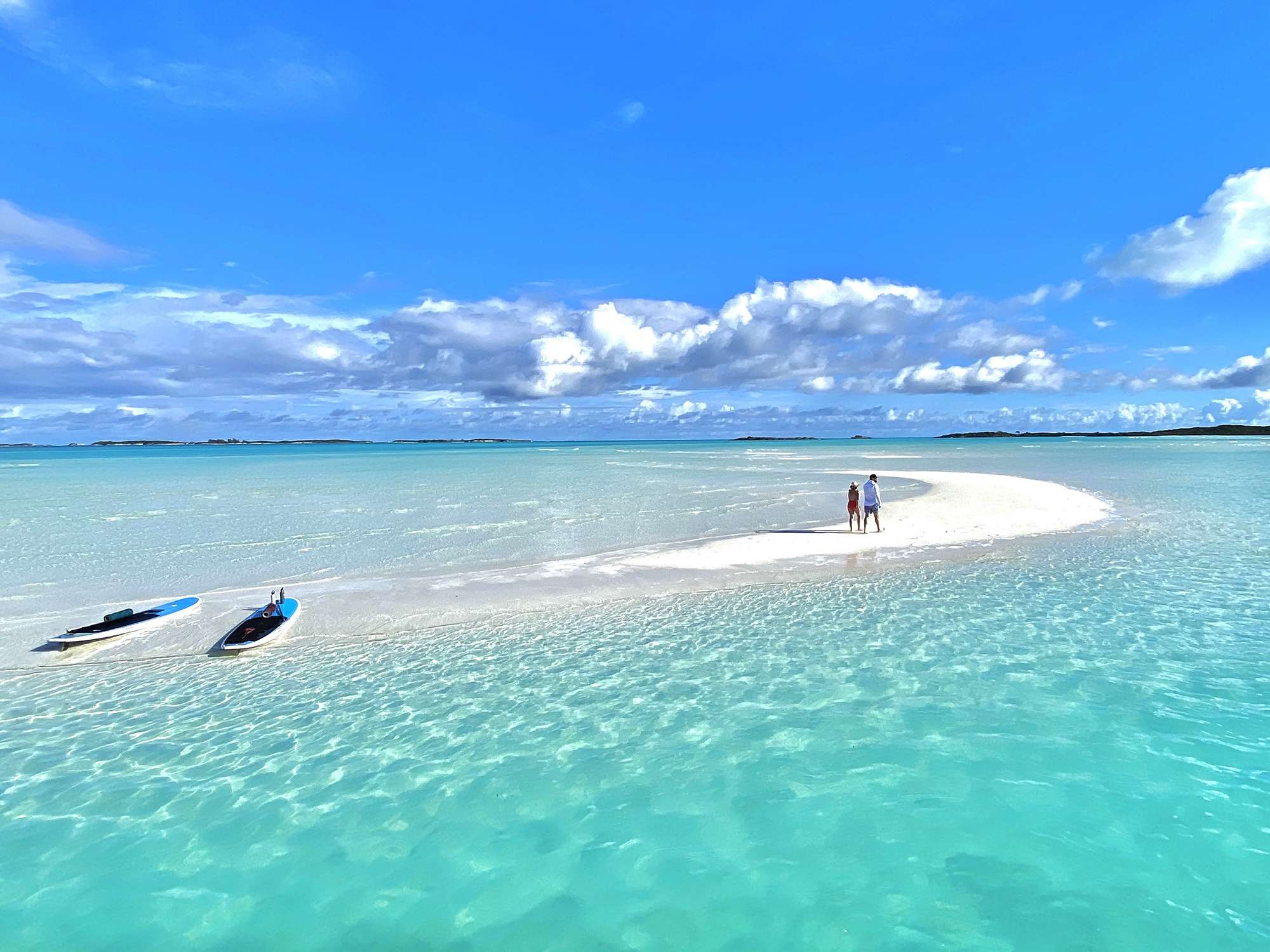 Guests Kiting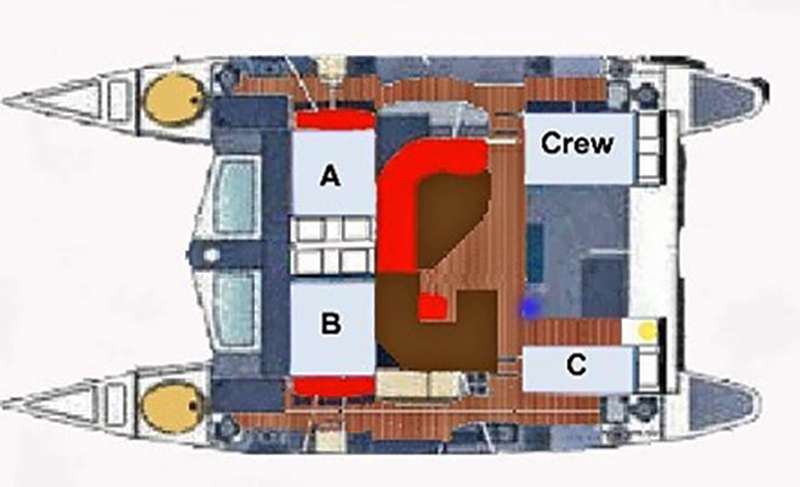 Rubicon Layout
Crew details: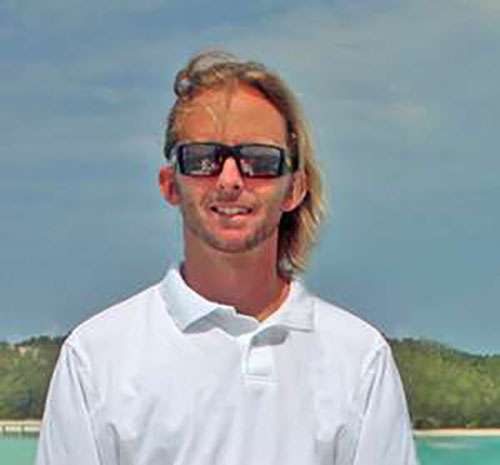 Rubicon Crew
CAPTAIN: ADAM DREFFIN
Adam was born in the Exumas aboard the boat of his parents. He was a real water baby. He shot his first lobster at age 6. As a youth, Adam would disappear into hidden coves with his brother, trolling for fish while handling a sailing dinghy. He explored everywhere and is familiar with every island. His passion for the Bahamas is evident.
Adam's parents, along with his younger brother Warren, all set off for a world cruise on their sailing boat once the boys reached teenage years, so Adam is also very widely travelled to many exotic parts of the world. When they reached Australia the boys went to school and college there, whilst their parents continued their cruise back home to the Bahamas.
Summers during school, Adam captained catamarans for Broadreach Sailing School in the French West Indies with high school kids aboard. He's also captained large yachts in New England and delivered vessels from the Mediterranean. He has run charters aboard Rubicon for several years in Exumas, Bahamas.
Adam holds an MCA Master of Yachts 200 Tons. In addition to being a highly skilled captain, he is an avid sportsman on the water. He kite-surfs, windsurfs and relishes catching game fish while trolling between islands. He is also certified as a Sivananda yoga instructor.
CHEF/HOSTESS SOPHIE DIFILIPPO
Sophie is highly skilled , both as a chef and a captain holding a USCG Master license. She has a magnetic smile, an endearing personality and radiates the kind of happy that rubs off on everyone around her. Maybe that's because she grew up on a small farm outside of Philadelphia with three, doting older brothers. Loving, fun yet challenging, a lot like yachting.
Sophie says, "Growing up I always had a strong passion for the ocean. I always waited with excitement for Friday after school to race down to the beach so I could go sailing. I was always outside, snowboarding in winter and in summer fishing and playing in the creek behind our house. On summer weekends my Dad and I would head to the beach to sail, racing most Wednesday nights on the Chesapeake."
It was also thanks to Dad that Sophie became such an excellent chef. He taught her his Great Grandmother's Italian recipes and she grew up cooking for the family. When she was just 14 years old she began working in an Italian restaurant and by 17 she was working on sailboats as a chef/mate. She quickly achieved her captain's license and worked as a delivery skipper. For the last two years she's been delighting guests as chef/mate aboard a charter yacht in the Exumas, Bahamas.
Favorites meals to prepare: Italian dishes, fresh fish, and Greek dishes. Friends and guests especially rave about her sauces. Sophie is also adept at special meals, kids' menus and restricted diets. Her motto: "Do what you love and love what you do." Cooking and eating well top the charts!!
Water Toys
1-Man Kayak (1)
Snorkel Gear (Yes)
Underwater Camera (Yes)
Other equipment includes:
2 x Jimmy Lewis Stand up Paddleboards Kiteboard - There are 3-4 sets of gear on board. Extra can be rented: kite, bar, and board: $950 for the week p person. Helpful if each person brings their own harness. Surf board Eco-Adventures including feeding swimming pigs, snorkeling, kayaking, hiking nature trails, sailing and enjoying remote beaches Beach volleyball A spinning rod, casting rod, and 2 trolling rods, plus hand lines for fishing. New BBQ grill June 2015 One 14 ft kayak. It's technically a single person but often accommodates 2 pax.

Scuba details
Two dive centers in Exuma and one in Staniel Cay

Yacht Amenities
Salon Stereo (Yes)
Salon TV (Yes)
Deck Shower (Yes)
BBQ (Yes)
Board Games (Yes)
Sun Awning (Yes)
Hammock (Yes)