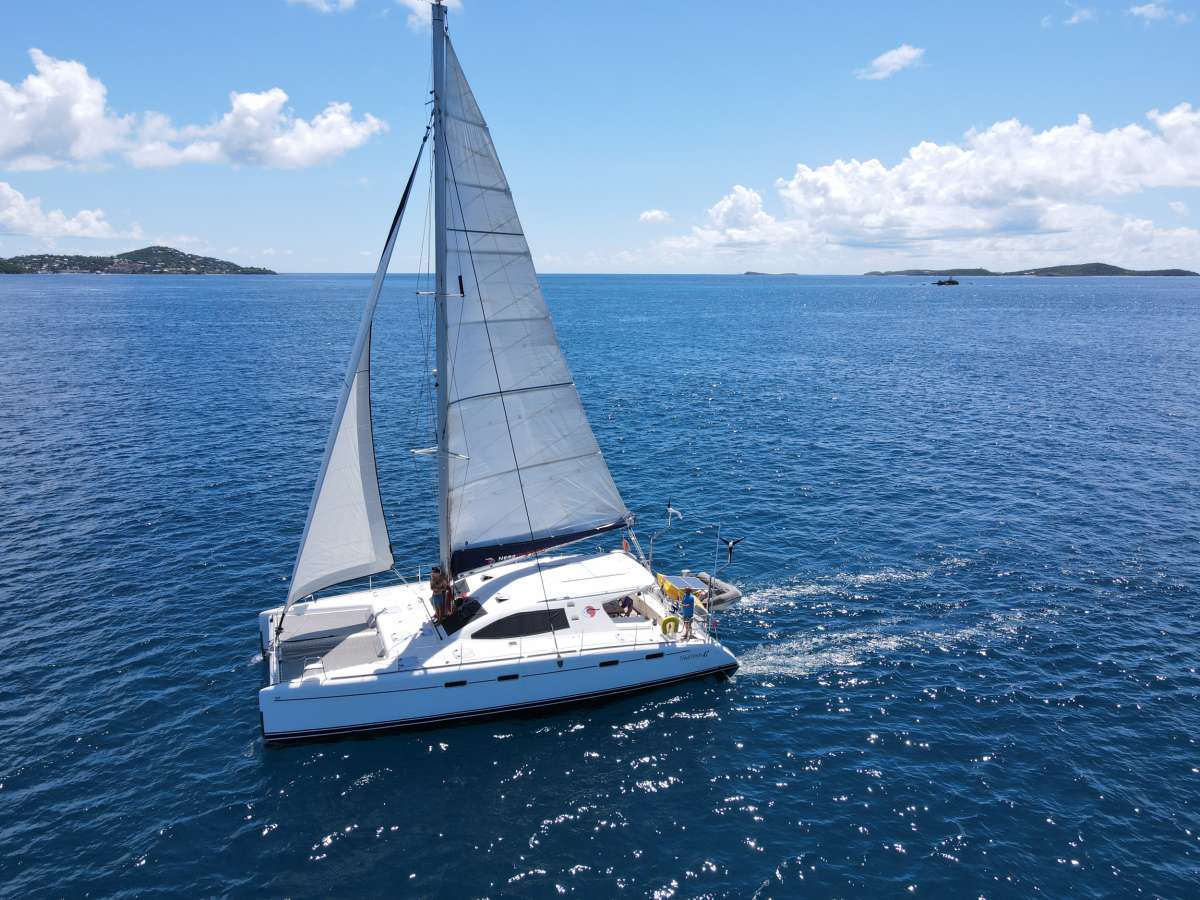 Weekly charter rates
$13,100 to $18,800 for up to 8 Passengers

Yacht Nemo Specifications:
Builder : NAUTITECH FRANCE
Length: 47 Ft
Year launched: 2009
Passenger #: 8
Guest cabins: 4
Queen cabins: 4
Crew #: 2

Yacht Nemo Overview:
DISCOVER NEMOA YACHT FOR EVERYONE. - WINNER - BEST BOAT UNDER 50' AT VIPCA USVI YACHT CHARTER SHOW 2017 !!!Comfort travels with you: the two hulls of the catamaran guarantee an excellent stability and then assure a pleasant navigation, without sharp movements nor extreme inclinations like on a monohull sailing boat.That's why a holiday aboard Nemo is ideal also for kids, who can move safely onboard and play on the wide fore nets.Nemo is also equipped with many optionals, such as solar panels, generator and water maker- so can operate at anchorage without the need to dock. SEA FOR EVERY TASTE.Nemo's all inclusive cruise has been created to fill your moments up with unforgettable remembrances.Including the culinary ones: on the catamaran tastes and flavours are not at random and every meal becomes a little gastronomical discovery, a journey through refined dishes and very genuine ingredients, from onboard-made bread, pizza and yoghurt to sushi or barbecue nights and sunset cocktails.ECO-COMPATIBILITYWATER AND ELECTRIC ENERGY: A GIFT FROM NATURE.We've chosen to produce our own drinkable water by desalinating sea water and filtrating it with a specific reverse osmotic water purifier to guarantee its bacteriological pureness. The huge environmental benefit is not to use and waste hundreds of plastic bottles.Onboard-produced water is kept cool (and sparkling if desired) using glass bottles, with the same method of yoghurt production. Nemo is equipped with two 66 x 130 cm solar panels with 315 W/h energy production and two aeolian generators that satisfy all the energetic needs of common utilities such as light, battery chargers, fridge and freezer, using the solar energy accumulated during day time and the aeolic one gathered in every breezy moment, day and night.New for 2015, Nemo has all new cockpit cushions made with environmentally certified fabrics.For more information visit www.nemoyachting.info
Accommodations:
4 Queen CABINS ALL WITH EN-SUITE FACILITIES.
The 4th queen cabin is ONLY available for parties of 7 or 8
(Crew will then use forepeak crew quarters with own head and shower).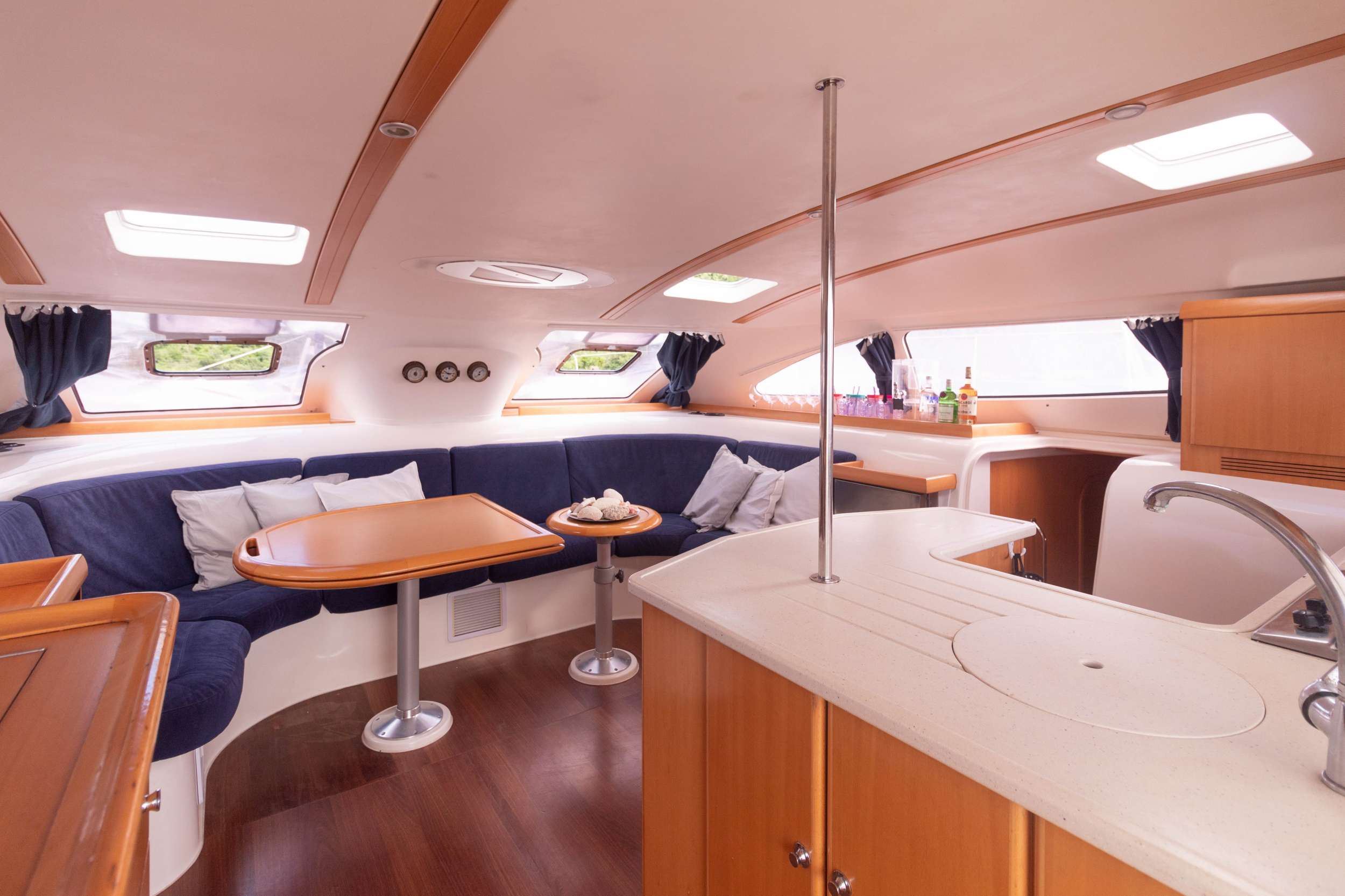 Main Salon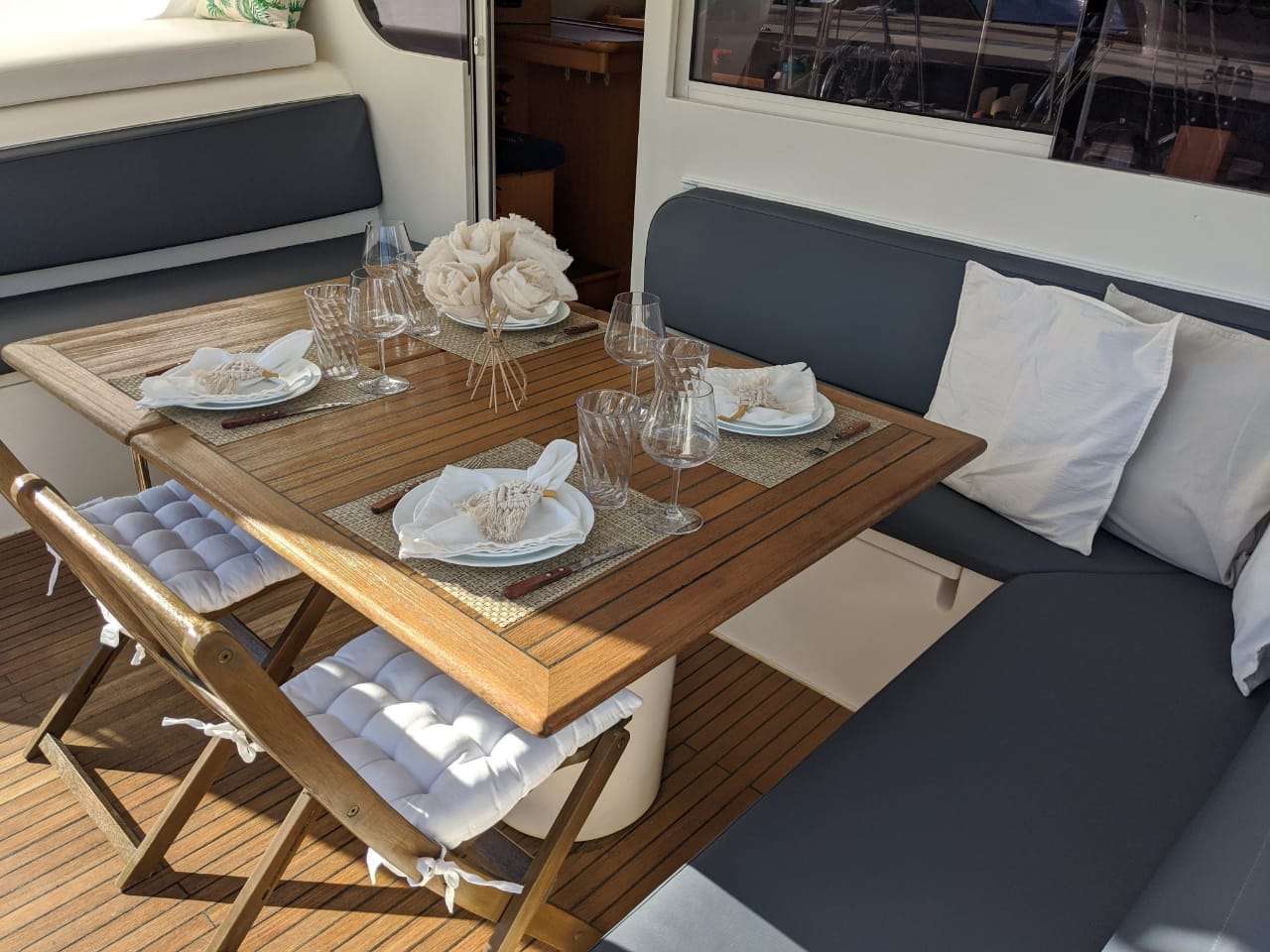 Main Salon light and sunny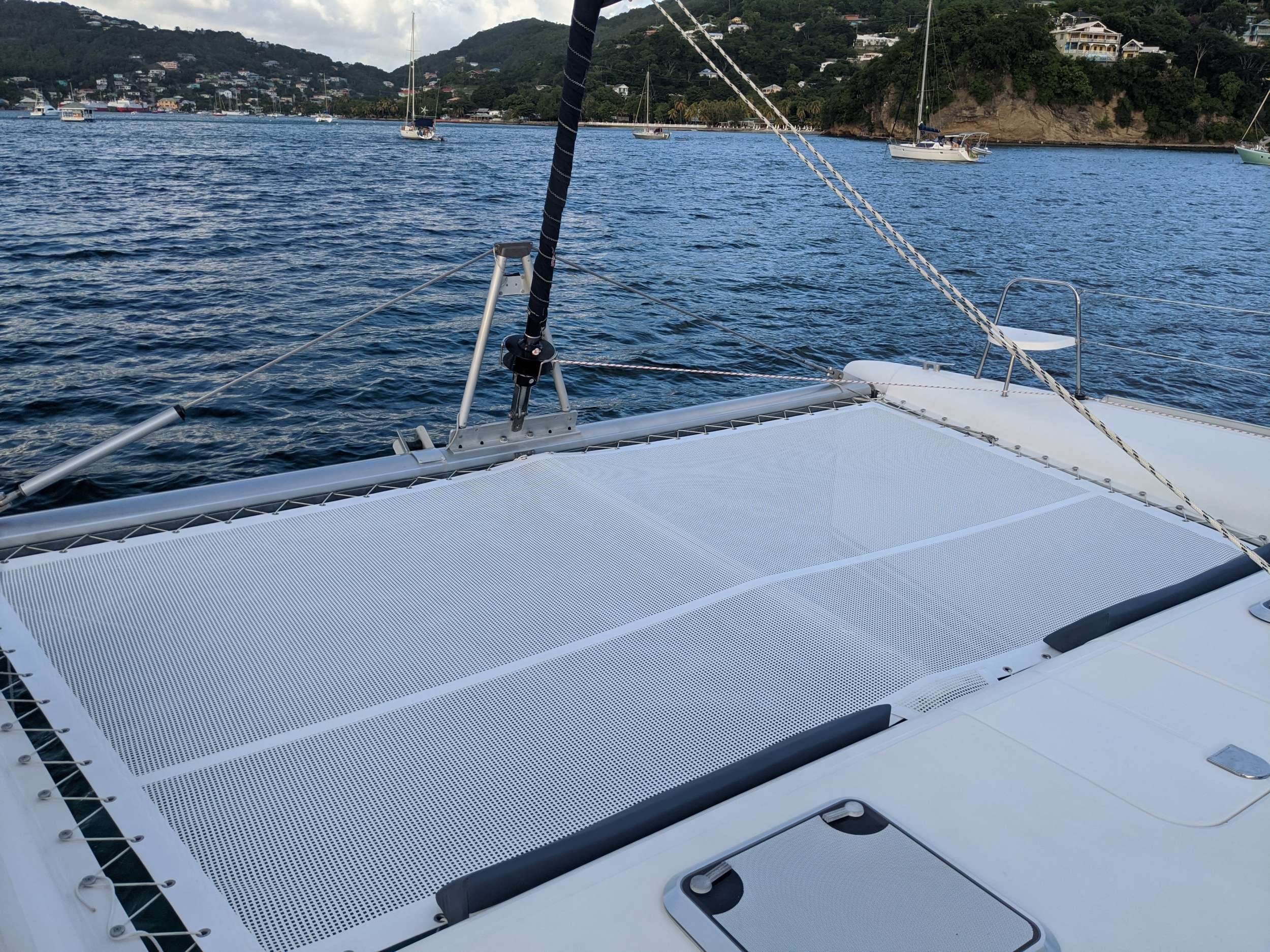 Aft Deck Dining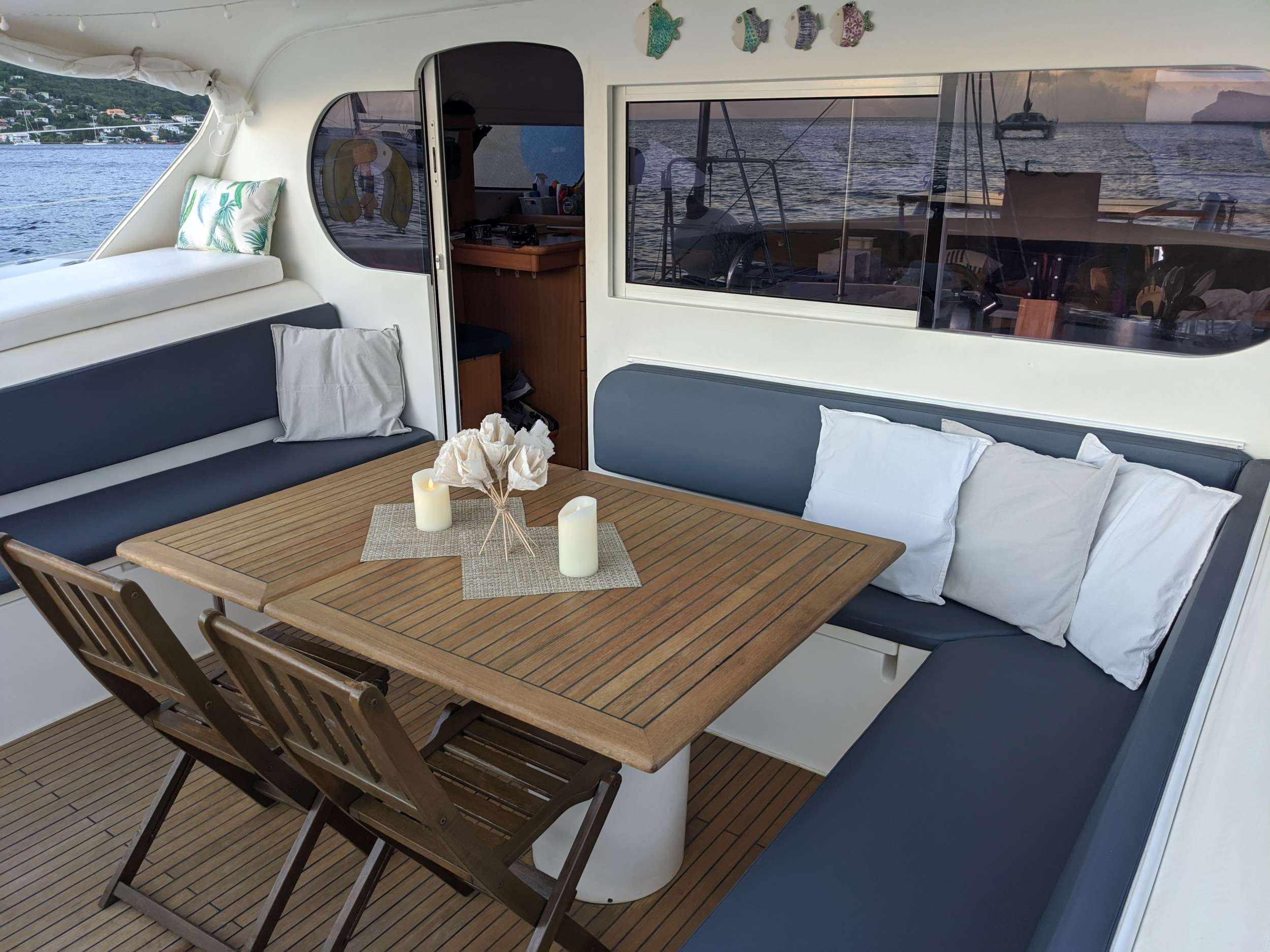 Galley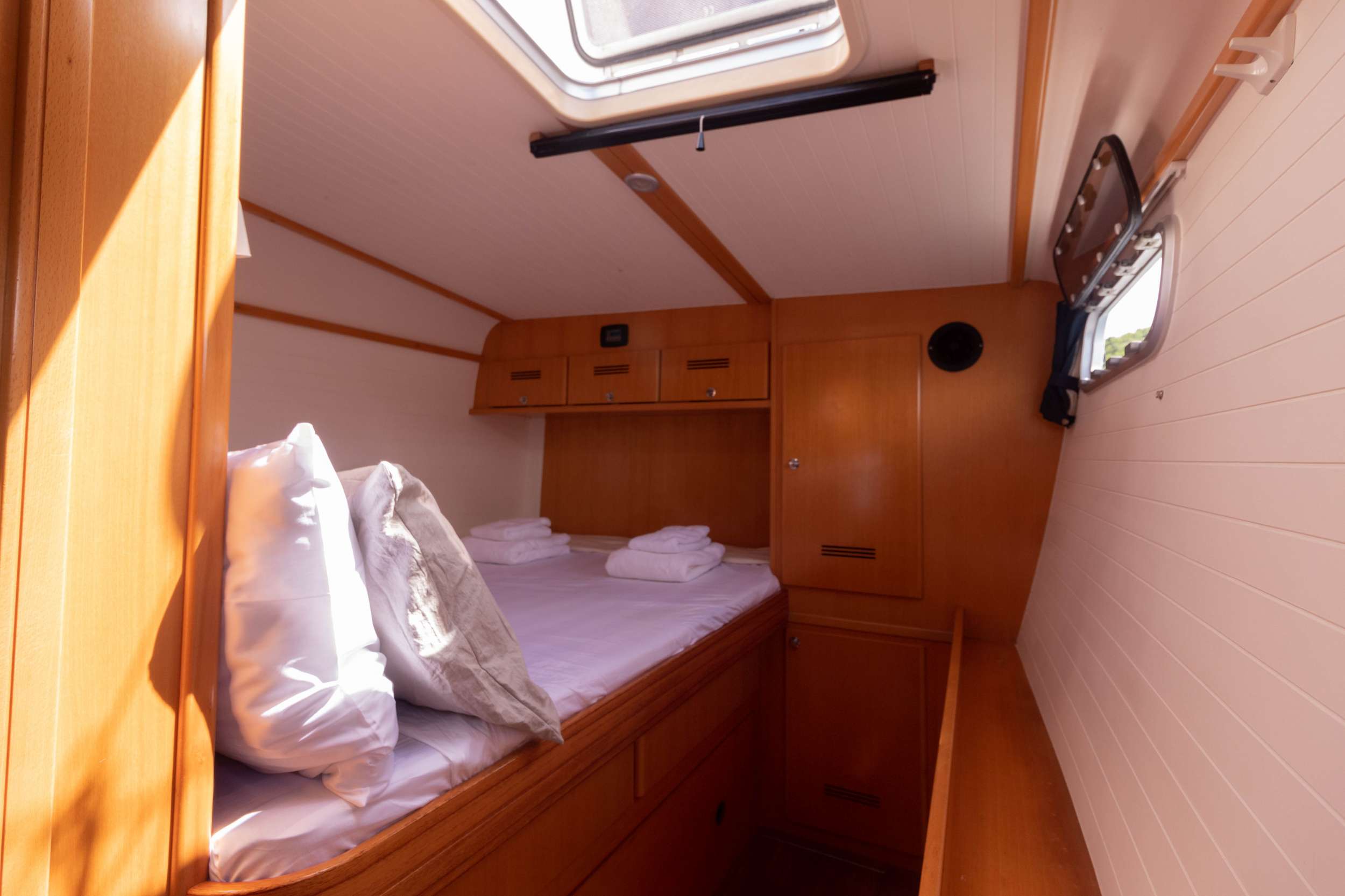 Guest Cabin 1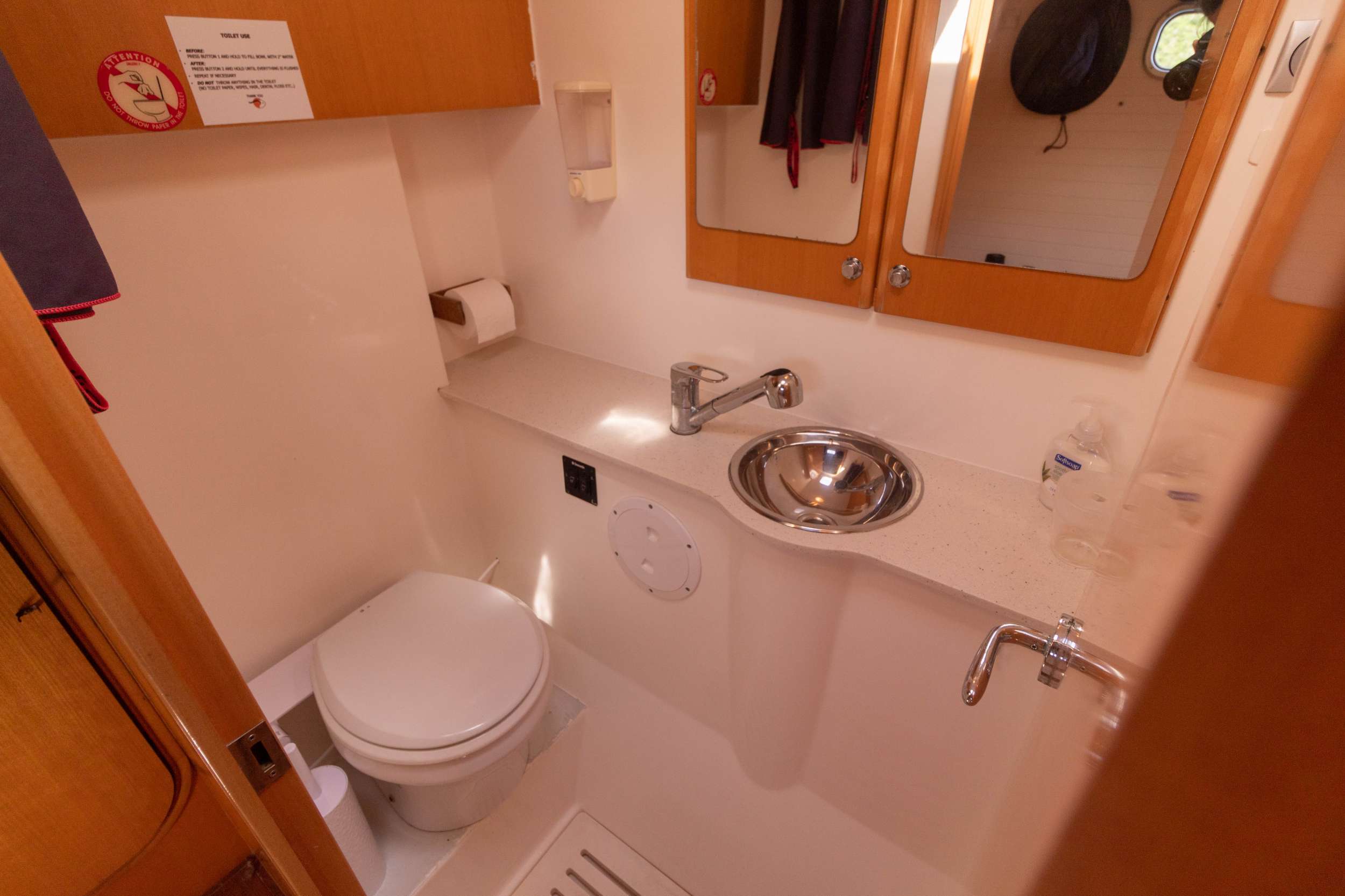 Bathroom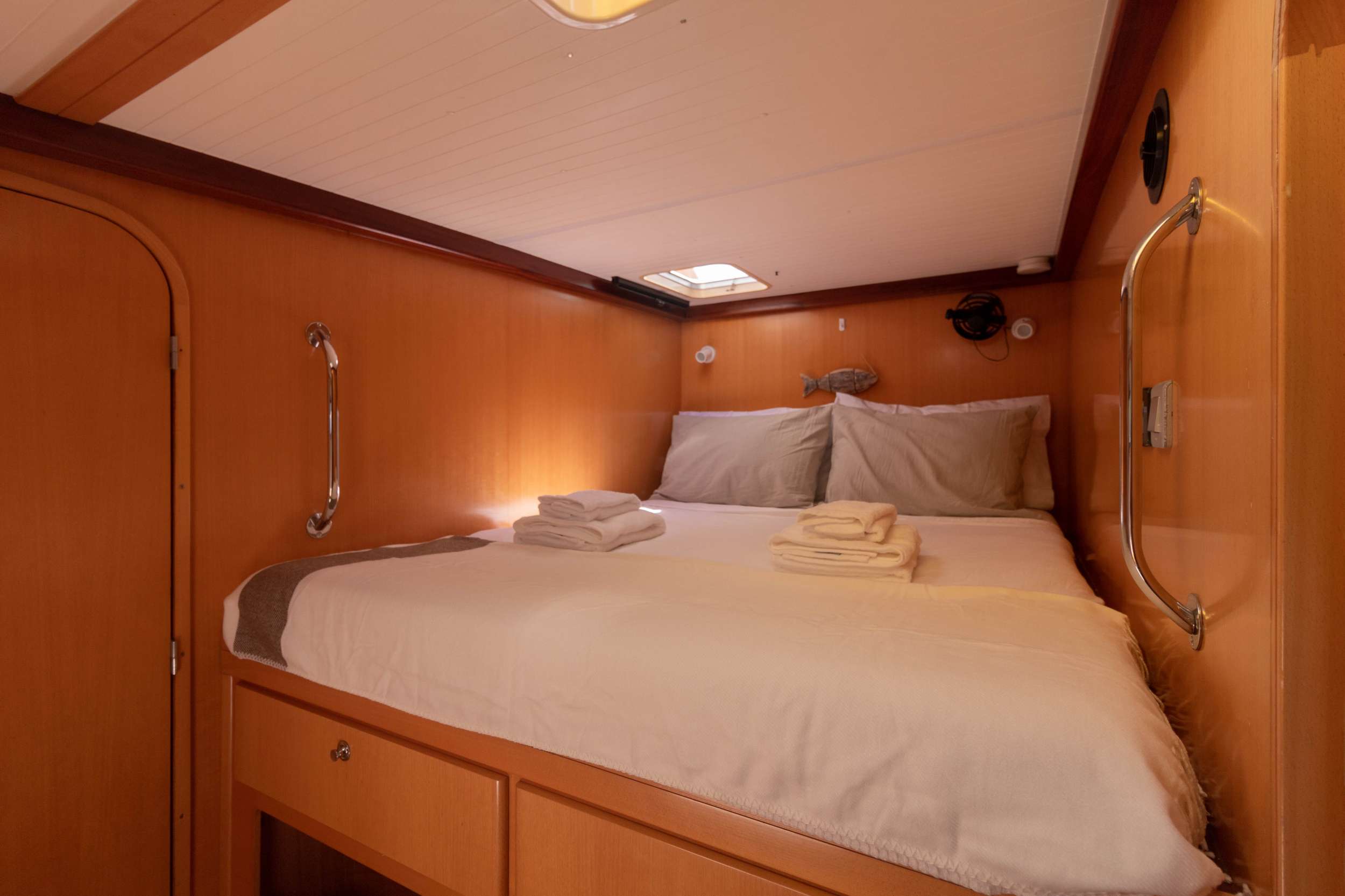 Guest Cabin 2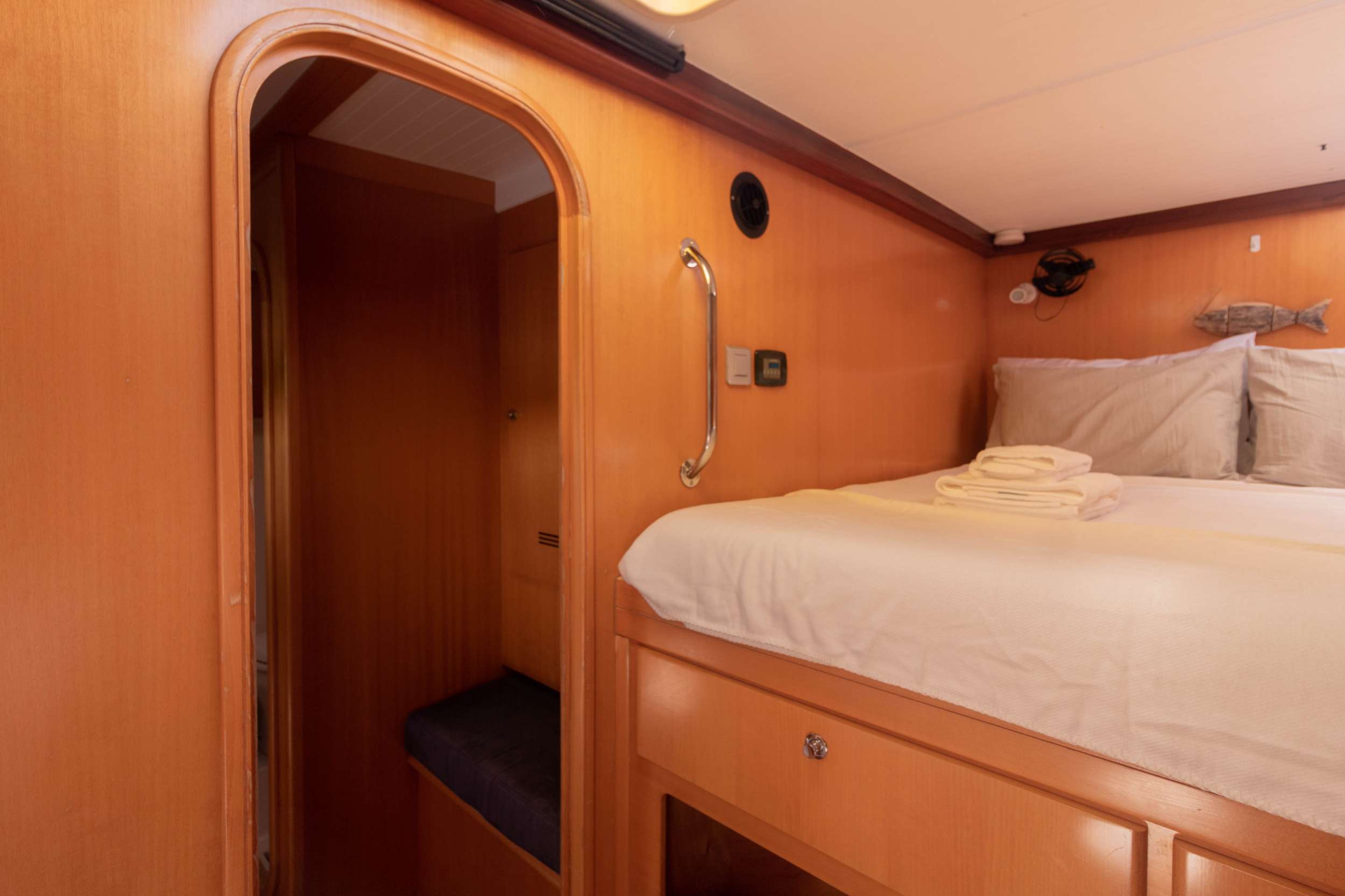 Guest Cabin 3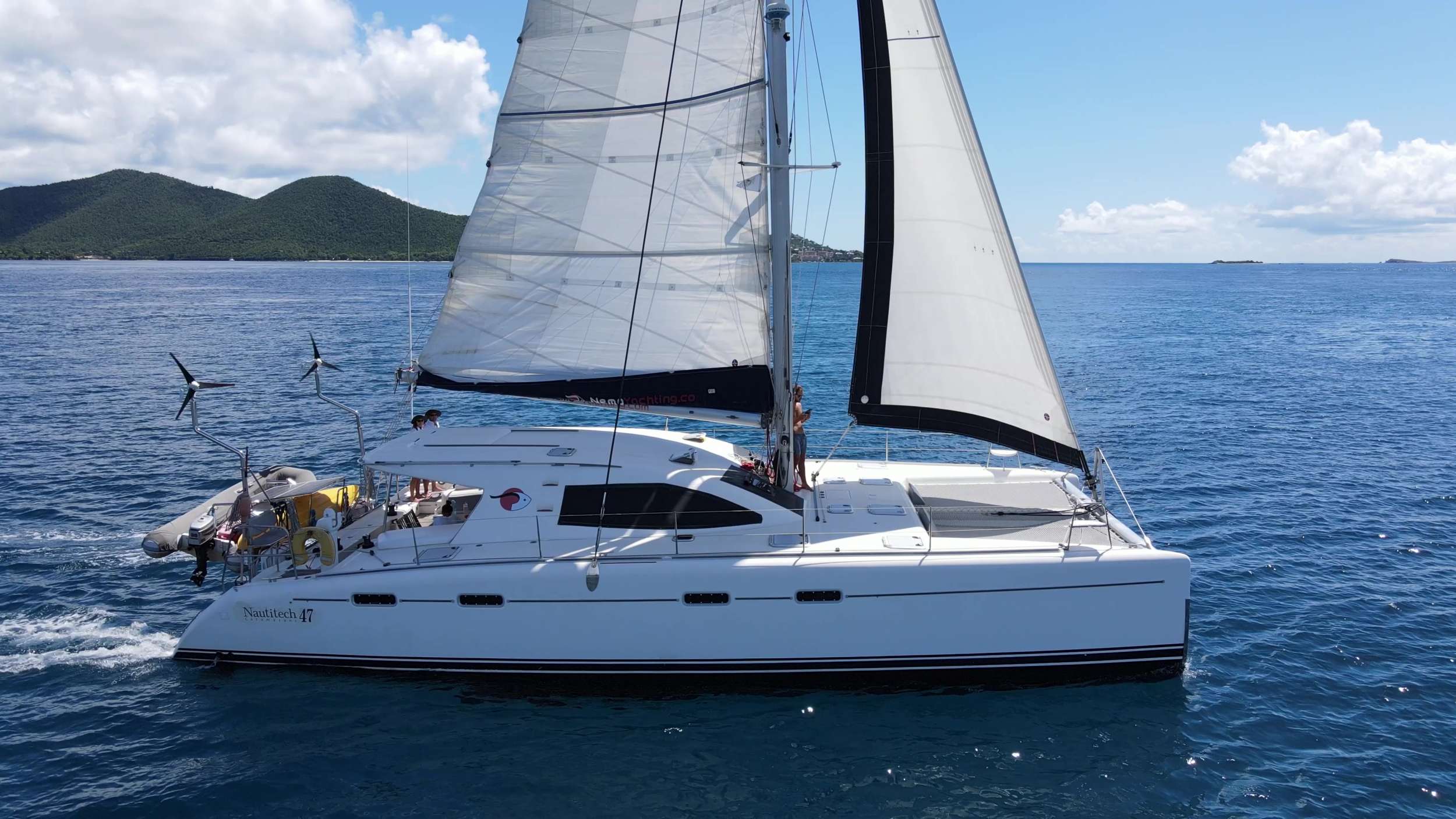 Great sailing shot of NEMO!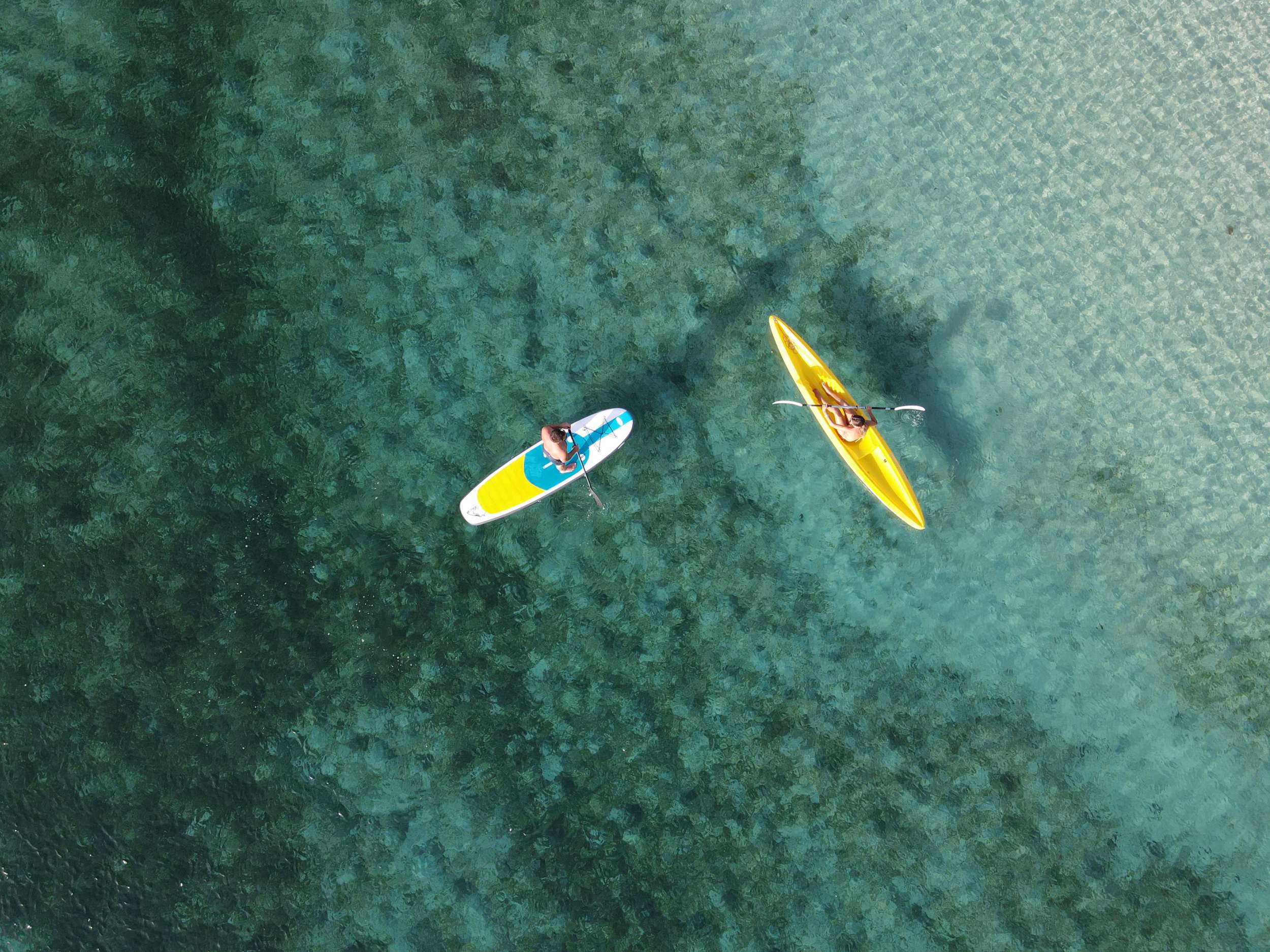 Sailing on calm waters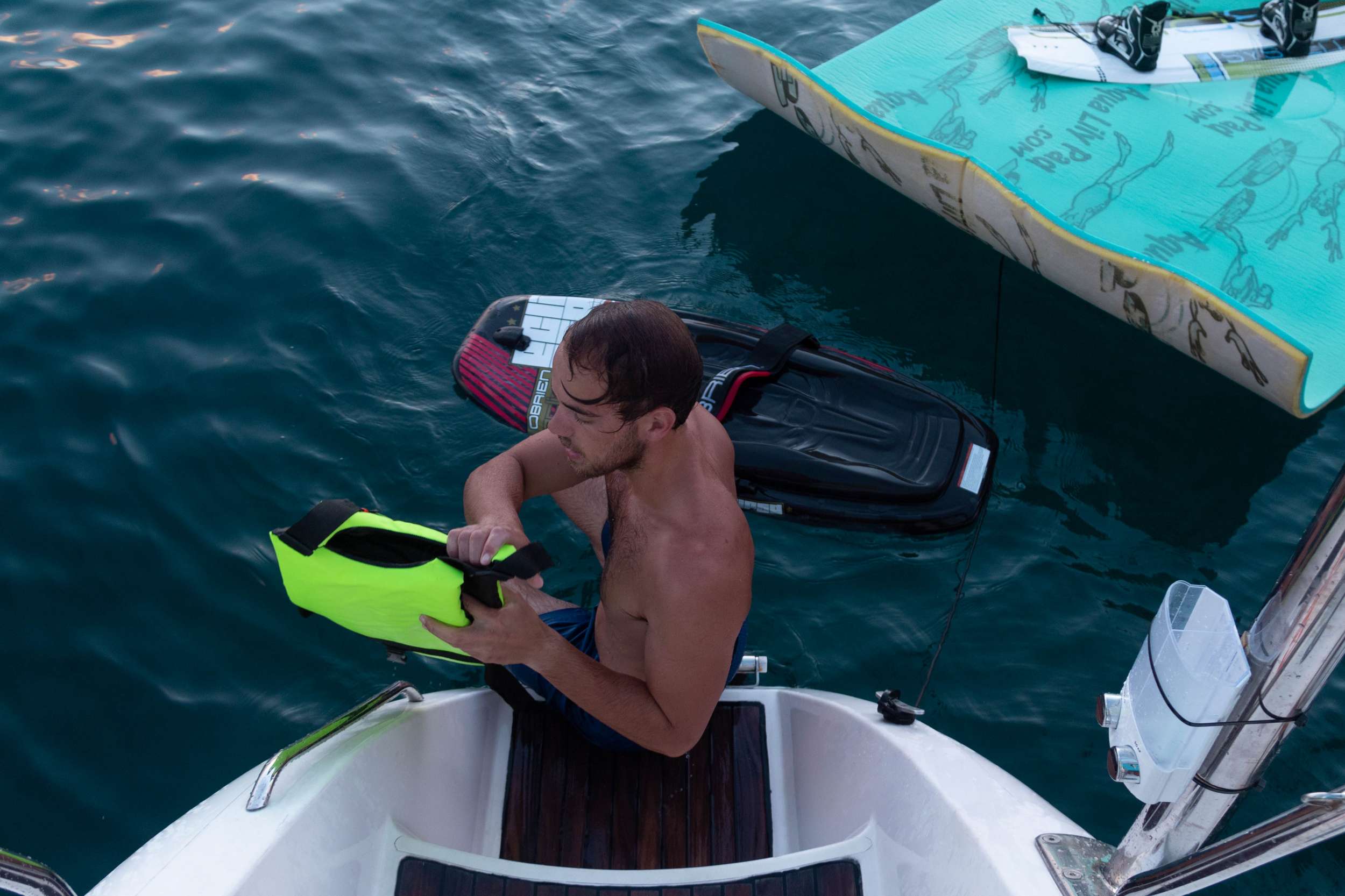 NEMO - 2 Fatboys for lounging on deck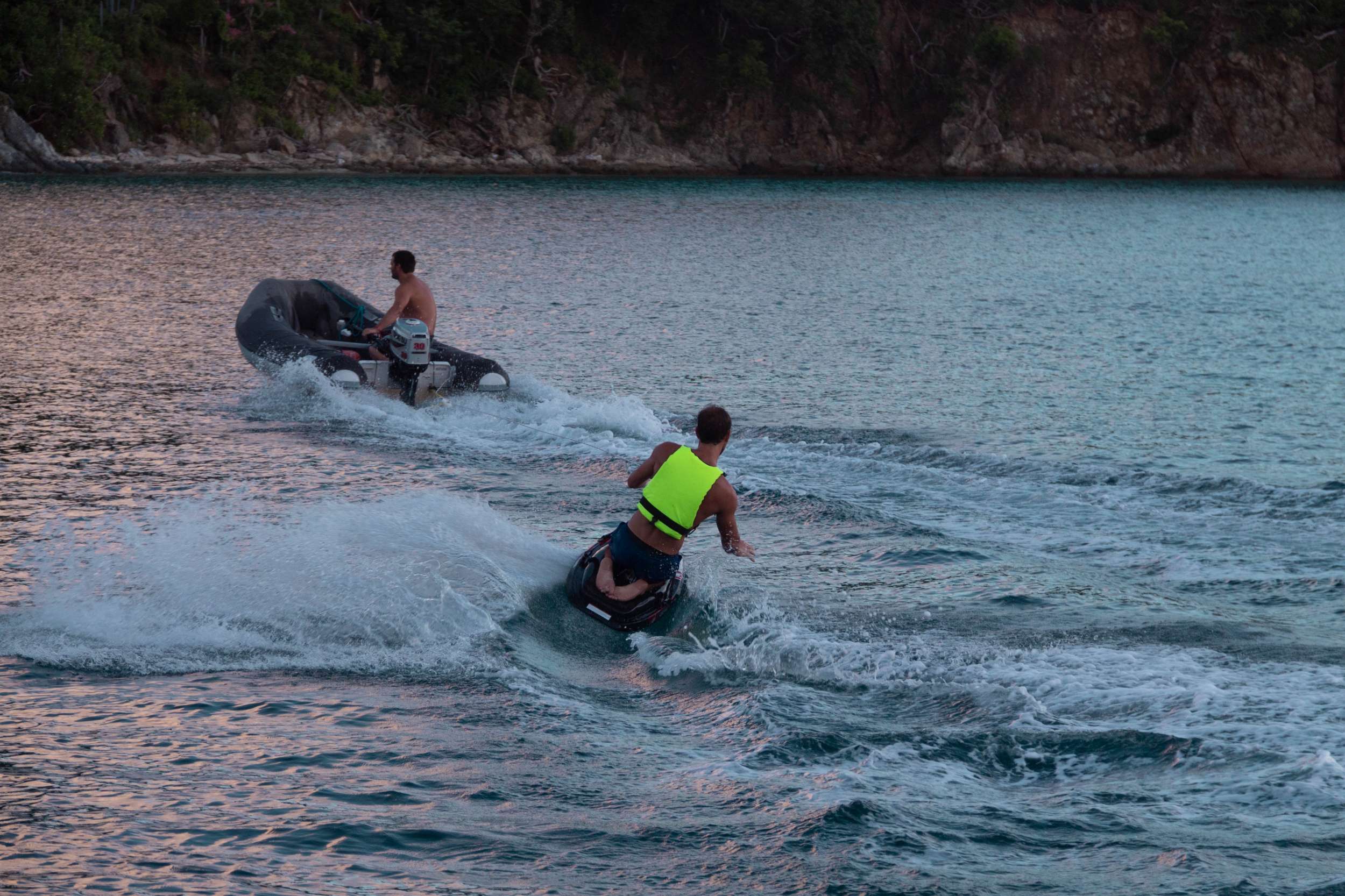 Chill out and read a book...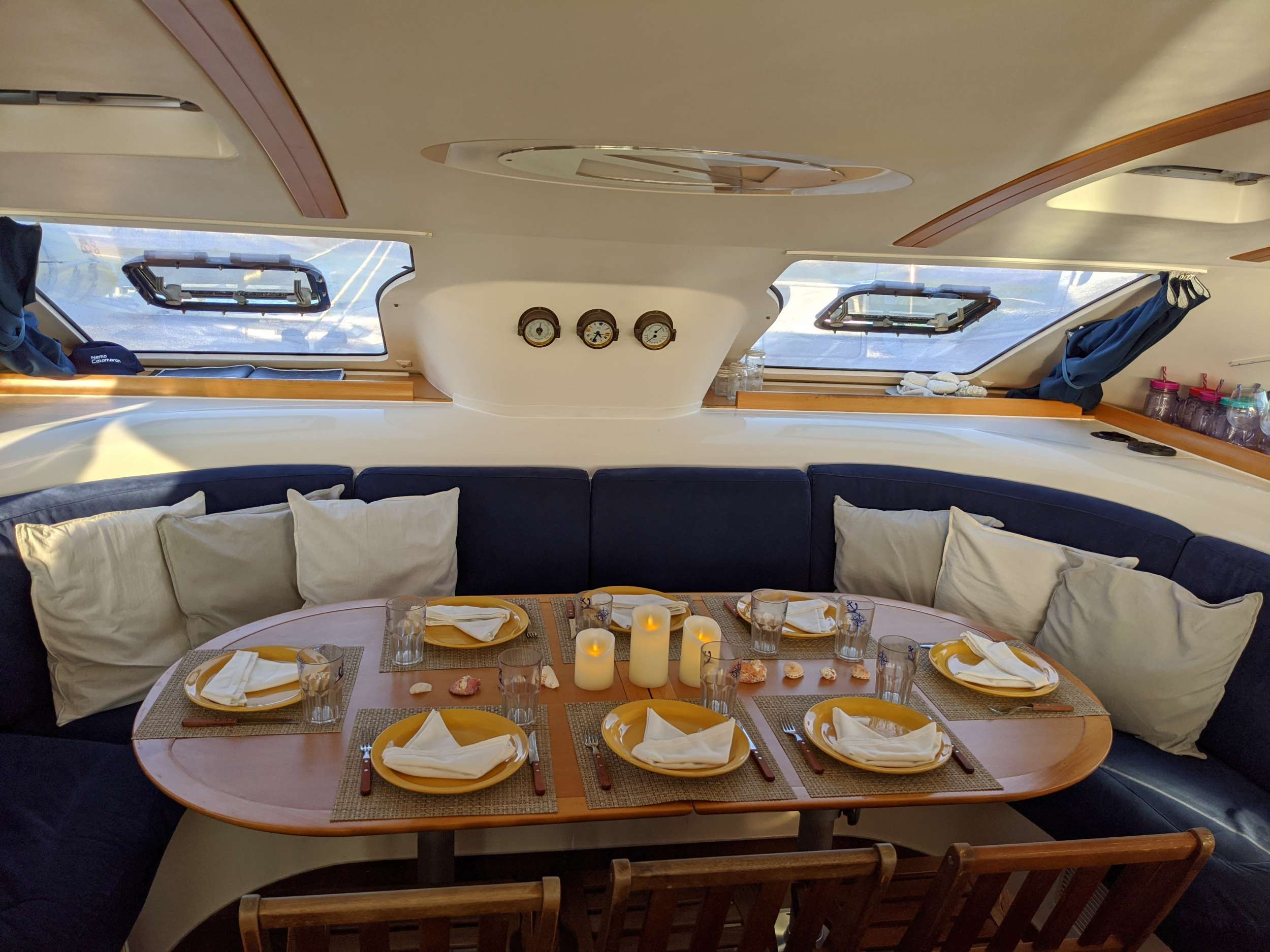 Nemo in the Virgin Islands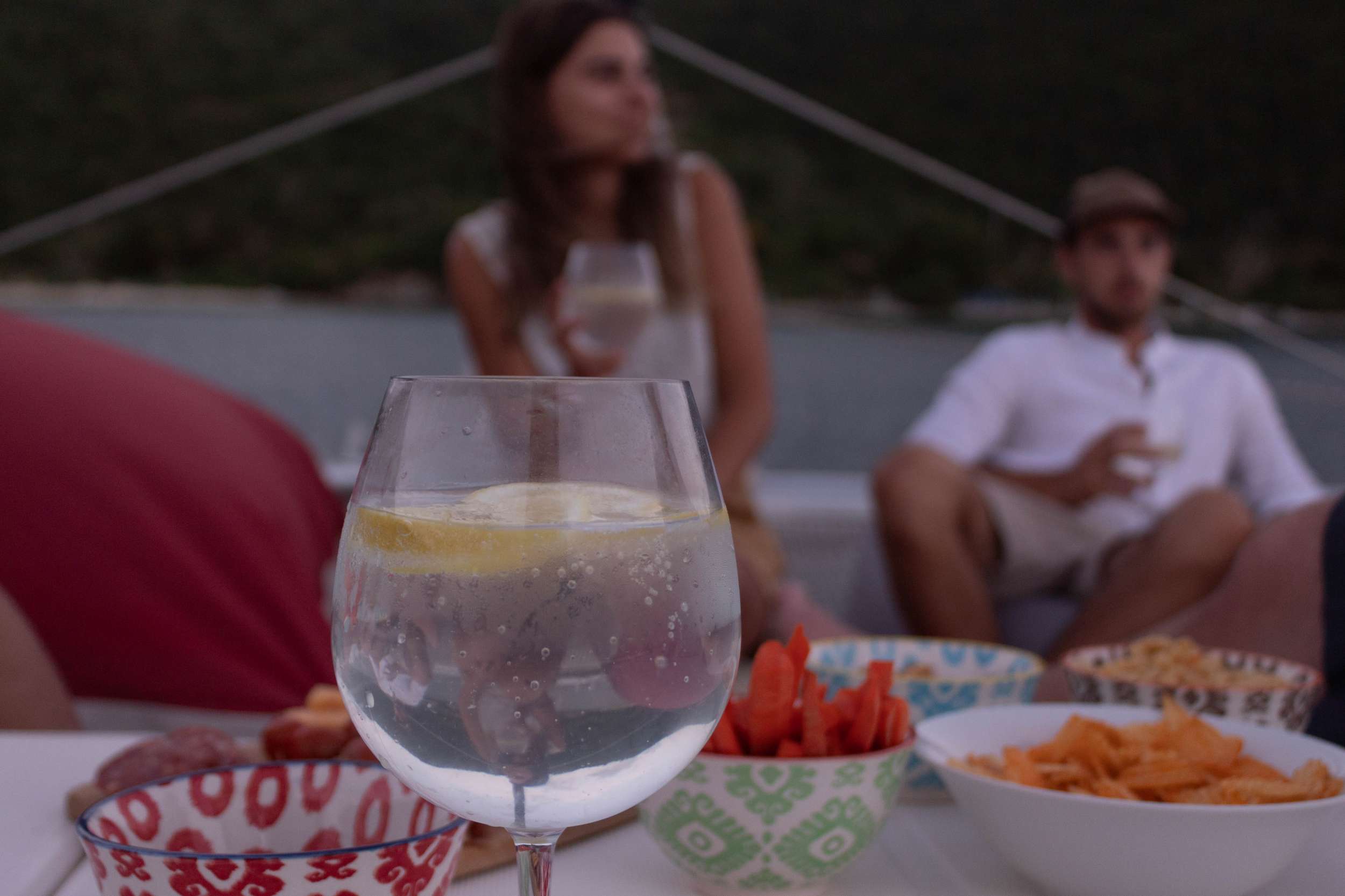 Hoist those sails and head off for the day!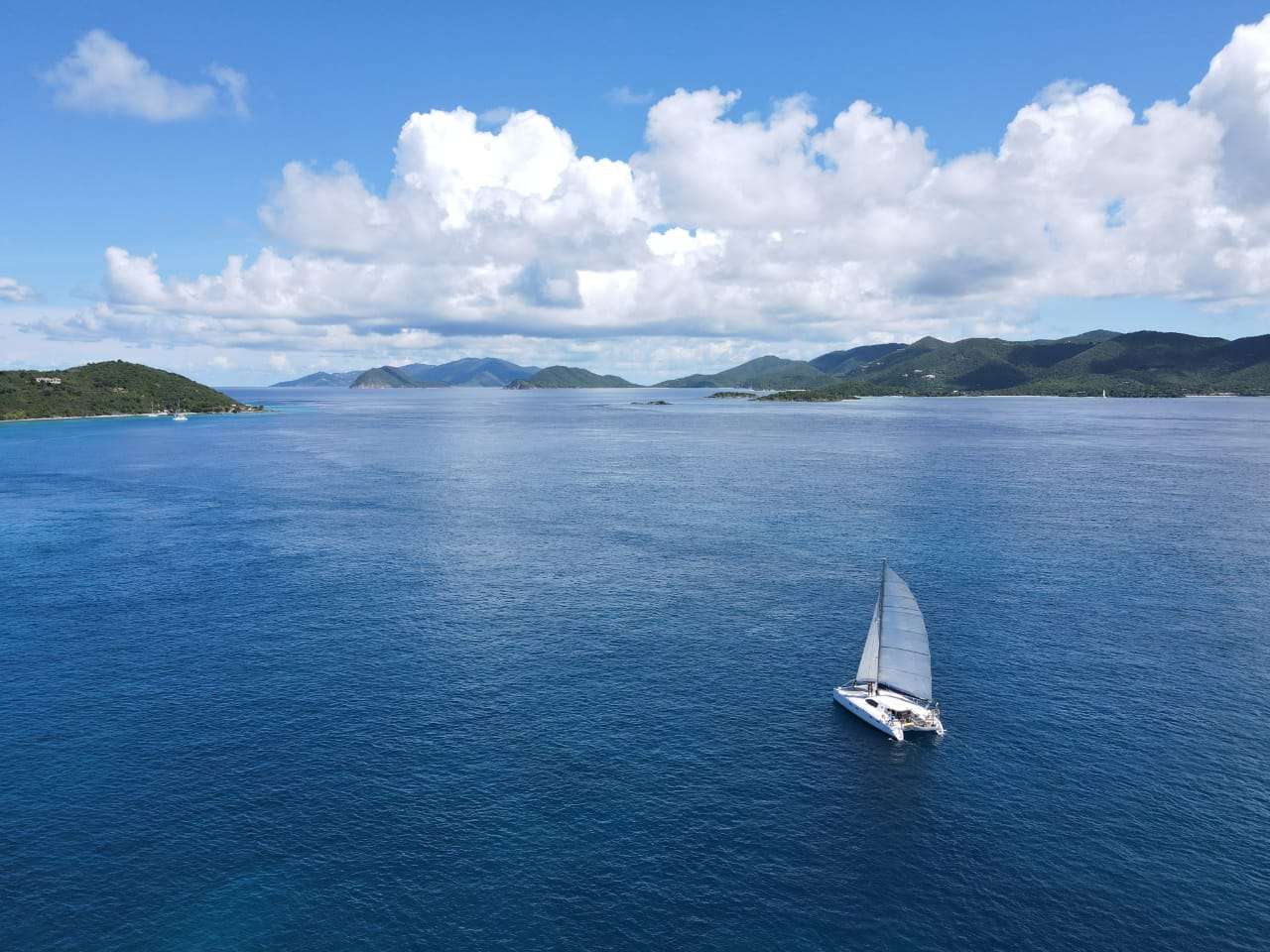 Winner of Prestigious Industry Award Best Catamaran uner 51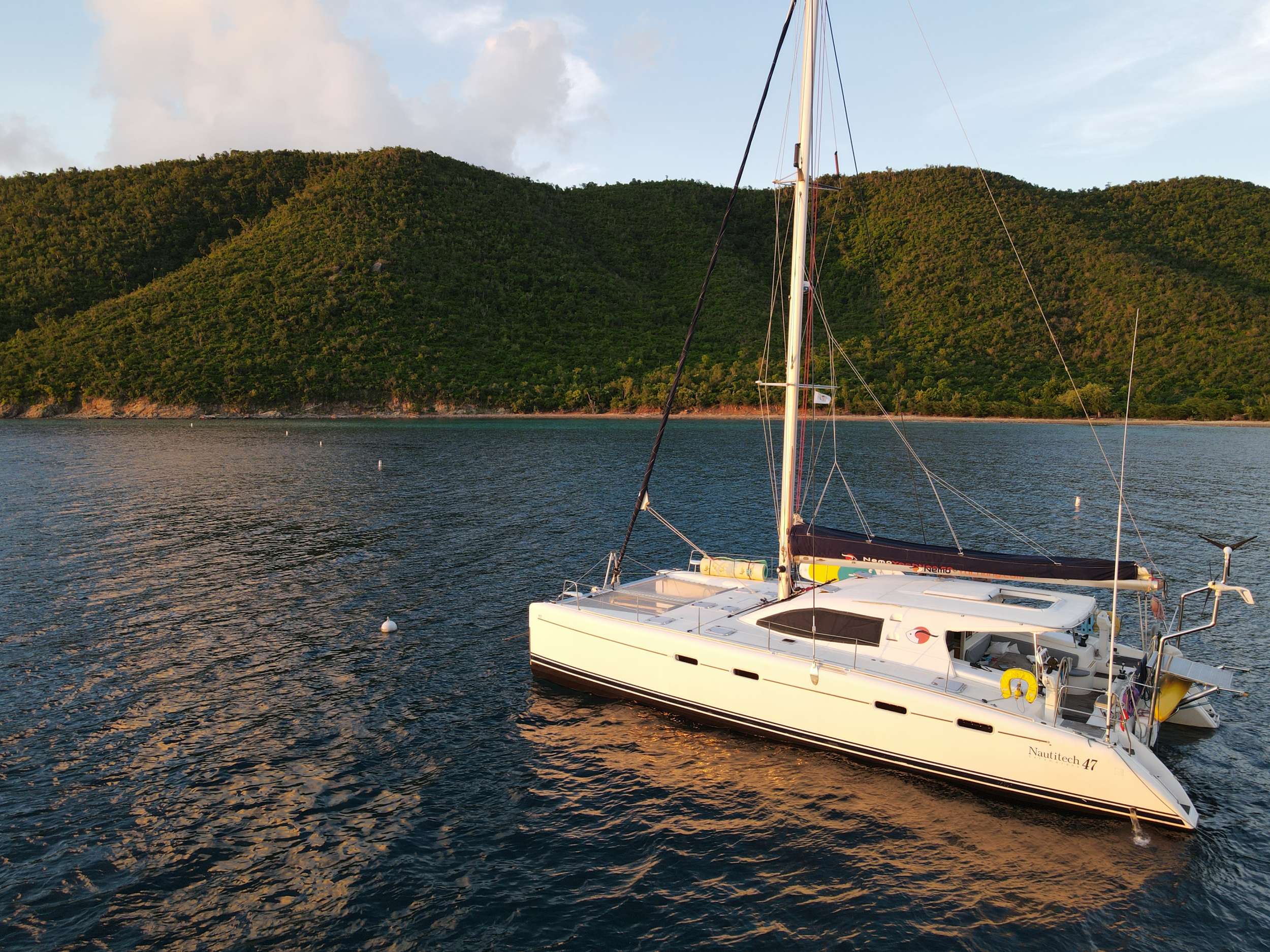 Having a blast on NEMO!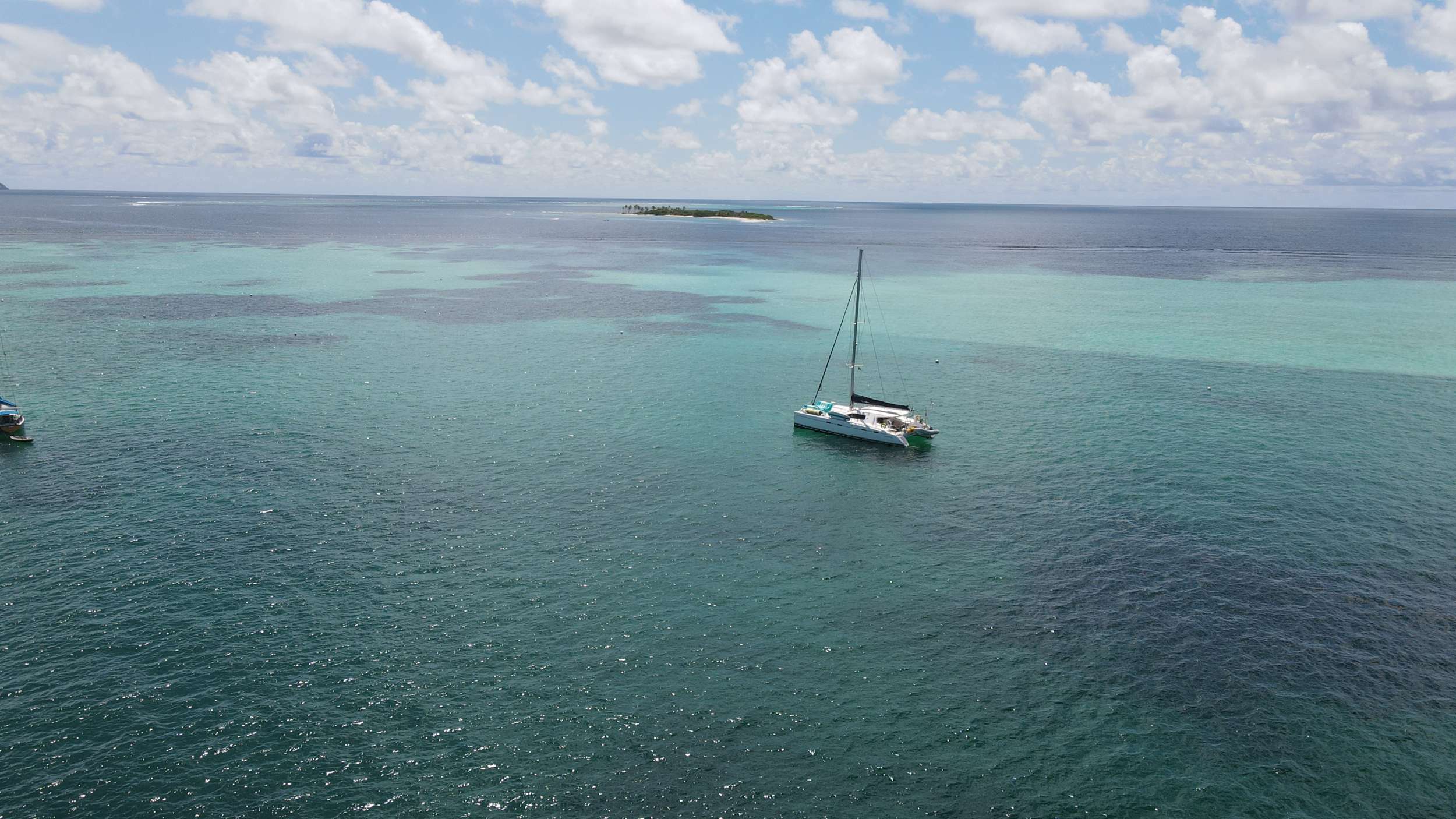 Join Nemo in Paradise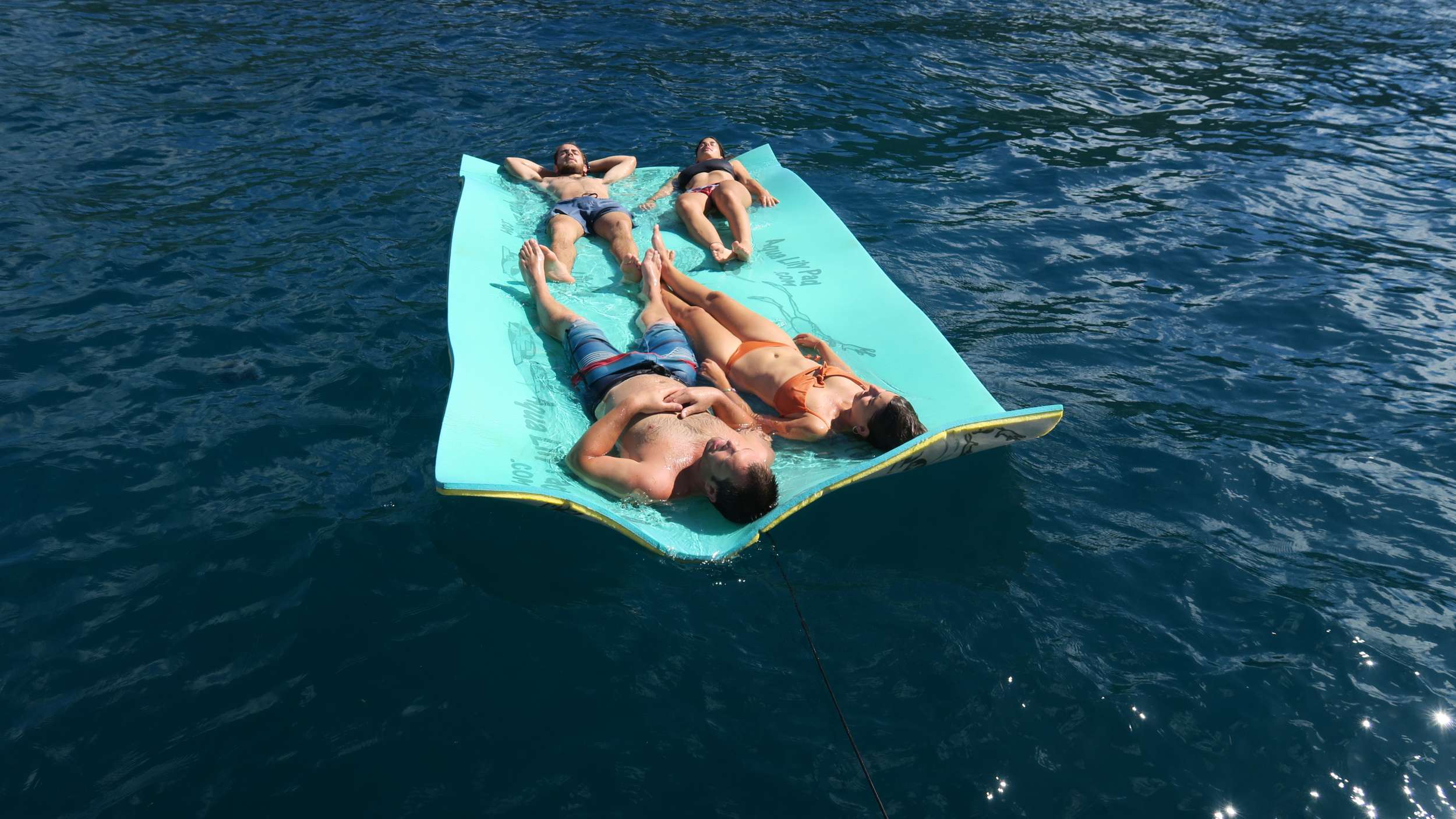 Aft Deck Dining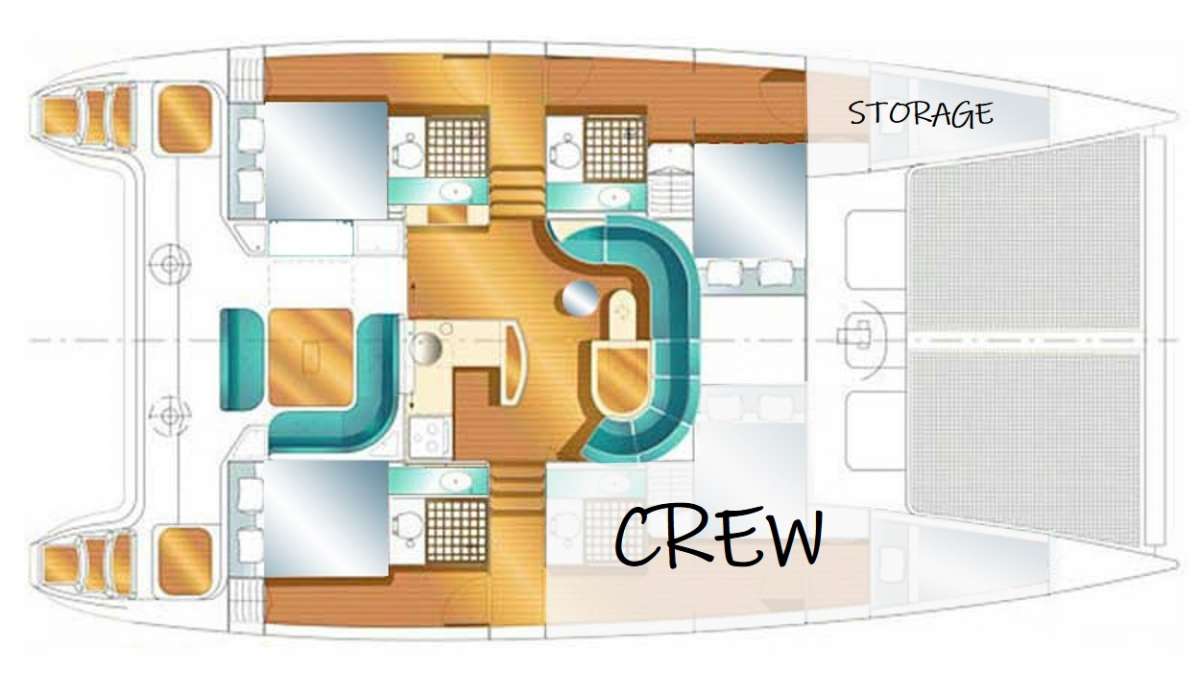 Nemo Layout
Crew details: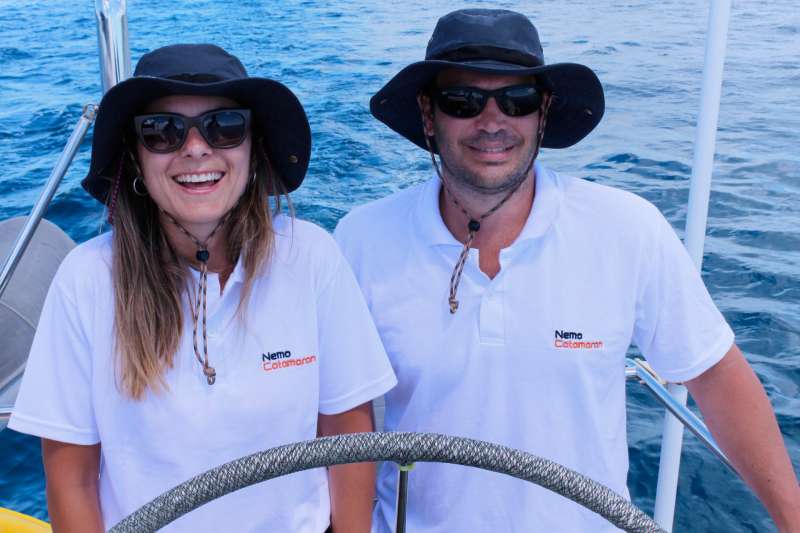 Nemo Crew
CAPTAIN ANDREA ALIVERTI
Captain Andrea grew up on the dramatically beautiful shores of Lake Como in Lombardy, Italy. His love of sailing began by racing smaller boats for fun; J24, Asso 99, and B25. His commitment strengthened when he became a sailing instructor for the Italian Federation, teaching adult classes on First 40.7 and B25 Beneteau, J24 and SunFast 35 Jeanneau. He went on to launch his own sailing association, and realized he much preferred this second job to his land-based career. In 2009, he purchased NEMO and set sail. He chartered throughout Greece and the Caribbean, his favorite destinations.
Since 2009, Andrea has achieved numerous yachting licenses and certificates. However, he is most proud of his innovations to NEMO that have won several "Going Green to Save the Blue" project awards. This crusade encourages the yachting industry to implement green initiatives. He explains, "I have engineering skills and a strong interest in environmentally friendly projects. NEMO was conceived and designed to be eco-friendly and self-sufficient. Nowadays, any design brief of mine for future upgrades is always driven by the goal to protect nature, marine life and the environment."
When Captain Andrea has time, he likes to cook and prepare his own liquors, especially Limoncello, that of course is sampled during every charter. It's one of the many ways he likes to teach people the best of Italian traditions, and one of the many reasons guests become fast friends, almost immediately. He says, "My Italian blood means a very warm, open and welcoming character. I enjoy sharing the sailing experience with my guests, getting to know them and often building strong and long-lasting friendships. They feel like part of my family, I love to share my passion for the sea, nature, food, wine, sailing stories and more. I think that is the secret key to NEMO's successful charter history."
CHEF
Alessandro first worked as a maitre d'hôtel for numerous years on the cruise ship 'Costa Croisiere' sailing around the Mediterranean and oriental seas, then around Florida and California. His passion for cooking came after this period. He started working as a chef in Italy and then went on to open his own restaurant in Guadeloupe, and afterwards to take his cooking to the sea by working on charter yachts. Whilst Alessandro loves the Italian cooking of his birth country, he's also come to enjoy the Creole influence of the Caribbean foods, as well as international cuisine, after having lived in Ibiza and Canada.
Alessandro's previous charter clients remark they love his fantastic sense of humor, which they have appreciated as well as savoring his delicious cuisine. His many hobbies include cooking, water sports, sailing, music, travel, painting and dancing.
Water Toys
WakeBoard (Yes)
2-Man Kayak (1)
Adult Water Skis (Yes)
Floating Mats (Yes)
Tube (Yes)
Underwater Camera (Yes)
Other equipment includes:
Tube is towing wing (Sting Ray) TWO Stand Up Paddleboards Two floating fatboy mats A "Lilly pad" floating mat, 12x6ft Floating Cabana (photo on Guest Comments page for 18-25 November) All new tender 2014 + larger 30 HP engine Note the Kayak is really one man, but very large and easily accommodates two people. April 2015 - Addition of kneeboard, wakeboard, water skis and tow lines Fishing: NEMO is a registered fishing vessel in the BVI. Commercial Fishing License no 350006238. In addition, every person over 18 years of age wishing to fish in BVI waters is required to obtain a Government issued fishing permit as well. Please use NEMO's vessel number when you apply: RA4819D.

Yacht Amenities
Salon Stereo (Yes)
Salon TV (Yes)
Deck Shower (Yes)
BBQ (Yes)
Hair Dryer (Yes)
Board Games (Yes)
Sun Awning (Yes)
Hammock (Yes)